Steel Panther have been touring since early February this year to support their 6th studio album On The Prowl and they keep showing us why they're the best 80s metal/comedy band in the world. This time around Chasing Desolation opened up for them at the Majestic Ventura Theater in beautiful Ventura, CA and Ventura showed up! The venue was filling up before Chasing Desolation took the stage and as soon as Steel Panther blessed us with their presence the entire theater was filled with fans that were ready to rock. This was the first time Steel Panther has played this particular venue and Ventura showed a lot of love for this band.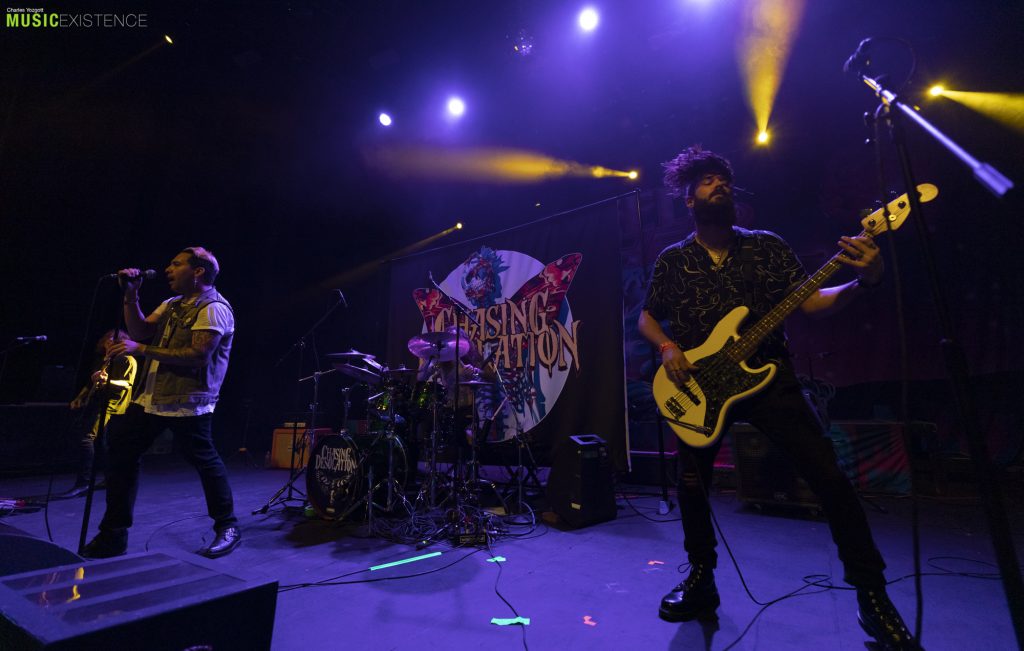 Chasing Desolation was up first and the venue was filling up fast. This quartet from Los Angeles gave the crowd a reason to move and had a mosh pit break out during the first song of the night. Singer Seth Perez showed off his vocal range through the entire set while going from heavy metal growls to clean singing as if it was second nature to him. Guitarist Jimmy Strimpel gave us a lesson in shredding while bassist Austin Dunn provided back up vocals and the low end of the musical spectrum, and drummer Mike Mayhem lived up to his name while showcasing his style on the skins. Their latest EP One Nation was released in March of 2023 while their full length studio album The Moth Collection was released in February of 2020. Be sure to check them out next time they play live near you!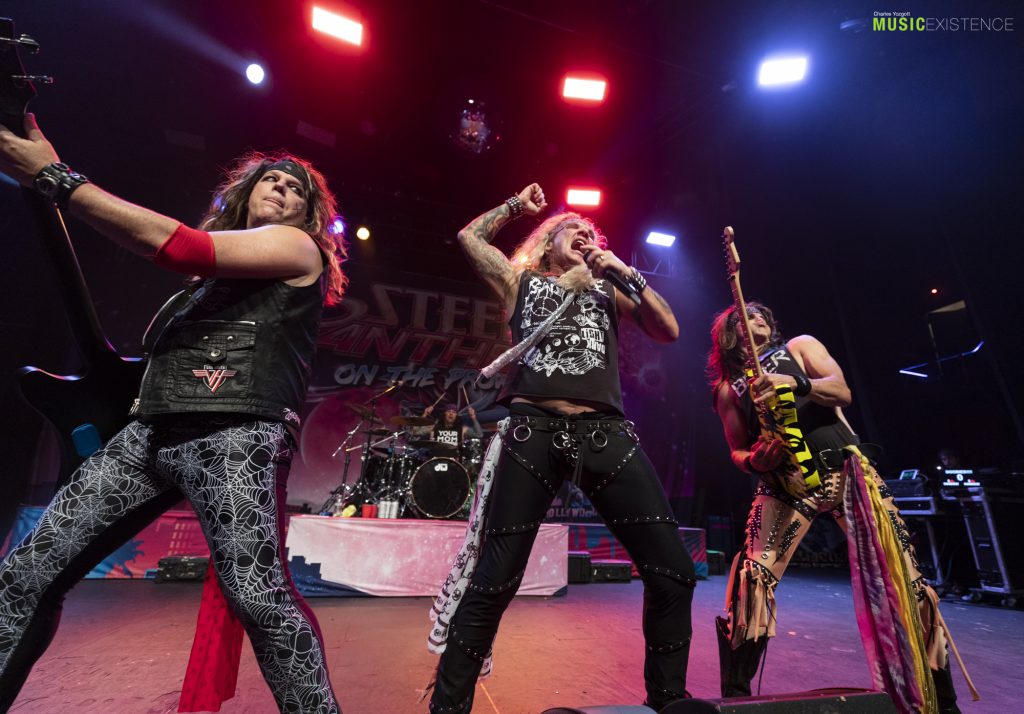 Cheers for Steel Panther were echoing throughout the packed venue and everyone was ready to get weird. This quartet perfects the look and style of the 80s hair metal/glam rock scene that millions of people around the world love and can't get enough of. They are in a league of their own with their comedy show that has everyone laughing their ass off and has tears pouring out their eyes. The band walked out onto the stage and started with "Eyes Of A Panther" off their 2009 debut album Feel The Steel. Lead singer Michael Starr walked to the front of the stage while singing and made sure to dap up all fans in the front row who have been waiting for this very moment. Guitarist Satchel seemed to be having too good of time while pumping out riffs on his yellow and black tiger stripped guitar while bassist Spyder showed off his spider web leggings and battle vest as he slapped his four string. Drummer Stix was all smiles as he hit the skins during their second song "Let Me Cum In" from their 2011 sophomore album Balls Out. At the end of the song Spyder, Michael Starr, and Satchel walked up to the front of the stage and gave the fans an ending(s) worthy of a cigarette while they were in sync moving from left to right not skipping a beat.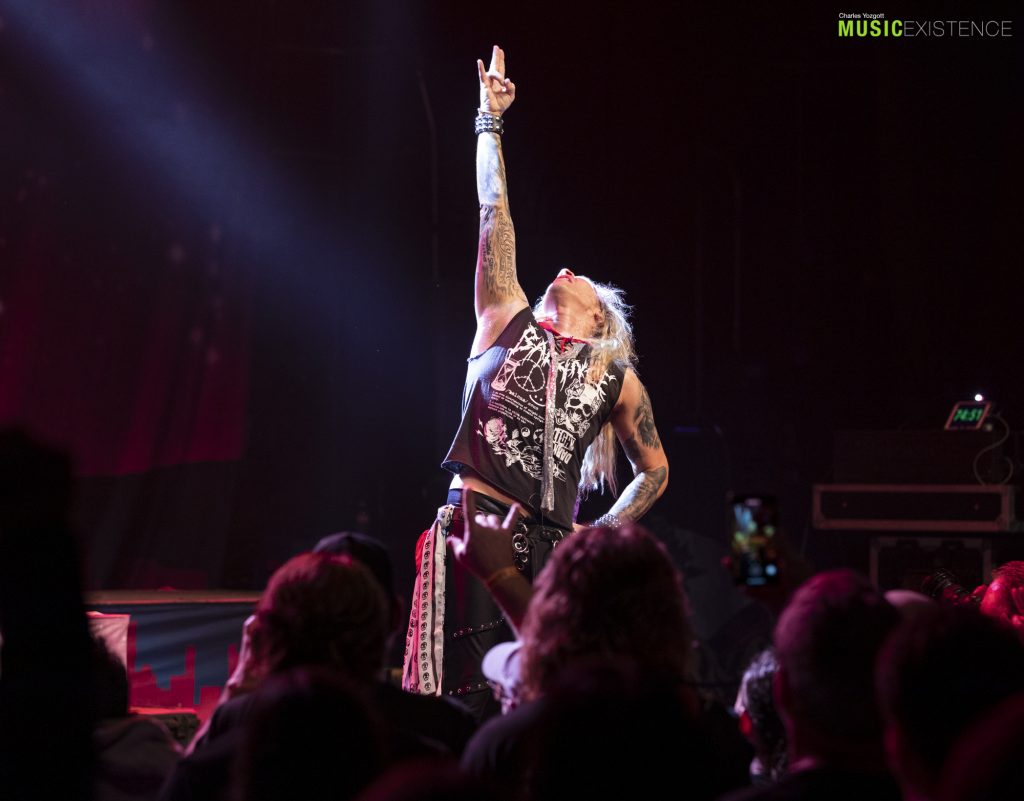 "Asian Hooker" was next and Michael brought up a very special guest to the stage, an Asian woman who loved every second up there. Michael held her hand while singing the chorus and she couldn't help but smile the entire time while covering her mouth/face with her hands like she was embarrassed. The entire time the song was playing a blow up doll was being used like a beach ball at a Los Angeles Dodgers game, eventually Michael grabbed it and gave it to Stix who almost couldn't hold his excitement. "All I Wanna Do Is Fuck (Myself Tonight)" off of 2019's Heavy Metal Rules and "The Burden of Being Wonderful" came next followed by the anthem "Death To All But Metal" from their debut album. A few songs from their latest release On The Prowl, which is the 5th album in a row for them to reach number one on the comedy Billboard charts, was next and they sounded amazing.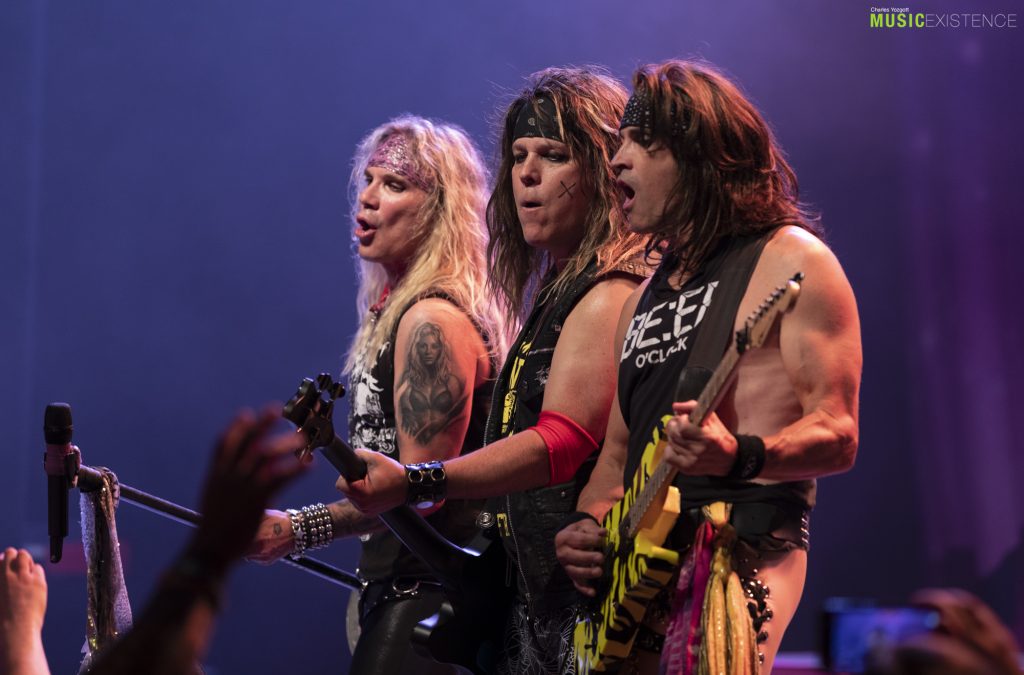 "Friends With Benefits" was up first followed by the hit single "1987" which takes you back to the good old days when everything was in. Slowing it down a bit they went into "Ain't Dead Yet", the last song played from an amazing album. Everyone was cheering and having a good time when Michael Starr decided to bring up a young woman and told her that Steel Panther was going to improvise some lyrics and serenade her. As you could imagine the lyrics were XXX rated and everyone in the venue was laughing their ass off. More women were invited up on stage as "Girl From Oklahoma" and "Community Property" was played and let's just say that things got wild, nothing but smiles on all the women's faces (and the band members). "Party All Day" was played next and Michael Starr thought he heard that the so called daughter of Sebastian Bach was on stage with them. Her name is Charlotte La Rue, from the band Mori's Momento, and she sang the Justin Hawkins (from The Darkness) part as good as anyone would. It looked like she was having the time of her life up there and was on top of the world.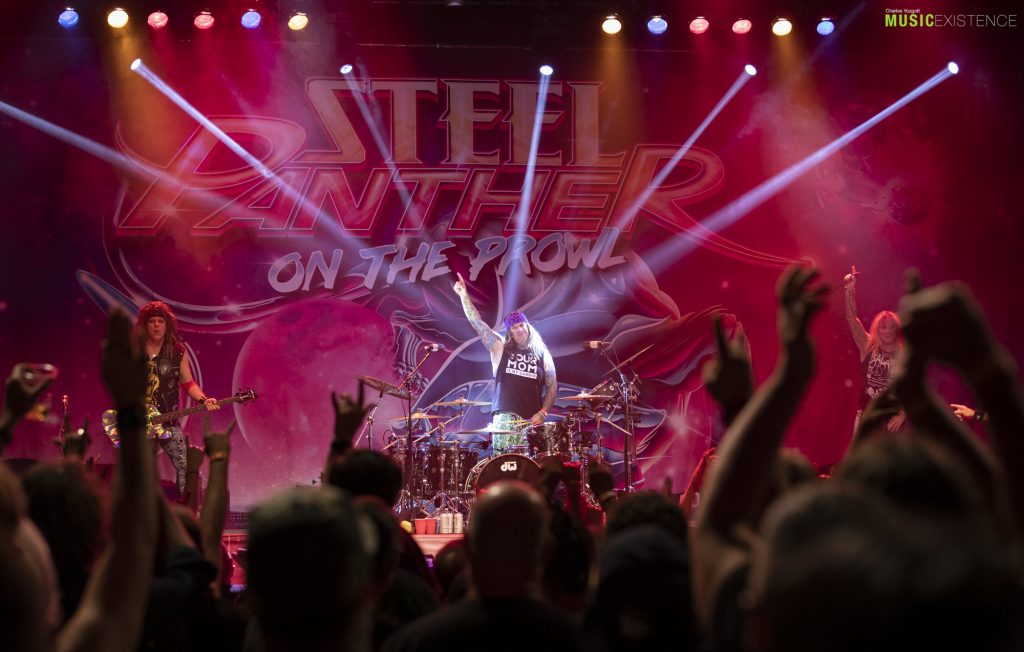 Did we mention that Stix's parents were in the crowd and loving every minute of their son's professional business decisions? Those two were having just as much fun as everyone else in the packed theater on a Friday night. As an encore Steel Panther came out and played the fan favorite "Gloryhole" which had everyone singing the lyrics making other jesters we'll keep to your imagination. Their first time at The Majestic Theater and they knocked it out of the park. Ventura showed up and showed love to this band that has been burning the midnight oil playing 80s metal with a passion and no signs at all of slowing down. Do yourself a favor and go see a Steel Panther show, you'll have so much fun that you'll be begging for more. Their run in the U.S. is over, for now, but that isn't stopping them down. Canada is up next followed by a couple more dates in the U.S. in Montana and Idaho after that. Three dates in South America in October followed by a date in Mexico where we all know it'll be a mad house! These dudes keep getting better with age like fine wine, we can't wait for the next epic album!
Chasing Desolation
Setlist:
Eyes Of A Panther
Let Me Cum In
Asian Hooker
All I Wanna Do is Fuck (Myself Tonight)
The Burden of Being Wonderful
Death To All But Metal
Friends With Benefits
1987
Ain't Dead Yet
Girl From Oklahoma
Community Property
Party All Day
Gloryhole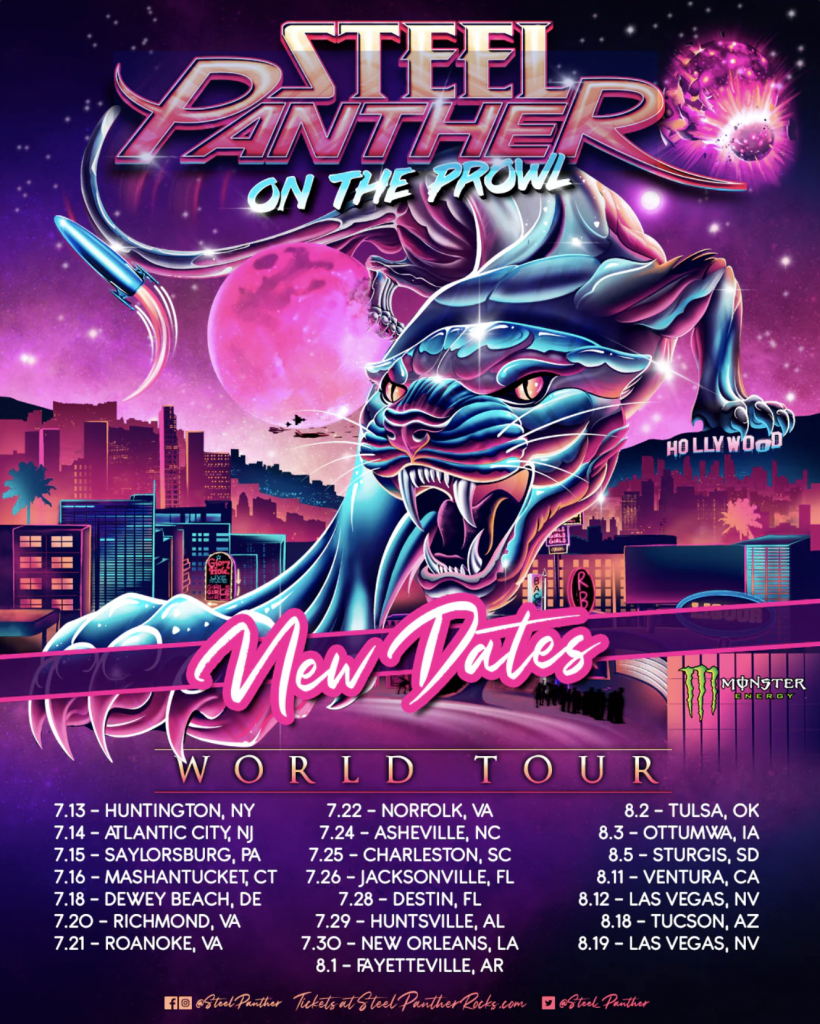 Remaining tour dates:
Sept. 6 – The Marquee Ballroom, Halifax, Canada
Sept. 7 – Casino Newbrunswick, Moncton, Canada
Sept. 9 – Mtelus, Montreal, Canada
Sept. 12 – The Venue, Peterborough, Canada
Sept. 13 – London Music Hall, London, Canada
Sept. 14 – History, Toronto, Canada
Sept. 16 – Bronson Centre, Ottawa, Canada
Sept. 17 – The Grand, Greater Sudbury, Canada
Sept. 19 – NV Music Hall, Thunder Bay, Canada
Sept. 20 – Burton Cummings Theatre, Winnipeg, Canada
Sept. 21 – Casino Regina, Regina, Canada
Sept. 22 – The Palace Theatre, Calgary, Canada
Sept. 24 – Union Hall, Edmonton, Canada
Sept. 26 – Ovintiv Events Center, Dawson Creek, Canada
Sept. 27 – CN Centre, Prince George, Canada
Sept. 28 – Penticton Trade & Convention Centre, Penticton, Canada
Sept. 30 – Pub Station, Billings, MT
Oct. 2 – Knitting Factory Concert House, Boise, ID
Oct. 14 – Melenia 2023, Santiago, Chile
Oct. 17 – Teatro Gran Rivadavia, Comuna 10, Argentina
Oct. 19 – Audio, São Paulo, Brazil
Oct. 21 – Foro Puebla, Ciudad De Mexico, Mexico