Toronto-based singer, songwriter, and multi-instrumentalist Sofia Camara is on an upward rise to reach a pop trifecta. Since signing to 21 Entertainment/Universal Music Canada, the singer has released three singles that have each introduced her as an earnest, versatile new voice that  embraces all that life offers.
Today she shares her third single, "Different," which was co-written with Sara Diamond and produced by Juno Award-winning duo Banx & Ranx. This marks Camara's second collaboration with the duo, following last year's "Never Be Yours", which peaked at #19 at Canadian Top 40 Radio, #22 on the Hot AC chart, and #34 on the Main AC chart.
The reggae-centric track flourishes with Sofia's powerful vocals, combined with Banx & Ranx's signature island-inspired production. The perfect vibe for clinging onto the last days of summer, "Different" flows through a cadence of bubbly beats that caress her sentiments with ease.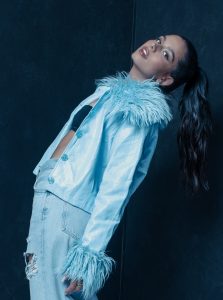 "I did not expect 'Different' to take the route it did," Camara told us, reflecting on the track's creative process. Having started out with another song completely, her hesitancies led them to scrap what they had created and begin fresh. Of course, this brought Camara back to the piano bench, where she feels most inspired. 
"It allows me to be very open with myself," she says of writing songs first at the piano, a process she adamantly exercises. "It just makes me feel very comfortable and I feel like I can be very vulnerable with how I feel when it comes to writing piano ballads." 
Camara first began making music at the age of thirteen when she enrolled in her school talent show. A lifelong creator, she has been drawn to melodies through guitar playing and piano ballads, which she still turns to in her creative process. Inspired by other female songwriters such as Olivia Rodrigo, Adele, Camila Cabello, Billie Eilish, and fellow Canadian songstress, Lauren Spencer Smith, her passion shines through in her own work and the praising of narratives that have paved her course along the way. 
"Different" arrives after her emotive anthem "Something Better" and the acoustic version of the otherwise rocker "Never Be Yours." The undeniable bounce of this new record highlights Camara's versatility as an artist, effortlessly transitioning between belting out emotional ballads and making audiences dance with upbeat, lively tracks.
"I love playing around with the genre. I definitely want to be very versatile," she says. "I want to just have an open book, an open mind, see where it takes me. I don't know what it is about a piano ballad, it just does something to me and makes me wanna cry and it's exactly where I can be my complete self. You can't go wrong with a piano ballad, you just can't."
On her latest single, she unpacks the mixed feelings of a breakup, with the knowledge that prioritizing yourself first is necessary. There is ultimately a strong sense of girl power in each of Camara's songs, without the outright declaration as feminine manifestos. Unafraid to wear her heart on her sleeve, she pines for a romantic love lost, yet embraces the self-love that remains. 
"The day I left, it broke me," she sings at the beginning of the song. "I wish you knew how much I loved you and still cared, but if you want to walk away, can I keep the memories? Is it too late for me to say, can we just stay friends?" She concludes in the chorus, "Please let me love you different."
Applying summer-ready beats to the emotive track, she credits the song's essence to the production of Ranx & Banx. "They're amazing at what they do and they kind of just brought the song and gave it life," she says of collaborating with her "brothers." "They put some magic touch on it to give it the feel they did. But it started as a piano ballad, so when I got the first version of it, I was really shocked and blown away. And it makes so much sense, because it's different and it's called "Different." With all the different emotions in it, it's just different! It makes no sense, yet it makes perfect sense when it's all together."
Approaching universal themes into her music, including heartache, loss and self-discovery, Camara finds the sweet spot of post-adolescent curiosity, mixed with a self-aware maturity wise beyond her years. Her keen ability to observe deeply human emotions and behavior while examining them from all sides fuels her ruminative narratives. At her core, Camara is introspective and ready to face any challenge headfirst, before applying it to song. 
"I hope that what [people] take out of it is that you should take time to heal," she says of her single. "Healing is very important, and I didn't realize that until I went through horrible breakup. I needed to take an ultimate pause on everything and really take my time to heal. Take time to heal, take accountability if you need to, and just move on. It's the best thing I can say." 
"Different" is out now on every platform. 
Sofia Camara Online: Website | Facebook | Instagram | TikTok | Spotify | Apple Music