In 2016, pop punk beacons Yellowcard embarked on "The Final World Tour" in which they thought they were saying goodbye for good. Seven years later, they're back with new music and a profound appreciation. On a headlining tour celebrating the 20 year anniversary of their smash album Ocean Avenue, the four-piece are proving that their years apart were nothing but a chance to rest and return stronger than ever. 
Yellowcard— Ryan Key (vocals, guitar), Sean Mackin (violin), Ryan Mendez (guitar), and Josh Portman (bass) and touring drummer Jimmy Brunkvist — played their biggest Boston show ever at the MGM Music Hall at Fenway to a sold out crowd of 5,000 raucous fans who have clearly been yearning for their favorite band's return. Joined with support from acoustic rock duo This Wild Life and Warped Tour-era giants Story of the Year and Mayday Parade, the show was bustling with stage divers, mosh pits, and enthusiastic screams before the main act even took the stage.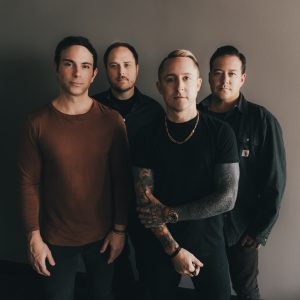 Only their fourth show of the tour, Boston was a welcomed return for the band, who greeted the crowd with enthusiasm and adoration, yelling, "What is happening? Are we in another dimension? We are in such disbelief with what is happening right now with our band and this tour. I have to tell you that the level of gratitude, and appreciation and positivity on this stage now is higher than it has ever been in the history of this band. Thank you all so much for believing in us and bringing the band back to life this year." 
Their nostalgic pop punk sound has been fleshed out with the maturity and skill that one would hope for in a band that's grown with their audience. No longer the young twenty-somethings they were in the height of their success, Yellowcard embrace their age with the same tenacity but perhaps a little less stage antics— but don't be fooled, they sure do still know how to rock. 
The set opened with beloved Ocean Avenue track "Way Away," followed by the hard-hitting fan favorite "Breathing". The pure adrenaline in the room was physically felt as the floor rumbled with the vibration of noise and the crowd's movement. "Rough Landing, Holly" further highlighted the band's musicianship and penetrating presence. Bodies moshed and cheered to a swelling of sound and spirit that left the band grinning as one body after the next was floated over the barrier. (In a post-show Instagram post, the band gushed, "It was packed to the ceiling for our biggest ever headlining show in Boston. We haven't seen that many people surf over the barricade since Warped Tour 2004."
Frontman Ryan Key is a born showman, expertly playing guitar and leading songs from across their 20+ year discography, all while maintaining the energy of an energizer bunny. Bassist Josh Portman and lead guitarist Ryan Mendez were equally as captivating to watch, thrashing around on the stage as if their hiatus never happened. Sean Mackin asserts himself as an undeniable force on the violin, riling the crowd up with the enthusiasm of a hype man and the skill of a classically trained virtuoso. Rowdy pop punk met with the sweet orchestral element of violin is a juxtaposing, yet perfectly complimentary pairing that truly adds a new layer of enticement to round out the band's performance. 
The 19-track setlist featured a mix of songs from albums Lights and Sounds, Paper Walls, Southern Air, When You're Through Thinking, Say Yes, and of course, their breakthrough record Ocean Avenue, which they played nearly in its entirety. The band's reuniting has also resulted in five brand new songs from the band, which are set to be released Friday, July 21st on their Childhood Eyes EP. The project's title track was released as the first single, and the band's first release in seven years. Playing the track live, it is clear their renewed sense of energy and inspiration is a driving force for the unit, and fans were eagerly receptive of the new material. 
Self-aware jokes that date their age were made frequently, with both humor and a gusto that proved age is just a number. "I want you all to get out your Blackberries and your Sidekicks, put them up in the air," Key said at one point, to a rumble of laughter from the crowd. Gone are the days of Napster and MySpace, but Yellowcard certainly reinforced that the music of the emo generation knows no limits of time.
The magnitude of the show boiled to a point of intensity that left the crowd sweaty and delirious with fervor. Allowing for a moment of repose, Key introduced their ballad "One Year, Six Months" as a chance to "give the elder emos in the crowd a break."  Fans took this quiet moment to hold up their cell phone flashlights, and two eager fans held Ocean Ave street signs that swayed back and forth, alit with the surrounding glow. 
Ryan Key took many moments throughout the show to express his sincere gratitude for not only the fans, but for the other acts on the bill. Having a personal connection to them all in on way or another, the camaraderie and shared appreciation was touching. Key joked about dated "beef" with Story of the Year over their "War of the Avenues". Both bands released "Avenue" albums the summer of 2003 while they were concurrently trekking through Warped Tour (Story of the Year's debut Page Avenue threatened Ocean Avenue, yet two decades past, all juvenile jealousy has been squashed and is now a funny aside for the groups. But Key insists, "our avenue is better than your avenue.")
During the show's halfway point, Key brought out Mayday Parade— whom he earlier thanked for graciously bringing him on tour with them in 2018 after Yellowcard disbanded – frontman Derek Saunders to duet on "Hang You Up." This was a beautiful moment that emphasized the truly companionship and admiration that these bands truly share, and the crowd ate up every second of it. As the two singers embraced, Keys added with a grin, "One of the best things about this tour is that I get 31 hugs from Derek Sanders." 
"Empty Apartment" brought a shift in energy once again, and a killer violin solo for Mackiin. The set's second half proved just as penetrating, with fans singing every word. Even the crowd surfers wildly serenaded the crowd while tumbling atop a sea of bodies. Impressively, there was no energy lost from the band or its audience, even after hours of high-energy rock. 
Introducing the last few songs of the night, Key once again took a moment to get sentimental. "Twenty years ago this summer we put out 13 songs that changed our lives forever," he said of the pinnacle album for which they're touring. "The fact that you've continued to love these songs from this record so much over all these years is truly what's kept us going." Tuning up for "Back Home," but not before dedicating it to a very special guest in attendance. "We would have never made that record if it were not for the guidance and the love and the passion that we came to find in our longtime produce Mr. Neal Avron who is here in the house tonight… This song is for you tonight, Neil!"
Closing out the set with "With You Around," the band exited the stage to an insane demand for more. If it weren't yet evident, this is a reunion that people have clearly been eagerly waiting for.  They returned for the encore of their two biggest hits, "Only One" and "Ocean Avenue" and leave with promises of a quick return. "I can confidently tell you that we're a band again, we're gonna keep going!" Key had yelled earlier in the set, met to deafening screams.
Towards the end of their lengthy North American run, Yellowcard will be returning to Massachusetts for a show at the sacred emo grounds of the Worcester Palladium. Later in the tour they will be joined by Anberlin and a DJ set from Emo Night Brooklyn. For a band that did not ever see a future together only six years ago, the speed at which their tour sold out only solidifies the fact that Yellowcard are a band treasured within the alternative community. 
With tight musicianship and a clear love for what they do, Yellowcard returned to Boston primed and ready to dominate. On the biggest tour of their career, the group are enjoying every moment and have nothing to prove. In the words of Derek Saunders from earlier in the night, "Emo music is alive and well in 2023!" The "Celebrating 20 Years of Ocean Avenue" tour is here to solidify that. 
Childhood Eyes is out everywhere July 21 via Equal Vision Records. You can find tickets to Yellowcard's ongoing national tour here.
Yellowcard Online: Website | Facebook | Instagram | Facebook | Twitter | TikTok | YouTube | Spotify | Apple Music