Brooklyn's Anna Shoemaker continues to evolve in her voice and confident musings on new EP Hey Anna, out today via +1 Records. Always self-aware, earnestly confessional, and utterly unafraid to embrace the brigade of feelings that cycle in and out of life, Anna's brightly-hued indie pop is deeply personal and equally as compelling. Chronicling the story of bouncing back after dealing with the aftermath of trauma, heartbreak, and the way the dust settles in the months following, this collection of five songs is perhaps Shoemaker's most intricate and arresting songwriting to date. 
Following up her 2022 debut album, Everything is Fine (I'm Only on Fire), Shoemaker is confident in her musicianship, but ready to shake things up. Her latest collection offers an up-close look at Anna regaining control and asserting her own power. If her social media presence is any indicator, be it the cool aesthetic of thrifted slip dresses, casual snapshots, and video clips from intimate shows, Anna is the new It girl about to take over your feeds and your playlists.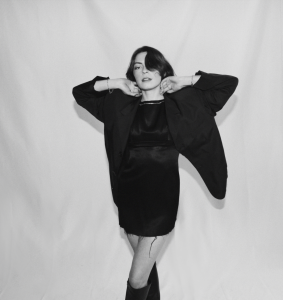 Shoemaker's assertion and vulnerability distinguish her work, allowing for moments of reflection both sincere and impassioned amongst her varied array of offerings. Self-referent track "Hey Anna" opens the EP in a mid-tempo lullaby of pure pop tendencies, channeling the singer-songwriter's lo-fi, bedroom produced origins. (Her mashup of Kendrick Lamar and Chance the Rapper went viral on Soundcloud in 2016, which she recorded on her bedroom floor.) With fuzzy vocals and tongue-in-cheek lyricism, the track introduces the artist in a conversation between her and an unrelenting ex. Ending on distorted, hushed notes of "and if you're lonely you can call me baby," she lusciously invokes the feeling of late night voice memos sent with lack of inhibition. 
Soothing vocals lull listeners into a state of transfixion that is somewhat familiar, akin to modern the pop swooning of Olivia Rodrigo, Lizzy McAlpine, or Gracie Abrams, yet Shoemaker's unique approach makes each song entirely her own. The buzzy "666" chants the number in a compelling succession, calling on the emergent popularity in angel numbers. Noted as a sign to refocus and realign priorities, the number signifies one's need for redirection in life, which unfolds throughout the EP.
Utilizing drum beats and shoegaze flourishes, each track could easily earn a coveted spot in any A24 production or aesthetic TikTok video. There is a cinematic quality to Shoemaker's particular style of pop, leaning into the "main character" trend of deeply relatable and inspiring compositions. The humorously self aware "ADD" stands out with its clever wordplay, while Shoemaker jabs "I have ADD and a new TV". Speaking straight to the souls of twenty-somethings on the precipice of a self committing/fulfilling prophecy, she proves the bumps in the road can be self-deprecating reminders of humanity. 
The track's lyrics are deliciously singable and even more strikingly relatable to a generation that has been dealt a number of misfortunes. "What a pretty place to breakdown in the mirror with my eyes closed/ is it me if no one's there? / Baby wanna play with me? / I got ADD and a new tv / took too long so I cut my hair / I could live in the palm of your hand," Shoemaker croons with bewitching assuredness. With the sweetness of Taylor Swift and the bite of Alanis Morissette, Shoemaker's natural presence is unmissable, proving the face in the mirror talks back. 
A spellbinding recitation of discerning mindfulness, single "Holly" makes use of a lush storytelling narrative that sparks questions for listeners like: Who is Holly? Is she real? Is she a  manic pixie dream-girl personification a la Holly Golightly? Is she a figment of imagination? Shoemaker's effortless blend of pristine vocal layering and play with melody leaves the track light and euphonic.
Final track "I Think I" was the first song Shoemaker wrote after releasing her debut album last year. An indie rock powerhouse that swoons with reverb and punchy percussion, the song radiates with an intensity that affirms Shoemaker as a star in New York's "next wave" indie scene. With a highly charged energy and cathartic screams that are reminiscent of Rodrigo's Sour, it feels as if it's been imprinted with the touch of producer Dan Nigro, yet with all the grit of coming up underground. Her distorted shouts that instigate the chorus feel cathartic, temping, and not a breakdown, but a liberating breakthrough. 
Shoemaker's vocal arrangements in conjunction with the track's sonic structure bends and breaks in all the right ways. "I Think I" is the kind of song that demands you experience it in a live setting, perhaps in the romanticized chaos of an early aughts New York dive show. With a high replay value, this track ends the project in an intoxicating and electrifying triumph. 
Already amassing a devoted following, the singer is no stranger to unleashing her emotions for mass consumption. There is a shared experience in being a young woman in today's society that only those living it can fully attest to. Anna does this with an air of sophistication and humor, establishing her as a prominent and valiant voice of this Tumblr-raised, highly-empathetic, therapy-embracing, loving but foreboding generation. Under Anna's guidance, she enables listeners to feel everything together, tethered through the narrative of her own personal experiences. 
Hey Anna artfully captures the woeful feelings from moments in young-adulthood with a confessional style of songwriting that spawns the urge to open up your own diary. On the journey from one phase to the next, there is a song that captures that moment in time— whether you've made it or you're stuck somewhere in between. Don't worry, Anna's been there too.
Anna Shoemaker Online: Website | Facebook | Instagram | TikTok | Twitter | Spotify | Apple Music