Born in New York, but North Carolina raised, rapper Toosii reflects on his turbulent past through the release of his newest project, debut album, NAUJOUR. The album, featuring melodic production and exciting verses from the likes of 21 Savage and Future, is a full  recollection of Toosii's past upbringing, relationships, and his journey to fame in the rap game. His debut was released Friday, June 2 via South Coast Music Group/Capitol Records, and follows Toosii's 2022 EP titled Boys Don't Cry.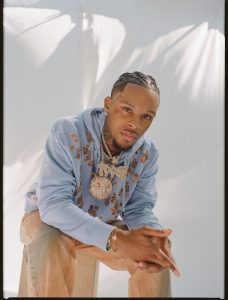 Between the release of his last EP and his newest album, Toosii began building hype surrounding several viral snippets that surfaced on TikTok. One of these singles, officially released on Valentine's Day, became Toosii's most popular song to date. The track, titled "Favorite Song," became an instant frontrunner for NAUJOUR, and spawned two remixed versions featuring Khalid and Future.The Platinum-certified track is No. 1 at Rhythm radio and is currently top 5 of the Billboard Hot 100 chart. Despite the success of "Favorite Song," its appearance on the album does not overshadow the project as a whole; Toosii simply has much to say on NAUJOUR and isn't limited to just its singles. 
The album's title, NAUJOUR, is Toosii's real first name. Born NauJour Lazier Grainger in Syracuse, NY, Toosii began focusing on music after he moved to Raleigh, NC, as a teen. In a press release he says, "I had always told myself that when I dropped my debut album, it would be a self-titled album. I feel like there is a difference between NauJour and Toosii and with this album, I am actually giving people the real in my life." The eponymous title represents how this project is a personification of the rapper himself, as he spent years working to perfect his sound and craft as an artist.
The dedication that Toosii himself put into this album is matched by the efforts of several key producers. The production on the album features moody melodies and trap-infused beats that perfectly complement Toosii's emotional delivery. Through his raw intonation and insightful lyrics, Toosii shows his vulnerability and versatility as an artist. Songs such as "Lost Ones" and "No Apologies" reveal Toosii's self-reflection as he navigates the complexities of and struggles of his past. Meanwhile, songs like "Heart Cold" and "Red Lights" bring an infectious energy to the album, with catchy hooks that demand attention. Toosii is able to effortlessly transition from soft R&B songs to hard-hitting rap tracks. By combining styles, Toosii succeeds at making each track its own, while using the full tracklist to create a captivating listening experience. 
Overall, NAUJOUR is nineteen songs of both entertainment and reflection. The album instantly stands out amongst new releases because of how Toosii showcases his growth as an artist. With creative lyricism, captivating melodies, and seamless genre-blending, he proves that he is a legitimate artist here to stay in the hip-hop and R&B landscape. Toosii's ability to express his deepest thoughts and feelings through his music creates an emotional connection that can be felt long after the last track is over. NAUJOUR is a must-listen for anyone seeking a heartfelt and introspective musical experience.
Toosii embarks on tour this summer in support of NAUJOUR. Tour dates can be found here. 
Toosii Online: Website | Instagram | Facebook | Twitter | TikTok | Spotify | Apple Music