On opening night of his The Charlie Live Experience tour, Charlie Puth took over The Pavilion at Toyota Music Factory, giving fans an evening they won't soon forget. Following a festival stop in Mexico City, the tour kicked off in Irving, TX as the first stop on Puth's North American tour. The tour follows Puth's series of One Night Only shows that he ended last year (2022) with debuting his latest album Charlie.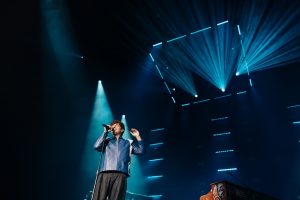 Blu DeTiger opened up the show and had the crowd hooked from the fist strum of her bass. The 25-year-old indie singer-songwriter quickly showed she was no stranger to the stage. Having been preforming since she was 7-years-old and DJing in New York City clubs at age 17, it was apparent DeTiger was more than comfortable on stage with her confident demeaner and impressive vocals and bass to back up her performance. With DeTiger clad in blue and silver and the stage aglow with blue lighting, the singer quickly set the mood as she rolled through her setlist of chill-pop hits, drawing the crowd in and upping the excitement for the night to come.
At the end of her set when DeTiger exited the stage and the house lights went down you could feel the excitement buzzing through the crowd in anticipation of Puth taking the stage.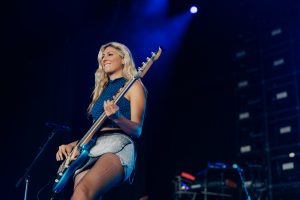 As soon as Puth took the stage the entire venue was electrified, every fan was up on their feet singing and dancing along to every word and beat coming through the speakers. Puth opened the show with a theatrical performance of his song 'Charlie Be Quiet!' off of his latest album Charlie. With this tour being in support of the album, a large portion of his setlist was comprised of hits off of Charlie, including "No More Drama", "I Don't Think That I Like Her", "When You're Sad I'm Sad", and "Loser". At its core, Charlie is a breakup album, full of heartbreak and expressions of discontent in a relationship. Which makes it all the more surprising how upbeat of a performace of these songs Puth put on for fans, bouncing around stage with a huge smile that never left his face. From a fan's perspective it's easy to speculate Puth is now in a good place following the release of his latest heartbreak album.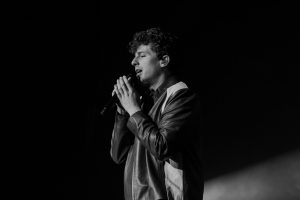 As he rolled though his 17 song setlist, Puth also treated fans to a couple of covers including The Kid LAROI's "Stay" and Trey Songz' "Slow Motion" as well as hits such as "Attention", "Left and Right", and of course ending the night with an encore of "One Call Away" and "See You Again" as the crowd belted out every single word to both. The perfect ending to opening night of Charlie The Live Experience.
Blu DeTiger
Charlie Puth
Setlist:
Charlie Be Quiet!
No More Drama
Attention
Stay (The Kid LAROI cover)
Left and Right
BOY
Light Switch
Slow Motion (Trey Songz cover)
We Don't Talk Anymore
I Don't Think That I Like Her
When You're Sad I'm Sad
That's Not How This Works
Loser
Done for Me
How Long
One Call Away
See You Again