Earlier this year Cradle of Filth and DevilDriver announced the first leg of their "Double Trouble Live" tour and stopped by The Observatory in Santa Ana, CA on March 11th. This particular show was the first one the tour to sell out and in less than 3 days! Along for the ride are the bands Oni & Black Satellite, no photographs unfortunately but know that they delivered amazing performances and should not be missed.
Oni, a progressive groove metal band from Canada fronted by Jake Oni, was up first and warmed the early birds up with songs off of their latest album Loathing Light, which was released in June of 2022. They ended their set with "The Only Cure", which is taken from their debut album Ironshore. Oni played Ozzfest meets Knotfest in 2016 & 2017 and has toured with Gojira, Death Angel, and Children of Bodom. They've gained a lot of new fans over the years and don't seem to be slowing down anytime soon. Be sure to check out their latest single "Iron Heart" on all streaming services when you can.
Black Satellite, from New York, New York was next and brought some industrial metal to Southern California. A few songs they played were "Void" (2020 single), "Broken" (their latest single release this year), and "Sonne" (their 2021 cover of Rammstein's track off of the Mutter album). Lead singer Larrisa Vale's bright blue mohawk and spikes on her jacket set the tone as the band ripped through a quick six song set. At this point of the night the venue was pretty much filled to capacity and the crowd was getting more and more rowdy in anticipation for the co-headliners.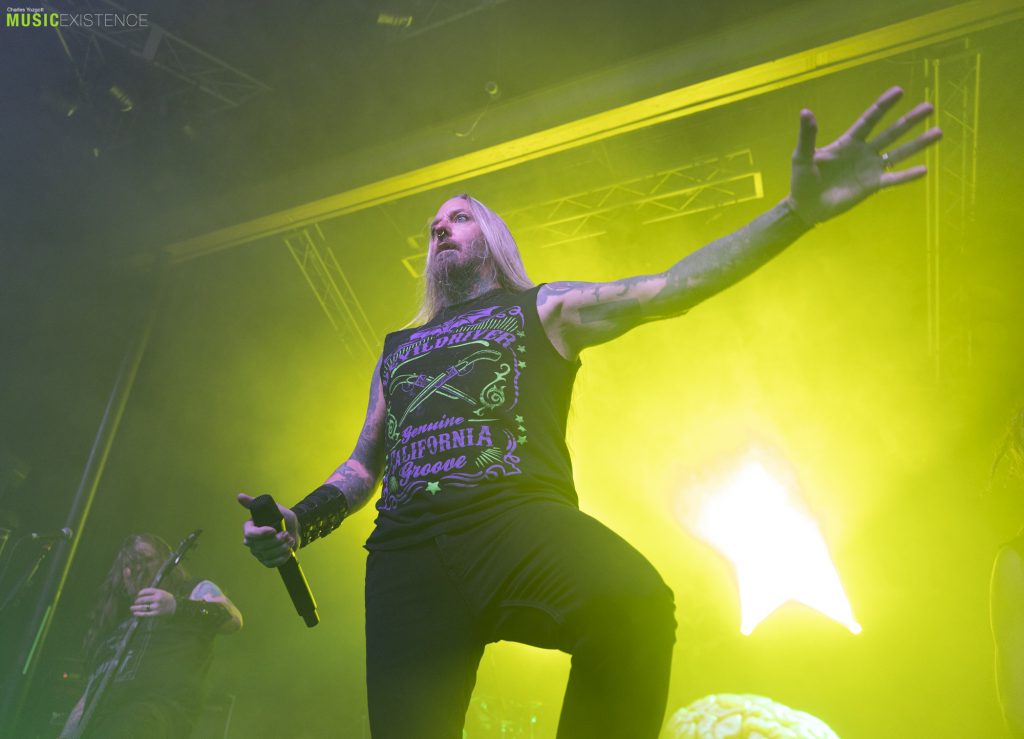 Santa Barbara groove metal legends DevilDriver took the stage and it was a moment that a lot of people have been waiting for. This is DevilDriver's first tour since 2019 and and they came out to the stage with a mission, to melt everyone's faces off with their music. Just 4 days before this show DevilDriver released their highly anticipated single "Through the Depths", which will be off of the forth coming album Dealing with Demons II (out on May 12, 2023), and it's just as heavy and groovy as the previous singles off of 2020s Dealing with Demons I. The crowd went crazy as the band took the stage and dove into the tack "Keep Away From Me" and you could tell the the band was loving every second of it. Next up was "Hold Back the Day" (off of 2005's The Fury Of Our Maker's Hand) and "I Could Care Less" (off of their 2003 debut self titled album). Before the music continued Dez Fafara welcomed back bassist Jon Miller after a 12 year hiatus. Jon is one of the original members of DevilDriver and it was good to see him back rocking out on stage.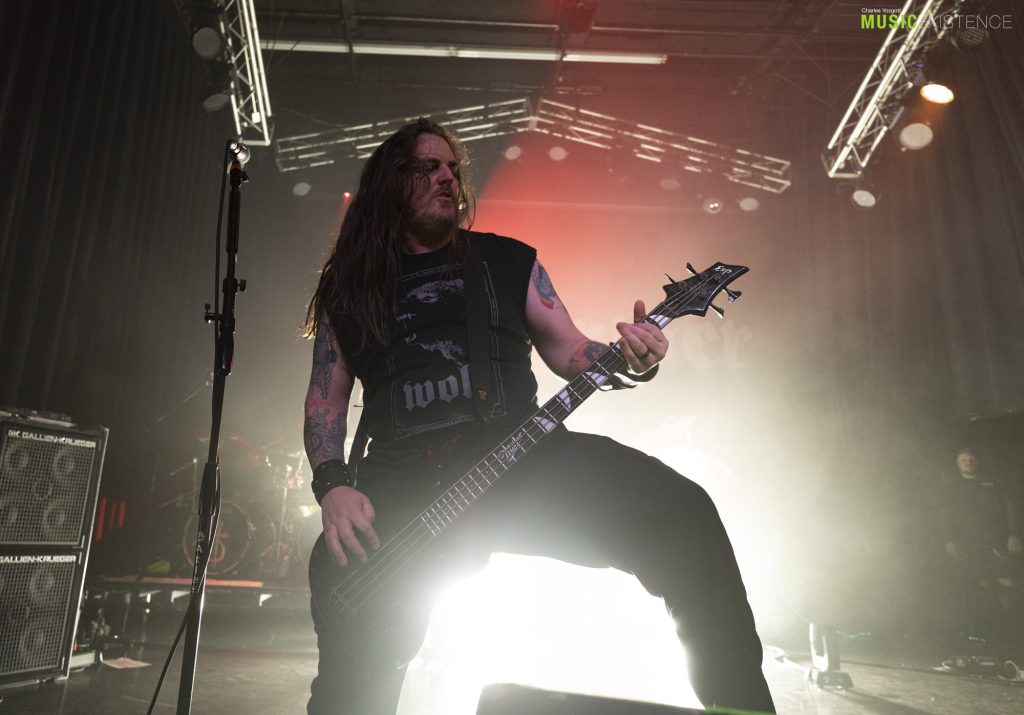 Jon started the next song "Grinfucked" with his bass, which is another track off of The Fury Of Our Maker's Hand, and DevilDriver continued to do what they do best. Guitarist Mike Spreitzer, who joined the band in 2004, began the next song "Head on to Heartache (Let Them Rot)" off of 2007's The Last Kind Words, had the crowd playing their best air guitar and head banging like crazy. Mike's long dreads were flying all over the place and it was something to watch since he didn't miss a note while playing. "My Night Sky" was next, off of 2016's Trust No One, followed by another banger off of Fury "Before the Hangman's Noose".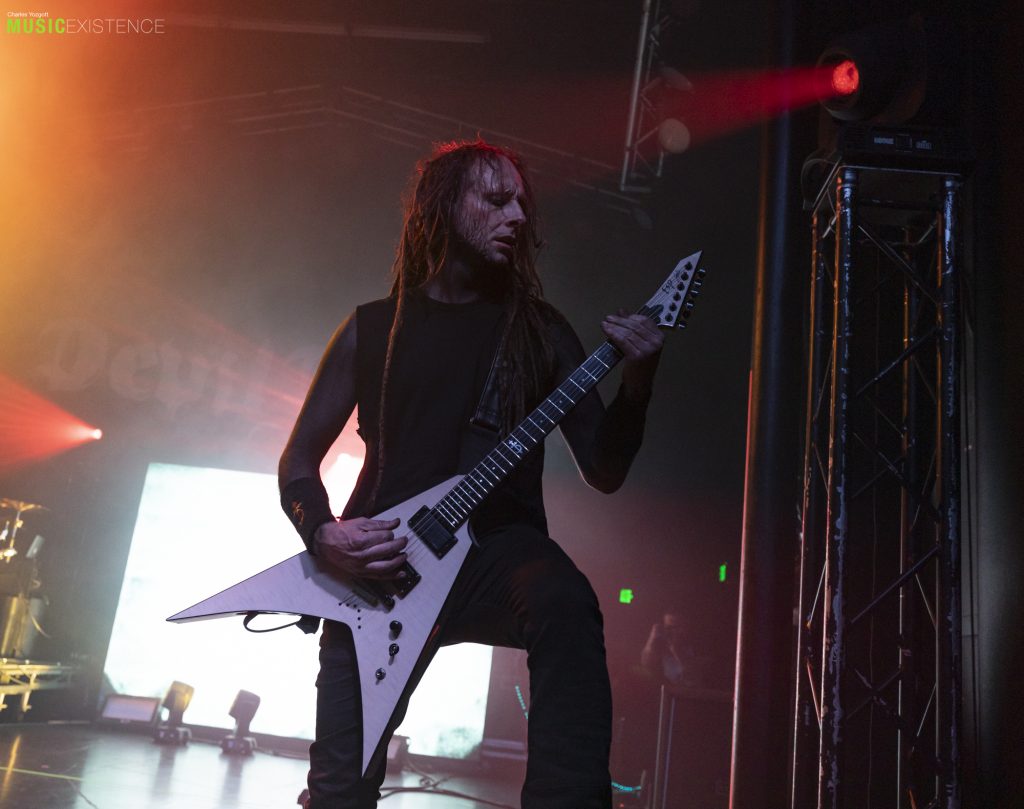 Two tracks from 2013's fan favorite Winter Kills was next, "Ruthless" and "Sail" (an Awolnation cover), had everyone singing along and moving with the music. Dez took a minute between songs to tell everyone that he almost didn't make it from having covid last year and that he was very much appreciative of being alive and well and able to do what he loves the most. He thanked everyone from the bottom of his heart and made it clear that the band was grateful for all the love and support that has been given to them throughout the years. Dez also mentioned new guitarist Alex Lee and drummer Davier Pérez who recently joined the band after the departure of guitarist Neal Tiemann and drummer Austin D'Amond. These two new band members showed how much they enjoy playing with the guys on stage and it seemed like they've been jamming with them for years.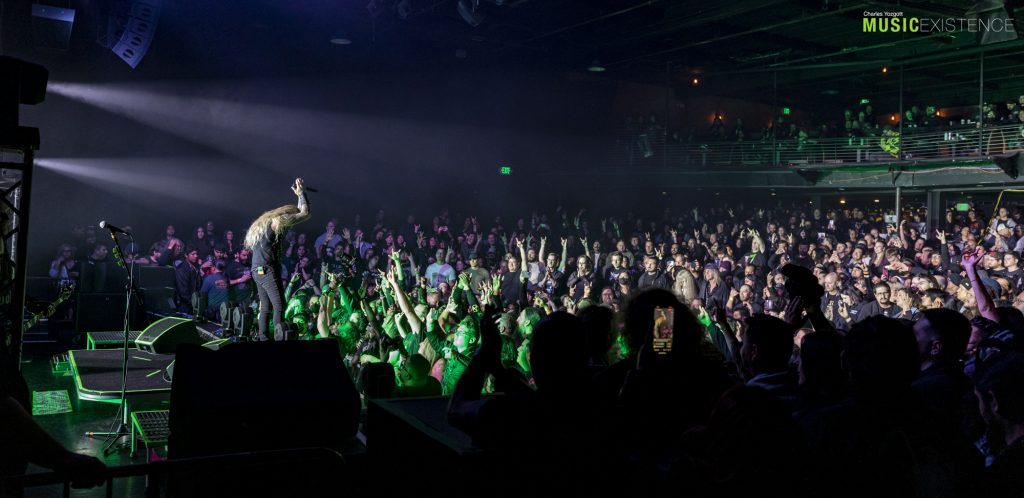 DevilDriver ended their set with three heavy hitters, "Clouds Over California" off of The Last Kind Words, "End of the Line" off of Fury, and the song that they close with most of the time if not all the time "Meet the Wretched" off their debut self titled album, and the crowd made sure to make the most of it. Make sure to catch these gents on the last few dates of this tour and/or the next leg of the tour which should be announced very very soon!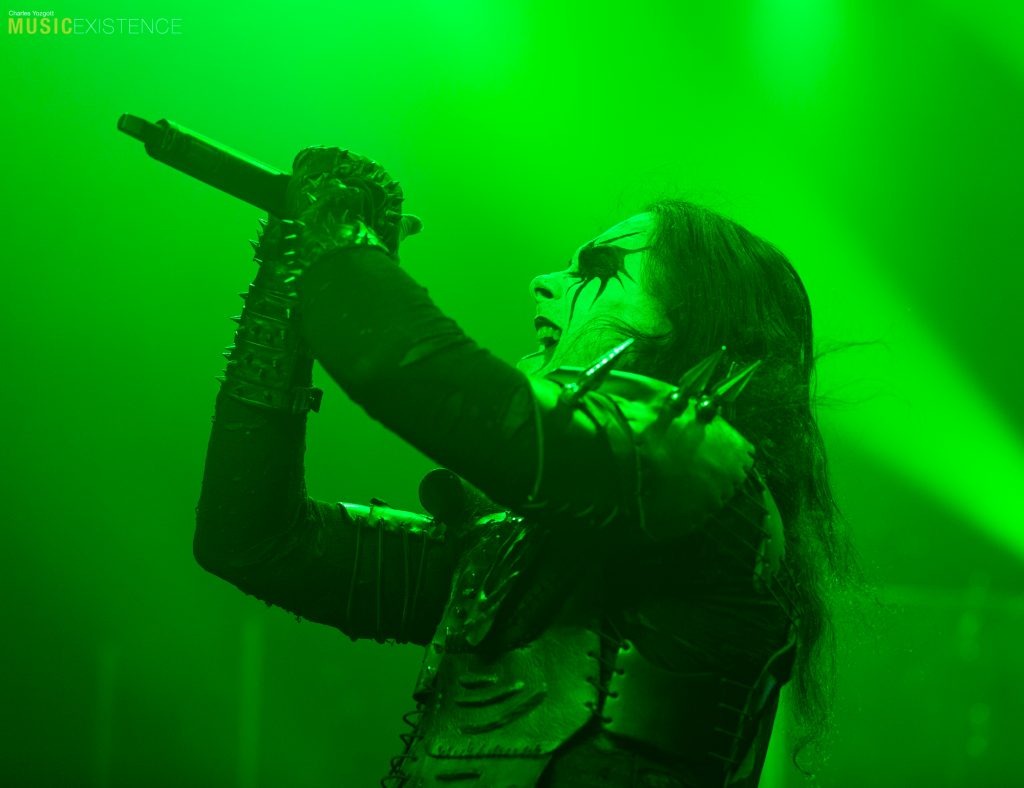 English extreme metal band Cradle of Filth, who formed in Suffolk in 1991, have been on top of the metal world for quite some time and see no signs of slowing down anytime soon. They just released a new single titled "She is a Fire" just 10 days before this show and it's proves that they aren't going anywhere. Dani Filth's microphone stand is one of a kind, a full skeleton with old school knight's armor on it's head and percing red eyes staring into your soul. The audience went nuts when the band came out and screams were heard throughout the venue. Dani's face paint was on point and the armor that he wore with spikes coming out of the shoulders was definitely intimidating. The set began with the track "Heaven Torn Asunder" off of their third album Dusk & Her Embrace (1996) and it sounded amazing. Two new members of the group, Donny Burbage on the guitar and Zoe Marie Federoff on keyboards and vocals, showed that they belonged with the group by their performances and stage presence.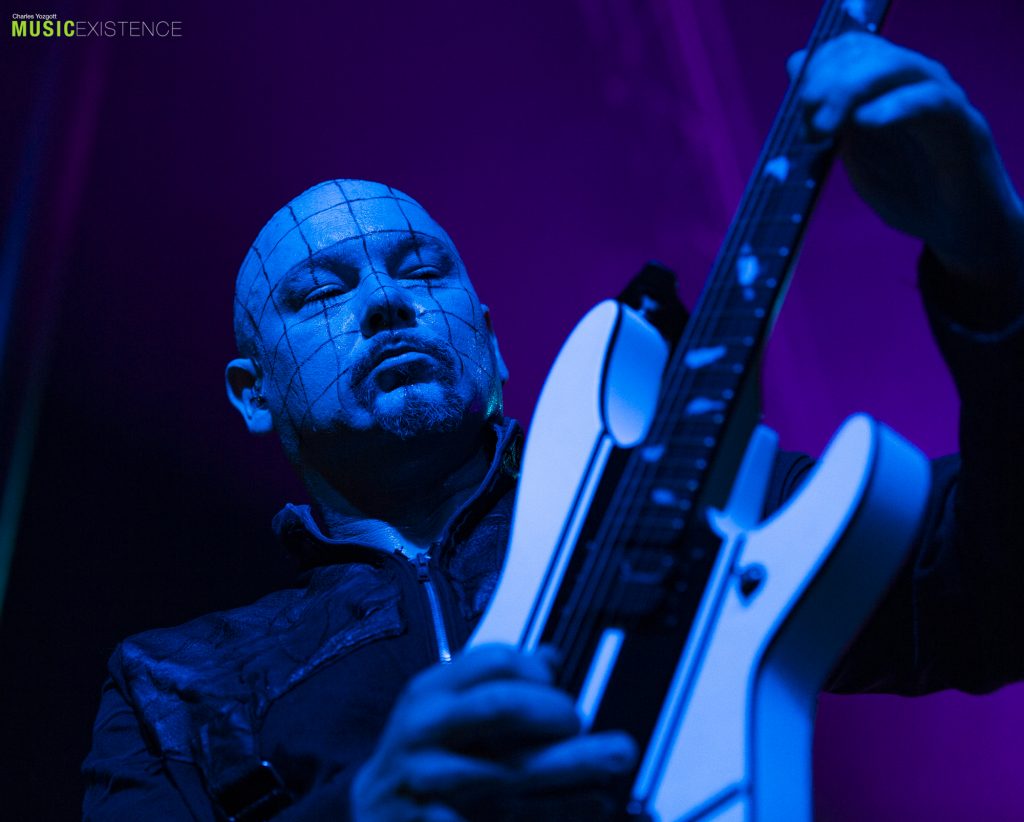 The next couple of songs, "Gilded Cunt" (off of 2004's Nymphetamine) and "Cruelty Brought Thee Orchids" (off of 1998's Cruelty & The Beast) was nothing but pure bliss for the crowd and the band itself. Guitarist Marek 'Ashok' Šmerda holds his axe up as the crowd cheers and the smile he has on his face is just as impressive as his "Hellraiser" face paint. The show that the band puts on is just as impressive as the music they play. New guitarist Donny looks like he's been with the band for a while not skipping a beat and having the time of his life. Drummer Martin 'Marthus' Škaroupka was playing the next track and the bands latest single "She is a Fire" to perfection and letting us hear those double bass drum kicks in the back of the venue. Next track was "The Principle of Evil Made Flesh" off of 1994's album with the same name followed by the track "Nymphetamine Fix" off of 2004's album Nymphetamine.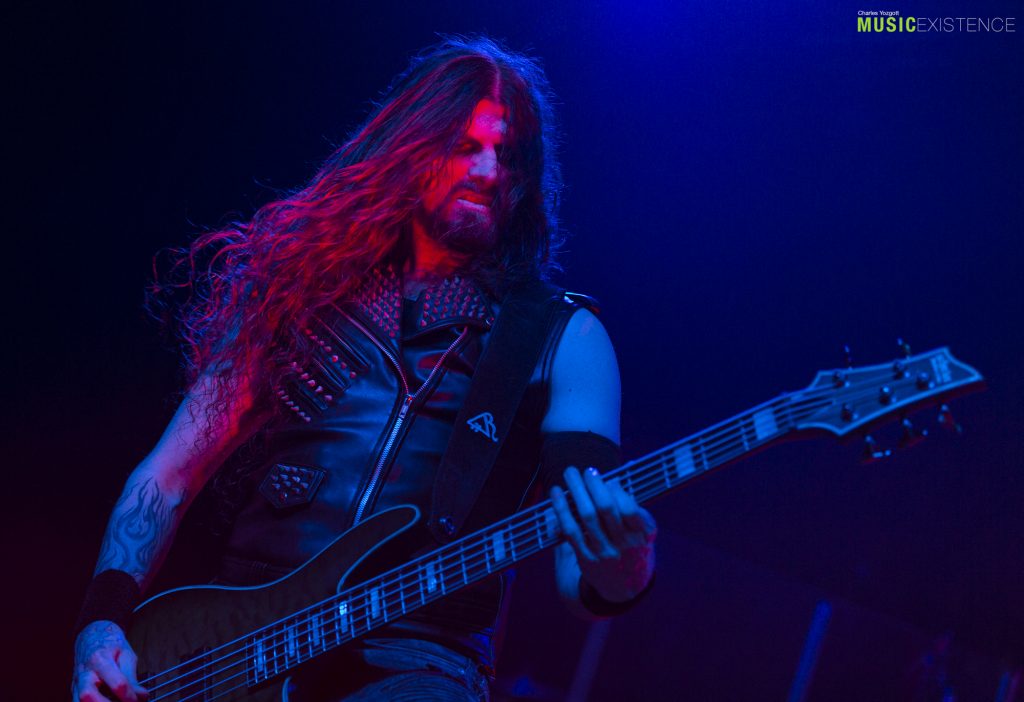 Bassist Daniel Firth embraces the stage as he head bangs along to the songs and plays with an energy that's only matched by the diehard fans screaming along to the songs. "Crawling King Chaos" was up next, off of 2021's Existence Is Futile, followed by "Born in a Burial Gown" off of 2001's Bitter Suites to Succubi, and the crowd loved hearing these songs. They know the new tracks just as well as the older classic songs and that proves what die hard fans Cradle of Filth has. It was pure enjoyment watching the band and their fans interact having fun. Dani's trademark style of singing had the audience mimicking it as he growled and shrilled with force throughout the set. The last two songs played were "Her Ghost in the Fog" off of 2000's Median and fan favorite "From the Cradle to Enslave" off of 1999's album with he same name. Cradle of Filth played a songs that span their entire career and Santa Ana loved every minute of it. As it was mentioned before, Cradle of Filth isn't going anywhere and hopefully we will get some more new music in the near future, maybe before the second leg of the tour.
This first leg of the tour has four dates left and ends on 3/26 in Albuquerque, NM. Texas has the next 3 shows and are either sold out or close to selling out so act fast! Keep your eyes open for when they announce the next leg of the tour so you don't miss this incredible co-headlining outing from these 2 historic heavy metal bands.
DevilDriver
Setlist:
Keep Away From Me
Hold Back the Day
I Could Care Less
Grinfucked
Head on to Heartache (Let Them Rot)
My Night Sky
Before the Hangman's Noose
Ruthless
Sail (Awolnation cover)
Clouds Over California
End of the Line
Meet the Wretched
Cradle Of Filth
Setlist:
Heaven Torn Asunder
Gilded Cunt
Cruelty Brought Thee Orchids
She Is a Fire
The Principle of Evil Made Flesh
Nymphetamine Fix
Crawling King Chaos
Born in a Burial Gown
Her Ghost in the Fog
From the Cradle to Enslave