Last December The Flaming Lips announced "An Evening With" and promised a night that gives their loyal fans a healthy dose of songs that span their whole career. Seven shows that started in Vancouver, BC and ended in Santa Barbara, CA. This particular night was at the House of Blues in Anaheim, CA and it was truly an eye opening experience. 16 albums since 1986's Hear It Is, The Flaming Lips have made their mark in the music industry and it doesn't seem like their going anywhere anytime soon. Their latest studio album, American Head (2020), was a trip down memory lane for the band and the last album with founding member bassist/keyboardist Michael Ivans. The current band which consists of Wayne Coyne (lead singer), Steven Drozd (guitars, keyboards, bass, drums, backing and lead vocals), Derek Brown (keyboards, guitars, percussion, backing vocals), Matt Duckworth Kirksey (drums, percussion, keyboards, backing vocals), and Nicholas Ley (percussion, drums, samples) and Tommy McKenzie (bass), gives an unforgettable performance that leaves your heart full and your mind at ease.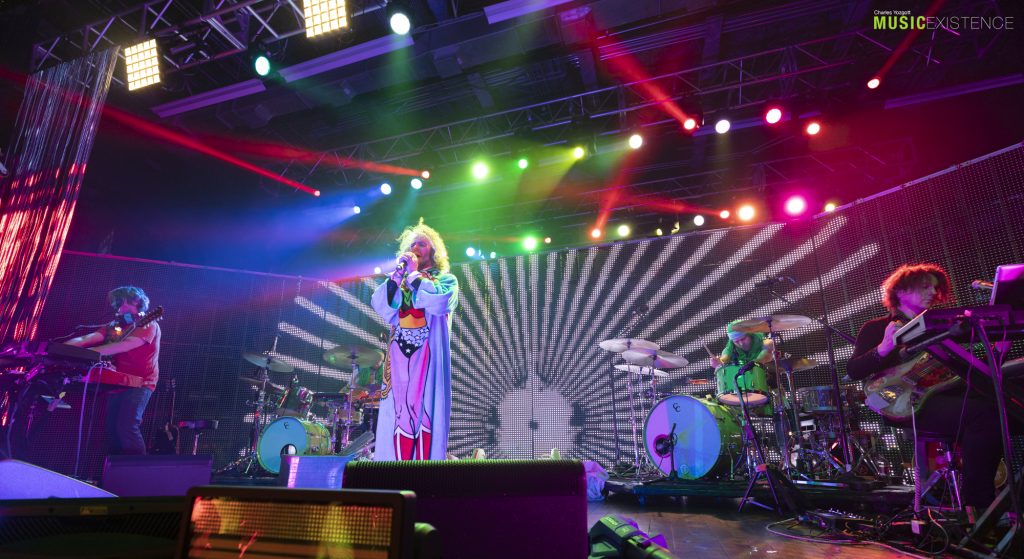 The first two songs they played, "Sagittarius Silver Announcement" and "Silver Trembling Hands" are off 2009's Embryonic, which is fitting since it's the bands first double album, and the fans loved it. Wayne was in a bubble, which the band has been doing for quite some time now, and confetti filled the venue for the second song and brought pure joy to the fans as all of them had smiles on their faces from ear to ear. Audience members singing along and screaming at the top of their lungs after each song brought pure joy to the band as well as Wayne would thank everyone for their participation and love. The third song was "Do You Realize??" off of 2002's Yoshimi Battles the Pink Robots and everyone, including security guards, venue workers, and photographers were singing along. It was their first single off that album and to date one of the bands most popular songs. "Enthusiasm for Life Defeats Existential Fear" was the next song, which also had tons of confetti released into the venue air, and it's taken from their Greatest Hits, Vol. 1 (Deluxe Edition) album released in 2018 and was followed by a B-Side song "Why Does It End?" from the single "The Yeah Yeah Yeah Song" off of the 2006 album At War With the Mystics. A huge blow-up rainbow with only the hues of orange, red, and yellow was put on stage as they performed these songs while Wayne wore his Wonder Woman snuggie. Afterwards their very own Pink Robot was brought to life as they started the fan favorite "Yoshimi Battles the Pink Robots, Pt. 1" and once again every person in the venue was singing along with the band.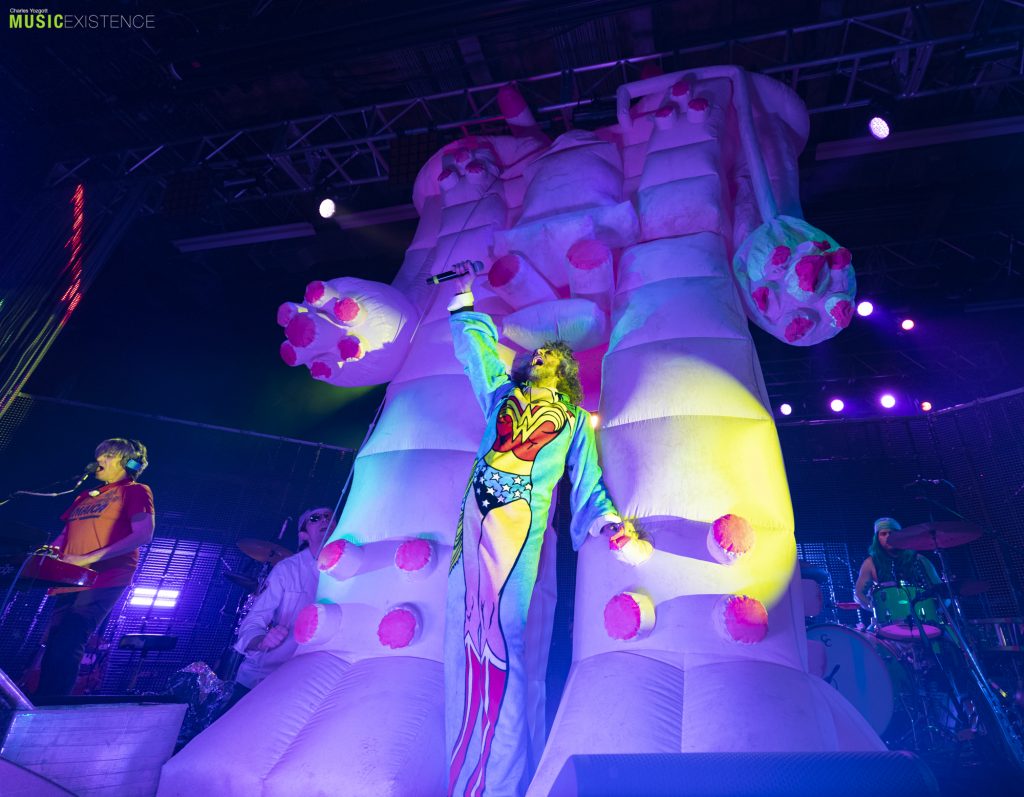 The next three songs were all off of their latest album American Head, "At the Movies on Quaaludes", "Will You Return/When You Come Down", and "Assassins of Youth". Wayne told the crowd that "At the Movies on Quaaludes" was about the time his brothers, not sure if the mentioned himself as well, would go to the movies and use quaaludes to watch Easy Rider, which is all about being free and doing what you want/love. Wayne said it was definitely an interesting time in his life. Up next was "Borderline", a Madonna cover which had the crowd dancing and laughing. The one song they played off of 2007's Oczy Mlody was "How??" which is very mellow and more electronically rooted. Everyone was able to relax and just enjoy watching the men on stage perform the song to perfection. "Ego Tripping at the Gates of Hell" off of Yoshimi was next followed by "Waitin' for a Superman" off of 1999's breakthrough album The Soft Bulletin, which saw the band mellow out a little more than their previous five studio albums which were more rock heavy. Another track from their latest album was played next, "Dinosaurs on the Mountain" followed by their first chart single "She Don't Use Jelly" off of 1993's Transmissions from the Satellite Heart. Needless to say, the audience sang along at the top of their lungs and was brought back to the early nineties for a few minutes. Wayne brought out a gun next, a bubble gun that shot bubbles throughout the venue. Pure joy was flowing all around and Wayne couldn't help but talk about that joy as well. He mentioned how amazing it was that everyone was at the show and existing at the moment. He was saying that music helps people heal and sets them free, which is a fact of life, and he wanted everyone to have the time of their lives on this night. He also mentions that they have a lot of sad songs but didn't want the audience to be sad, he wanted them to experience of the music and to be happy while it's being played while he and the band express the sadness that the songs are about. The Flaming Lips music is amazing in which you can feel connected to it while going through all the feelings.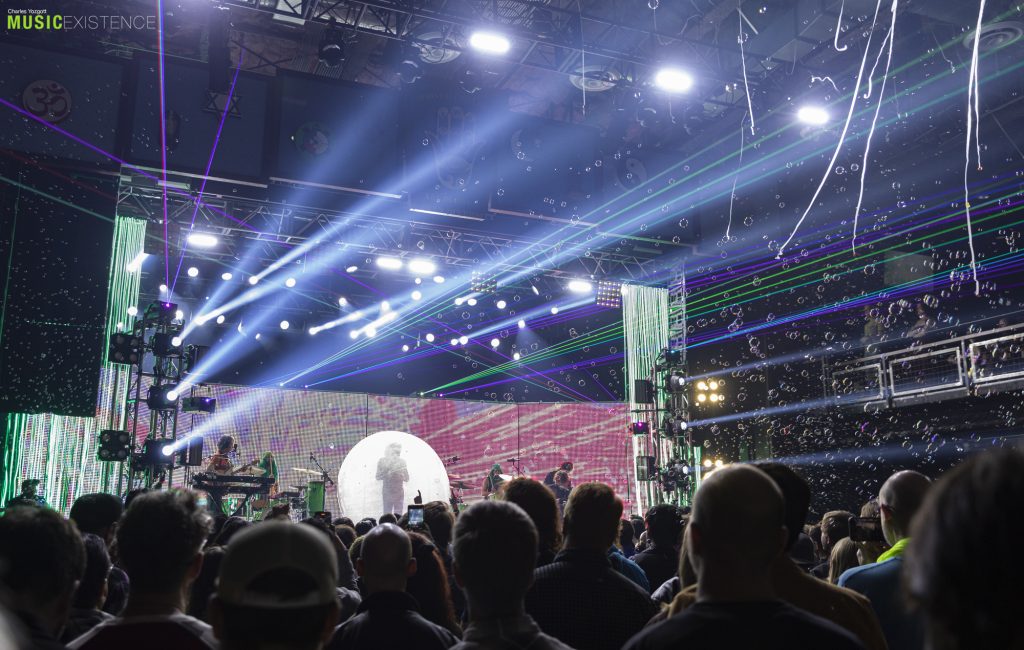 The last song before the encore and the first song of the encore was "Pompeii Am Götterdämmerung" and "My Cosmic Autumn Rebellion", both off of At War With the Mystics. "All We Have Is Now", a popular track off of Yoshimi Battles the Pink Robots, was the only other song in the encore that wasn't off of 1999s The Soft Bulletin. Those three other songs were "Feeling Yourself Disintegrate", "A Spoonful Weighs a Ton", and "Race for the Prize". Lots of colorful lasers and more bubbles accompanied these songs and it was a perfect ending to an amazing night. During the last song tons of confetti was flying all over the venue and huge balloons that read "Fuck Yeah Anaheim" was held up by Wayne. They have been doing this for sometime now and it still fun to watch and witness. If you missed this west coast run that they just wrapped up don't be sad, The Flaming Lips are headed back out again and will be playing their album Yoshimi Battles the Pink Robots for their world tour starting in April in the UK and going through August ending in the states. This will be a tour that you don't want to miss!
Setlist:
Sagittarius Silver Announcement
Silver Trembling Hands
Do You Realize??
Enthusiasm for Life Defeats Existential Fear
Why Does It End?
Yoshimi Battles the Pink Robots, Pt. 1
At the Movies on Quaaludes
Will You Return/When You Come Down
Assassins of Youth
Borderline (Madonna cover)
How??
Ego Tripping at the Gates of Hell
Waitin' for a Superman
Dinosaurs on the Mountain
She Don't Use Jelly
Pompeii Am Götterdämmerung
My Cosmic Autumn Rebellion
Feeling Yourself Disintegrate
All We Have Is Now
A Spoonful Weighs a Ton
Race for the Prize
The Flaming Lips next tour: