Who says that the 80s metal scene is dead? It's alive and well with Steel Panther at the wheel! Steel Panther just released their 6th studio album On The Prowl on February 24, 2023 the same day they kicked off their world tour supporting the album. Along for the ride on this tour are two bands that are a perfect compliment to Steel Panther, Tragedy and Crobot. The second night of the tour was at the House of Blues in Anaheim, CA and the place was filling up quick.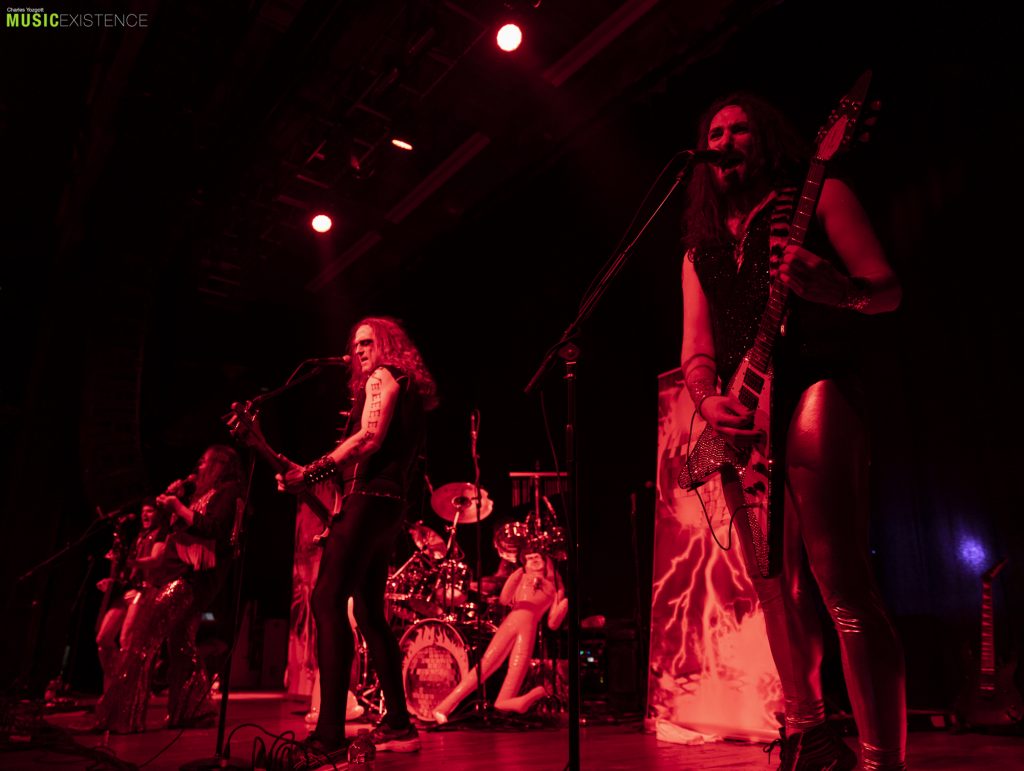 Tragedy is a metal tribute to the Bee Gees and beyond covering the likes of ABBA, Neil Diamond, The Weather Girls, and John Farrar to name a few. They hit the stage in their loud costumes which included skin tight leggings, jackets with fringe, and black face paint as black metal bands wear. Opening the set with the Bee Gees song "Tragedy" off their debut album We Rock Sweet Balls and Can Do No Wrong: All Metal Tribute to the Bee Gees, the band showed the early birds at the venue how to rock out to classic disco songs that have been turned into metal ballads. Lead singer Disco Mountain Man wasted no time hitting those high notes and impressing the crowd. Surprisingly both guitarist, Mo'Royce Peterson and Gibbon Ass Freely, and bassist, Andy Gibbous Waning, are also lead singers and held their own. All four of these guys sounded amazing and you couldn't help but sing along to these classic songs. The drummer, The Infernal Demigibb, gave us those metal blast beats while the blow up dolls around his set were taking most of the impact. These guys were fun and should be checked out when they come to your town!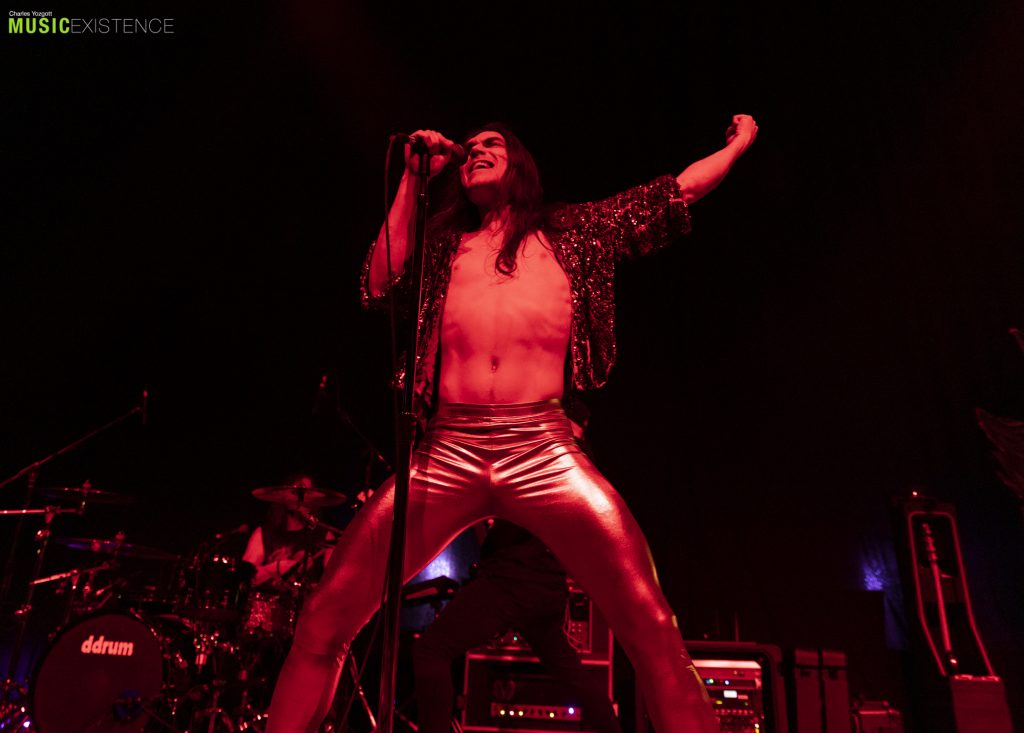 Crobot was up next and these dudes blew the audience away with their 'Dirty Groove Rock' show. Lead singer Brandon Yeagley came out on stage in an electric chair and a doctor was there to bring him back to life. Jumping out of the chair as the opening song "Electrified" started, which is the opening track off of their latest album Feel This, Brandon started jumping around the stage and showing his power stances with confidence. Not a single inch of the stage floor was left untouched by Brandon and his moves were just as amazing as the rock n roll that was playing. Guitarist Chris Bishop making it look easy to play rock n roll while twirling his guitar around and behind his back a few times during the show. The powerful crunching riffs had the crowd head banging and loving the show. Bassist Tim Peugh keeping the low end going smooth next to a wolf head that spits out smoke while drummer Dan Ryan kept the beat going in the background. Red light filled their set of power rock and these guys didn't hold back. Some of the tracks they played were "Dizzy", "Gasoline", and their latest single "Golden". This was a fun band to watch and their music was better than the show which says a lot. Check them out when you get a chance!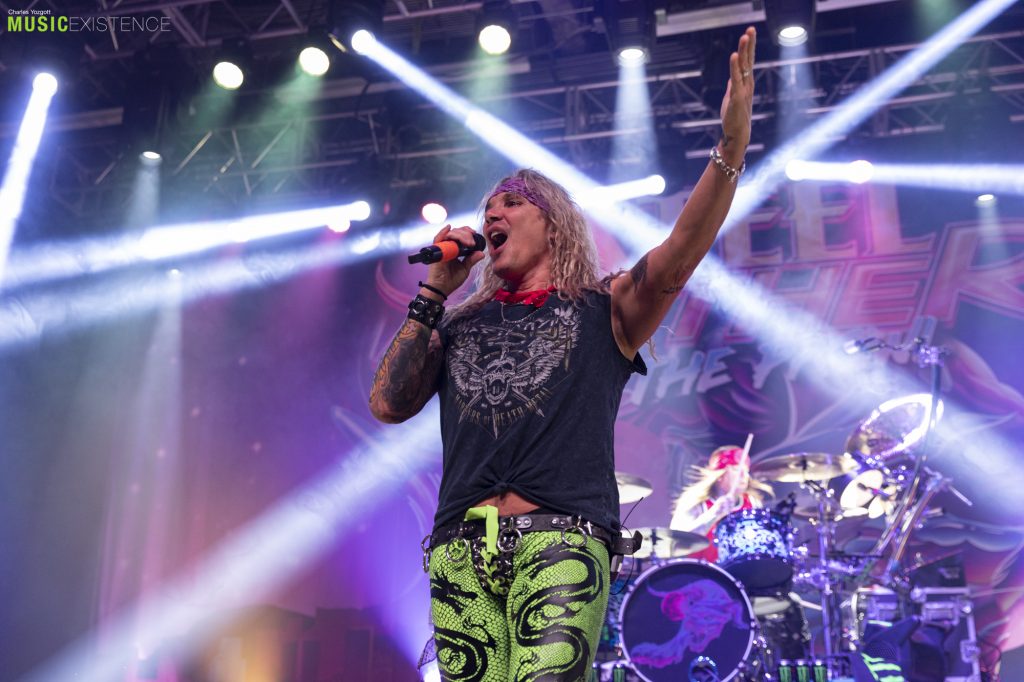 Now that the opening bands had given the packed House of Blues of Anaheim a couple doses of pure rock n roll, the time had come for the main event. The band that has kept 80s hair/glam metal scene alive and well came out on stage and started the show with "Eyes of a Panther" off their debut album Feel The Steel. That 2009 album was an instant hit because these guys have toured up and down the hollywood strip for years before and has a huge following. The bright lights and neon skin tight dragon pants illuminated the audience, which had a lot of big hair and neon head bands, and everybody was grooving to the music. Michael Starr had all the ladies screaming at the top of the lungs while he moved his money maker and sang the songs to perfection. The range of his vocals are just as amazing as the pants they were wearing. Guitarist Satchel had some highlighter yellow skin tight pants on with the title of the song "One Pump Chump" from their latest album on them at it matched his tiger stripped highlighter yellow guitar.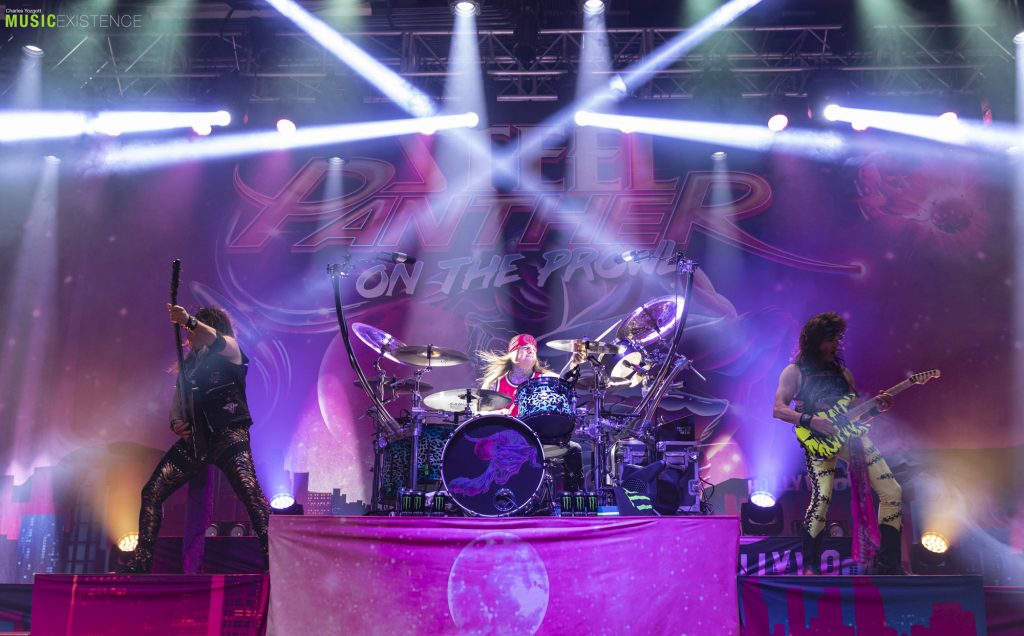 Stix Zadinia was lit up on his drum kit which showed how much he loves what he's doing. The purple panther on his bass drum, from the latest album, matches his personality and talent behind the kit. Bassist and newest band member Spyder fits right in with the band as his big hair and golden pants are no match for his bass playing. These guys know how to have fun and joke with each other about sex and drugs throughout the entire set, mostly sex. Their comedy act between songs is just as funny and raunchy as their song titles/lyrics such as the next song they played "Let Me Come In" off their album Balls Out, and audience members can be seen laughing their ass off and even spitting out their beverage of choice because these guys push the envelope as far as possible. They talk about cooking meth with grandma, how big the vagina of the girl in the front row must be, and hookers. Asian hookers to be exact, which was the title of their next song. They also brought out an Asian woman during the song and she seemed to love every second of it dancing with the band and singing the lyrics.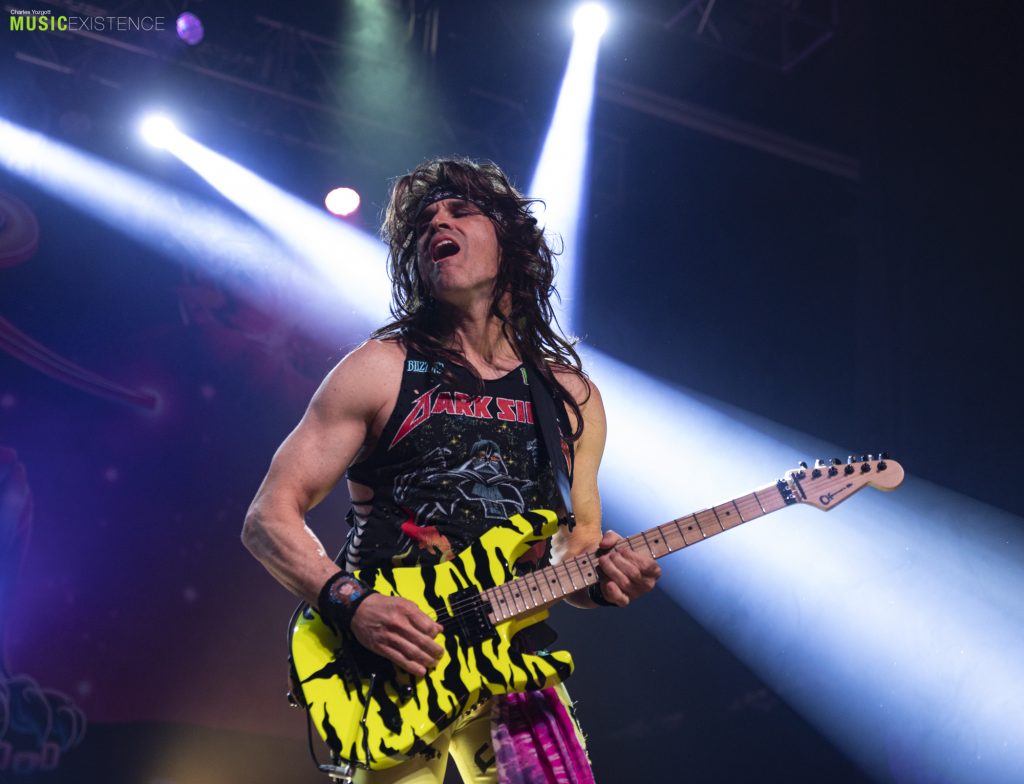 "All I Wanna Do Is Fuck (Myself Tonight)" off of 2020s Heavy Metal Rules was up next followed by fan favorites "The Burden of Being Wonderful" and "Party Like Tomorrow is the End of the World" off of their third album All You Can Eat. Spyder is seen messing with one of the crew while he tries to fix a mic stand as Michael Starr steals one of Styx sticks and pretends to give it to a fan. Michael tosses the stick behind him without looking and it's a perfect catch by Styx that gets the crowd cheering louder and louder once again. Michael brings a fan on the stage and says he's the voice behind the Vince Neil character in the movie The Dirt and they played "Shout at the Devil" which had everyone singing. "Death To All But Metal", the title track off their debut album, was next followed by two new songs off of On The Prowl "1987" and "Ain't Dead Yet". Satchel had a beautiful white acoustic guitar that he played during "1987" while "Ain't Dead Yet" had Starr on the acoustic guitar, Styx on the keys, and Spyder on the wind chimes. You can't beat that, pure entertainment.
Some more comedy and shit talking between friends on stage continued and Satchel had to remind everyone to buy merchandise so they can continue their cocaine habit. Also, 3% of the merchandise sales will go to needy children around the world so they won't be deprived of cocaine either. These dudes have the jokes and they keep getting better and raunchier. The band then brought up a women from the audience that had a shirt saying "Virginity Is Awesome" and told her that the next song they wrote for her. "Girl From Oklahoma" was played and she loved it. The band then said that any women who wanted to come up on stage and dance for the next couple songs, "Never Too Late (To Get Some Pussy Tonight)", and "Party All Day (Fuck All Night)", were welcome to do so. About 20 women got on stage and danced like there was no tomorrow, they got selfies with the band as the songs were playing and they couldn't believe it. They were having the time of their life. Usually when the band does this girls go wild and take their tops off exposing themselves and having a good time. This night was PG-13 in a way since there was no nudity but very close to it, it was still a blast watching everyone have fun. The night ended with "Community Property" and "Gloryhole" and it couldn't of been any better than that. This show from start to finish was an epic time and each band that played definitely made their mark on every audience member in the venue. This world tour is just getting started so make sure to check it out when it gets to your town!
U.S. On The Prowl tour dates:
02/24 – Las Vegas, NV @ House Of Blues
02/25 – Anaheim, CA @ House Of Blues
02/26 – Tempe, AZ @ The Marquee Theatre
02/28 – San Antonio, TX @ The Aztec Theater
03/01 – Houston, TX @ House Of Blues
03/03 – Dallas, TX @ House Of Blues
03/04 – Oklahoma City, OK @ Diamond Ballroom
03/06 – Nashville, TN @ Marathon Music Works
03/08 – Ft. Lauderdale, FL @ Culture Room
03/10 – Orlando FL @ The Plaza Live
03/11 – St. Petersburg, FL @ Jannus Live
03/12 – Atlanta, GA @ Buckhead Theatre
03/14 – Baltimore, MD @ Rams Head Live
03/16 – New York, NY @ Irving Plaza
03/17 – Philadelphia, PA @ Keswick Theatre
03/18 – Sayreville, NJ @ Starland Ballroom
03/19 – Worcester, MA @ The Palladium
03/21 – Detroit, MI @ The Fillmore
03/22 – Columbus, OH @ The Bluestone
03/24 – Indianapolis, IN @ Egyptian Room
03/25 – Chicago, IL @ House Of Blues
03/26 – Bloomington, IL @ The Castle Theatre
03/28 – Milwaukee, WI @ The Eagles Club Stage
03/29 – Minneapolis, MN @ The Fillmore
03/31 – Lincoln, NE @ Bourbon Theatre
04/01 – Denver , CO @ The Fillmore
04/02 – Salt Lake City, UT @ The Depot
04/04 – Portland, OR @ Crystal Ballroom
04/06 – West Hollywood, CA @ Whisky A Go Go
04/07 – West Hollywood, CA @ Whisky A Go Go
04/08 – San Diego, CA @ House Of Blues
United Kingdom + Ireland:
May 14 – Glasgow, UK – O2 Academy
May 15 – Newcastle, UK – O2 City Hall
May 17 – Manchester, UK – Academy
May 18 – Birmingham, UK – O2 Academy
May 20 – London, UK – O2 Forum Kentish Town
May 21 – Bristol, UK – O2 Academy
May 23 – Leeds, UK – O2 Academy
May 25 – Belfast, UK – Ulster Hall
May 26 – Cork, IE – Cyprus Avenue
May 28 – Dublin, IE – Vicar Street
Tragedy
Crobot
Steel Panther
Setlist:
Eyes Of A Panther
Let Me Come In
Asian Hooker
All I Wanna Do Is Fuck (Myself Tonight)
The Burden of Being Wonderful
Party Like Tomorrow Is the End of the World
Shout at the Devil
Death To All But Metal
1987
Ain't Dead Yet
Girl From Oklahoma
Never Too Late (To Get Some Pussy Tonight)
Party All Day (Fuck All Night)
Community Property
Gloryhole