Thrash metal legends Anthrax gave us a second helping of their 40th Anniversary Tour and stopped by the Riverside Municipal Auditorium in Riverside, CA on February 17, 2023. Tour mates from the first leg and heavy metal royalty, Black Label Society, joined them again while fellow thrash metal giants Exodus joined the tour this time around (Hatebreed was support for the first leg). This particular show  sold out very quickly after the announcement of the tour and the metal community in Southern California showed up. This was suppose to be the last SoCal show for this tour but an Anaheim, CA date was added and sold out as well. Metal heads and music lovers alike know how big Anthrax is and the fact that they've been significant all these years says a lot about who they are and their love for music.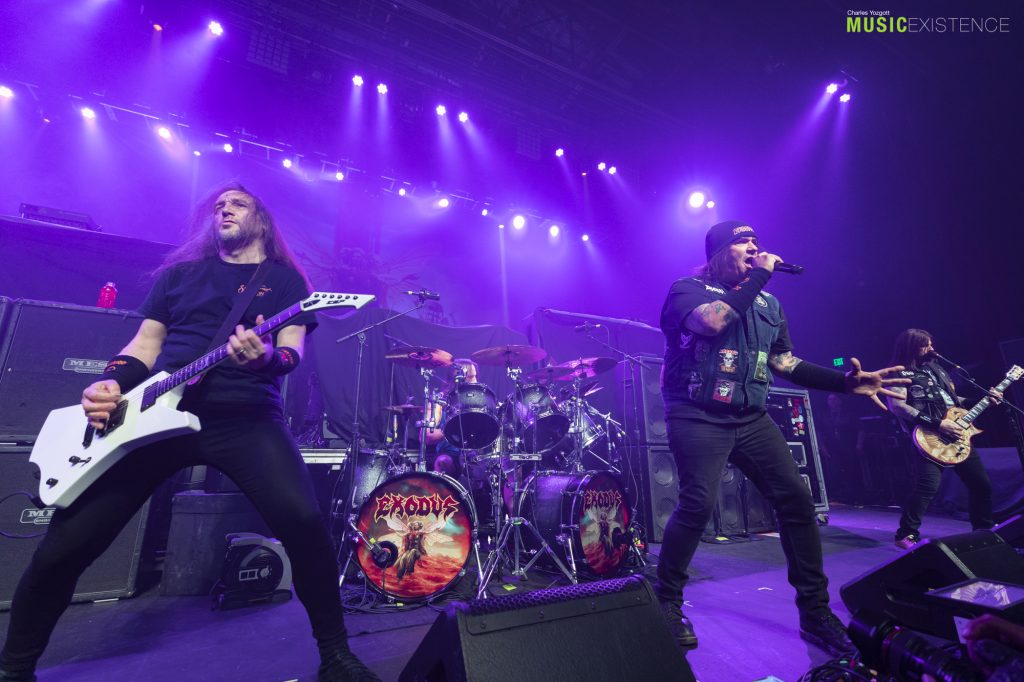 Richmond, CA's own Exodus was up first and they opened with "The Beatings Will Continue (Until Morale Improves)" off of their latest thrash masterpiece album Persona Non Grata. Steve "Zetro" Souza's distinct voice carries over the heavy hitting drums of Tom Hunting, those low end bass lines by Jack Gibson, and crunching riffs of Gary Holt and Lee Altus. The pack auditorium filled up early for these thrash giants and there was numerous mosh pits throughout their set. Their set included four songs from their first album Bonded by Blood including "A Lesson in Violence" and "Strike of the Beast", thrash classics that still hold up strong today. There's no slowing down for these guys and their music sounds better than ever.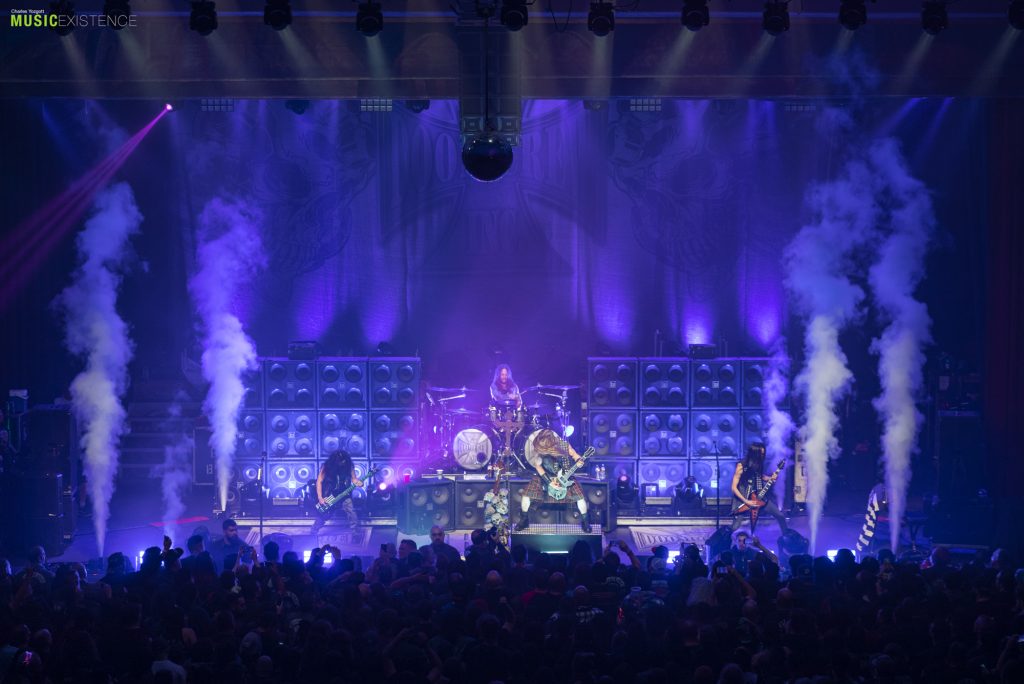 The all mighty Black Label Society was next and they covered the stage with a huge banner of their famous skull. Before the music started fans were heard screaming and cheering when they saw Zakk Wylde having fun recording his Ultimate Warrior action figure on his phone and getting amped up for the show. Pure fun and pure entertainment at its best. Opening the night with "Funeral Bell" off of The Blessed Hellride, BLS did what they do best and put on one hell of a show. Zakk Wylde on his riser swaying and grooving with the heavy riffs that echo throughout the auditorium, John "JD" DeServio slapping the florescent strings on his bass, Dario Lorina shredding on his 6 string, and Jeff Fabb hitting the skins between two mountains of speakers. The audience was banging their heads and devil horns were in the air for the 13 song set that included the classics "Fire It Up", "The Beginning…At Last", and "Stillborn", and a few off their latest album Doom Crew Inc. such as "Destroy & Conquer", "You Made Me Want To Live", and "Set You Free". A highlight of their set is when they play "In This River" paying tribute and homage to the Abbott brothers of Pantera, it's a touching moment and feel good time of the night. Black Label Society always puts on a killer live show so make sure to see them the next time they play.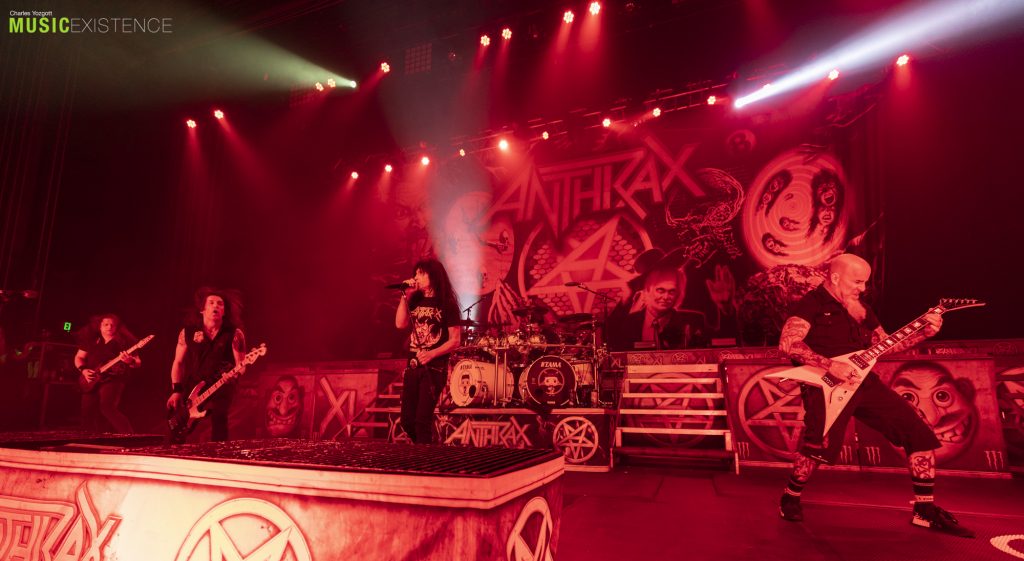 The time for Anthrax had arrived and just before they took the stage a tribute video was projected on a white sheet covering the stage. Many people from all walks of life shared their love for Anthrax and gave props to these gents for their passion and longevity in the heavy metal business, which got the crowd hyped up and amped for the show. The band members silhouettes now show on the white sheet and the crowd went nuts as soon as "Among The Living" started. Crowd surfers started popping up across the entire general admission area and a few mosh pits broke out. This is why the people came to Riverside on this particular night, to see the thrash metal legends Anthrax perform their hits and to go crazy during. "Caught In A Mosh" off of Among The Living was next followed by the popular track "Madhouse" off their second album Spreading The Disease. "Metal Thrashing Mad" off of their debut album Fistful of Metal was next and the crowd loved it.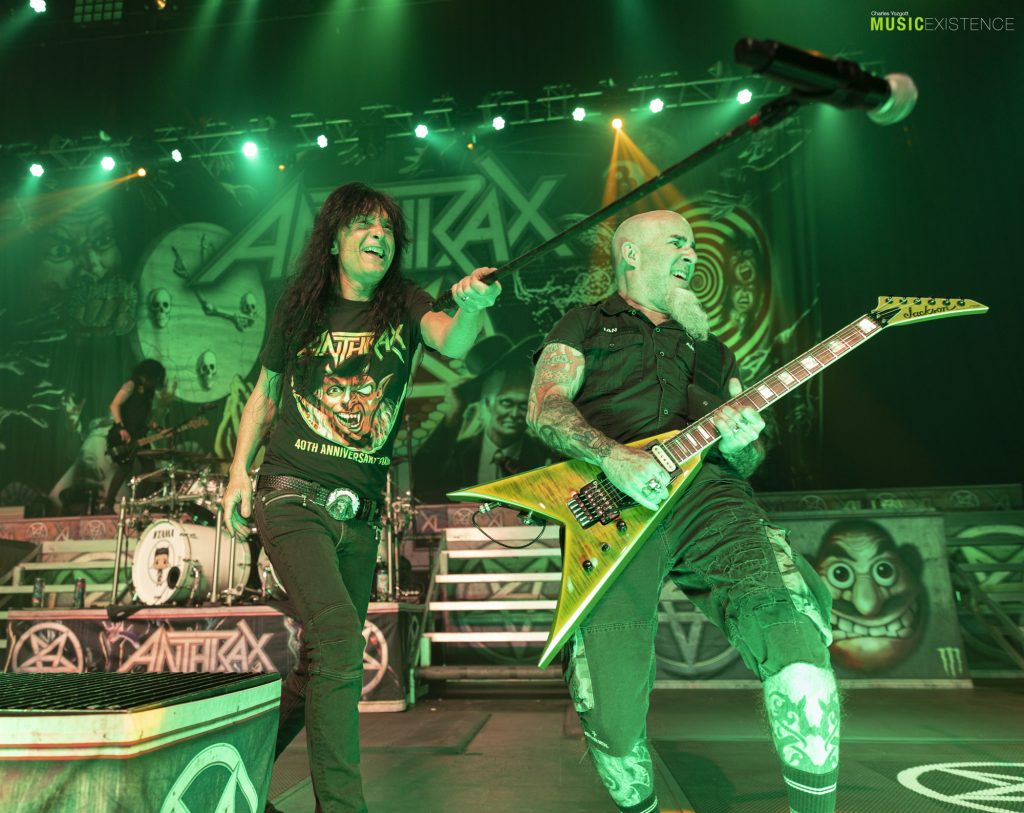 Singer Joey Belladonna told everyone that "Keep It In The Family" off of Persistence of Time was next and that he wanted to see everyone going wild for this one. The crowd responded and not a single person was standing still. Scott Ian as always shreds on his guitars and jumps around like he just started playing in a band, so much energy on the stage between all the bandmates. Drummer Charlie Benante making it look easy behind his kit while bassist Frank Bello animates himself before the crowd. Also, this show was just days before the 10 year anniversary of guitarist Jonathan Donais joining Anthrax and man he's doing a bang up job! Before ending the night with their famous song "Indians" Joey made sure to thank everyone for the support and love throughout the 40 years of Anthrax and that they wouldn't be here without us. Both legs of their tour for Anthrax was a thank you to the fans but us as fans are also saying thank you to these gents for being themselves and creating music that will live forever. Next time Anthrax comes to your town make sure to check them out, you won't regret it!
Exodus
Setlist:
The Beatings Will Continue (Until Morale Improves)
A Lesson in Violence
Blood In, Blood Out
Blacklist
Piranha
Prescribing Horror
Bonded by Blood
The Toxic Waltz
Strike of the Beast
Black Label Society
Setlist:
Funeral Bell
The Beginning… At Last
Destroy & Conquer
Destruction Overdrive
Heart of Darkness
A Love Unreal
You Made Me Want to Live
In This River
Trampled Down Below
Set You Free
Fire It Up
Suicide Messiah
Stillborn
Anthrax
Setlist:
Among the Living
Caught in a Mosh
Madhouse
Metal Thrashing Mad
Keep It in the Family
Antisocial
I Am the Law
In the End
Only
Got the Time
Bring the Noise
Indians