Anthrax are celebrating 40 years of being a band and gifting all their fans with a tour that's one for the books. These thrash metal legends sold out the Hollywood Palladium in Los Angeles, CA and brought two heavy metal giants with them, Black Label Society and Hatebreed. All three of these bands are headline bands so it's a treat to see them on a single tour together. Before Anthrax's set began they had a tribute video play on a huge white banner in front of the stage. Metal legends like Phil Anselmo of Pantera, Kerry King of Slayer, Dave Mustane of Megadeth (just to name a few), and music buff Matt Pinfield all gave praise and respect towards the thrash metal legends. This video pumped up the crowd for what was to be was an epic performance and special night.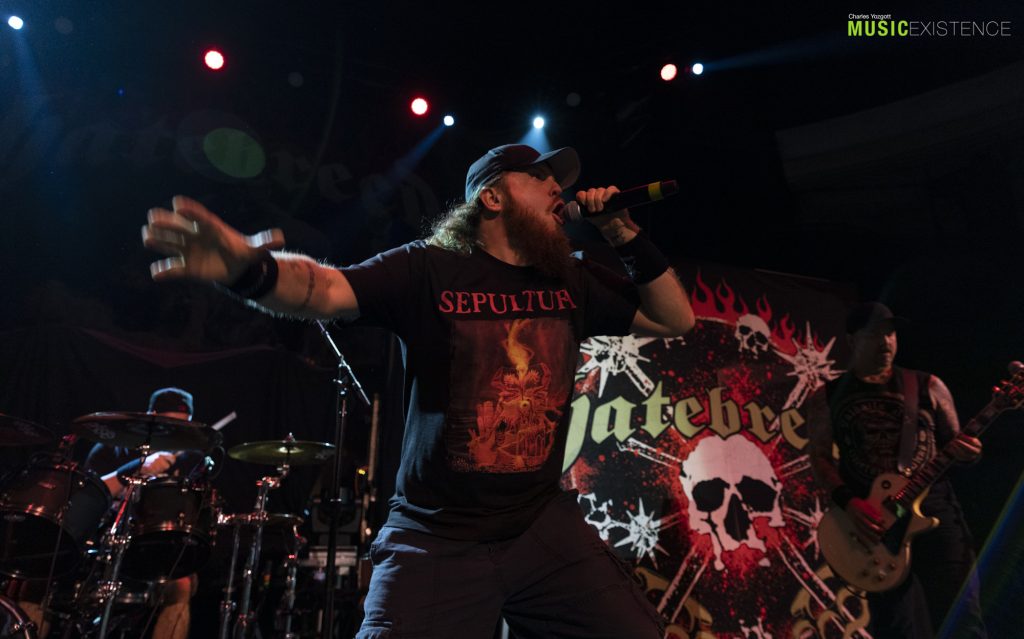 Hatebreed, hailing from Bridgeport, Connecticut, was up first and boy did they get the crowd rowdy. Proven was the first track they played and the audience went nuts! This hard hitting fist to your face is the first track off their 2002 album Perseverance and man did it set the tone for the rest of the night. "Destroy Everything" was next followed by "A Stroke of Red" and all the early birds were moshing like no tomorrow. Hatebreed has been around for a while and keep getting better and louder. Guitarist Wayne Lozinak and Frank Novinec blasted ear drums with their gut wrenching riffs and you couldn't help but move to the power. Bassist Chris Beattie maintained the low end with his power stance and head banging while drummer Matt Byrne kept the beats brutal making it look easy. Frontman Jamey Jasta was having a blast leading the way with his dynamic lyrics and ferocious voice. Playing tracks from most of their albums, which span 20 plus years, the fans got what they wanted and more. Favorites like "Driven By Suffering", "Betrayed By Life", and "Empty Promises" off of Satisfaction Is The Death Of Desire, "Tear It Down" and "Live For This" off of The Rise Of Brutality, and "Seven Enemies" with "Looking Down The Barrel Of Today" off of The Concrete Confessional. These gents aren't slowing down anytime soon and sound better than ever.  Make sure you get to the show early so you're not missing out!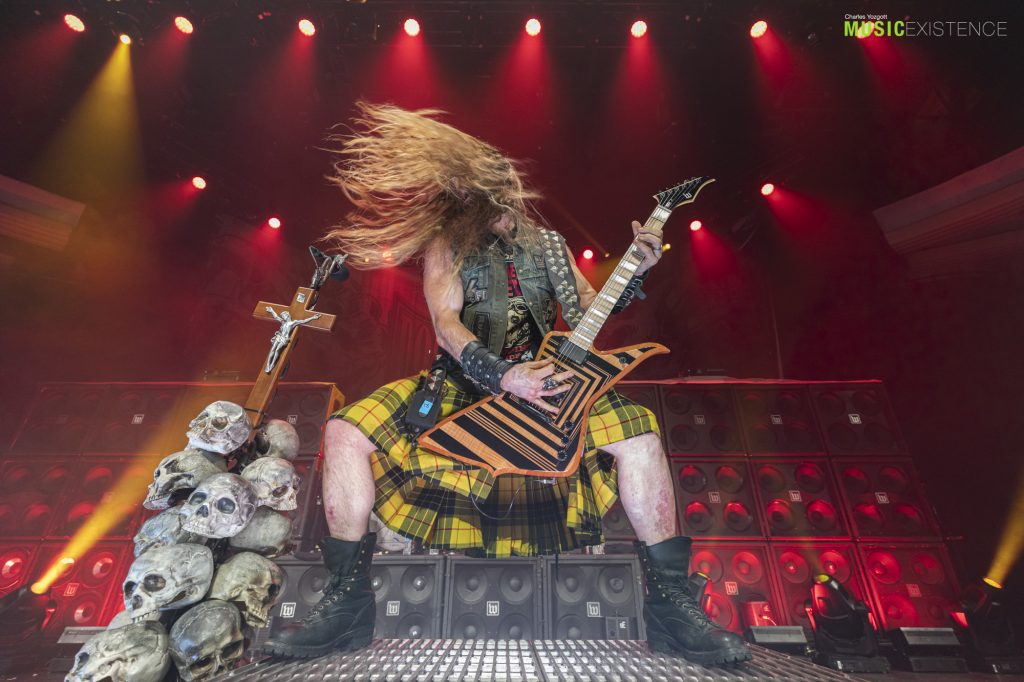 The mighty Black Label Society took the stage next and put on one hell of a show. Opening their set with "Funeral Bell", off their album The Blessed Hellride, they made their presence known and blew the socks off everyone. Zakk Wylde, the fearless leader, hopped onto his riser and began swaying back and forth while playing one of his many unique guitars. His battle vest, his kilt, and his boots were second fiddle to his hair that went everywhere while playing. "Destroy & Conquer" was next, off their latest album Doom Crew Inc., followed by "Overlord" off of Order Of The Black. Bassist John DeServio slaps his colored strings, whether their red white and blue or fluorescent green, while smiling and have fun. Drummer Jeff Fabb has a huge smile on his face as well the entire time he's playing, these dudes just have too much fun on stage. Guitarist Dario Lorina graciously delivers the crunch and doom riffs that accompany Zakk while also providing amazing solos that give  Wylde a ride for his money. An amazing moment in the set was when Zakk sat at his piano and the band payed tribute to Dimebag Darrell and Vinnie Paul of Pantera playing "In This River" off of their album Mafia, what a sight to see. Between the last five songs of the set, Dario and Zakk would get into a solo duel during "Fire It Up" and it was spectacular. Ending with "Stillborn" the fans screamed with thanks and were ready for the main act. Black Label Society always delivers and on this particular night they kicked major ass.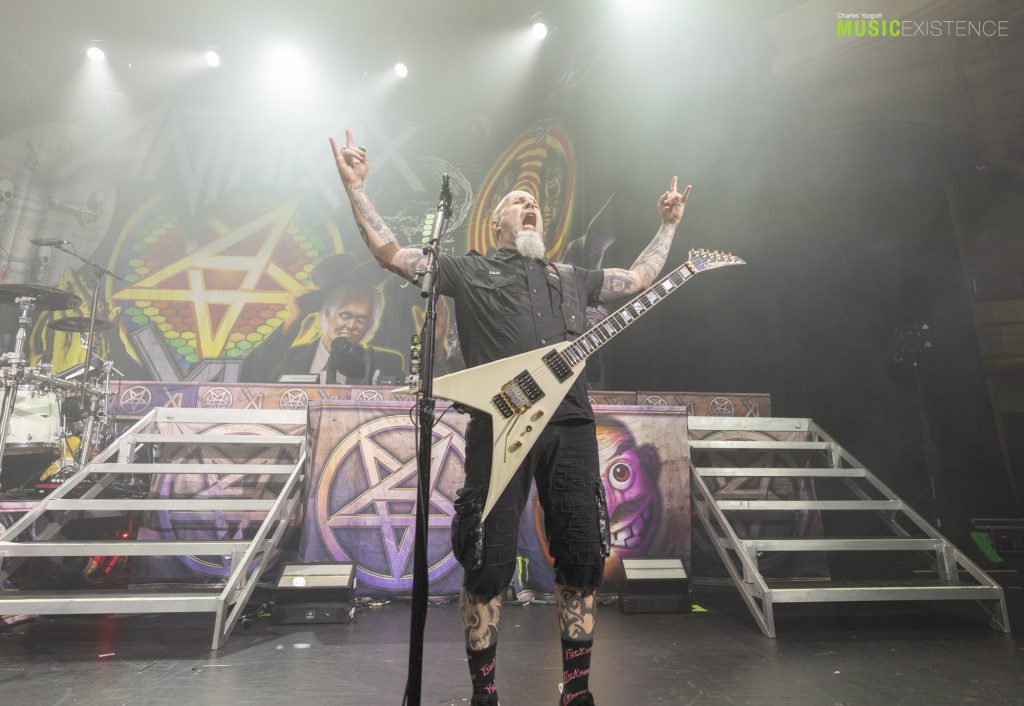 Now it was time for thrash metal kings Anthrax. Celebrating 40 years is an amazing accomplishment that bands seldom get to do and these guys truly deserve all the praise and respect that comes their way. As mentioned earlier, they had a video intro that had celebrities from the metal community share their thoughts and stories about Anthrax and how they've paved the way for many other metal bands. The crowd was cheering each time a new person showed up on the video and got them ready to rock. The white banner in front came down and Anthrax opened with the first two tracks off their album Among The Living, "Among the Living" and "Caught in a Mosh". As expected the fans went nuts and a huge mosh pit opened up in the middle of the floor. Next up was "Madhouse" off of Spreading The Disease followed up by "Metal Thrashing Mad" off their debut album Fistful of Metal. "The Devil You Know" off Worship Music and "Keep It In The Family" off of Persistence Of Time kept the pace going and was played to perfection.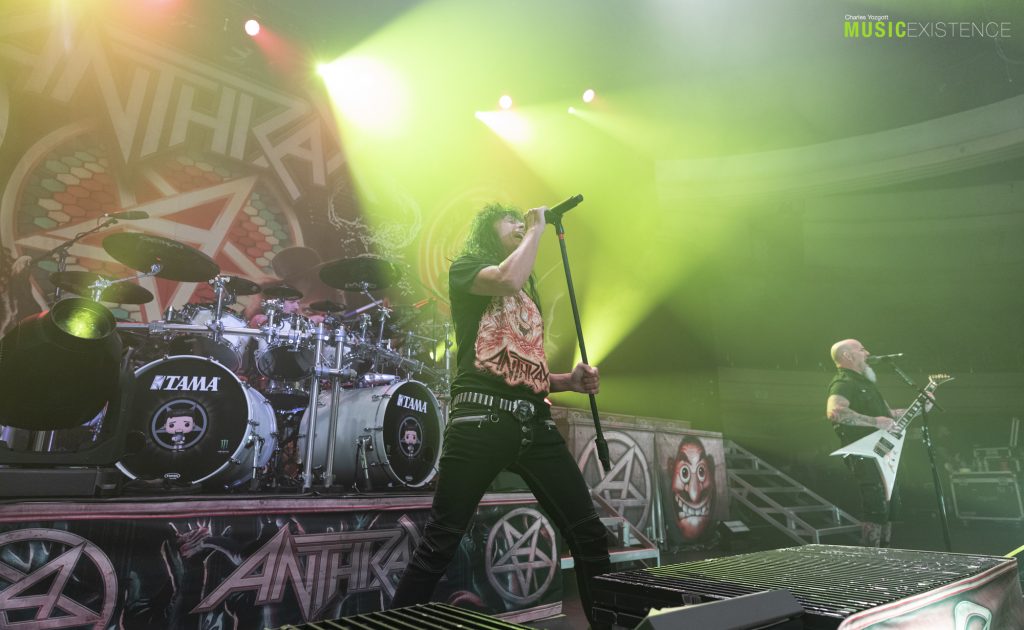 Joey Belladonna sings his heart out while interacting with the crowd and even gives them a chance to sing while he extends the mic stand. Scott Ian and his famous goatee are always full of energy on stage rocking out while playing guitar. Running back and for and occasionally jumping around you can see the pure joy and fun he's having doing what he loves. Charlie Benante on the drums giving it his all as always while sounding tight and perfect. Frank Bello on the bass is always enthusiastic with his facial expressions so you know he's having a blast when he plays. Guitarist Jonathan Donais shreds on his axe and flows with the energy the whole band puts out for their performance. These men have been playing thrash metal for 40 years and have never sounded better.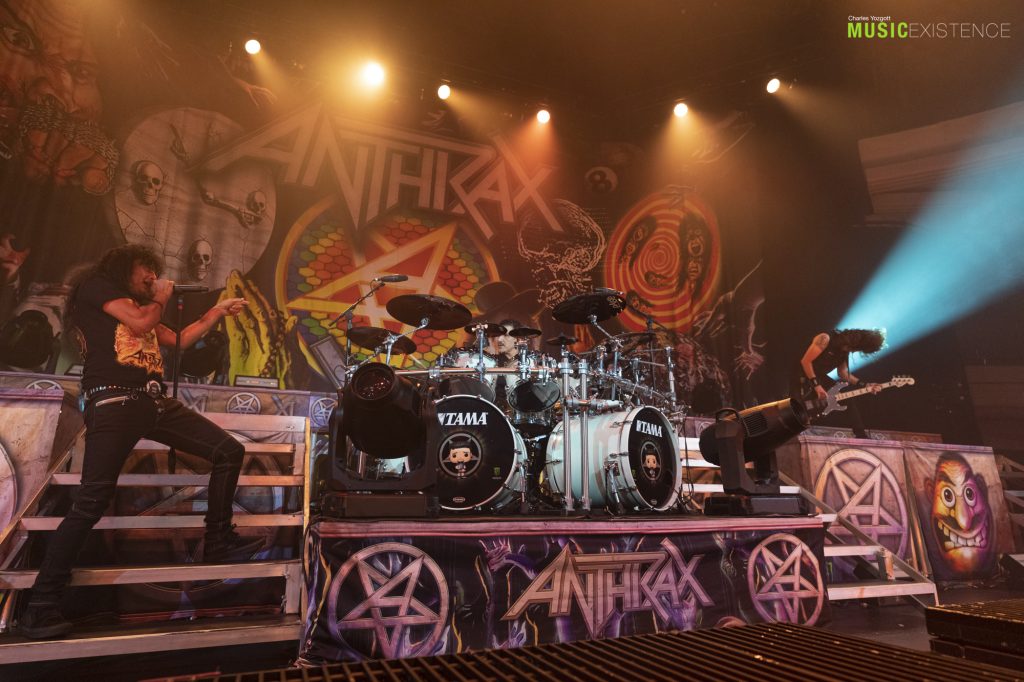 Thanking the fans for their continued support and for showing up on this night, Anthrax jammed through other hits as "Antisocial", "I Am the Law", and "Only". The big surprise of the night was when they covered "Bring The Noise" with Chuck D from Public Enemy, what a special moment. It was surreal witnessing that moment with Chuck D, it was the cherry on top. Closing out the set they played their huge hit "Indians" off of Among The Living and once again the Palladium was one big mosh pit. Anthrax had conquered Los Angeles on this night and showed that metal is alive and well. This tour will be going through August so be sure to catch it when they come to your town, this is a show you don't want to miss! Remaining tour dates:
08/08 – Dallas, TX @ Southside Ballroom
08/09 – Austin, TX @ Stubbs Waller Creek Amphitheater
08/11 – Atlanta, GA @ The Tabernacle
08/12 – Orlando, FL @ House of Blues
08/13 – Charlotte, NC @ The Fillmore
08/15 – Cincinnati, OH @ The Andrew J Brady Music Center
08/16 – Nashville, @ TN Ryman Auditorium
08/18 – Silver Spring, MD @ The Fillmore
08/19 – Rochester, NY @ Main Street Armory
08/20 – Detroit, MI @ The Fillmore
08/22 – Pittsburgh, PA @ StageAE Outside
08/23 – Toronto, ON @ History
08/24 – Trois Riviere, QC @ Amphitheatre Cogeco
08/26 – Brooklyn, NY @ Coney Island Amphitheater
08/28 – Philadelphia, PA @ The Fillmore
Hatebreed
Setlist:
Proven
Destroy Everything
A Stroke of Red
Before Dishonor
Seven Enemies
Driven by Suffering
Betrayed by Life
To the Threshold
Smash Your Enemies
Empty Promises
Tear It Down
Perseverance
Live For This
I Will Be Heard
Looking Down the Barrel of Today
Black Label Society
Setlist:
Funeral Bell
Destroy & Conquer
Overlord
Heart of Darkness
A Love Unreal
You Made Me Want to Live
In This River
Trampled Down Below
Set You Free
Fire It Up
Suicide Messiah
Stillborn
Anthrax
Setlist:
Among the Living
Caught in a Mosh
Madhouse
Metal Thrashing Mad
The Devil You Know
Keep It in the Family
Antisocial
I Am the Law
In the End
Only
Bring the Noise
Indians