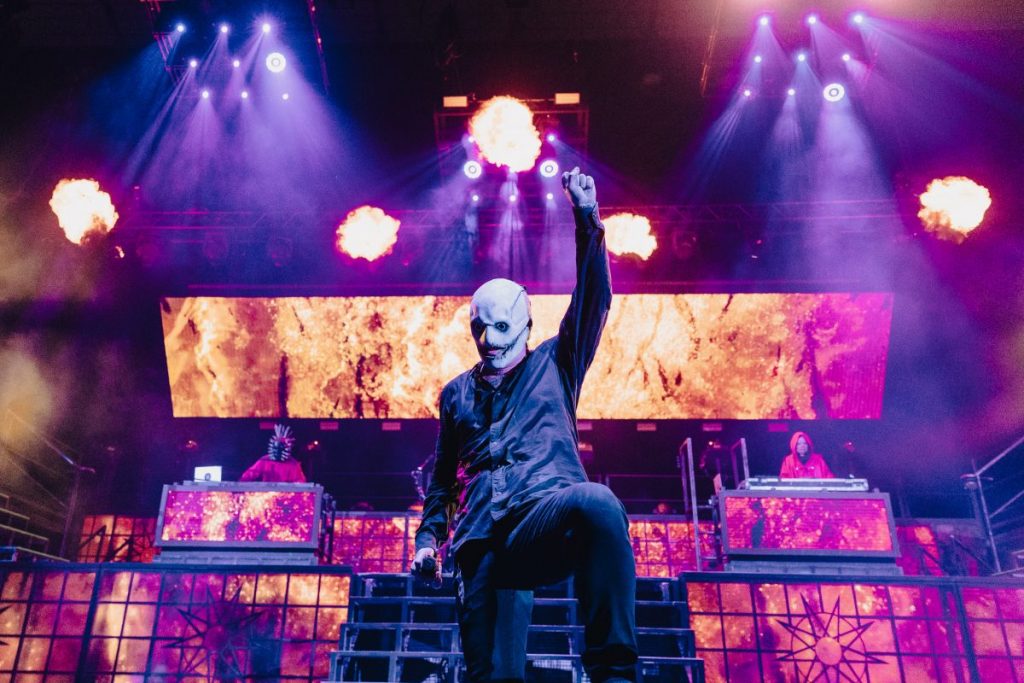 November 5, 2021 will go down in history as Knotfest Los Angeles hosted more than 20,000 fans at Banc of California Stadium in Los Angeles, California. The ever growing spectacular that is Knotfest has been evolving and expanding every year since 2012 with this years stop in Los Angeles being the culmination of a lengthly North American tour. Knotfest Iowa and Knotfest Roadshow USA was the so-called pre game before the Los Angeles date and Southern California was ready. With Knotfest Iowa and the Roadshow being announced June 1st, there was an obvious city that wasn't included, Los Angeles, and that had some people talking and contemplating whether or not Slipknot and/or Knotfest was going to come to California at all. About 6 weeks later Knotfest Los Angeles was announced and California responded with an amazing crowd who loves heavy music.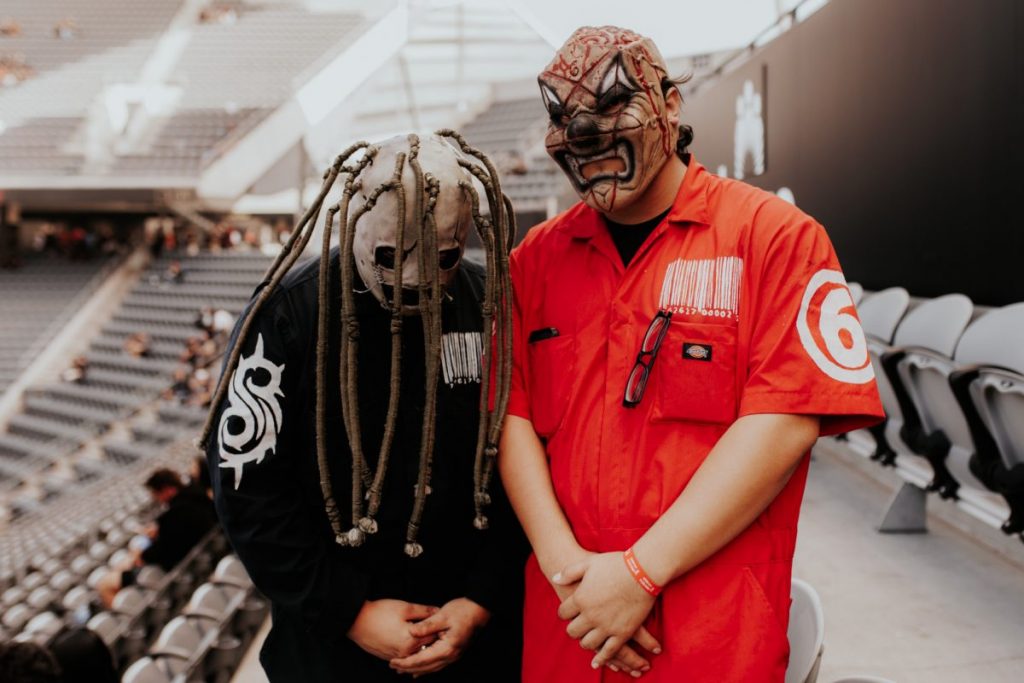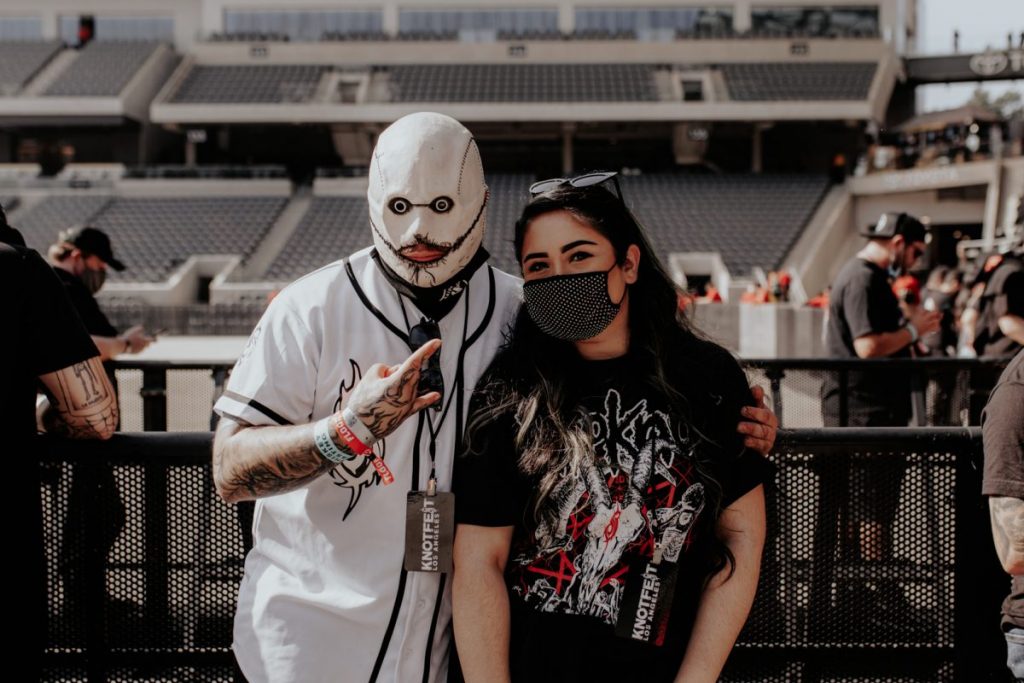 Knotfest not only brought you some of the biggest hardrock bands to Los Angeles, it also brought along some history that should be seen up close and personal. The Knotfest museum showcases a number of items used by Slipknot in their 22 year career like masks, jumpsuits, drumheads, baseball bats covered in barbwire, kegs that have seen much better days, and much more. If you got a chance to see this history then you know what this band has been through and how they've gotten to be where they're at. Next time Knotfest comes around and they have this museum, please go check it out, it'll give you goosebumps.
Walking around Banc of California Stadium looking at all the merchandise and sponsor tables you can't help but get a t-shirt or a hoodie of your favorite band performing at this festival. Knotfest always provides the best merch Our favorite h20 Liquid Death helped everyone stay hydrated while Clown Cannabis made sure everyone was at the proper level for this event.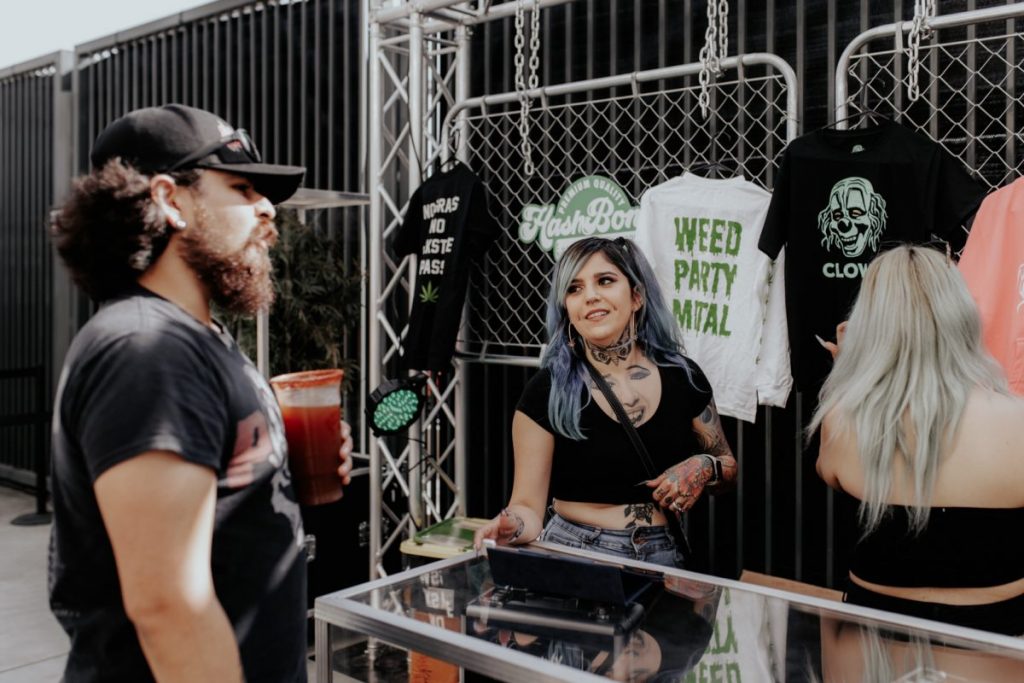 If you arrived to the venue early, and wasn't stuck in the parking lot traffic that had longer lines than the DMV, you were able to catch an up and coming band called Vended. Fronted by Griffen Taylor, son of Corey Taylor, and Simon Crahan, son of Shawn Crahan. This heavy metal quintet have their eyes on conquering the world with the sky as their limit. They have a couple songs streaming right now, Asylum and Burn My Misery, with an album in the works as we speak. Opening a show of this magnitude is a big deal and Vended showed why they can be the next big band in metal. Be sure to check out their music!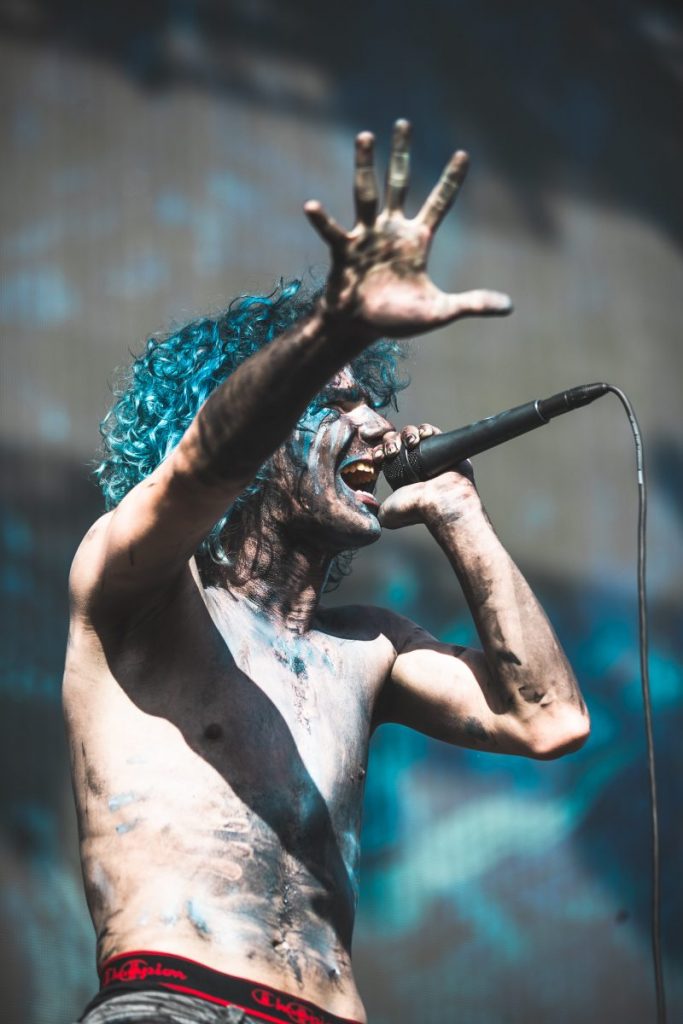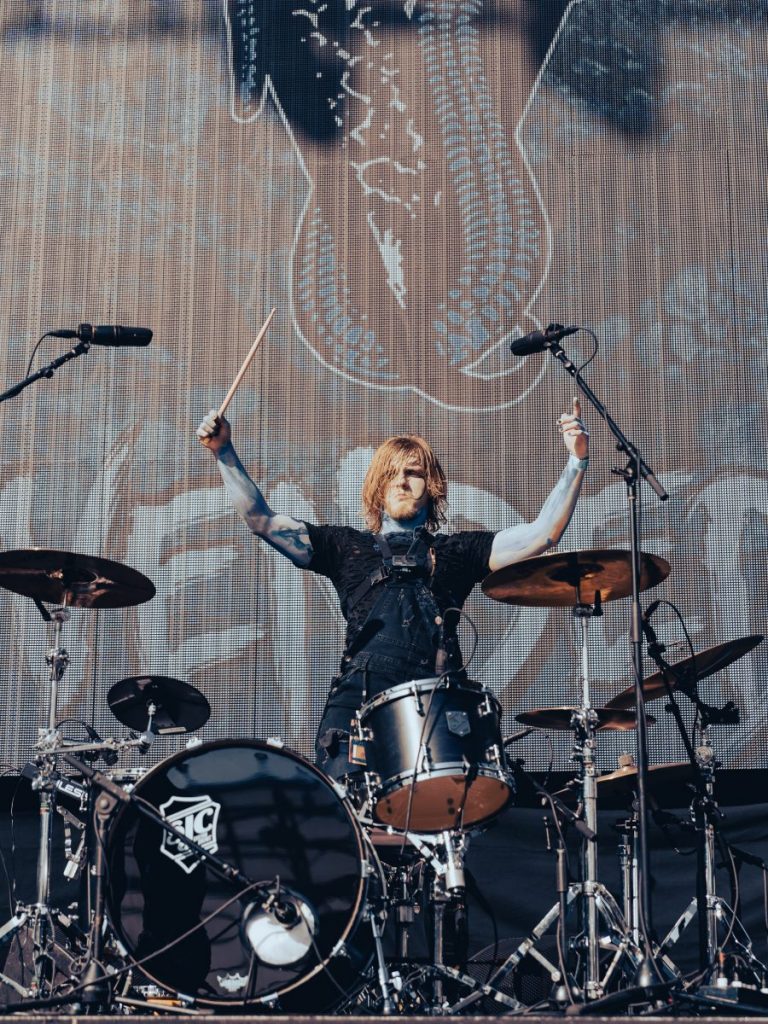 Next up was Code Orange and if you know about this band then you know they go all out on each and every performance. This metal/hardcore punk rock band from Pittsburgh, Pennsylvania proved why they're one of metal's next best bands by pure energy and raw force that is their show. Vocalist Eric Balderose use to be behind the drum set while producing those intense vocals but now has freedom to run around the stage and give the crowd his full attention while Max Portnoy fills in on drums while touring this year. Will Max, son of Dream Theater drummer Mike Portnoy, continue to be with Code Orange in the future? Only time will tell and the crowd definitely thought it was a good fit. The 7 song set that spanned their 3 album catalog had each member running back and forth on the stage while not missing a note, pretty darn impressive. Bassist Joe Goldman is a ball of fire jumping around doing roundhouse kicks while holding his bass and playing is a sight to see and to be felt. The energy that comes from that man is unreal. Reba Meyers lends her vocals on certain tracks and shreds her guitar while her hair goes in every direction. She holds her own very well and proves that women are just as metal as men when it comes playing/singing in bands. Hats off to these "kids" that have turned into one of the biggest metal bands around. Be sure to check out their latest album Underneath out now.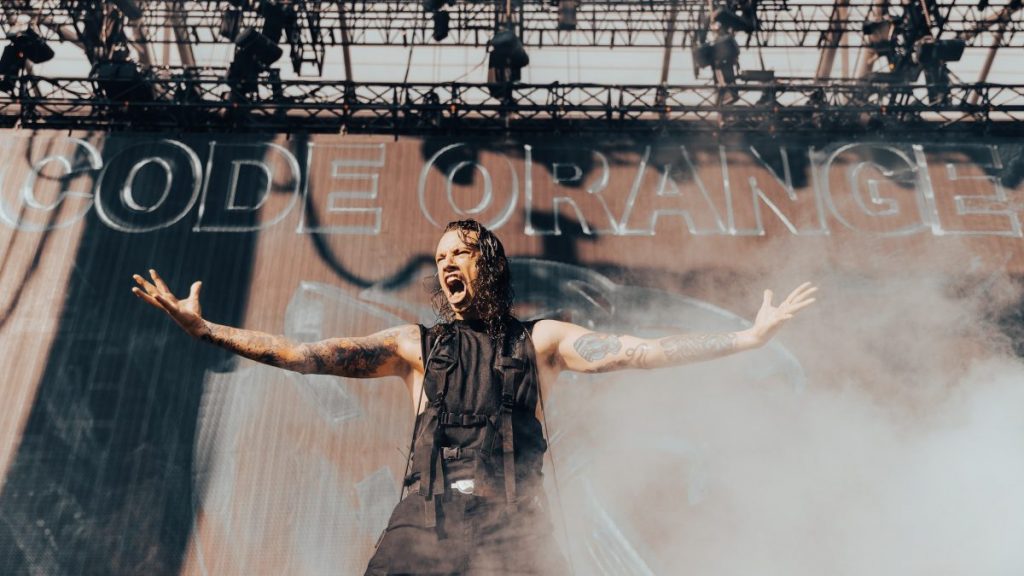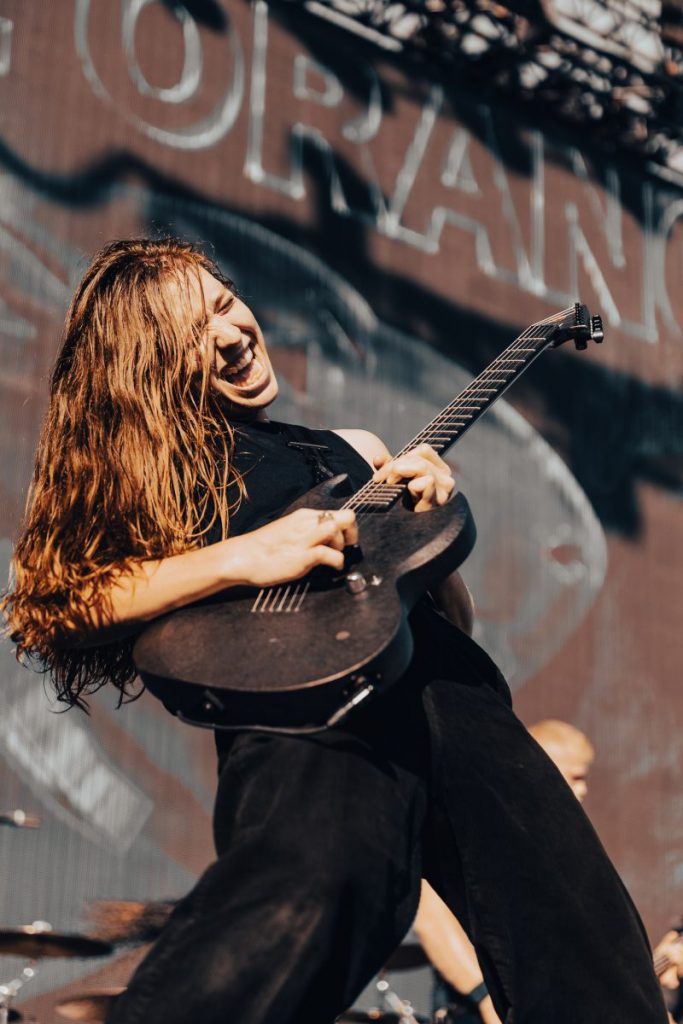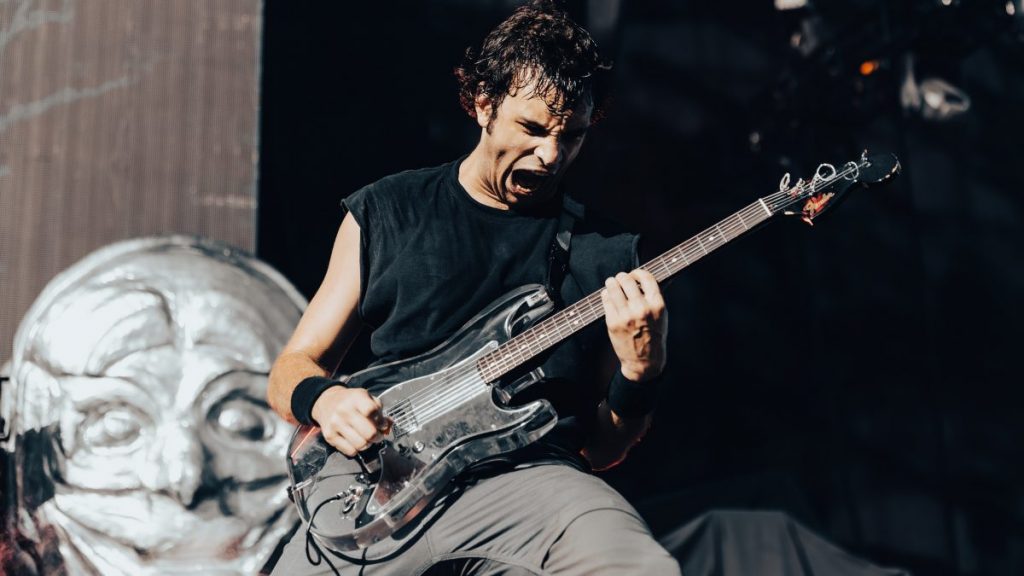 Fever 333 came onto the stage and the crowd knew something crazy good was going to happen. This trio of musicians literally can't stay put on the stage and always give a show where ever they play. Local heroes from Inglewood, California, these 3 rapcore/hardcore punk/rap metal dudes give it 110% everytime and their onstage antics prove that these 3 will do almost anything to put on an amazing unique show. Opening the set with BITE BACK , the connection between this band and the audience ignites a fire in all because you can't help but move around and let go when they play. The hard hitting drums, while Aric Improta literally jumps out of his seat and does laps around his set, is the backbone to the crunchy fast paced punk rock sounds coming from Stephen Harrison guitar. Harrison and lead singer Jason Aalon Butler always try to out do themselves by going to unique places in whichever venue they're at and boy do they deliver. Jason found a trash can on stage, dumped it out and made sure that the bottom of that can heard what he was saying. More than half the can was covering his body and he still belted out those vocals like nothing was there. Jason then brought out a ladder, as the whole stadium took a deep breath and wondered what was going to happen next, and set it up so that during Burn It he could climb to the top and jump in the crowd during the breakdown. The last track they played, Hunting Season, Jason stripped down to his orange boxers, with a Frankenstein print on the back, grabbed 3 monitors from the front of the stage and set it up as a rail so he could do a board slide on it. The anticipation was building and boom, he landed a board slide on stage during the last song and the crowd went nuts. I'm not sure this has been done before on stage but boy was it a sight to see. This band isn't going anywhere so make sure you check them out when they come to a city near you.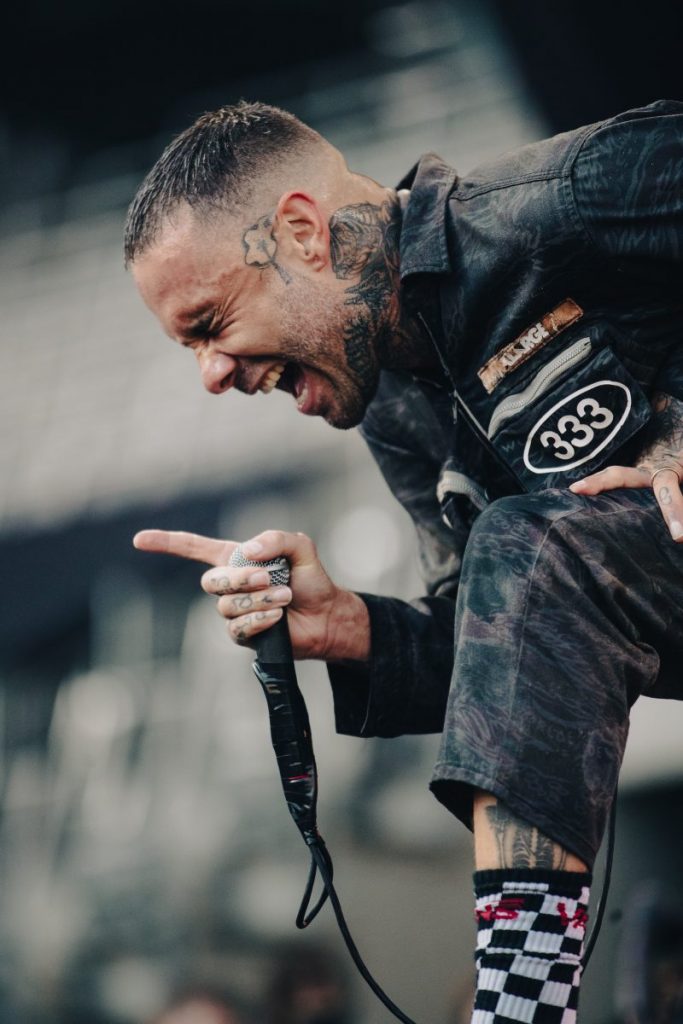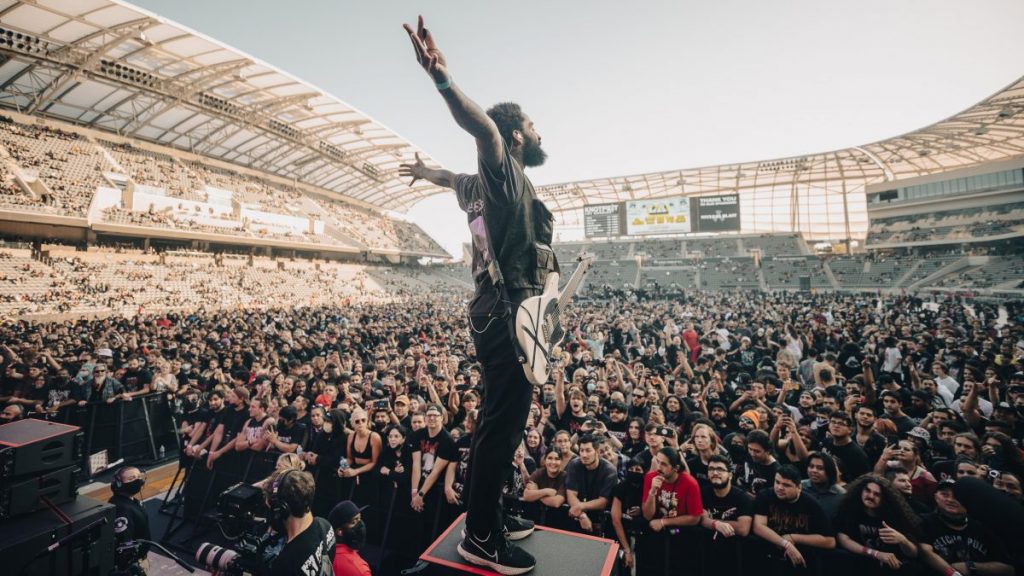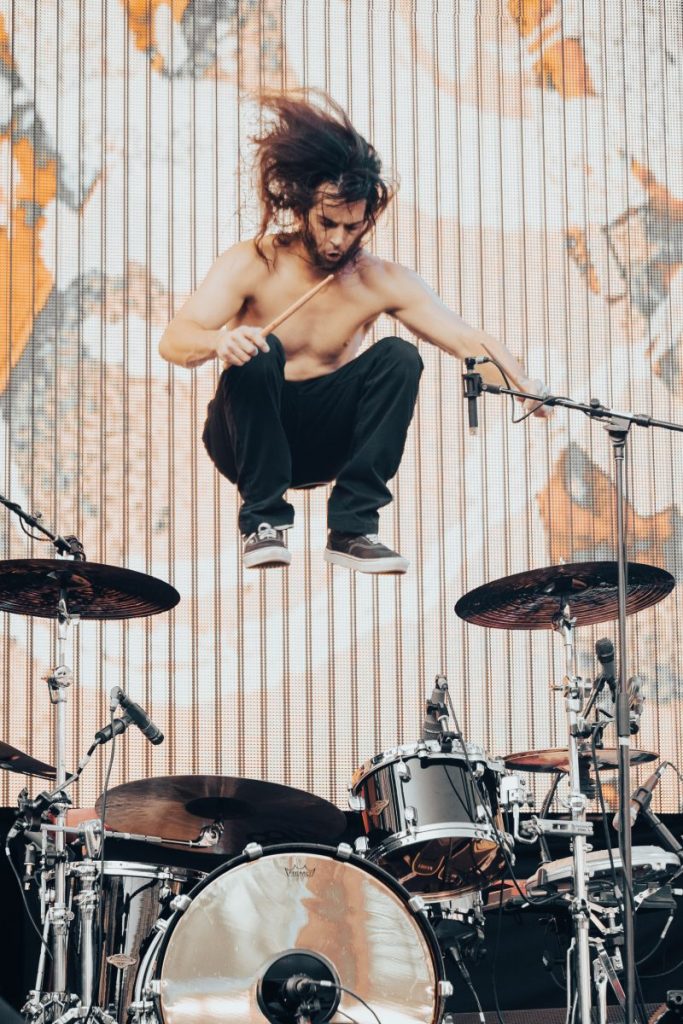 Westfield, Massachusetts very own metalcore giants Killswitch Engage did an amazing performance that embodied the 2 plus decades of music that they have made that has reached so many people on a personal level. Jesse Leach's lyrics dive into personal moments and times in his life that we can all relate to and the crowd's passion while singing with him proves the emotional connection Killswitch Engage has with them. While Justin Foley, Mike D'Antonio, and Joel Stroetzel are impeccable with what they do, guitarist Adam Dutkiewicz does his usual antics and made sure to tell everyone that they need to step it up, but in a very colorful way. Adam's way with words is almost notable to Jesse's lyrics in KSE songs. You never know what will be said during one of their sets. The first couple songs, Hate By Design and The Crownless King, off of their 2 latest albums got the people in the pit stirred up and wanting more. My Last Serenade starts and the crowd looses it. A fan favorite off their pure and raw Alive or Just Breathing album, they get everyone to sing along and it's a beautiful sight to witness. One of KSE latest singles, The Signal Fire, which features former singer Howard Jones, was performed just before the song that got everyone going, The End Of Heartache. The entire stadium stopped what they were doing when this song came on and belted out the lyrics from the bottom of their stomach. This was what KSE fans were waiting for. Closing out the set was the popular cover song Holy Diver, a famous Dio track, and fans went nuts. Air guitars everywhere and head banging was a must during this classic rock masterpiece. Killswitch Engage love what they do and verified their place in metal royalty.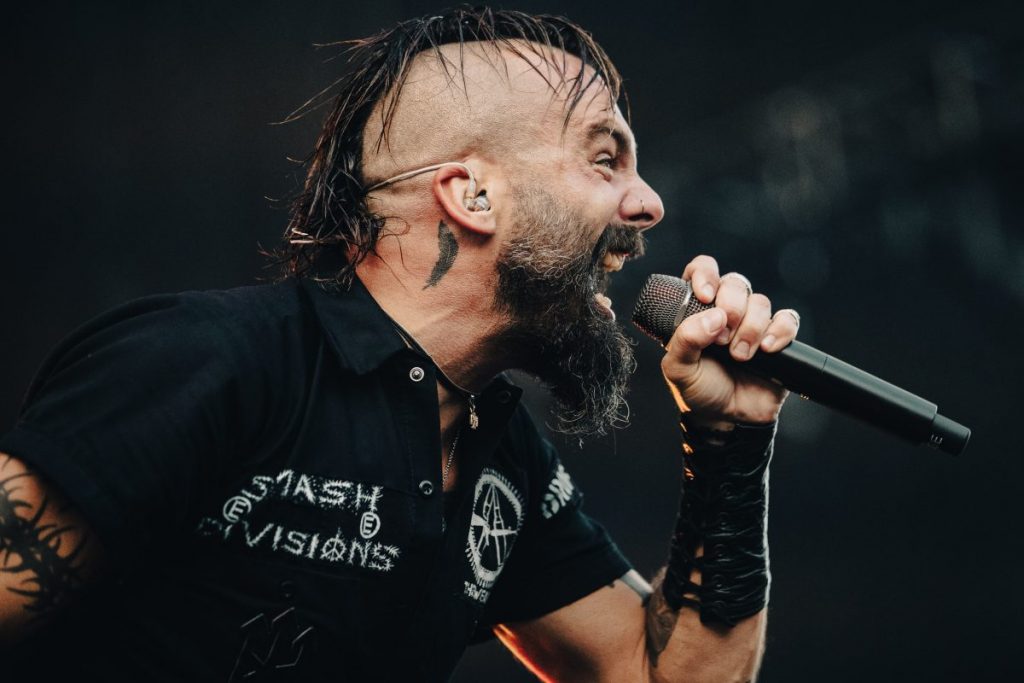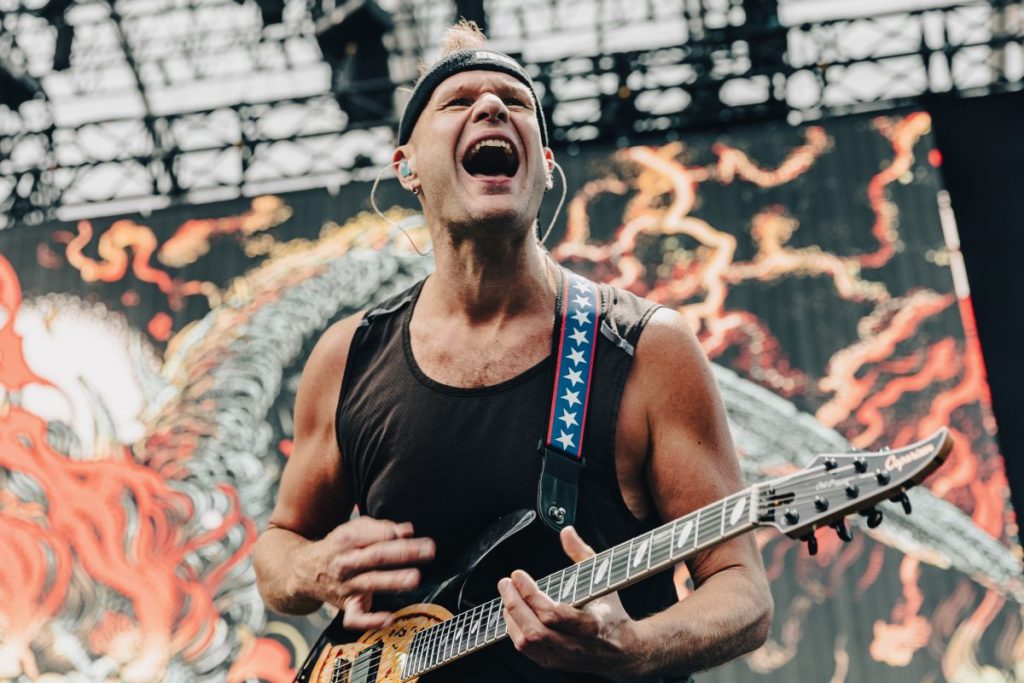 With these 4 bands playing throughout the day, something a little different was in store for Los Angeles. Cherry Bombs, a rock n roll dance group that consist of Alicia Dove, wife of Corey Taylor, and her "darlings" dancing up a storm on stage with pyro and high flying acts that you'd only see at a Circus Du Soleil show. These woman show that dancing in sync with heavy metal and hard rock music can bring joy and fun to all. With music tracks from Nine Inch Nails, Prodigy, and Rammstein, these ladies proved that dance and metal music can exist together.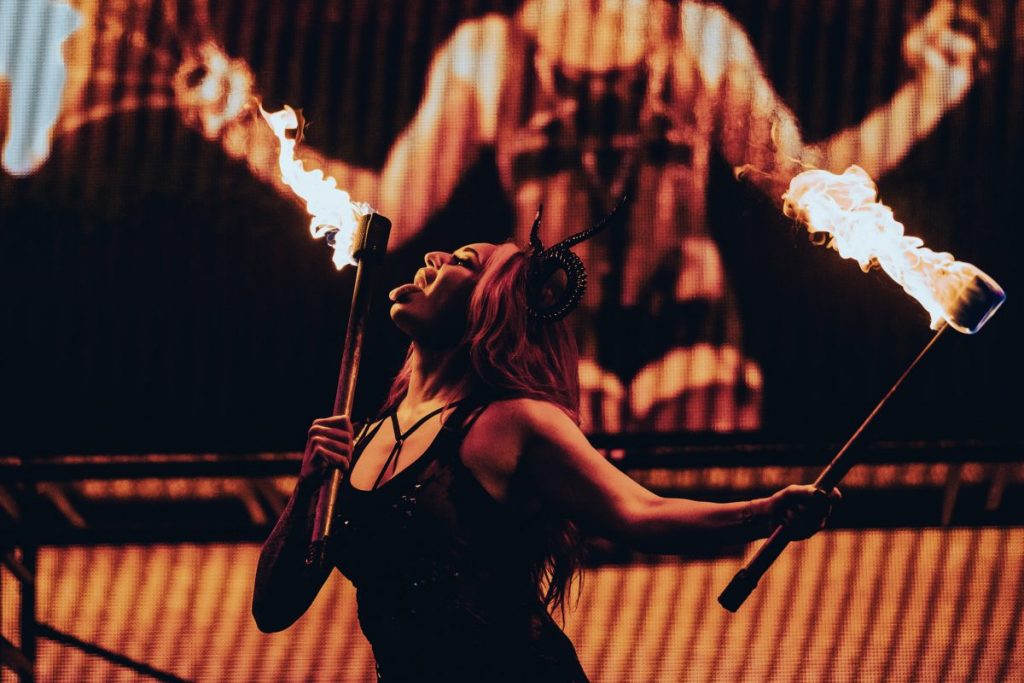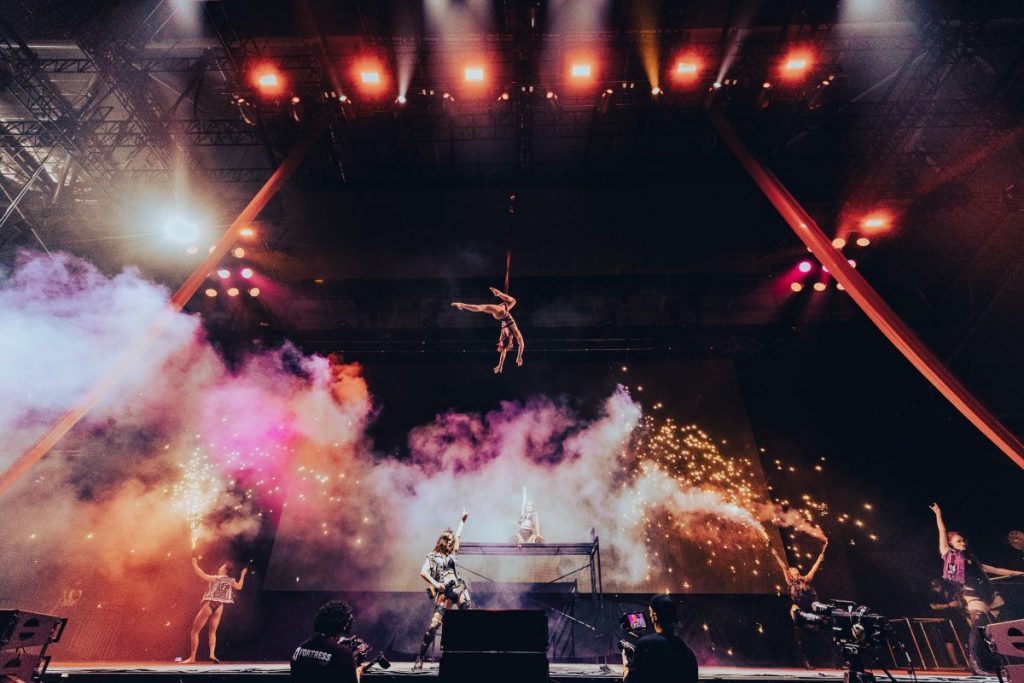 After the lovely ladies of Cherry Bombs showed us how to dance to metal, Bring Me The Horizon came out and put on a show that the packed stadium won't soon forget. Fans everywhere around the stadium were singing every word that vocalist Oliver Sykes shouted out and it was know that this band was as huge as any other on the bill. This alternative metal act that has been around since 2006 put on a show with lights and flair that could been seen for miles. Their 12 song set spanned their 9 studio albums and featured a guest appearance by YUNGBLUD as they teamed up for Obey off of BMTH album POST HUMAN: SURVIVAL HORROR. If you question why BMTH played just before Slipknot you were answered by their performance and the following that they have. BMTH played a sold out show at The Whisky A Go Go a couple days before this festival and made sure that they were in peak performance. The set at Knotfest Los Angeles showed that they are masters at their craft and made sure the fans were given their best performance possible. Check out Bring Me The Horizon on all streaming platforms.
Bring Me The Horizon
Now, between BMTH and Slipknot there was an hour break. Seems kind of excessive amount of time to wait for your headliner, but it gave everyone time to prepare for the storm of the century. A huge banner covered the stage with Slipknot written across in their classic self titled album font and the promise of an epic end to the night was about to all come together. The seats where full, the floor was packed and all the maggots packed into this show was ready to lose their mind.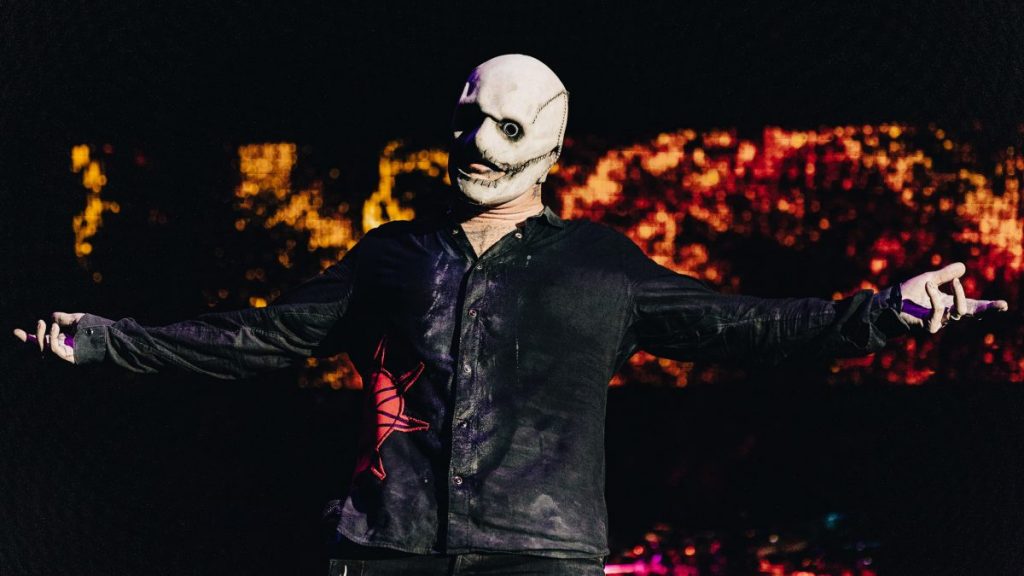 AC/DC's classic track For Those About to Rock started playing through the speakers and the crowd started singing along because they knew what was going to happen next. Insert Coin started playing and maggots started squirming. The banner came down after the unforgettable start of Unsainted pierced the ears of all in attendance. Slipknot was here and and their stage set up was a sight to see. Multiple levels for the 9 piece nu metal outfit from Des Moines, Iowa, these guys know how to fill a stage with screens and lights galore. Jay Weinberg on the third level with his massive drum set showing us why he's not only Slipkont's biggest fan, but their very own technical drum machine that fits perfectly. Sid Wilson and Craig "133" Jones on the second tier making sure that the scratches and samples sync up with the souls in the crowd. Sid and Craig like to wonder around the stage when possible and get the energy flowing in the crowd even more. On the sides of the stage more towards the front and at the same height, if not higher, than Jay on drums are Michael "Tortilla Man" Pfaff and no other than the clown himself Shawn "Clown" Crahan. Shawn's new mask is shinny and red which looks like blood in a certain way under the bright lights. These 2 tear up their own drum sets that they bang with a range of baseball bats and drum sticks. The noises that come out of there are deep and hit you every time they connect, and this is done along with backing vocals. There's a lot of people in this band, but each have their purpose that makes Slipknot what it is.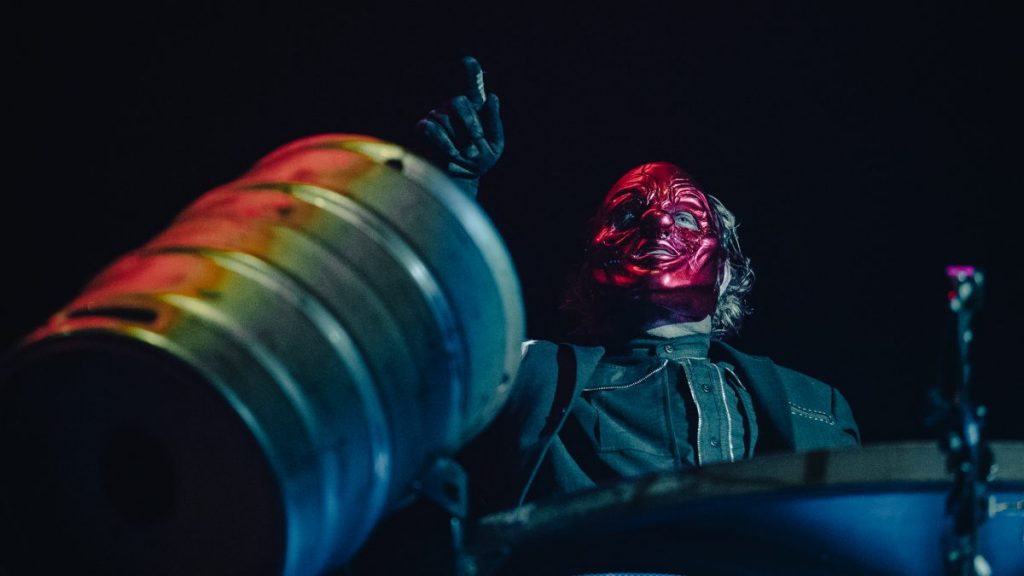 Along with Corey Taylor, and his new creepy mask which looks like something out of the animated movie 9, in the front of the stage is Alessandro Venturella. His bass playing has been crucial since he joined and he's been the perfect fit. During parts of Spit It Out and People = Shit, fire was going off and out the end of Alessandro's bass was a blast of fire going with the beat of the song, so awesome. His new mask is a very detailed and looks amazing live. Jim Root and Mick Thomson hold their own with their signature sound and style of their guitars recking havoc across the audience. Jim's hair whipping back and for and Mick's eyes open wide are essentials at Slipknot show and were on full display. As I said, these guys aren't just Slipknot, they embody a culture that has become a worldwide phenomenon.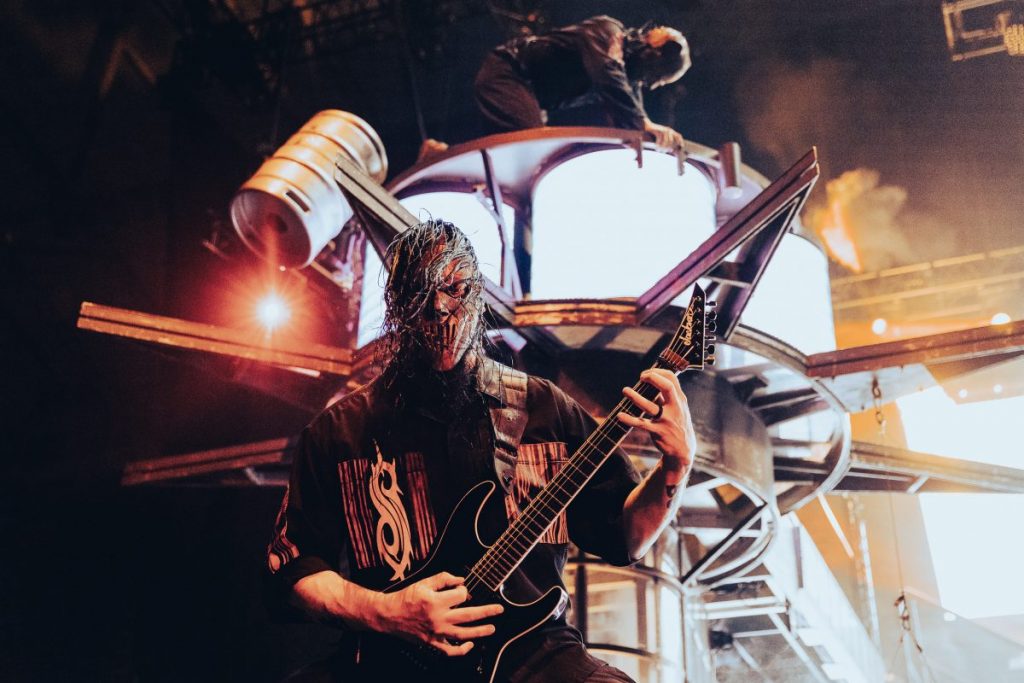 Slipknot played at least 1 song from each of their albums throughout their set. They mixed the tracks up perfectly and had the crowd moshing like no tomorrow. At one point during the set there was at least 7 huge circle pits going and a group of fans standing in the middle of each of them enjoying the moment. With the majority of tracks being played from their first 3 monumental albums, each that include former band members Chris Fehn, the late Joey Jordison and the late Paul Gray, Slipknot gave their fans something that no one has ever seen or heard before. The day before Knotfest Los Angeles, Slipknot released a new single titled The Chapeltown Rag and treated fans to new music in over 2 years. Slipknot gave the die-hard fans at Knotfest Los Angeles the live debut of the single and boy did they crush it.
The last number of tracks Slipknot banged out were classics and fan favorites. Wait and Bleed, Vermilion, and Spit It Out ended were in the mix to end the set just before the encore. We knew what was in store for the encore and Slipknot delivered. People = Shit followed by our new nation anthem Surfacing was what brought the house down. Banc of California Stadium was going off in the best way possible. People of every aspect of life were at this show enjoying metal and staying safe. Hats off to the security for keeping it real and for the audience for making this a positive outcome. Corey kept thanking his family and friends, which meant every single last person there, and was very emotional about how the support and love throughout the years has kept Slipknot going strong. That's what it's all about, family and friends having a good time together enjoying heavy music. That is what Knotfest Los Angeles was, a family gathering. If you weren't there then you better think about attending the next Knotfest where ever it may be.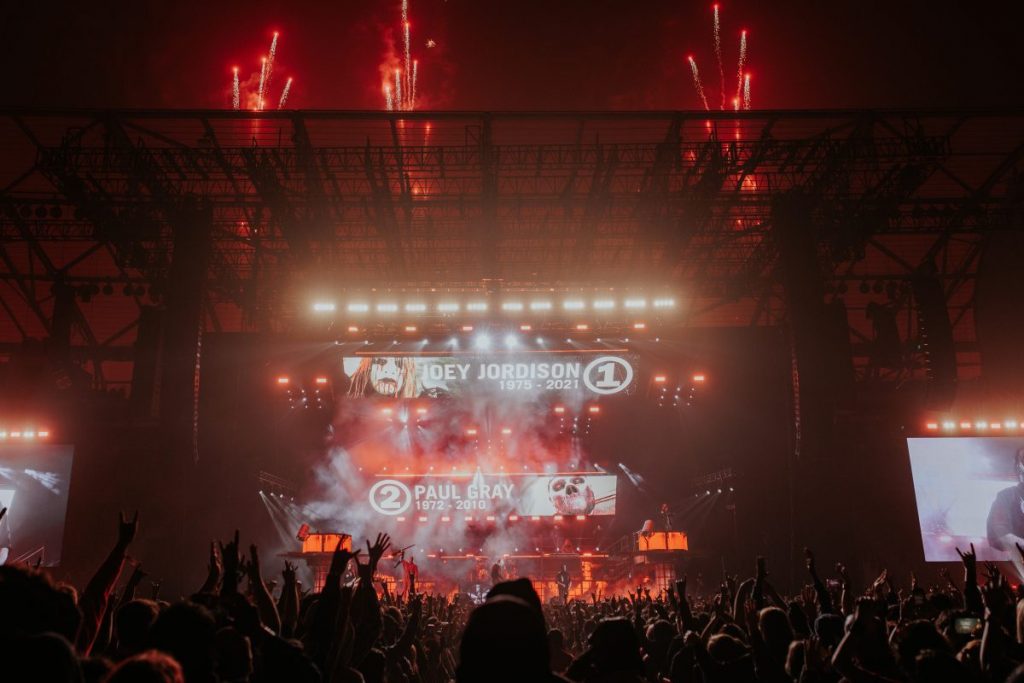 As Slipknot finished their encore, they played the song 'Til We Die from a tape and gave Joey and Paul a tribute worthy of kings. Two members of their family have left but will never be forgotten. Pioneers in their own right and we all know Slipknot would not be who they are now without those two. This was a special night for all involved and hopefully the first of many Knotfest Los Angeles festivals to come. Thank you Slipknot and everyone involved in making this happen, it was an experience.
SLIPKNOT
Slipknot setlist:
Unsainted
Disasterpiece
Nero Forte
Before I Forget
The Heretic Anthem
Psychosocial
The Devil in I
The Chapeltown Rag
Wait and Bleed
Vermilion
All Out Life
Duality
Spit It Out
Encore
People = Shit
15.(sic)
Surfacing
All photos by of Steve Thrasher.