Avatar, the Swedish melodic death metal quintet, have been on tour "Going Hunting" in North America since the beginning of September and stopped by The Wiltern in Los Angeles, CA on October 6th to put on a show that their fans won't soon forget. This tour has only a few stops left and will come to an end very soon, but knowing Avatar hopefully we'll get some new music soon and another tour. If you get the chance to see this band live in the future, do it. They put on a show that's unlike any out there.
Joining the Avatar hunting team is Magic Sword, an electronic rock trio from Boise, Idaho, whose stage presence takes you to another world. They go by "The Keeper, The Seer, and The Weaver" while each have a different color beam of light across the masks they wear with their dark cloaks. The instrumental tracks had the crowd dancing as if they were at a club and moshing it up as if they were at an Avatar concert. With an appearance of the actual magic sword, The Keeper held it high and made sure everyone saw it and the powers it possess. To say that this was an entertaining set would be an understatement. Don't miss Magic Sword next time they're out on tour, you won't be disappointed.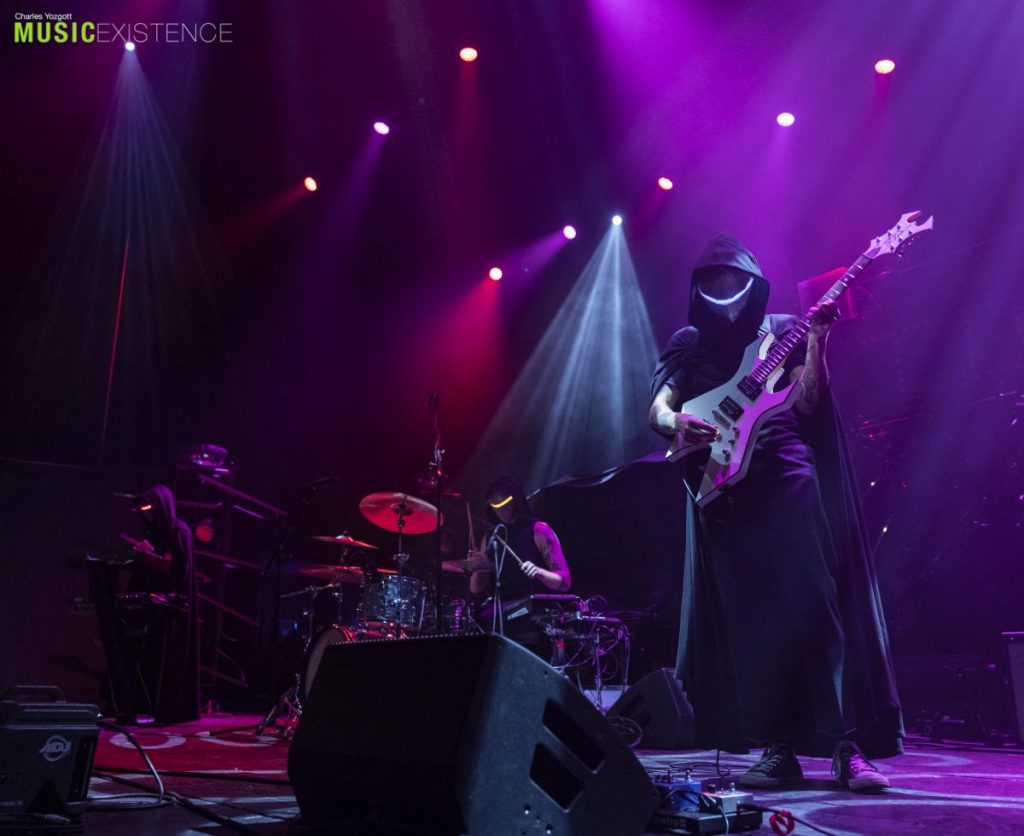 With the citizens of Avatar Country warmed up by Magic Sword's set, they're now ready for the main event while chants of Avatar fill the theater. The unique spectacle that is Avatar always has a way to keep you guessing and wondering what type of shenanigans they'll be displaying during their performance. Soon, a simple drum set is placed at the front of the stage next to a couple microphones, the lights go down and the crowd goes wild. A couple lights turn on and Avatar walk to the center of the stage and form a flying V and just stand there silent for a good 10 seconds. John Alfredssons starts the drums and you know right away that they're opening with Colossus which gets everyone pumped for the rest of the show.
Avatar ripped through 9 more heavy songs from their past 5 albums and played fan favorites like Let It Burn, Bloody Angel, and Paint Me Red. Johannes Eckerström sincerely thanked the fans at the show for coming out and supporting them. This is their first tour since all the craziness in the world of Covid started happening. They did however play some livestream shows for the fans which were amazing on their own. A few videos of that can be found on YouTube if you wanted to check those out. Anyway, Johannes is thanking everyone while a piano is brought out and he sits down and performes Gun by himself on stage with a spotlight shinning down on him. This was an incredible moment to watch and take in, so calming and beautiful yet so dark and wicked.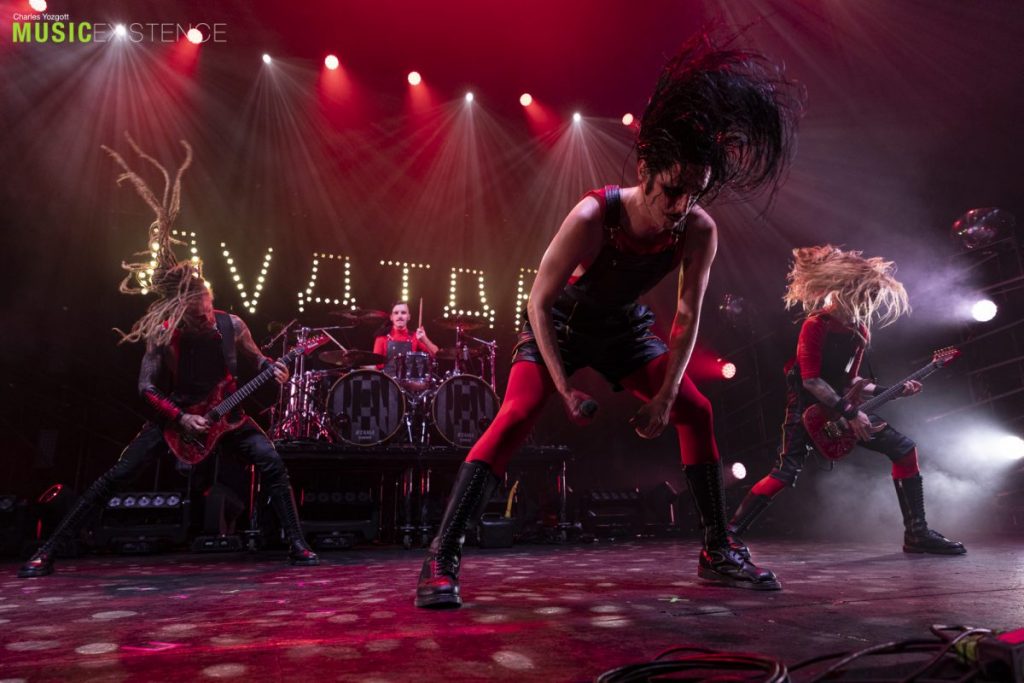 After the song ends and the piercing silence of the crowd gets louder, the rest of the band comes back out and they deliver a stellar performance of the latest single Going Hunting, which was released just before their tour. An oldie but goodie, Pigf*cker, off their self titled album, was next and both the band and crowd went nuts! I've seen a lot of light shows in my day but this part of the show gives any other production a run for their money. With the dust settling off the last track, Avatar plays a couple licks from their monumental album Avatar Country and bubbles start flying around everywhere, I mean everywhere! It was definitely a sight to see. These guys know how to put on a fun unique show while always giving it their all, you most certainly can't ask for much more.
But wait, there's more! Avatar come back out after a couple minutes and shred through 3 more songs for their encore. Wormhole, Smells Like a Freakshow, and Hail the Apocalypse fill the hearts of all that came out to witness such an event as tonight and left everyone smiling from ear to ear. Avatar always performs their shows with passion and 110% no matter where or how many people are watching. These guys are professional performers and it shows, please don't miss their next tour when they come to a city near you, you won't regret it. Thank you Avatar for a special night.
Magic Sword
Avatar
Avatar's setlist:
Colossus
Let It Burn
Silence in the Age of Apes
Bloody Angel
Child
The Eagle Has Landed
Paint Me Red
A Secret Door
For the Swarm
Torn Apart
Gun
Going Hunting
Pigf*cker
A Statue of the King
The King Welcomes You to Avatar Country
Encore:
 Wormhole
 Smells Like a Freakshow
 Hail the Apocalypse