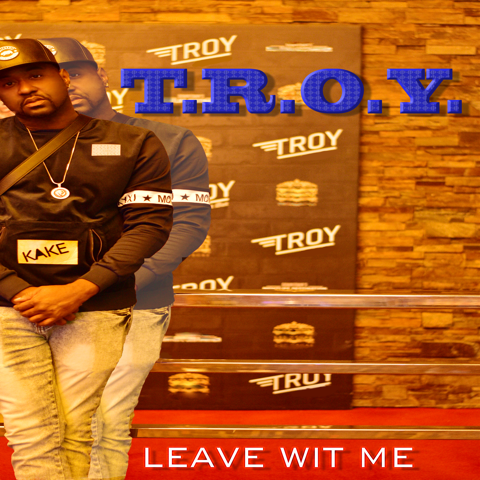 LOS ANGELES (MARCH 2020) – T.R.O.Y.  Wembley, a multi-platinum singer/songwriter from the west side of Chicago, drops his latest single, "Leave Wit Me," feat. Grammy-nominated singer/songwriter Bryson Tiller. "Leave Wit Me" a prelude to T.R.O.Y.'s highly-anticipated mixtape titled "Musical Gumbo," set to drop this summer.  Musical Gumbo will feature varies genres, including soul, r& b, funk, trap, house and of course, pop. The single is available now on iTunes, Spotify and all digital platforms.
About the Music of T.R.O.Y. | singer/songwriter
As a songwriter, T.R.O.Y. began his career at Death Row Records, penning hits for such recording artists as Mary J. Blige, Tupac, Jodeci, Michele' and many more. As a recording artist, T.R.O.Y. performed with a couple of groups before forging a solo career and inking a record deal with music heavyweight Vincent Herbert, formerly of Blackground Records.
He's also collaborated with many artists, like Dr. Dre, Jay Z, Kanye West, and Stevie J. of VH-1's "Love and Hip Hop," and he's penned plenty of hits for many artists. In addition to writing and performing, as a businessman, T.R.O.Y is now licensing his music for multi-media use – that is, tv, film, commercials and so much more. His work has been featured on "Keeping Up With the Kardashians," "General Hospital," "Bad Girl Club" and NBA TV – just to name a few.
T.R.O.Y. also appears in the 2018 music documentary, "Where Is the Soul?" Directed by Sahir Champion and Jesse Felsot, the doc explores how the soul of music has been lost within the record industry with the rise of rap and the hip-hop movement.  LA Weekly calls the doc "edgy."
LET'S GET SOCIAL:
On the web: https://musicoftroy.com/
On Facebook (Troy Wimbley): https://www.facebook.com/troy.wimbley
On Facebook (Music of Troy/fan page): https://www.facebook.com/MUSIC.OF.TROY.2018
On Instagram and Twtter: @MusicofTroy
For more info, please contact me Reid Johnson at publicityprincess@yahoo.com or Wyllisa Bennett at wyllisa@aol.com