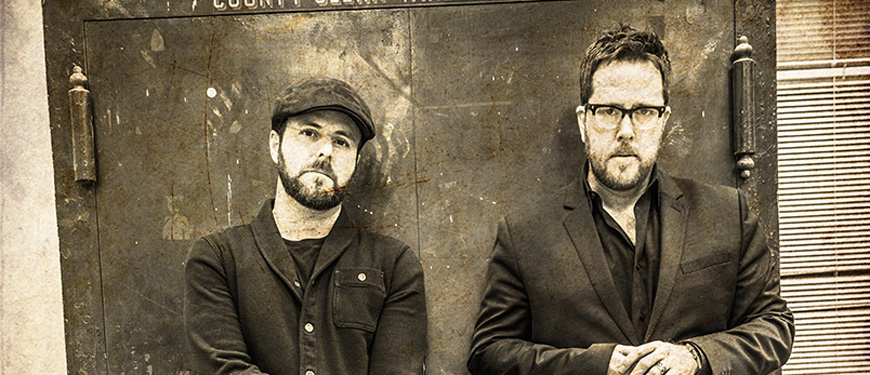 The Cold Stares' new album Ways is a varied and smoldering thirteen song collection jumping out of the speakers. Chris Tapp and Brian Mullins are a decade in to their time together under this banner and still sound every bit as invigorated with this new collection despite the miles and previous releases behind them. The band's songwriting has deepened with each release and I think many will listen to this album a handful of times convinced they still haven't quite hit their peak yet; demonstrating such range for a band who flogging their wares for ten years is no small feat. Ways draws from a deep well of influences without ever sounding imitative and their take on traditional styles has a strong sense of individuality.
URL: https://www.thecoldstares.com/
"Any Way the Wind Blows" will blow you out of your chair or off your feet. There's no doubt after hearing this for the first time The Cold Stares know how to open an album and catch the listener's attention. Five albums into their run as a band has given Tapp and Mullins ample time to refine their approach, even lose their soul, but this first track shows them as remaining as true to the initial inspiring impulse behind the band's formation now as they were on 2014's debut A Cold Wet Night and a Howling Wind.
Title tracks are often treated as definitive statements on a release and front loading such a moment towards the album's beginning rather than the more customary mid way point or second half is often a reflection of a very confident band. "Ways" is outstanding enough that there's little wonder why they place it near the beginning. Tapp's vocal digs in deep here and his guitar work takes a slash and burn approach to the song that Mullins matches each step of the way. They shift gears a little with the hard charging "I Was a Fool" and the upbeat tempo they adopt kicks Ways up several notches. Tapp does a five star job embodying the chagrin of the song's title and its lyrics.
"White Girl" makes for an excellent pairing with "I Was a Fool". It doesn't take on the same pace as the latter tune, but it once again demonstrates Tapp and Mullins' seemingly effortless ability to build dynamic songs that are predictable to a certain extent, but it's a delicious predictability. The fun lies in hearing how they get where there are going with such undeniable skill. There a handful of acoustic songs fixed in with the raucous rock and blues rock tracks on Ways, but the ones standing out heads and shoulders above the rest for me are "I Ain't the One" and "Jackson Mississippi".
DEEZER: https://www.deezer.com/us/album/104976122?autoplay=true
The former illustrates how deep the duo's roots in the blues run. It's nothing less than a depiction of Jesus meeting John the Baptist for the first time and, if that subject turns you off on reading it, don't let it. It isn't a sermon set to music or some sort of devotional – it recalls, instead, the long tradition of Biblical references laden through blues history. It isn't surprising from a duo who lists Blind Willie Johnson as one of their influences. "Jackson Mississippi", on the other hand, is straight blues noir about a man who takes 10,000 dollars off a dying thief but, natch, comes to a bad end when the feds inevitably visit. Tapp lays a twist into the songwriting, however, that shows their underrated chops as storytellers, not just musicians. Ways is a rich and deep release, perhaps not the most cheerful thing you'll hear, but the music bursts with life and energy throughout.
Loren Sperry