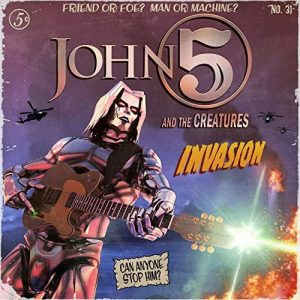 John 5 (aka John Lowery) has been around the block a few times, from touring with cock-rock legend David Lee Roth to playing with late '90s hard rock kings Marylin Manson and Rob Zombie. John 5 has been a consistent player in the hard rock scene for the past two decades.
In his newest album "Invasion," with backing band The Creatures, John 5 has created a mind-melting combination of electronic beats with increasingly intense guitar solos.The album hits the ground running with the John Carpenter-esque "Invasion," featuring bombastic drums while John 5's riffs lead listeners on an increasingly strange trip.
As "Invasion" begins to bring the heat, John 5 dials the heaviness down and instead introduces a funky beat with "Zoinks!", a song that would best fit on the score to an eccentric bank heist gone wrong, cementing John 5 into the upper echelons of musical eccentricity. From the honky-tonk flair of "Howdy" to the Jerry Garcia inspired "Cactus Flower," the album provides a little bit of everything a music junkie could ask for.
For 35 minutes, "Invasion" leaves listeners speechless. The album is an eclectic hodge-podge of multiple genres. Without a doubt, "Invasion" will divide listeners, but those with an open mind and an appreciation for the technical structure of music will find something of value.