Even as they continue to create more music to reveal over the coming months, Nashville, TN based Alternative Rock Duo ICON FOR HIRE has revealed Summer dates for THE ICON ARMY TOUR. Launching July 19th in Atlanta, GA, the tour winds through the Mid and Southwest before finishing up on August 25th in Nashville, TN. Tickets and VIP Packages will be available at iconforhire.net on Friday, 5/17.
"We decided to name this The Icon Army Tour because we want to show our fans how much their continued support and encouragement means to us. We can't wait to get back on the road and share the new music we've been working on this year, because getting to interact with our fans through the live show is one of the best parts about making music! We are so excited to showcase both new and old songs on this upcoming tour, as well as reconnect with our amazing tribe." – ICON FOR HIRE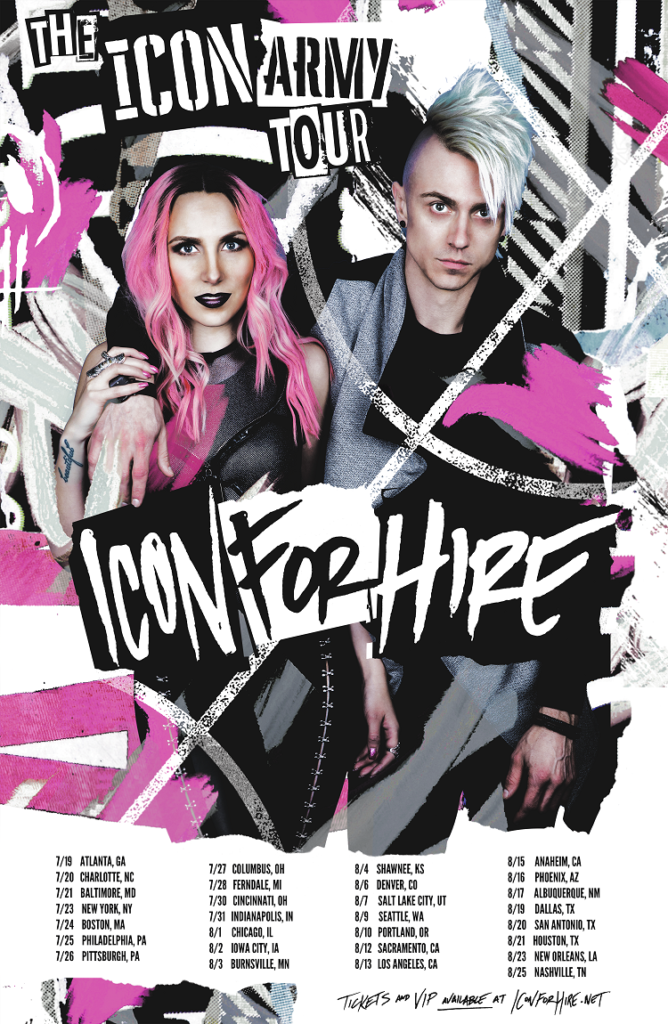 Tour Dates:
07/19 @ Hell – The Masquerade – Atlanta, GA
07/20 @ The Visulite Theatre – Charlotte, NC
07/21 @ Ottobar – Baltimore, MD
07/23 @ Mercury Lounge – New York, NY
07/24 @ Sonia – Boston, MA
07/25 @ TBA – Philadelphia, PA
07/26 @ Smiling Moose – Pittsburgh, PA
07/27 @ The A&R Music Bar – Columbus, OH
07/28 @ The Loving Touch – Ferndale, MI
07/30 @ Thompson House – Cincinnati, OH
07/31 @ Irving Theater – Indianapolis, IN
08/01 @ Subterranean – Chicago, IL
08/02 @ Gabes – Iowa City, IA
08/03 @ The Garage – Burnsville, MN
08/04 @ Roxy Bar – Shawnee, KS
08/06 @ Marquis Theater – Denver, CO
08/07 @ Kilby Court – Salt Lake City, UT
08/09 @ El Corazon – Seattle, WA
08/10 @ Bossanova Ballroom – Portland, OR
08/12 @ Holy Diver – Sacramento, CA
08/13 @ Moroccan Lounge – Los Angeles, CA
08/15 @ Chain Reaction – Anaheim, CA
08/16 @ Rebel Lounge – Phoenix, AZ
08/17 @ Launchpad – Albuquerque, NM
08/19 @ Club Dada – Dallas, TX
08/20 @ TBA – San Antonio, TX
08/21 @ House of Blues – Bronze Peacock – Houston, TX
08/23 @ Southport Hall – New Orleans, LA
08/25 @ TBA – Nashville, TN
Click HERE for for Additional Dates / Updates and Ticketing / VIP Information.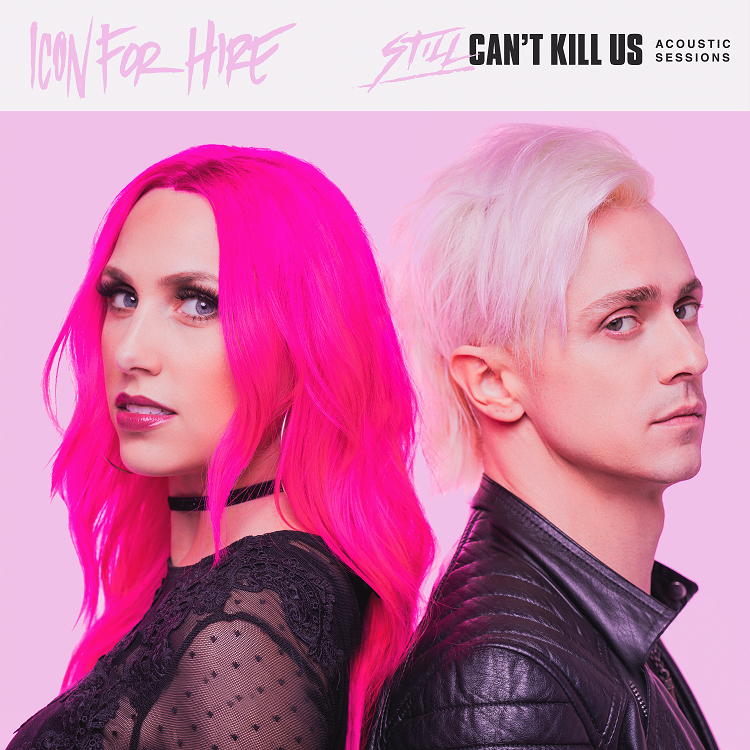 1. Demons
2. Get Well II
3.Happy Hurts
4. Pulse
5. Supposed to Be
6. Bam Bam Pop
7. Under the Knife
8. The Magic
9. War
10. Too Loud
Download / Stream Still Can't Kill Us Online:
iTunes | Spotify | Amazon | GooglePlay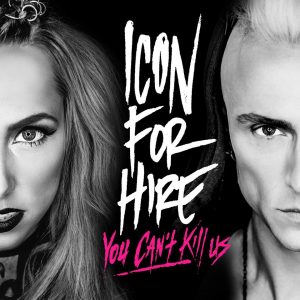 1. Supposed to Be
2. Demons
3. Pulse
4. The Magic
5. Happy Hurts
6. You Were Wrong
7. Too Loud
8. War
9. Under the Knife
10. Here We Are
11. Get Well
12. Invincible
13. You Can't Kill Us
Download / Stream You Can't Kill Us Online:
iTunes | Spotify | Amazon | GooglePlay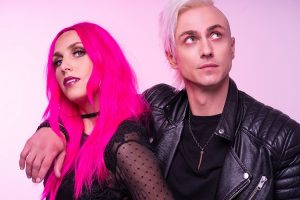 Despite their name, ICON FOR HIRE aren't indebted to anyone but their fans. Since forming in 2007, the duo—singer Ariel Bloomer and guitarist Shawn Jump—have amassed a legion of followers who have connected with not only the band's genre-bending sound, but also their honesty. That soul-baring spirit and realism is at the heart of everything Icon For Hire do, and it's front and center on their latest Billboard-charting release, YOU CAN'T KILL US…
Produced by Mike Green (Gwen Stefani, All Time Low) and funded by fans through Kickstarter on a campaign that raised $127, 200—making it one of the year's highest-raising music campaigns—the self-released album marks a brand-new chapter for the band.
Blending hard rock, hip-hop, electronica and pop into an anthemic swirl of both melody and muscle, You Can't Kill Us isn't only a modern sounding record—it's awash in lyrical themes that tap into the times as well. Addiction, depression and self-worth are all topics Ariel addresses and these themes reverberate loudly in today's tumultuous, judgment-first culture.
After all, having survived the record label system and reemerged stronger than ever, Icon For Hire are living proof that you can take control of your life—and that's perhaps the greatest success anyone can hope to accomplish.
Connect with ICON FOR HIRE:
Official | Facebook | Twitter | Instagram