Billy Idol and Steve Stevens were ready to rock at their show at the Rialto Square Theatre in Joliet, Illinois on March 21st. So much so, that neither wasted any time with extended greetings upon appearing on-stage before getting into the first song of the night, Dancing With Myself. But the duo, especially Billy, made up for it as the night progressed, by speaking at length about their music and their lives in this Storytellers type format for this special, acoustic evening.
Billy's voice was gritty and powerful, and Steve's guitar sharp and crisp as the long time collaborators and friends performed their most popular songs, stripped down (the only assistance being a beat machine for a few numbers), as well as a few meaningful cover tunes. The crowd did their part by singing along, helping to build up steam throughout the set, which culminated in a full blown fan frenzy during White Wedding in the encore.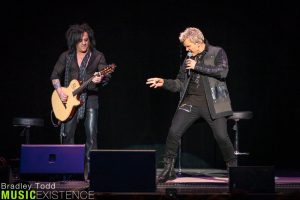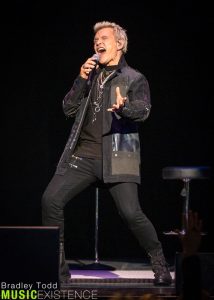 The stories Idol & Stevens shared added a unique, personal twist to this affair that isn't a part of their usual rock show. Idol showed that he has more tools in his Superstar tool box than just his snarling power-pose, by displaying his sense of humor in the tales he spun for the crowd. And his delivery extended beyond humor to poignant, as he related a story about his late father and how the two came to re-connect and look past prior differences in his father's dying days.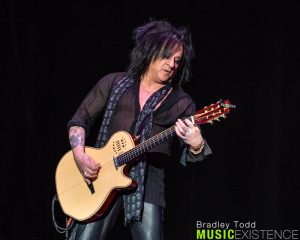 Despite the lack of electric instruments and drums, the set didn't lack energy. To the contrary, Billy's manic stage presence kept the vibe at a high level and moving right along. In fact, the only disappointing thing about the show was that the end seemed to come too quickly. Running time was about 90 minutes but not all of it music, given the format. It would have been nice to get a few more songs, either well known classics or more songs from Billy's recent masterpiece album, Kings & Queens Of The Underground.
Several shows remain in this "Turned On, Tuned In, and Unplugged" duo tour, and it is highly recommended. More information about Billy Idol can be found here below:
Web: www.billyidol.net
GALLERY BELOW
SETLIST:
Dancing With Myself
Catch My Fall
Kiss Me Deadly
I'm Not Like Everybody Else
Sweet Sixteen
Ghost In My Guitar
Eyes Without A Face
Guitar Solo
Don't Need A Gun
To Be A Lover
Rebel Yell
White Wedding (Encore)
Shakin' All Over