California hard rock quintet Tesla is back in 2019, with a tour in support of a new album, Shock, their 8thstudio effort, debuting on March 8th(two songs, Shock and Taste Like are currently available). The band hit Chicago for two shows at the House of Blues on February 5thand 6th, joined both nights by blues shredder extraordinaire, Jared James Nichols, for the final two songs (see setlist below).
While Tesla came to prominence in the late 80's on the hard rock/metal wave that closed out that decade, their appearance and musical style differed from their peers – their clothes weren't brightly colored, flashy spandex and their hair wasn't as big as possible. Their music rocked just as hard, but with a more pronounced classic rock influence (think hints of Aerosmith, Zeppelin, Allman Bros.). Their image wasn't about big personalities, but rather about regular guys playing exceptionally solid tunes.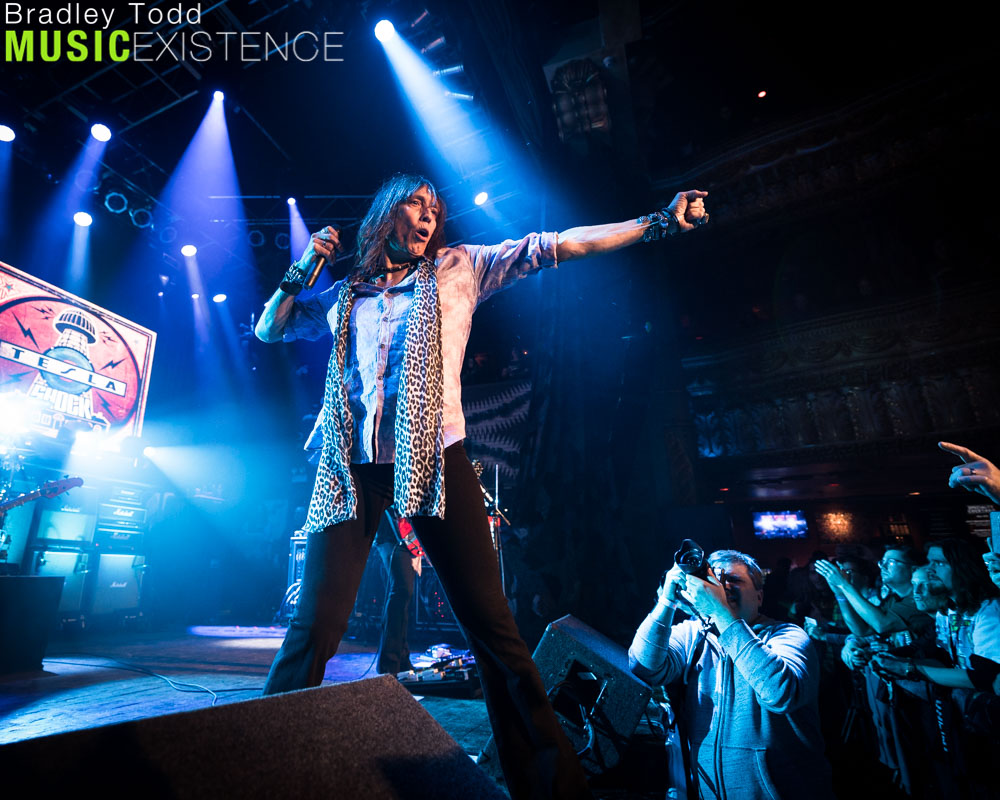 But Tesla's lack of flash, in a past era best known for it, is part of what makes them so appealing in the modern day – as always, they let their music do the talking. And unlike much of the hard rock from the 80's that sounds dated, Tesla's has aged well.
The band sounded great right out of the gate on the second night of the Chicago stint, a Wednesday. Singer Jeff Keith's razor sharp voice was at full power, as was drummer Troy Lucketta, who pounded away at his kit like a machine gun. The stage was a simple, traditional setup featuring a backline of amps, split by a drum riser in the middle. Guitarists Dave Rude and Frank Hannon took turns sharing the spotlight, splitting up solos during the show. And bassist Brian Wheat periodically joined the axe slingers up front, showing off his iconic Thunderbird bass.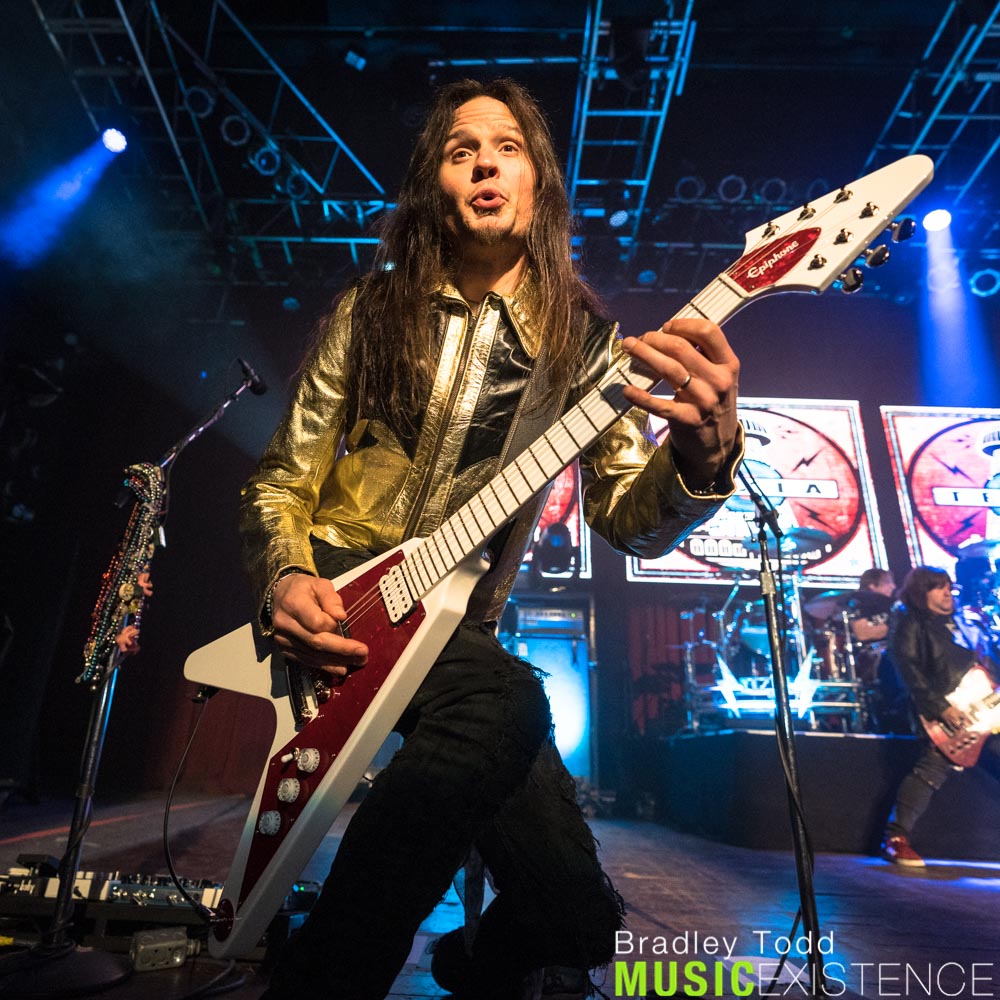 Tesla ripped though a 16 song set that included two new tracks (the show's opener, and the title track to the new record a little later), a few deep cuts, and hits. The show ended when like-minded no-nonsense rocker, Jared James Nichols, joined the group for a two-song encore, which really wasn't an encore, as Frank Hannon pointed out, since the band didn't leave the stage and doesn't feel the need to fake that they are. Nichols came out fresh and unleashed a pick-less (he doesn't play with one), hair swinging fury, tearing it up through the Tesla staples, Cumin' Atcha Live and Signs. And just like that, the show ended the way it began: without much pomp or circumstance…the way Tesla likes it.
(Tesla's schedule currently has dates in the U.S. through April, and then Canada in July. You can follow them at the links below)
-PHOTO GALLERY BELOW SETLIST-
www.teslatheband.com
www.instagram.com/teslaband
www.twitter.com/teslaband
www.facebook.com/teslaband/
SETLIST:
You Won't Take Me Alive
Rock Me To The Top
Modern Day Cowboy
Be A Man
Heaven's Trail
Need Your Lovin'
Miles Away
Changes
Caught In A Dream
Call It What You Want
What you Give
Shock
Love Song
Lil' Suzi
Cumin' Atcha Live (w/ Jared James Nichols)
Signs (w/ Jared James Nichols)
Tesla – 2/6/19 House of Blues – Chicago, IL. (Photo by Bradley Todd – All Rights Reserved)

Tesla – 2/6/19 House of Blues – Chicago, IL. (Photo by Bradley Todd – All Rights Reserved)

Tesla – 2/6/19 House of Blues – Chicago, IL. (Photo by Bradley Todd – All Rights Reserved)

Tesla – 2/6/19 House of Blues – Chicago, IL. (Photo by Bradley Todd – All Rights Reserved)

Tesla – 2/6/19 House of Blues – Chicago, IL. (Photo by Bradley Todd – All Rights Reserved)

Tesla – 2/6/19 House of Blues – Chicago, IL. (Photo by Bradley Todd – All Rights Reserved)

Tesla – 2/6/19 House of Blues – Chicago, IL. (Photo by Bradley Todd – All Rights Reserved)

Tesla – 2/6/19 House of Blues – Chicago, IL. (Photo by Bradley Todd – All Rights Reserved)

Tesla – 2/6/19 House of Blues – Chicago, IL. (Photo by Bradley Todd – All Rights Reserved)

Tesla – 2/6/19 House of Blues – Chicago, IL. (Photo by Bradley Todd – All Rights Reserved)

Tesla – 2/6/19 House of Blues – Chicago, IL. (Photo by Bradley Todd – All Rights Reserved)

Tesla – 2/6/19 House of Blues – Chicago, IL. (Photo by Bradley Todd – All Rights Reserved)

Tesla – 2/6/19 House of Blues – Chicago, IL. (Photo by Bradley Todd – All Rights Reserved)

Tesla – 2/6/19 House of Blues – Chicago, IL. (Photo by Bradley Todd – All Rights Reserved)

Tesla – 2/6/19 House of Blues – Chicago, IL. (Photo by Bradley Todd – All Rights Reserved)

Tesla – 2/6/19 House of Blues – Chicago, IL. (Photo by Bradley Todd – All Rights Reserved)