The Chris Robinson Brotherhood can rest assured that every one of their fans who came out to their 2019 tour opener on January 25that Chicago's Thalia Hall is of the hardcore variety, given the sub-zero temperatures they braved to be there. And while the wisdom of starting a tour in January in Chicago is debatable, the wisdom of catching a CRB show is not…especially if you are a fan of dreamy, adventurous, jam rock with a southern twist, topped off with Chris Robinson's trademark vocals.
Those in attendance on the 25th, the first of two Chicago shows, were treated to a healthy dose of the CRB gospel, delivered in two sets spanning 17 songs (see setlist below) consisting of originals, as well as covers from The Rolling Stones, The Coasters, and Leadbelly.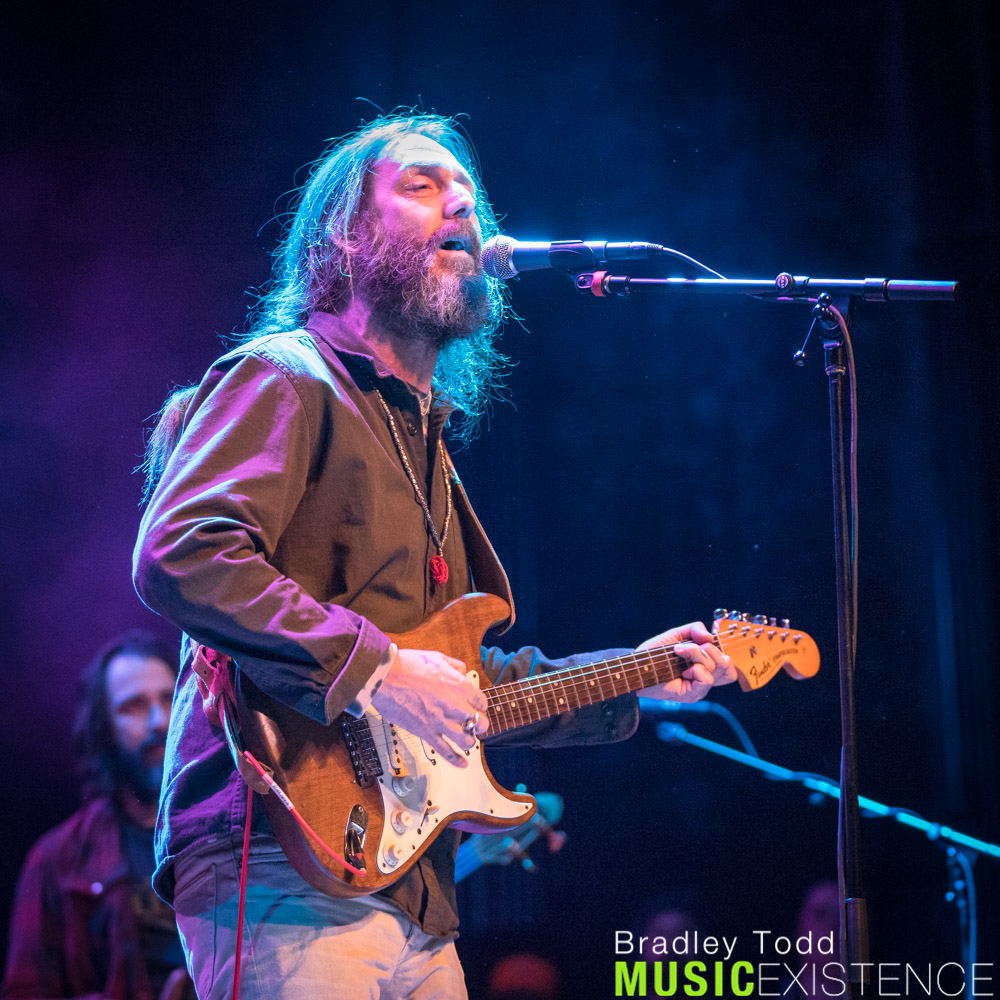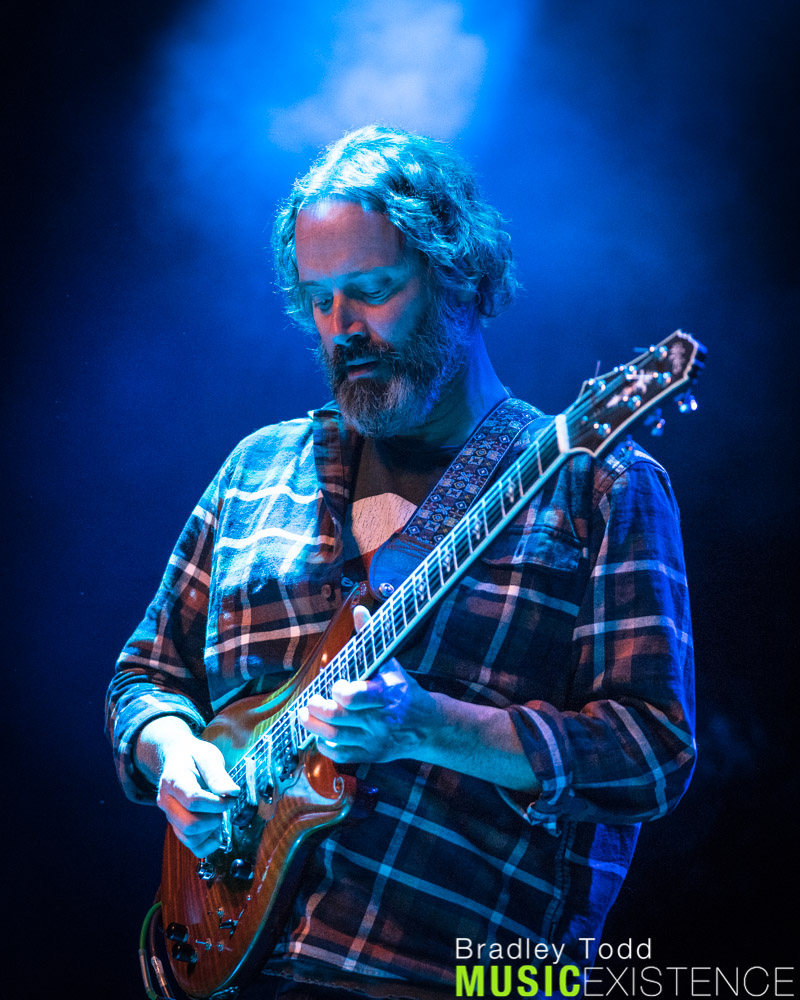 The group (Robinson – vocals/guitar, Neal Casal – guitar/vocals, Adam MacDougall – keyboards/vocals, Tony Leone – drums, Jeff Hill – bass/vocals) stretched out their song selections with solid, extended jamming and easygoing vibes that helped patrons get funky and forget about the cold for a couple of hours.
CRB's winter tour lasts through February, and those tour dates as well as others are here: https://chrisrobinsonbrotherhood.com/tour-dates/
**PHOTO GALLERY BELOW SETLIST**
Follow Chris Robinson Brotherhood here:
www.chrisrobinsonbrotherhood.com
FB: www.facebook.com/crbrotherhood
Twitter: www.twitter.com/thecrb
SETLIST
New Cannonball Rag
Tomorrow Blues
Someday Past The Sunset
Clear Blue Sky
I'm A Hog For You
Ain't It Hard But Fair
If You Had A Heart To Break
Behold The Seer
Let It Bleed (Second Set)
Reflections On A Broken Mirror
Rare Birds
Vibration & Light Suite
Venus In Chrome
Star Or Stone
Shore Power
Rosalee
Relax your Mind (Encore)
Chris Robinson Brotherhood – 1/25/19 Thalia Hall – Chicago, IL. (Photo by Bradley Todd – All Rights Reserved)

Chris Robinson Brotherhood – 1/25/19 Thalia Hall – Chicago, IL. (Photo by Bradley Todd – All Rights Reserved)

Chris Robinson Brotherhood – 1/25/19 Thalia Hall – Chicago, IL. (Photo by Bradley Todd – All Rights Reserved)

Chris Robinson Brotherhood – 1/25/19 Thalia Hall – Chicago, IL. (Photo by Bradley Todd – All Rights Reserved)

Chris Robinson Brotherhood – 1/25/19 Thalia Hall – Chicago, IL. (Photo by Bradley Todd – All Rights Reserved)

Chris Robinson Brotherhood – 1/25/19 Thalia Hall – Chicago, IL. (Photo by Bradley Todd – All Rights Reserved)

Chris Robinson Brotherhood – 1/25/19 Thalia Hall – Chicago, IL. (Photo by Bradley Todd – All Rights Reserved)

Chris Robinson Brotherhood – 1/25/19 Thalia Hall – Chicago, IL. (Photo by Bradley Todd – All Rights Reserved)

Chris Robinson Brotherhood – 1/25/19 Thalia Hall – Chicago, IL. (Photo by Bradley Todd – All Rights Reserved)

Chris Robinson Brotherhood – 1/25/19 Thalia Hall – Chicago, IL. (Photo by Bradley Todd – All Rights Reserved)

Chris Robinson Brotherhood – 1/25/19 Thalia Hall – Chicago, IL. (Photo by Bradley Todd – All Rights Reserved)

Chris Robinson Brotherhood – 1/25/19 Thalia Hall – Chicago, IL. (Photo by Bradley Todd – All Rights Reserved)

Chris Robinson Brotherhood – 1/25/19 Thalia Hall – Chicago, IL. (Photo by Bradley Todd – All Rights Reserved)

Chris Robinson Brotherhood – 1/25/19 Thalia Hall – Chicago, IL. (Photo by Bradley Todd – All Rights Reserved)

Chris Robinson Brotherhood – 1/25/19 Thalia Hall – Chicago, IL. (Photo by Bradley Todd – All Rights Reserved)

Chris Robinson Brotherhood – 1/25/19 Thalia Hall – Chicago, IL. (Photo by Bradley Todd – All Rights Reserved)

Chris Robinson Brotherhood – 1/25/19 Thalia Hall – Chicago, IL. (Photo by Bradley Todd – All Rights Reserved)

Chris Robinson Brotherhood – 1/25/19 Thalia Hall – Chicago, IL. (Photo by Bradley Todd – All Rights Reserved)

Chris Robinson Brotherhood – 1/25/19 Thalia Hall – Chicago, IL. (Photo by Bradley Todd – All Rights Reserved)

Chris Robinson Brotherhood – 1/25/19 Thalia Hall – Chicago, IL. (Photo by Bradley Todd – All Rights Reserved)

Chris Robinson Brotherhood – 1/25/19 Thalia Hall – Chicago, IL. (Photo by Bradley Todd – All Rights Reserved)

Chris Robinson Brotherhood – 1/25/19 Thalia Hall – Chicago, IL. (Photo by Bradley Todd – All Rights Reserved)

Chris Robinson Brotherhood – 1/25/19 Thalia Hall – Chicago, IL. (Photo by Bradley Todd – All Rights Reserved)

Chris Robinson Brotherhood – 1/25/19 Thalia Hall – Chicago, IL. (Photo by Bradley Todd – All Rights Reserved)

Chris Robinson Brotherhood – 1/25/19 Thalia Hall – Chicago, IL. (Photo by Bradley Todd – All Rights Reserved)