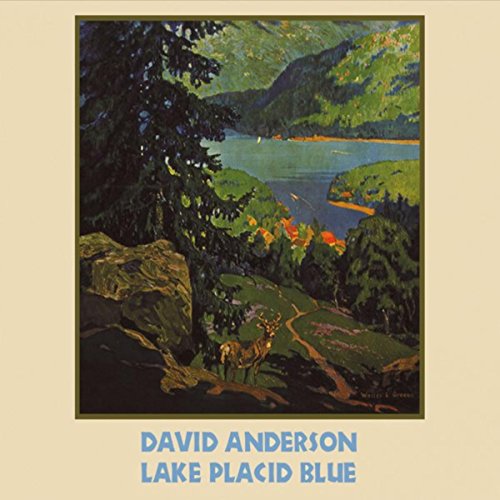 A rollicking acoustic guitar comes sailing through rigid, mountainous drums crashing all around it. In a heated pursuit of some fleeting melody led by singer/songwriter David Anderson's soft crooning, "Big Star" gallops toward the sunset without a care in the world, leaving the stress of everyday life in the rearview mirror and an effervescent groove dead-center in front of us. If this song doesn't get your engine revved, maybe the glowing resonance of "Tulsa Riot" will. Inside of a mere thirty seconds, Anderson weaves a web of provocative, politically tense lyrics around a pulsating beat that will make every hair on the back of your neck stand straight up. Even if that isn't your bag, perhaps the simple strut of the title track, the shimmering harmonies of "I Won't Break Your Heart," or the longhand poetry of "The Belle of New Haven (Sarah Winchester Speaks from Beyond)" will be. No matter what you fancy, you're bound to discover a relatable story to be told in David Anderson's wildly addictive new album Lake Placid Blue, a nine-song LP designed around the opulence of straightforward American folk music at its most raw and authentic.
Lake Placid Blue is built on the foundation of its lyrical masterpieces, which lean heavily on the glory of simplicity instead of the virtuosity of showmanship. Anderson doesn't have to pepper "Trouble All My Life," "The Edge of Yes" or "Mystic Knights of the Folk-Rock Wars" with a lot of twangy accents and over the top vibrato to win us over; his tender, pristine sense of prose and knack for cultivating slick hooks out of the most understated of harmonies is more than enough.
BANDCAMP: https://davidanderson4.bandcamp.com/releases
There isn't a lot to the bones of the album-opening "Charline Arthur" other than its driving old school swing and sumptuous central melody, and the same could be said of the title track and "Big Star" as well. In an age of excess as grandiose and out of control as the one we're presently living in has become, it's quite refreshing to come across an artist who values the virtues of cut and dry musicality above the overstimulation of sonic indulgence.
From where I sit, "Tulsa Riot," "I Won't Break Your Heart" and "Trouble All My Life" are three of the sharpest contemporary folk anthems that I've had the pleasure of reviewing thus far in 2019, and it isn't because of their smooth execution of brilliantly mixed tones alone. There's an emotional depth to this music that is unmatched among the vast majority of today's singer/songwriters, whose primary objective has become almost exclusively rooted in political agendas over the past couple of years. Though Anderson flirts with a political edge in this record, his ramblings couldn't feel much more personal and steeped in confessionals. Lake Placid Blue is, in many ways, like a letter from a distant friend living somewhere on the other side of the country, writing to tell us of what his many travels have taught him. These intimately unique lessons are as moving as they are memorable in these nine songs, and I don't think I'll be forgetting them anytime soon.
Joshua Corbin