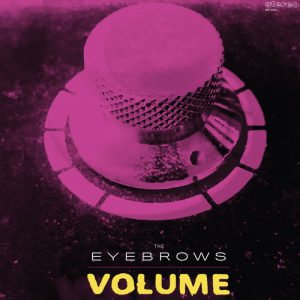 URL: http://the-eyebrows.com/

Volume, by Charlotte NC's The Eyebrows, is an album full of a variety of pop and rock songs to sooth the souls of the masses. Although they're self-releasing in August 2018, at the helm of the project is none other than REM producer Mitch Easter, recorded at his Fidelitorium sound studio. The ten tracks have also been mastered by the great Greg Calbi out of Sterling Sound in NYC. And that is no small feat to arrange, but these players are well seasoned. After five albums with Temperance League, Shawn Lynch and Jay Garrigan made The Eyebrows a touring force to reckon with.

This band have elements of punk, hard rock and everything in-between to fill in the cracks. It's an interesting album with cunning lyrics and excellent vocals, but you don't get it all in one listen. It grows with each time you hear it, so any opinion is likely to keep changing. The album kicks off with "Red Dress" and it doesn't hit you right away but once you get used to the song you can see why it's the lead off track which comes across like mainstream pop at first, but eventually shows a deeper side due to its melodic structure. Right away this is a band that knows how to craft great songs.

The next track, "Not The Same" is exactly that, but it is also very reminiscent of bands like REM and The Cure, with a sound that falls somewhere between the two as it just bubbles along so nicely and keeps things rocking with some tasty guitar fills and lovely keyboard textures. But things begin to change a lot more on "It Comes Down Hard" which is a song about the weight of the world and not letting it fall on your shoulders. This track has inflections of The Cars and other 80s bands like Oingo Boingo, harking back to when rock 'n roll was a lot more fun.

"I Feel Unloved" finds more modern territory but still retains that good old rocking formula they clearly know all about how to bring back without sounding out of date. But things get way more interesting on "Avocado" with the band starting to really show what they're made of by pulling out all stops from the punkish humor and new wave keyboards to the overall cosmic sound they weave as it comes to a dead stop and then a long pause happens before the track spaces out at the end.

"She Can't Stand Me" and "Pent Up Things" could not be more contrasting, but it goes to show a healthy amount of variety as they keep that 80s-90s vibe with a pop rock tune followed by more of a power pop ballad, and a solid one at that. "Sun" shows the original side of what they do with a potential hit track of their own, and they prove to please on the way out with "Tonight's Your Night" being another reason to find this release something all music lovers can appreciate with one of the most extraordinary tracks which help make this a remarkably high standard collection of songs and The Eyebrows play out to be quite the modern eclectic throwback.
INSTAGRAM: https://www.instagram.com/theeyebrowsusa/

Larry Toering