The initial band lineup has been announced for ShipRocked 2019 – "Ten Years of Mayhem On The High Seas/Western Theme" — set for January 26-31, 2019 on board Carnival Valor. Papa Roach, Bullet For My Valentine, I Prevail, and Nothing More lead a lineup of over a dozen bands slated to play the special tenth edition of the annual vacation experience as it sails from Galveston, TX to the beautiful waters of Mexico's Cozumel and Yucatan.
In addition to Papa Roach, Bullet For My Valentine, I Prevail, and Nothing More the jaw dropping lineup for ShipRocked 2019 includes The Stowaways, Nonpoint, Sevendust, Suicidal Tendencies, '68, Islander, Tremonti, Wilson, Raveneye, 10 Years, Motionless In White, Atreyu, Skindred, Them Evils, Badflower, Monster Truck, and Hyro The Hero, with more to be announced. Along with the musical guests, comedic act Brian Posehn will also be on board.
ShipRocked's resident all-star band The Stowaways returns in 2019 for a pair of special shows with its revolving cast of special guests, bringing a mix of classic hits, rockin' tributes, unexpected surprises, and a roster of performers that can't be seen anywhere else. Check www.ShipRocked.com for the latest on ShipRocked 2019 and The Stowaways' 2019 lineup, including but not limited to Adrian Patrick, Bumblefoot, Chris Warner, CJ Pierce, Doc Coyle, the Aranda bothers, John DeServio, David Ellefson, and many more.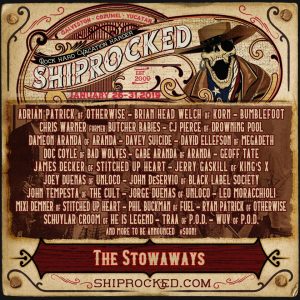 It's an eventful morning for Shiprockers as theme nights for the cruise were announced this morning as well. Denim, Gender Swappin', Dia de los Muertos, Dynamic Duos, and The Good, The Bad & The Skully will all be featured on the 2019 voyage.
Since growing to be known as the "greatest vacation on Earth," members of the rock community have sold-out the 'festival on water' for years, making record-breaking time after each growing year. Despite the lack of vacancy at the current moment, guests can be put on the waiting list should cabins become available.
Produced by ASK4 Entertainment, ShipRocked is a once-in-a-lifetime experience that provides guests with the opportunity to vacation with their favorite bands, meet new friends, and reunite with old ones year after year. In addition to unique performances and musical collaborations, ShipRocked on board and beach activities include photo meet and greets with band members, artist hosted events and activities, crazy theme nights, after hours parties and more. Loudwire calls ShipRocked "…a staple of the hard rock and metal event calendar [March 1, 2017]."