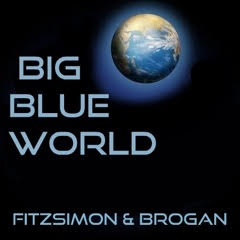 Neil Fitzsimon, the songwriter, and Bee Brogan, the vocalist, aim to produce "Pure Pop For Now People." Preferring to remain faceless in an industry that holds image in high regard, the pair have gone on to form a songwriting/production partnership that led to placement of their songs in Film and TV. They also wrote a musical, Jack Dagger, which was showcased at the Greenwich Theatre, London for the Musical Futures Award. It was also showcased at the Bridewell and the Royal College of Music in London. They have also just had a song placed in a USA Sci–Fi Feature film.  The duo recently had a track reach number 3 on a French national download chart.  Their track, "This Is Love" earned the duo Semi-Finalist status in the Eurovision Contest.
Neil and Bee took time out of their busy production schedules to give us this EXCLUSIVE interview:
ME: Please tell us your background.  How did you get into the music business?
Fitzsimon And Brogan: We've always loved music, but both were never content to be just listeners. We wanted to create our own music.

ME: If you weren't making music, what would you be doing?
FaB: We dread to think. Music to both of us has always been a way of life.

ME: Being from London, England, how do you feel your location has helped and/or hindered your career?
FaB: It's the most competitive place in Europe. The competition is fierce and to stand out you've always got to be one step ahead of the competition.

ME: Tell us about your latest music album, "Big Blue World"
FaB: Thankfully our latest album, Big Blue World, has been received with great reviews. We wanted to make an album that was almost a tribute to all the great melodic pop/rock bands of the past, and we'd like to think we've achieved that.

ME: Who are some of your biggest influences?
FaB: Our tastes are right across the board; from the Beatles to Jimi Hendrix, David Bowie, Elvis Costello, Jimmy Webb, Jacques Brel, Abba, Prince and Morrissey.

ME: What do you find to be the most difficult thing about the music business?
FaB: A bone of contention with us has always been the fascination, almost obsession, the music business has with image over content. When we signed our first record deal, it seemed as though the record company paid as much attention, if not more, to our image, rather than the actual music. To us this is sad.

ME: Where is your favorite place that you've performed?  Least favorite place?
FaB: We headlined at the Marquee, London and that was great, being on the stage where so much history was created. This was a club called, The Lady Owen Arms, where the inside of the men's toilets were visible from the stage, and at the end of every song, it seemed as though the toilet flushed!
https://open.spotify.com/album/1ev72ixUkRxYmpju4YJm7k

ME: What means more to you: Sales, Awards, or critical praise? and why?
FaB: Critical praise comes first. But, obviously any money you make is a bonus.

ME: What is your greatest achievement, so far?
FaB: Getting our musical, Jack Dagger, on the London stage and winning the Musical Futures Award that year. Also, we'd have to say that signing our first record deal felt wonderful as it is the holy grail for any musician.

ME: What one song do you wish you had written, that you didn't?
FaB: Strawberry Fields Forever, which even amongst all the great songs that The Beatles wrote, stand out as something that is still as extraordinary as it was back in 1967. Also, we'd love to have written something as sad as, In My Life, and 'If I Fell'. 'If I Fell', was actually John Lennon's first attempt at writing a ballad – not bad for a first attempt. Yet again, another Beatles' track, 'Please Please Me' is another one, which many consider to be the first powerpop single ever to be released.

ME: If I was to come to dinner, what would you serve and what movie would we watch afterwards?
FaB: Fish and chip (and we'd pretend that we'd made them ourselves) with mushy peas, and as Londoners, we'd also introduce you to 'Pie and Mash'. The film we'd watch? Either, 'Zulu', 'Scent of a Woman' or anything by Powell and Pressburger, especially, 'A Matter of Life and Death'.
That sounds like a wonderful time!  Thank you so much and good luck with your album!
For more information, please visit http://www.fitzsimonandbrogan.com
http://www.facebook.com/fitzsimonandbrogan
http://www.twitter.com/broganand
https://open.spotify.com/artist/4DdsE1EMCORlBi7Gy4oXvR