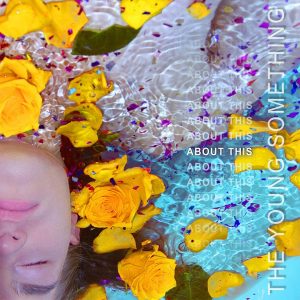 Led by Alex Bonyata and Bella Beyer, Florida-based act The Young Something have come forth with About This, an energetic project that blends indie rock and synth-pop in playful fashion. One of the first attention-grabbing factors of the band (which also consists of Ben Buffington and Trey McHugh) is how young they are. At just 17 and 15, respectively, Bonyata and Beyer are already making impressive progress in their music career and About This further indicates a bright future for the young up-and-comers.
The EP begins with "Better Friends," a vigorous piece of pop rock that showcases the band firing on all cylinders right from the very beginning. The sweeping, poppier chorus (which demonstrates the band's knack for writing catchy hooks) could easily be compared to the stylings of an act like The Naked and Famous, and the track's carefree nature and sense of nostalgia feel reminiscent of Beach Slang, though with a cleaner, less fuzzy, approach to the production. Speaking of which, Bonyata possesses warm, inviting vocals similar to that of James Alex or Ben Walsh of Tigers Jaw fame. His voice reflects a sense of eagerness that pairs considerably well with the track's bright guitar work and bouncy keys. While this opening moment lands closer on the indie rock spectrum, the rest of the EP offers a more straightforward synth-pop approach with Beyer taking lead vocal position.
"Red" features dreamy electronic instrumentals that pair well with Beyer's elegant voice. Her vocals can be theatrical, similar to Florence Welch, though they remain grounded and sincere, drawing comparisons to Molly Rankin of Alvvays. The final result is a vocal delivery that is simply pretty to listen to. "Wrong with Me" and "Icarus" also feature layered, occasionally watery electronic instrumentals that provide a nice base for Beyer's voice to float over with a sophisticated aura. This extravagant approach to electro-pop will likely please fans of artists like Grimes, Lorde, and possibly even those who enjoyed the most recent output from Paramore. While these two vocal deliveries are pleasant enough separately, I would honestly like to see Beyer and Bonyata combine their voices more frequently on future tracks. Bonyata's enthusiastic charm could prove to be an interesting contrast to Beyer's mature vocal tone. 
The main drawbacks of About This fall into common categories within many bands' earlier releases. While the songs themselves are fairly strong, The Young Something still appear to be finding their niche within the genre landscape. The tracks can be quite different from one another which leads to the unified project suffering from some disjointed tonal shifts, particularly between the first two songs. While song diversity is often welcomed in pop music, the overall album should still feel like a unified whole rather than a series of separated tracks. An easy fix to this would be, as mentioned previously, for Beyer and Bonyata to combine their vocals a bit more and create some diversity within the song structures. By doing this, the band will naturally develop a cohesive sound. One can easily look past this gripe though, seeing as how the artists are still quite young and have plenty of time to keep tweaking their work.
There is already quite a bit of promise surrounding The Young Something. While the project features some tonal inconsistencies, with that also comes a sense of ambition. The band already showcases the willingness to cross over into many different genres and that will benefit them in the long run. The Young Something's career is just starting and over time their broad blending of genres will likely lead to their sound blossoming in shining fashion. About This shows that the Young Something possess all the necessary tools to become a prominent name in the indie rock circuit and from this point on, one can only expect them to progress as artists and continually raise the levels of aspiration surrounding their music.
About This is out now. You can order the album here. You can follow The Young Something on Facebook, Twitter, and Instagram.
Compositions - 8
Breaking Ground - 7.5
Engagement - 8.5
Lyrical Voice - 8
Production - 8.5