Straight from the sandy shores of Clearwater, Florida, The Ries Brothers consists of the brother-duo Charlie Ries (22) on leads vocals, while playing the drums and keyboard at the same time, and Kevin Ries (18) completing the band on lead guitar and background vocals. Combining their musical and creative influences of Slightly Stoopid, John Mayer, and Jack White, The Ries Brothers produces a soulful reggae-rock sound. With their first full-length album released, these brothers hold nothing back on an impressive 13-song lineup. I got the opportunity to sit down with the brothers on the day of their album release at Cocoa Beach's Rootfire At The Park to chat about their musical inspirations, new album, and future goals.
ME: How did this brother-duo come about, and what prompted you both to put your skills together?
Charlie Ries: We were both interested in music at a young age; we took piano lessons when we were   young then starting taking drum lessons when I was like 9, and Kevin started guitar at a later age at 11. Also, at the time we were playing baseball and doing the normal kid stuff. We got more and more serious about the music and then we noticed that we weren't finding kids around us that was as passionate. So we literally like "We really wanna do this, let's just do it on our own, together."
ME: What artists have inspired you both personally to pursue a future as a musicians?
Kevin Ries:  It's cool because we both have different musical backgrounds, and we each listen to totally different music, honestly. He's more into rock blues and alternative rock, and I'm really into reggae. It's cool our sound is mixed together.
Charlie Ries: We brought those two influences together.  
ME: So first of all, congrats on the release of your first debut full-length album! How does it feel to have a project that you worked on for so long (5 years), to be out for everyone to hear?
CR: It's crazy, it means so much. Every band's dream is to put out their first real album, and we finally got to do that after five years of being a band. We released EP's, but it's not the same as putting out your first real album.
KR: We took what we thought was our best, 13 songs, from the past five years and combined them into this album that we are really, really proud of. We got to work with Ted Bowne from Passafire, who produced it.
ME: What has been the typical studio process for this album?
CR: It only took us two weeks, but the great thing about working with Ted is that it didn't feel rushed and felt natural. We had some awesome players come and play on it, like a keyboard player, saxophone player, and bongo player from HUH came in and jammed. Besides that, it was really just the three of us making the album. Just going into the room and being laid back, which was a lot of fun.
ME: Was the studio located here in Florida?
CR: Yeah, St. Petersburg. Ted has a home studio; he recently moved down here from Georgia.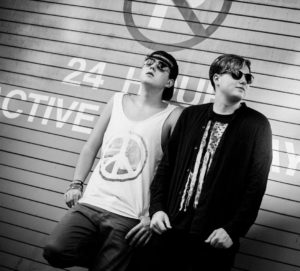 ME: What prompted this album title to be called "The View From The Outside," and what's the meaning behind the cover art?
CR: The idea first of all for the album title is kind of like the view from the outside, for kids who don't feel like they're part of the "it" crowd, because we definitely never felt like we were at all. Part of us falling in love with music is how we felt like we could relate to musicians. Our favorite bands, we felt like we were going through the same things, that's why we loved it so much. We wanted to be that for kids who are in that situation as well because that's really why we do what we do because of our heroes. We wanted to be that for other kids some day.
KR: So the artwork is suppose to be us, as the two little people are like watching…how would you [Charlie] describe it?
CR: Nick Kubley, the drummer from Passafire did the artwork for us. We gave him the title "The View From The Outside," and we were like "See what you can do with it." We told him what it meant to us, because he's a great artist, so we asked him to put what it means for us into a visual. He gave us a few options, and one of them was this idea of the two little people. It's basically like an ad on the wall, and the ad is peeling off, but you can tell they're dressed really nice, like a fancy metaphor for popular kids.
ME: Like a metaphor into the future and growing up?
CR: Yeah, so we really loved what he came back with.
ME: Are there any particular albums or artists that inspired and impact The View From The Outside?
CR: For sure, like we said, there's a lot of different elements of genre in the album. The reggae influence comes from Stick Figure, Revolutions, Slightly Stoopid. The more alternative aspects comes from The Smiths, The Black Keys and John Mayer stuff. John's Live in LA album is a big one for me, and pretty much any Smiths or Doors album.
KR: Jack Johnson is one of my favorites, too. Sublime, kinda how I got into the reggae/rock genre.
ME: With being so young, are there any challenges you face in the music industry because of your age?
KR: Definitely. When people see our age, they're like "Oh, they're just some kids." Every time we play, it's like to prove that our age is not where our music sounds like.
CR: But I love those people who had an attitude toward us before we play, and then they come to us after we play, then they get it. It's cool to see. It gives us more inspiration to do even better. We've definitely been looked down on for being younger, like we haven't lived enough or experienced enough, which is silly.  
ME: What would I find on your recently played from your Spotify or Apple Music?
CR: Probably all of mine has been Hippo Campus lately; I just dived into their stuff when I heard about them. I was watching the Bonnaroo livestream, so that's how I heard about them. I was like "Damn, that's awesome." I'm super excited they were added to this festival [Rootfire At The Park.]
KR: The album Smoked Stacked by Stick Figure, I've been listening to that all the time. Jack Johnson is always on my playlist.
ME: What artists would be on your dream festival lineup?
CR: John Mayer, Jack White, The Red Hot Chilly Peppers
KR: Slightly Stoopid
CR: The Black Keys, Foster The People. To share a stage with any of those and just to be on the same bill as Hippo Campus this weekend is awesome. And that's the goal: one day for bands to say that about us.
ME: Time travel a year into the future- what would Ries Brothers be doing?
KR: Hopefully still touring and playing festivals.
CR: The first three years that we were a band, we were basically a local band. So for the past two years, we've become more of national band, and touring a lot. So that's our goal now and be on the road a lot, more consistently, especially with the album out now. We have a lot of cool shows coming up; we have three shows with Passafire next month. In February, we're opening up for Stick Figure at Garlic Fest in Lake Worth, Florida. Then, opening up for the Wailers in Brooklyn in February, so that should be awesome, then California Roots Festival. In between there, hopefully more consistent tour dates
KR: We're driving out to California for that festival so we're trying to find stuff on the way up.
ME: Lastly, any acts you are excited about seeing this weekend?
KR: I think tomorrow The Ellameno Beat is playing; they're really good.
CR: It's cool, at this festival we have a lot of friends playing at because it's a lot of people from the Florida scene.
KR: Obviously, Hippo Campus.
CR: Yeah, Hippo Campus of course, and The Hip Abduction are tonight too. We've been fans of theirs for a while.

Check out The Ries Brother's music here: Spotify | iTunes | Soundcloud
Catch up with their social media here: Website | Instagram | Twitter | Facebook