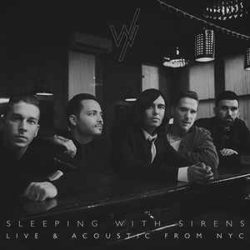 After the success of their fifth album, Gossip, Sleeping With Sirens continued on to tour in support of it, hitting many different cities in the US and worldwide. And whilst at Atlantic Records in New York City, the 5-piece band recorded this acoustic EP, and released it recently. So how does the EP's acoustic sound differ from the album they come from?
First is "Legends", which is also to be used as Team USA's theme for the 2018 Winter Olympics and Paralympics in South Korea. Whilst it is more of a stripped down sound, it's also soft and much nicer than the overbearing electric sounds from the original. The guitar is a brilliant compliment to Kellin Quinn's voice, which sounds a lot more comfortable, and is more natural with this instrumentation than being surrounded by the MIDI noises from the album's version. The inspirational lyrics also work better here, as giving soft encouragement to the listener, instead of being blasted at them.
Second is "Gossip", again the track works better with this acoustic style than it did with the album's version, which wasn't the best to show off Quinn's vocal talent. However, on this, again Quinn sound more natural, working well with the guitar, again coming in clear, and the percussion, keeping everything in time, as well as being tight and accurate, bringing to life a track that needed more than electronic instrumentation to elevate it.
Finally is "One Man Army", starting out with a very good acoustic guitar riff, it leads on to show that, once again, the track works better in an acoustic style over the style on the album. In the original, the instrumentation and musical accompaniment weren't the best choices to use for the song, but in this version, the stripped back instrumentation with the subtle moments for the guitar elevate the song, again, better than it is on the original album, especially with the lyrics and vocals.
Overall, it is smart of Sleeping With Sirens to create an acoustic EP, showing that they're clever enough to change the styles of their songs successfully, however it is to the further detriment of the album, Gossip, showing how the 3 songs featured on this EP can be styled better than they are on that album. The tracks did not need the electric sounds that were a main factor to the new album, as well as the fact that the members sound more comfortable playing and performing this style than being surrounded by MIDI tracks on a computer. This EP is worth listening to, even if you weren't a fan of Gossip, it at least does show that this band are talented, and can play live in a different sound they're used to.
Live & Acoustic from NYC EP is OUT NOW!
Website | Facebook | Twitter | YouTube | Spotify