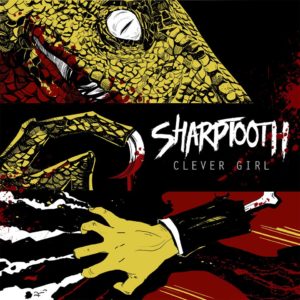 Hardcore is a difficult subgenre to grasp, let alone play. As well as looking deeper in the layers of music and instrumentation than what is initially heard, there's also an immense pressure to stand out from other hardcore bands, less be sucked into a messy group of bands that all sound the same! Yet with their debut album, Clever Girl, Sharptooth define themselves as one that other hardcore bands should watch out for with innovative lyrics, and a unique delivery style that would change even those who turn their nose up at hardcore into fans.
From the opening track of 'Rude Awakening', to the last notes of 'Pushing Forward', there's a lot that this album has to offer. For starters, drummer Conor Mac delivers intricate rhythms in the fast tempo that hardcore is known for, as well as with his own stylised fills, adding to the intrigue of the album. Tracks like 'Clever Girl', 'No Sanctuary', and 'Blood Upon Your Hands' showcase the fantastic nature of the rhythms that this band supplies. The guitars and bass also work well together, emphasising the power that each song showcases in this album. The guitar riffs especially, most notable in the tracks 'Can I Get a Hell No', 'Left 4 Dead', and 'Pushing Forward'. Secondly, the vocals from frontwoman, Lauren Kashan, are fantastic. This woman knows her way around clean and unclean vocals, especially as the unclean vocals come in clearly, and don't turn into "cookie monster" growls. They're especially great in tracks like 'Fuck You Donald Trump', 'Rise', and 'Pushing Forward', especially the latter as it has a nice mixture of clean and unclean within the song, using it to its advantage, and delivering each song with the raw anger and passion that is needed for all the songs. Following on from that, the lyrics are what make this album. From the strong phrases in 'Fuck You Donald Trump' like "keep us in the dark", and "tear the world apart", the frustration and anger over sexual assault in 'Left 4 Dead' like "victims of violence suffer in silence, but I cannot be silent anymore', to the powerful and inspiring chant of "I will rise, rise up!" in the song, 'Rise'; all showing the anger and conviction of the band as they bring together the harsh style of hardcore with the harsh truths of the current state of the world, making for some fantastic music and equally memorable songs.
As great as these elements are, there is still a massive flaw within the album, and that's with the track, 'Jesus Loves You', which is just an instrumental track over a recording of a sermon. Whilst an ingenious idea, it isn't executed well. It would have been a fine instrumental track on its own, but it makes it difficult to hear the sermon. If they wanted to have a track leading up to 'No Sanctuary' that also criticises conservative Christianity, the rest of the album has shown that they could have easily done so.
Aside from that track, the whole album is an important one to listen to, not just because of how much the band's sound differs from all those around it, hardcore or otherwise, but also because of the lyrics are what the world need to listen to, especially after the mess that the world has shown in this modern age. To conclude, 'Clever Girl' is a brilliant debut from the Baltimore band, and a fantastic effort in production, musicianship, and lyrical content that needs to be heard by everyone.
'Clever Girl' is out NOW!
Sharptooth's Social Media Links: