The legend of the Jersey Devil has been terrorizing New Jersey residents since a fateful October night in 1735. And while its tale has grown to nationwide notoriety, the devil came home this October to haunt local residents once more. Created by Artist Group International, SRea Productions and Street Drum Corps, Scared in Jersey offers a multi-attraction theatrical-style haunt on the grounds of PNC Bank Arts Center in Holmdel, NJ.
Kicking off with a theatrical vignette at Old Mother Leeds Cottage, attendees can watch the birth of the Jersey Devil himself before embarking on a winding trip through the Pine Barrens Maze. And this is where the production's efforts really shine. Frightful attendees are guided through the maze by an array of spooks and ghosts, devils and ghouls, all the while being completely immersed by the production's effective use of light, sound and chilling vignettes–from killer carnival clowns to freaky insane asylum inmates..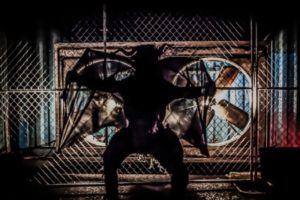 While the maze may not be terrifying for all, it still offers some solid jump scares and spooky thrills around each corner. The night is capped at the Blood Drums stage, where guests can relax, grab a drink and watch a high voltage performance from Blood Drums by Street Drums Corps. Comprised of founders Bobby Alt, Adam Alt and Frank Zummo, Blood Drums is a fascinatingly unique percussion performance during which the trio utilizes everything from classic drum kits to oil barrels, beer kegs, sanders and chainsaws. This punk-flavored anarchy is then set to the infectious tunes of industrial music.
Check out the promo video below for a taste of what to expect. Scared in Jersey runs through Tuesday, October 31st. Be sure to grab your tickets and partake in New Jersey's newest interactive haunt.
Tickets for SCARED IN JERSEY–taking place every Thursday through Sunday in October (October 5, 6, 7, 8, 12, 13, 14, 15, 19, 20, 21, 22, 26, 27, 28, 29, 30, 31)–are available now online via Ticketmaster.com and Live Nation.com, by phone at 800-745-3000 or at the venue box office starting at $25.