Pop phenomenon FLETCHER brings back her wildly popular Meet Her At The Bar: Pride Month Experience for a second year— a series of pop-ups hosted by women-owned queer bars across America. In addition to celebrating and supporting inclusive spaces and bringing fans together, the campaign also raises funds for GLAAD's News & Rapid Response Initiative.
FLETCHER's powerhouse debut album Girl Of My Dreams arrived in September 2022 featuring the hit single "Becky's So Hot" which landed on Billboard's Hot Rock and Alternative Songs chart. A voice for the queer community, her music celebrates inclusivity and self-empowerment. Her music has amassed over a billion combined streams worldwide and has launched FLETCHER as a pioneering voice on the rise.
Launched last year, Meet Her At The Bar generated heightened revenue for participating venues, and raised over $50,000 for GLAAD. FLETCHER hopes to exceed that sum this year and has partnered with Tinder, who will be donating one dollar for every new Pride sticker added to a member's profile in the U.S. (up to $50,000). Funds will go directly to GLAAD's News & Rapid Response Initiative — a vital resource that ensures LGBTQ people are accurately and fairly represented in the news media and aims to protect vulnerable LGBTQ youth from misinformation being deployed against their right to grow up as their authentic selves, in safety, and in peace.
Meet Her At The Bar launches on June 10 at Dorothy in Chicago. Events will be held in a number of major cities including New York, Chicago, San Francisco, and Nashville (the latter of which will also play host to a fan meet & greet with FLETCHER in support of the Tennessee community at the frontlines of fighting anti-LGBTQ+ legislation right now and her headlining Nashville Pride this year). All bars participating in the fan experience receive direct support via merchandise proceeds, bar sales, and other onsite activations at the events. Each bar will also have its own t-shirt available to purchase on FLETCHER's website with all net proceeds directly supporting each respective establishment. Additionally, a Tinder x FLETCHER co-branded t-shirt for sale will directly benefit GLAAD.
Following the launch of FLETCHER & FRIENDS, a festival for Pride in her hometown of Asbury Park, New Jersey, this past weekend for 5,000+ fans, FLETCHER, who was recently awarded "Outstanding Music Artist" at the 34th Annual GLAAD Media Awards will also appear at LA Pride and headline Nashville Pride Festival later this month. Want to participate but unable to attend? FLETCHER is currently soliciting donations via her social media to GLAAD— follow the link on her profile to donate now or purchase an exclusive pride shirt.
Meet Her At The Bar: Pride Month Fan Experience Event Dates: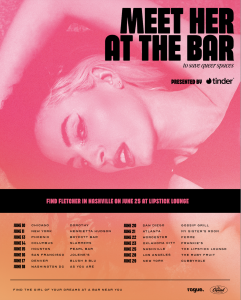 June 10 – Dorothy – Chicago, IL
June 11 – Henrietta Hudson – New York, NY
June 13 – Boycott Bar – Phoenix, AZ
June 14 – Slammers – Columbus, OH
June 15 – Pearl Bar – Houston, TX
June 16 – Jolene's – San Francisco, CA
June 17 – Blush & Blu – Denver, CO
June 18 – As You Are – Washington, D.C.
June 20 – Gossip Grill – San Diego, CA
June 21 – My Sister's Room – Atlanta, GA
June 22 – Femme – Worcester, MA
June 23 – Frankie's – Oklahoma City, OK
June 25 – The Lipstick Lounge – Nashville, TN
June 28 – The Ruby Fruit – Los Angeles, CA
June 29 – Cubbyhole – New York, NY
Fletcher Online: Facebook | Instagram | Twitter | Website | TikTok | YouTube | Spotify | Apple Music