System Of A Down headlines an amazing lineup at the inaugural Sick New World Festival in sunny Las Vegas, Nevada on May 13, 2023 with the likes of Korn, Deftones, Incubus, and many other bands that have been making waves in the hard rock/nu metal world from the 1990s on. It was crazy hot and temperatures were in the 90s to low 100s for the first eight hours of the day. Over 75,000 people attended this event from all over the world and made it one to remember.
The crowd was wild, thousands of people were lined up before the doors opened at 11 and they couldn't wait for the show to begin. Cold Monsters were ready to be chugged, Korn coffee was brewing, and Deftones beer was on ice ready to be consumed. The festival did a great job with how much of a variety they had with the food and beverages available for everyone. Security made sure that the die hard fans pressed up against the barricades and in the first few rows at each stage were hydrated and safe. There was a few locations throughout the festival grounds with shade that had misters so everyone could cool off when needed. Five foot fans were places around the perimeter of the grounds with misters as well and it was a life saver for a lot of people who weren't accustom to the dry heat Las Vegas is known for. There was so many people that a few times during different sets security and/or the lead singer of the band on at the time had to announce that the crowd had to back up and to make sure everyone is safe and helping each other out. The team of people involved with the health/medical side of the festival did a great job, they were definitely busy the whole time and didn't miss a beat.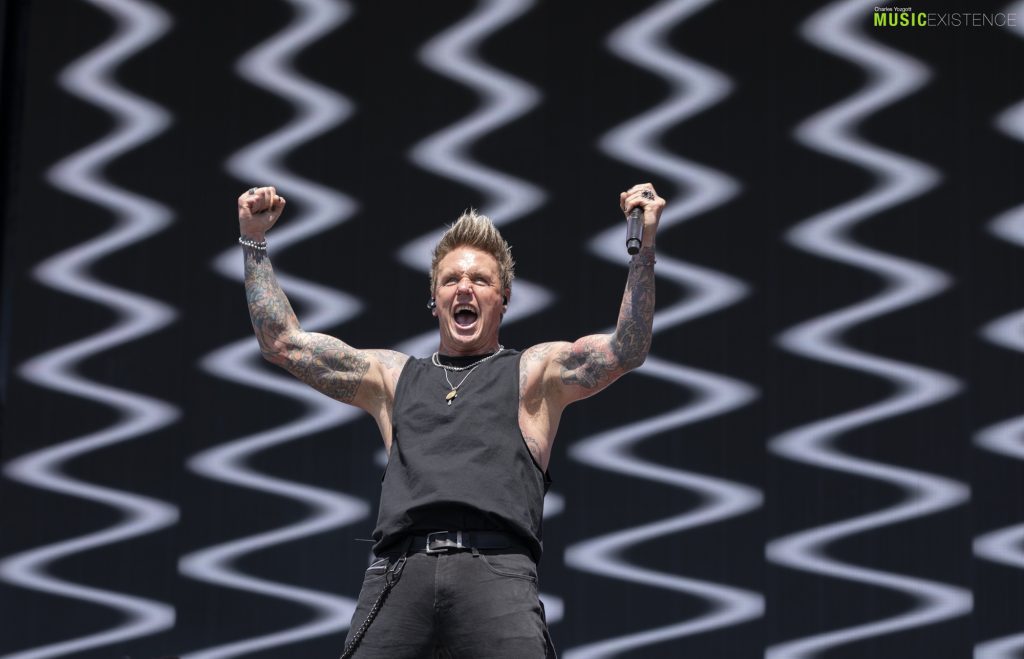 Two small stages at the festival, Sick Stage and Spiral Stage, was where thirty plus bands called home for the day. They were a stones throw away from each other and as soon as one band stopped another started. It was a tight schedule with a few hiccups along the way such as Sevendust and The Birthday Massacre experiencing power issues while Body Count had a few sound issues during their set. Other than that it seemed to run smooth and follow the schedule with minimal interruptions.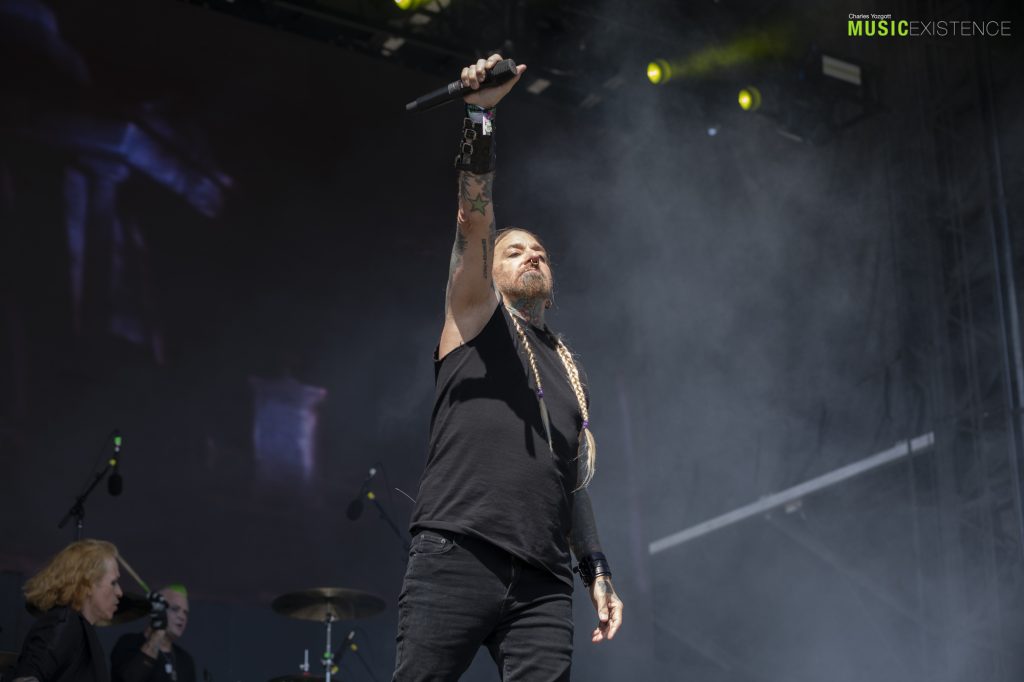 Scowl, from Santa Cruz, CA, begun the festival at 11:35am at the Sick Stage while Cold opened the Spiral Stage. Cold sounded amazing as they started with "Stupid Girl" from 2003s Year Of The Spider. Every fifteen minuets another band on these two stages was starting. Bands such as Orgy, Narrow Head, The 69 Eyes, Panchiko, and Lacuna Coil ripped through their sets as more and more people were flowing in every minute. Coal Chamber's first show since 2015 was loud and rowdy as they opened with "Loco" from their 1997 debut self titled album while Kittie played their sixth show since 2017 on the Sick Stage. Sevendust only played three songs, "Pieces", "Denial", and "Praise", due to power issues. Melvins, Filter, Spiritbox, KMFDM, Ministry, Fever 333, Body Count, The Sisters of Mercy, and Cradle Of Filth (who didn't go on until 11:45pm and had their set cut short due to curfew) rounded out the day at the two smaller stages and the crowd never subsided the entire time.
The main stage with two stages side by side, Purple Stage and Green Stage, was kicked off by Alien Ant Farm at 11:50am and at each stage there was a 35-40 minute set for each band until the headliners played. P.O.D., Soulfly, Flyleaf (their first show back with original singer Lacey Sturm), and Papa Roach had the main stage fans crowd surfing like no tomorrow and having the time of their lives. An appearance of Mr. Bungle at the Green Stage was a highlight of the day when they played covers of Slayer and Spandau Ballet, which are on opposite ends of the musical spectrum, and the crowd loved it. Chevelle, Turnstile, and Evanescence kept the energy going and the crowd kept growing bigger and bigger.
Incubus, Deftones, Korn, and System Of A Down were the "big four" of the day and at this point the place was packed to the brim. People were screaming their lungs out when Incubus started and they played favorites like "Privilege", "Circles", "Pardon Me", and "Stellar". Chino Moreno captivated the crowd with his red glasses and piercing stare into the abyss of people as the Deftones walked out to an even louder applause and roar, if you can believe that, and opened with "Genesis" off their latest album Ohms from 2020. They also included heavy hitters such as "My Own Summer (Shove It)", "Elite", "Around the Fur", and "Bloody Cape". During their set, one of the middle barricades in the audience went down and people were rushing the stage. Good thing security was ready for them and made sure nothing crazy happened as they handled the situation professionally. Korn started their set behind a large barricade that covered the front of the stage and opened with "Rotting In Vain" which is off their latest offering Requiem. Other songs they played that blew the speakers down to the ground was "Good God", "Blind", "Coming Undone" (with a portion of "We Will Rock You" by Queen mixed in), and "Shoots and Ladders" (with a snippet of Metallica's "One" mixed in). Jonathan Davis brought out the old school Adidas track suit in purple that was just as loud as their killer music, what a set.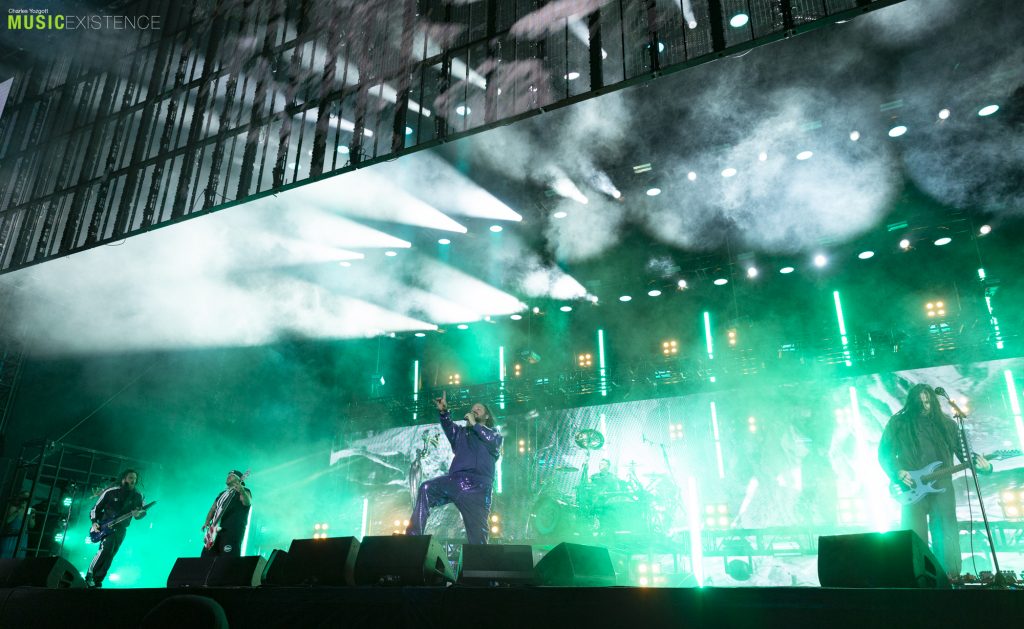 Not many other bands can go on after the likes of Incubus, Deftones, and Korn at a festival and on this night that would be the all mighty System Of A Down. This is their only scheduled performance of 2023 and was it one to remember. "Prison Song" started and Las Vegas went nuts! You could feel the ground moving from all the people jumping up and down with the beat of the song and you knew that this set was going to be one for the books. They played a generous thirty one song set which included the new songs "Genocidal Humanoidz" and "Protect the Land" which they released in 2020. "Soil", "Darts", "Peephole", "Forest", and "DAM" were performed for the first time in a number of years and sounded amazing. Everyone was singing the songs word for word and didn't show any signs of slowing down. Mosh pits were being formed all over the floor from left to right and the crowd was swaying along with the music. Fan favorites like "Psycho", "Chop Suey!", "Spiders", and "Suite-Pee" off their first two albums definitely gave the audience that extra wind to get through the rest of the night. SOAD closed the night with "Toxicity" and "Sugar" to roaring applause and gratitude.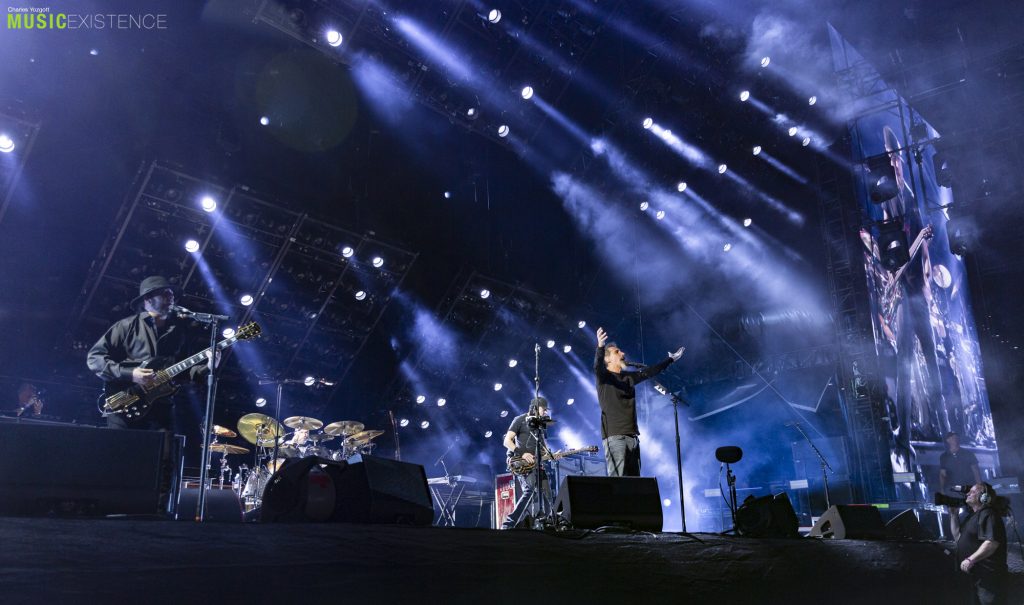 This first year of the Sick New World Festival was a success, despite a few power issues, and hopefully it'll be back next year with an even bigger line up. Keep your eyes open on all Sick New World Festival social media platforms and be sure to sign up with their mailing list to get the latest updates on everything related to the festival.
Cold
Setlist:
Stupid Girl
No One
Remedy
Suffocate
Happens All the Time
Gone Away
Kill the Music Industry
Just Got Wicked
P.O.D.
Setlist:
Boom
Rock the Party (Off the Hook)
Southtown
Youth of the Nation
Drop
Alive
Soulfly
Setlist:
Back to the Primitive
No Hope = No Fear
Prophecy
Refuse/Resist
Waisting Away
Bleed
Eye for an Eye
Jumpdafuckup
Flyleaf
Setlist:
Fire Fire
Again
Freedom
Cassie
Fully Alive
I'm So Stuck
So I Thought
All Around Me
Papa Roach
Setlist:
Kill the Noise
Getting Away With Murder
Blood Brothers/Dead Cell
Swerve
…To Be Loved
Scars
Between Angels and Insects
Last Resort
Coal Chamber
Setlist:
Loco
Big Truck
Fiend
Rowboat
Oddity
Something Told Me
Sway
Mr. Bungle
Setlist:
Won't You Be My Neighbor
Anarchy Up Your Anus
Racist
Spreading the Thighs of Death
Hell Awaits
True
Cold War
My Ass Is on Fire
Chevelle
Setlist:
An Island
Door to Door Cannibals
Face to the Floor
Send the Pain Below
The Red
Mars Simula
Sevendust
Setlist:
Pieces
Denial
Praise
Incubus
Setlist:
Privilege
Anna Molly
Glitterbomb
Nice to Know You
Circles
Karma, Come Back
Come Together
Sick Sad Little World
Absolution Calling
The Warmth
Pardon Me
Stellar
Wish You Were Here
Megalomanic
Drive
Deftones
Setlist:
Genesis
My Own Summer (Shove It)
Tempest
Swerve City
Diamond Eyes
Digital Bath
Elite
Be Quiet and Drive (Far Away)
Lotion
Ohms
Change (In the House of Flies)
Rocket Skates
Around the Fur
Needles and Pins
Bloody Cape
Nosebleed
Engine No. 9
Korn
Setlist:
Rotting in Vain
A.D.I.D.A.S.
Here to Stay
Good God
Blind
Falling Away From Me
Coming Undone
Got the Life
Somebody Someone
Y'All Want a Single
Shoots and Ladders
Twist
Freak on a Leash
System Of A Down