Canadian singer-songwriter Leith Ross' star is rising with the release of their debut album, To Learn, out everywhere on May 19. The Ottawa-born, Winnipeg-based folk artist bares their vulnerabilities on the record, which explores in intimate detail themes of love, healing, and self-discovery.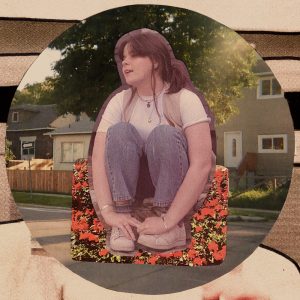 It's a mature departure from their 2020 EP Motherwell, the first project Ross recorded and released for a college assignment. To Love features confident vocals and polished productions of singles they have released over the past three years, including their viral TikTok hit from 2021, "We'll Never Have Sex."
The album opens with two minutes of ethereal instrumentation akin to a sound bath meditation on "5am." The song crescendos as Ross' soft, layered vocals pour into listeners' ears, and awakens with lively guitar playing. It sets the tone for what follows on the record: uplifting music as the backdrop to Ross painfully coming to terms with heartbreak, trauma, and their queer identity.
In their short career, Ross has honed a masterful control of their voice. From their lower register to their falsetto, Ross' crooning conveys the spectrum of pain felt during a breakup on tracks like "I Just Don't Think That You Like Me That Much." It's arresting to hear Ross sigh deeply on "To Me," a song about a toxic relationship, before they ask, "Do you know how humiliating it can be to beg for forgiveness that you shouldn't need?"
Much like the album opener, songs like "To Me" and "Orlando" make effective use of dynamics to express Ross' emotions. "Orlando" begins with lofi production and Ross singing with hushed anguish, "You make every part of me small / I'm short of breath and two feet tall / And I still don't know what I did wrong / It's not your fault, I just think I was in love." The track builds up in volume as they sing repeatedly, "Forget, forget, forget," with loudness that represents Ross ignoring their inner voice and drowning out their worries in order to cope.
The most powerful moment on the record comes at its midway point with "Guts," which unpacks Ross' experience with sexual assault. The track sees the singer reclaiming their power with quiet but assured confidence. Its composition is striking, as with the song "(You) On My Arm" – both are anthemic and pop-influenced, placing Ross among the ranks of indie folk contemporaries Boygenius and Julia Jacklin.
The album concludes with coming of age reflections about what it means to let go of the past and grow. Ross displays an endearing level of honesty and humility as they navigate the processes of self-realization and acceptance. To Learn is bound to keep longtime fans pleased and win over the hearts of new listeners.
Leith Ross Online: Website | Facebook | Twitter | Instagram | TikTok | YouTube | Spotify | Apple Music