French Canadian singer-songwriter Lili-Ann De Francesco has been musically inclined since she was a young girl, growing up in a household that favored acts like The Beatles and Queen. Now twenty three years old and signed to Universal Music Canada, the singer is creating music of her own to use as a tool for healing and human connection. 
Today Lili-Ann drops her brand new bilingual single, "Tout Recommencer," a French term for starting over. The song showcases Lili-Ann's authentic and deeply personal songwriting abilities, while capturing her signature style that nods to female icons like early Alanis Morrisette or in a modern sense, Billie Eilish. With sweet vocals atop a breezy pop number, the single narrates the aftermath of a breakup and the realization that no one deserves to be treated like a second choice. While there is a sadness intrinsic to the post-breakup track, ultimately it exudes a self empowerment that is inherent to Lili-Ann's work.
After releasing her first bilingual self-titled EP in 2019, Lili-Ann has since remained singing predominantly in English. For widespread commercial success, this makes sense, yet to the Montreal native, incorporating her natural French language into her work is more authentic to her. "We wanted to mix these two, but I'm very happy to show that I can sing in both languages and I'm just excited to go back to my roots and feel like I'm going back to 2019," Lili-Ann shared with us. 
Despite the possibility of language barriers for her mass of English-speaking fans, (currently closing in on one million monthly listeners) the palpable emotion in her vocal delivery and the production of the music speaks for itself. "To connect with people who are listening to my music is the whole point," she adds. "I would't see myself releasing a song out there that's not me and not the way I felt during that time."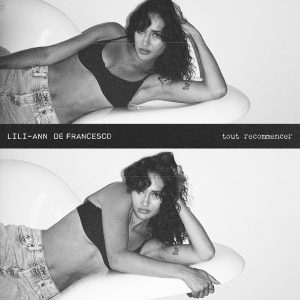 Written alongside label-mate and recent JUNO Award winner Rêve, Eric Charland, and Milano, their collaboration facilitated an ease to songwriting that Lili-Ann attributes to their friendship. "I was with Rêve and Milano, two people that I already spend time with. I was close with them so I explained the situation because it was fresh at that moment, and they helped me put words into it… It's kinda like a therapy when you write some songs. They help me phase my emotions and I cried a a lot, but at the end of the day, I remember coming back to Montreal and I felt so much lighter and I felt more free."
"Tout Recommencer" may have started out of hurt and anger, but it quickly transformed into a song of catharsis, chronicling strength and confidence. Reflecting on the universal feeling of heartbreak that comes at the end of a relationship, she recognizes her value ("Had the world in your hands/ But baby now you lost her") and makes peace with her feelings.  
"Now with our generation, I feel like everything or everyone is more accessible and everyone is replaceable," Lili-Ann says. "With my last relationship, I thought like that was it. I was settled, and finally I could be able to see myself with this guy in my future. And then when it ended, it came as a shock to me. The first thought I had in my mind was here we go again, I had to start again." 
Embracing emotional voyeurism, Lili-Ann does not shy away from sharing her personal experiences on social media. Publicly speaking about her anxiety, she says, "If I'm not talking about it, people cannot relate to me because they're just seeing an artist who has everything, but no one has everything." When it comes to social media, a dark necessity for artists of today's day and age, Lili-Ann's approach is refreshingly sincere. "When I started to realize that social media was important, you needed to have this consistency, I was like okay well if I want to post everyday, there's days when I don't feel good like everyone and I'm not shy to talk about it. And you know, it writes good music, so that's it. My bad moments are what inspired most of my songs."
Finding empowerment in the vulnerability of feeling and sharing each emotion, Lili-Ann's music serves as more than just a catchy pop song. "Tomorrow is a new day and I'm just very excited to be able to release this song. It really is one of my favorites, and it's so like, me being very vulnerable even though you can move a little bit more in this song, you can dance to it." 
Arriving as the first taste of new music coming from Lili-Ann later this year, "Tout Recommencer" is out everywhere now via Maison Barclay Canada / Universal Music Canada.
Lili-Ann De Francesco Online: Website | Facebook | Instagram | YouTube  | TikTok | Spotify | Apple Music