San Fransisco-born psychedelic glam rock band Glitter Wizard are back with glimmering new offerings on their new EP, "Kiss the Boot". Out today via Kitten Robot Records, the five-piece rock outfit tune into the outlandish sounds of the 70s in an unabashed fashion. For fans of platform shoes, vintage synths and sonic speedballs, the new EP serves up dirty, old school rock and roll with a modern one-two punch.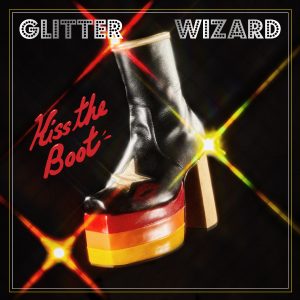 With 4 full-length albums and 3 EPs under their studded belts, Glitter Wizard are constantly reinventing their sound to maintain the authentic spirit of rock music. Typically psychedelic stoner/glam rock warriors, this release sees the band injecting more '70s junkshop glam akin to the likes of Slade, Hello, and Angel, with some Sweet thrown in to boot into their already stack-heeled, glitter-sparkled splendor, at the request of their fanbase.
For years, legions of "Glitterati" (what Glitter Wizard call their fanbase) have begged Glitter Wizard to introduce more '70s style glam rock into their music. In giving fans what they want, Glitter Wizard obliged and loaded up Kiss the Boot with more sequin-laced riffs, leather-clad hooks, and stardust-laden harmonies. The resulting EP is deliciously emboldened. 
The EP features five new tracks along with an ambitious cover of David Bowie's classic anthem "Suffragette City." With track titles like "Sequins and Leather" and "Glitterati," there's an inherent sense of old school, rock and roll glamor seeping from each corner of the project. 
Turning the isolation during the pandemic to their advantage, they focused on making the best record they could and expanding on groovier sounds. "This was the first time the band had ample time to try things out with pre-production demos so a lot of experimentation with song writing and different guitar/synth leads came about," said bassist Kandi Moon. 
From the opening drumroll of "She's A Star," Glitter Wizard pull out all the stops, packing more shredding guitars, infectious hooks, tight harmonies and vintage synthesizers into their already full sound. With fantastical, larger-than-life personas, the punchiness of their sound glimmers on "Gliteratti" and pulsates with an effusive swagger on "Sugar Beat". The EP's closer, "Pogo Tonight" plays with shimmering synthesizers, groovy hooks, and hand claps to create an infectious rhapsody that will leave you permanently foot stomping. 
The EP contains an audial vibrancy, countered with a bellicose-laden groove and is amplified by fuzzed-out guitar hooks and drudging rhythms. Playing up a unique brand of freak rock, Kiss the Boot expands on Glitter Wizard's high-charged, brazen approach to rock music. They certain do not shy away from grandeur. 
Having made appearances at a number of festivals in the US and abroad, including Burger Boogaloo, Roadburn, Desert Days and Heavy Psych Sound Festival, Glitter Wizard continues to expand their fan base and make a name for themselves through eccentric live performances. They supported their new EP with a handful of West Coast release shows on March 2nd, 3rd and 4th, but fans should expect more to come. Kiss the Boot is a release that surely needs to be experienced live, with all the glitz, glam, and sweat of raucous live rock. 
Glitter Wizard Online: Website | Facebook | Instagram | Spotify | Apple Music