FOR FANS OF: Bring Me The Horizon, Bad Omens, In This Moment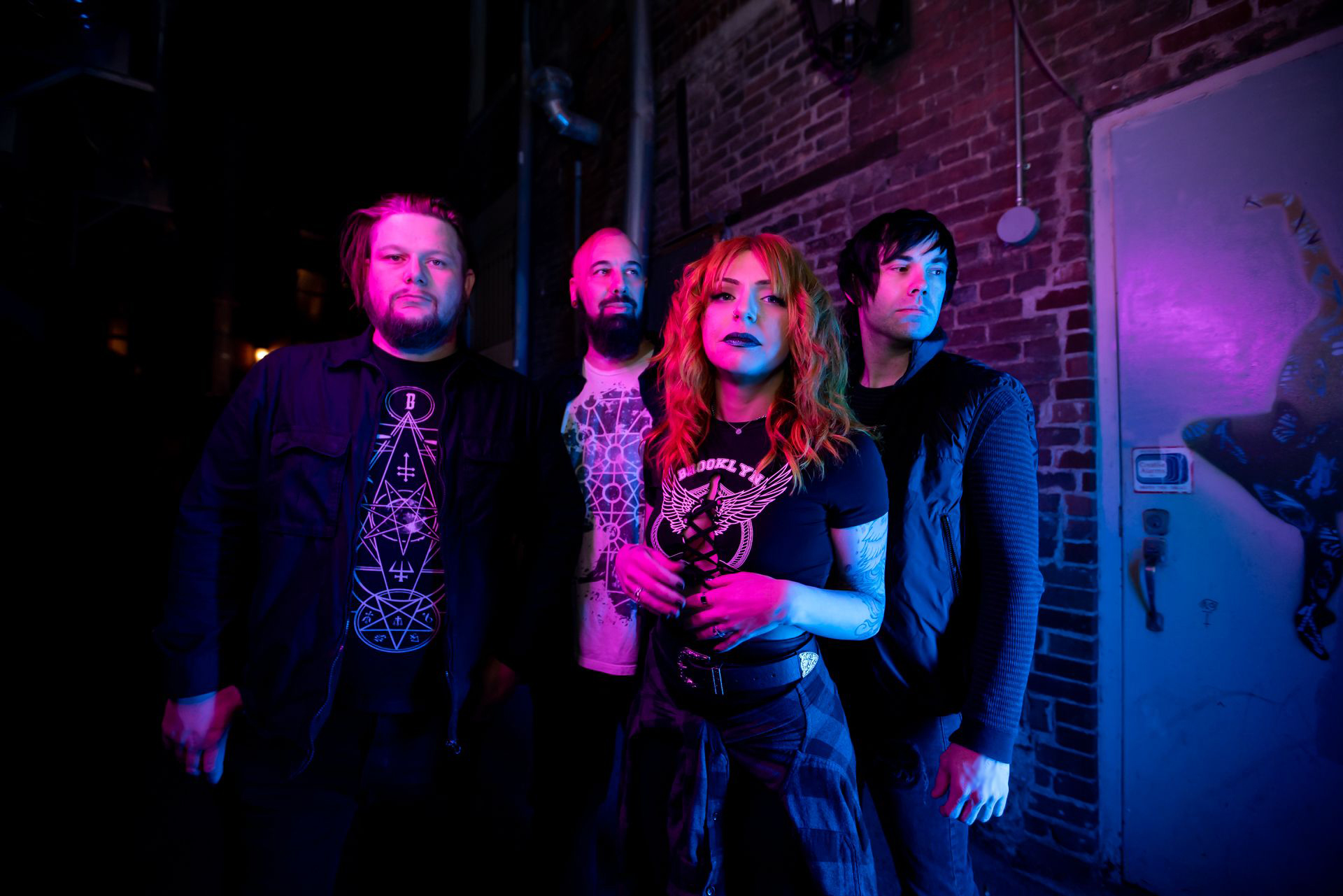 Photo by: Jenn Curtis
Band from left to right: Adam Smith/Drums, Doug Weichbrodt/Guitar, Jaycee Clark/Vocals, Scott Vallina/Guitar
Listen to "Inhale/Exhale" HERE
Watch "Inhale/Exhale" HERE
After nearly two years since their last release, post-hardcore, four-piece A Light Divided has returned with their electrifying new single and accompanying video for "Inhale/Exhale." Capturing the chaotic emotions behind a toxic relationship, "Inhale/Exhale" is highlighted by Jaycee Clark's prowess and powerhouse vocal delivery, grandiose instrumentation, and gritty elements you would expect from A Light Divided.
"It's not always easy to walk away from people or situations that hurt you," the band shares. "We make excuses and try really hard to justify behaviors in order to make things work because we believe in the potential. 'Inhale/Exhale' is about reclaiming your power by having the courage and confidence to let go."
Shot throughout Brooklyn and Manhattan in isolated frames of each member, the video for "Inhale/Exhale" works to create a metaphor of both solitude and empowerment. "The video was shot in Brooklyn and various spots in Manhattan gorilla style with us performing sometimes in the middle of the street between red lights," the group continues.
"Inhale/Exhale" was written and collaborated on by A Light Divided with Julian Comeau (Loveless) and Zach Williams (Nita Strauss, Lions at the Gate). The track was produced by Kile Odell (Nita Strauss, Motionless in White, Saul), while the video was shot by Christian Lawrence with animated effects by James Lewis.
ABOUT A LIGHT DIVIDED:
A Light Divided features the powerhouse pipes of frontwoman Jaycee Clark, plus instrumentation from drummer Adam Smith, as well as guitarists Doug Weichbrodt and Scott Vallina. Continuing to amass a growing underground army of dedicated fans through high-energy live performances, their unique blend of rock and metal with pop sensibility has landed A Light Divided opportunities to perform on major festivals (Vans Warped Tour, Blue Ridge Rock Fest, and Cadott, WI's Rock Fest), as well as with several national acts such as In This Moment, Motionless In White, August Burns Red, Lacuna Coil, Diamante, 10 Years, and more. 
A Light Divided spent 2019 on the road playing more than 100 shows coast to coast in support of their album Choose Your Own Adventure, as well as racking up more than 1 million Spotify streams for the album and winning "Best Rock Video" at the 2019 Carolina Music Awards for their song "Scars of You." 
Produced by Kile Odell and Zach Williams, the group's single "Radio Silence" seamlessly blends heavy riffs, electronic breaks, and arena-ready hooks while tackling themes of being heard in a world full of noise. The single debuted at No. 55 on the Billboard overall top singles chart, received placement on Spotify's curated Heavy Queens playlist among others and was named one of Alternative Press's bands you need to know. A Light Divided finished the year strong with vocalist Jaycee Clark lending her voice to AEW wrestler Leyla Hirsch's entrance theme "Legitimate" as seen on TNT.
Follow A LIGHT DIVIDED Online: