It's not everyday you hear a song that stops you dead in your tracks. In the musical musings of singer-songwriter Samia, this is a phenomenon that happens frequently. With the extraordinary success of her debut album The Baby, and supplementary EP releases Scout and Before the Baby, the Nashville-based artist consistently tears bits of her heart and soul out for human consumption. Her latest offering is an 11-track LP, Honey, out everywhere today via Grand Jury. A deeply complex record inspired by a period of brutally honest self-reflection during the pandemic, she offers up not only herself, but a mirror for us to look into.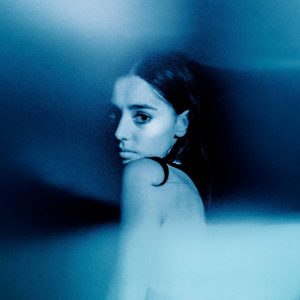 Samia's nomadic roots have allowed her to share stories from here there and everywhere, as she effortlessly traipses through Los Angeles, New York, Minnesota, and her new life down south. While her music may suggest all the coming-of-age tales of a twenty-something experiencing big life changes, Samia looks all tropes in the eye with ferocity. Both doe-eyed and brazen, the now twenty-six year old singer has perfected the art of her craft and self acceptance on her newest release. The album deploys vast soundscapes, unlike anything previously heard in her discography, yet still encapsulates all the things fans know and love about Samia. Personal voicemails and audio clips puncture though precocious songwriting and attractive beats that experiment with different textures, creating a sonically lush universe to dive into.
Honey was recorded at North Carolina studio Betty's- owned and operated by Nick Sandborn and Amelia Meath of Sylvan Esso– whom brought Samia along with them on tour over last year. Caleb Wright produced the album alongside some of the team that helmed The Baby. The album features some of her closest friends and frequent collaborators, presumably a reason the tracks constituting the album were born in such a deeply personal nature. Exploring themes of identity, religion, substance abuse, relationships, and life and death, Honey is Samia's most deeply confessional body of work yet. 
Honey opens with the darkly hued ballad, "Kill Her Freak Out," which was released as the album's lead single. Similar to her debut album's opening track "Pool," the song greets us with the hum of an organ. The spare, synth driven track is stripped back and sparse in nature, shining focus on the words themselves. Occasional chimes add a brightness to the otherwise dark composition in a rather alarming, starkly desolate ballad. 
In an incredibly vulnerable tone, there is a gripping sense of juxtaposition as Samia sings "I've never been this bad can I tell you something?/ I've never felt so unworthy of loving/ I hope you marry the girl from your hometown/ And I'll fucking kill her and I'll fucking freak out." With both tenderness and pain, she confronts an unidentified former lover, flicking through a series of memories like ugly snapshots in her memory: the drunken search for a lost ID, the honest admission of a love so deep it twists your judgement, and other moments that she paints for us like a bad dream. The shock factor of the song itself sets the tone for the rawness of the album to come. We are getting deeper into Samia's psyche than ever before. Balancing between humor and brutal honesty, Samia relies on this not as a masquerade but as a tool to voice her darkest, most vulnerable inner thoughts. 
Upon the single's release, fans were surprised by its grisly nature and the starkness in sound. Knowing Samia's genius, it was likely a deliberate move to tie her newest collection of songs to The Baby, continuing telling stories where they left off, and expanding upon the changes life has brought her. With mentions of St. Paul connecting tracks to Minnesota (a track found on The Baby) fans are promoted to connect the dots between story lines. As if encouraging such a thing, the sleeve that houses the vinyl spells out the word "honey" in a series of connect the dots. 
We are treated to a pallet cleanser in the track "Charm You," a warm acoustic number with buttery vocals that recount unsuccessfully trying not to fall in love. There is slight distortion on Samia's vocals, a concept introduced here that remains recurring throughout the album. Often in her most vulnerable moments, production tampers with soundscapes to amplify the emotions in the track. 
One of the most emotional songs on the album is "Pink Balloon," which was released as a double single with "Sea Lions." In some of her most visual and heartbreaking songwriting, she powerfully sings, "I'm hanging on the line that ties me to your pink balloon. How am I supposed to want to hold it anymore?" Instead of transitioning straight into its companion track, the pop beat of "Mad at Me" dramatically changes pace. Samia's most pop-leaning song to date, the track utilizes a catchy chorus, playful auto-tuned vocals and an electronic drum beat provided by producer Rostam (Vampire Weekend, Clairo, Haim). The track's bridge is deliciously catchy, playing with the idea of not wanting to face the truth of emotion. With a feature from papa mbye, this instantly plays like the song of the summer, in January. 
"Sea Lions" arrives as with the abrupt lyric of "Screaming 'porn kills love' outside your window with the Adventists." Continuing the story that "Pink Balloon" started, the song represents a desperate moment, searing with hurt and scouring to put the pieces of a broken relationship back together. A deep affection is prominent, although underlaying detestation scorches any remnants of love left. While the track starts as a stripped down ballad, it builds with a gentle pulsation and erupts halfway through with an intensifying beat before breaking with a distorted clip of Samia's voice muffled through the airwaves: "Why is your phone going to voicemail?" As the tempo and instrumental builds, a man's robotic voice utters a monotoned itemized list. Structured as if reciting a poem, the computerized voice delivers a sporadic litany of names, adjectives, nouns and phrases to evoke the flash of memories that one would see at the brink of death. A mirroring of your life flashing before your eyes, the voice is intended to indicate the death of the relationship before fading into nothing but a quiet hum.
The second half of Honey is notably more acoustic and less highly produced. It is this half where Samia pens deeply personal confessionals. Sans "Amelia" with its calypso beat, the remaining tracks are tender and sickeningly sweet, even in their most tumultuous states. "Breathing Song" showcases Samia's most unfiltered and powerful songwriting to date. On her Instagram, Samia described it as "the scariest thing I've ever shared and also probably the most important to me." Samia taps into her darkest moment to bring light to a night of turmoil. The subject matter of the song specifically depicts a night out gone wrong, resulting in a trip to the hospital ("drove me from the bar to the ER") and a horrible reality. An increasingly taunting chorus of the repetition "no no no" grows into a fury that ends in a painful scream that is abruptly cut at the end of the track. It's a moment of horror and heartache for both Samia and her listeners, a symbiotic purging of trauma and an admission so devastating that there is no other way to end the song. 
The album's titular track "Honey" arrives with a a cheerful disposition, only to reveal itself as a mockery. Samia said in a statement, "'Honey' takes place in the same world as 'Breathing Song.' It's about always being drunk enough that you don't have to look around. To me it's the saddest song I've ever written, because it's mocking my attempt to convince people I was good. Caleb Wright turned it into a campfire song, though, and I love that it can be interpreted as fun too." Joined in on backing vocals by some of her dearest friends, Raffaella, Briston Maroney, Jake Luppen (of Hippo Campus) and Caleb Wright. 
Honey's remaining tracks play with genre and sincerity. "Nanana" appears as a soft lullaby, while "To Me It Was" gallivants as a gentle country-folk number, heavy in nostalgia and relevance. After the dark remnants of her past outlined in songs prior, Samia's optimistic lull of "to me it was a good time" adds a bittersweet truth that even she realizes is not commonplace ("trying to drown in the fountain of youth/how does anybody know when they're telling the truth".) Although, perhaps she realizes her acquiescence is only her fooling herself. Co-written with fellow singer-songwriter Christian Lee Hutson, they are a powerful duo, juxtaposing a dark subject matter with Samia's unique optimism. The track ends with a voice note from who is assumed to be Samia's mother, actress Kathy Najimy- a personal intimacy she frequently utilizes in her work. 
The album's closing track is a serene ballad, lulling with vocal layering a gentle guitar plucking. Returning to some of the album's themes of alcohol abuse, life, and death, lyrically the song reads like a poem meditating on humanity. Initially appearing as a sweet tribute to a friend, the bridge brings the track up a notch and shifts into a more serious narrative. "You get your dreams for free," she repeats in the chorus, although the tenderness of dreaming and aiming for more in life is countered by the notion it could all end ("there are six minutes of brain activity/ before the body's dead".) Contemplating nihilism and permanence, ("Mother nature, wipe us out")Samia finds repose in the cyclical nature of life ("Are you scared to die? / The trick is don't arrive / You can see it in your daughter's eyes / That's the purpose and the prize".)
Painfully personal, the vulnerability and honesty Samia employs as the anchor in her lyricism and vocal stylings bursts through sound waves to viscerally grasp the heart's of each listener. Poet by way of song, the palpable, descriptive quality to each lyric paints the most vivvid of pictures. The album's supplementary visuals are gorgeously stylized and cohesive through each roll out cycle and corresponding video, adding to the overall aesthetic and emotion of the album.
Honey is a stunning piece of Samia's story given to the world like a rare gemstone. With a penchant for human connection and a soul designed to bear all, Samia creates music designed to act as a navigational tool or a set of lenses to see the world a little bit differently.
Honey is out everywhere now. The Honey Tour embarks in February.
Samia Online: Website | Facebook | Instagram | TikTok | Twitter | Spotify | Apple Music