Indie supergroup boygenius return with a new album announcement and drop three surprise songs. The group, comprised of Phoebe Bridgers, Lucy Dacus, and Julien Baker, released their self-titled debut EP in 2018 to widespread acclaim. After nearly five years since their last appearance as a group, fans have eagerly awaited their triumphant return. First teased with hope for a reunion with the subtle addition of boygenius on this year's Coachella lineup, it is still unclear whether a full boygenius tour is in the works.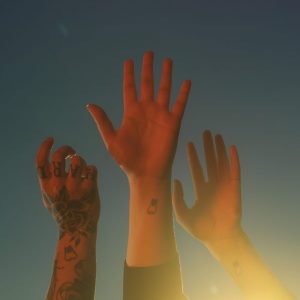 While each member has a successful solo career of their own, together they are an indie trio dreams are made of. Today they announced their first full length LP, simply titled the record. The album is set to be released March 31, via Interscope and Polydor (not Matador, who put out the EP). With the announcement, they also dropped three new songs off the upcoming record. "$20," "Emily I'm Sorry," and "True Blue" give fans a taste of what is to be expected off the highly anticipated release. A track for each member, all three songs highlight the talents of Bridgers, Dacus and Baker and tease fans with promise of a reinvigorated sound.
Baker leads the track "$20" and reveals a new, harder-rocking and more upbeat sound than your average boygenius song. "Emily I'm Sorry" is a beautiful cut with heavy Phoebe Bridgers influence, reminiscent of her Grammy-nominated album Punisher. It is also the track that kicked off the group's reformation. Dacus pens "True Blue," boasting excellent songwriting and promise for tracks to come. The album was produced by boygenius and co-producer Catherine Marks at Rick Rubin's Shangri-La Studios in Malibu in January 2022. You can listen to the three new tracks below.
the record is out everywhere March 31st. You can pre-save or pre-order the album now.
TRACKLIST:
01 "Without You Without Them"
02 "$20"
03 "Emily I'm Sorry"
04 "True Blue"
05 "Cool About It"
06 "Not Strong Enough"
07 "Revolution O"
08 "Leonard Cohen"
09 "Satanist"
10 "We're In Love"
11 "Anti-Curse"
12 "Letter To An Old Poet"
boygenius Online: Website | Facebook | Instagram | Twitter  | Spotify | Apple Music