New York-based rock duo We Are Scientists make a grand return with a brand new single to tease the release of their upcoming eighth album LOBES (January 20, 2023 via Masterswan Recordings). The new LP is expected to see the dynamic duo (vocalist/guitarist Keith Murray and bassist Chris Cain) at their most playful and creatively free, continuing to expand upon the band's feel-good indie rock sound. The lead single, "Operator Error" is their first release following 2021's HUFFY. The song, which appears as the first track on the album, is considered by the band to be the bridge that connects LOBES to HUFFY and finds the band transitioning into a darker, more experimental sound. 
Lead singer Keith Murray says of the track, "I have a tendency to deliver hot takes and to get extraordinarily overheated about utterly inconsequential things," summarizing the thematic point and inspiration of the single. While materializing into a pop-tinged indie rock song clocking in under 3 minutes in length, there is a sense of urgency and determination found lyrically and sonically. Beginning with a synthesizer-heavy countdown, the track builds momentum right from the start and follows through with an explosive chorus and inherently catchy hook. The single opens the doors for the band's transition in sound, and marks an impending surge in their confidence and aspirations.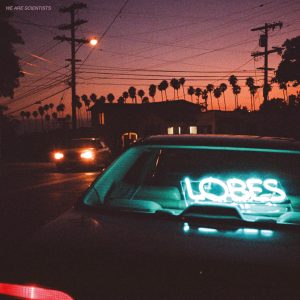 We chatted with Murray post-single release, about the creation of the track, his famous "hot takes," and his opinions on often polarizing topics. "Structurally, I think we wanted it to sort of begin with constraint," says Murray. The whole first verse is kind of taut, tightly wound, then sort of explodes in the chorus, which is something we like to play with often. It's fun to do the Nirvana-style quiet then loud vibe. It sort of parallels the predicament of the narrator, which is that everything should be calm and collected, but somehow it always ends up igniting into something more unstable and incendiary".
On "Operator Error," a narrator appears from the perspective of Murray talking to himself in a self-critical tone. On the narrative of the track, Murray says, "A lot of it is my point of view talking to myself, essentially. It is about dialogue between multiple parties and about sort of trying to cut through luster. I think that I, probably as most people do, have a pretty good ability to err on both sides. I will either say nothing at all and be utterly uncommunicative in interest of keeping things even keel. Or I'll go real hot takes and sort of upset the apple cart". On the topic of his strong viewpoints, it's revealed that what started this discussion was a disagreement between Murray and band member Chris Cain over the release of Top Gun: Maverick, of all things. "I am in the wild minority on this point," Murray admits. "Chris [Cain] and I are in an incredibly long standing and heated argument over Top Gun: Maverick. It pulls on his heartstrings, he finds the action very taut, he thinks there's like a good character arc for Tom Cruise. I hated it, I thought it was the most obvious, paper thin retread of Top Gun. I really loathed it." Whether serious or lighthearted, the track reinforces this narrative of unwavering on one's standpoints and recognizing this potential character flaw. 
On the creation of the track, Murray reveals, "The title essentially came about because I didn't feel like there was a very campy or attractive title couched in the lyrics anywhere… For a long time I had been trying to work in a lyric that explored the idea of a situation or an ecosystem in which everything is totally fine and there is no reason for things to go wrong, except for the fact that I am incredibly capable of making things go wrong for no good reason at all, which is sort of the definition of operator error". Although the phrase does not appear in the song's lyrics, it perfectly summarizes this feeling of human fault. At its core, it is a very human and honest track, highlighting our abilities at our best and at our worst, while still motivating listeners to dance along.
Where there is darkness in the song, there is also a lighthearted ethos allowing self deprecation and recognition. In the spirit of "Operator Error" we asked Murray his stance on the following "hot takes": 
Pineapple on pizza?
Keith: I don't love pineapple on pizza but I'm not one of those people who says it's disgusting. I get it, but I never order it myself. I don't mind it, but it sort of is never what I want. I always want salty, savory, cheesy. I think pineapple is too sweet for me in the situations I most frequently want pizza. 
Coke or Pepsi?
Keith: I'm Coke I would say, which seems pretty basic. Although, I don't drink very much soda. I'm not gonna get mad if a place has Pepsi instead of Coke. If both are sitting next to each other, I'm probably gonna go Coke. I'd like to believe that given a blind taste test, I'd know the difference, but I'm not totally convinced that I would… I believe that I could but I'm not 100% convinced. 
Yankees or Mets?
Keith: I think Mets. I like an underdog and I don't care enough about baseball that the Mets being a terrible baseball team upsets me. If I liked baseball it would probably be pretty hard to like the Mets. But I don't like baseball, so I want the Mets to win! 
New York Clichés: which ones hold up and which are silly?
Keith: I've heard both clichés that New Yorkers are super rude and that they are super friendly and will chat with you under any circumstances. I find New Yorkers incredibly rude, and I like that about New York. The cliché that New Yorkers walk way too fast is 100% true and I subscribe to that speed of walking. Nothing makes me angrier than walking around New York and you can tell that there's tourists taking in our beautiful city, where there is a lot to take in, but they're taking too damn long and I gotta walk around them. But I also hate being in other people's cities and people walk too slow in their cities and I'm the tourist. 
Sequels or remakes: yay or nay?
Keith: I like a good sequel. I think in general I'm pretty susceptible to a squeal. I recognize there's often diminishing returns, but if I like a movie I will definitely see its sequel. And I will see any horror reboot without question. I'm very excited about the new Hellraiser that just came out. 
Love songs or heartbreak songs?
Keith: I think love songs. I tend to like more exultant music than mopey music. I get in moods where I really just want to wallow, so a good heartbreak song is fun, but I think on average I'll be more up for love songs.
LA or NYC: Who has the better music scene?
Keith: Oh man. You know there was a period where it was unquestionable that New York was kicking LA's ass so hard. It was humiliating for them. Now I would say, New York will always have cooler music. There is no doubt about that. All of our music is just more interesting and has better instincts. New York is just an edgier town. I will say though that LA is really kicking New York's butt in pop music, really hard. So I might say that LA is making better music right now.. They're doing a better job at making dumb, awesome pop music. Then New York is currently making cool, edgy, advancing the culture music. We are doing that better than LA. 
'Meet Me in the Bathroom', the new documentary that is showcasing early 2000s New York rock bands like the Strokes and the Yeah Yeah Yeahs, is getting a lot of buzz right now. Do you have a take on music at that time? Early 2000s New York City compared to present day. Being a band that started off around that time, do you think there are any similarities still? 
Keith: I'd say 1998 though early 2014, New York was crushing LA. I could chalk some of that sentiment up to that I had just moved to New York in 2001 and was living in Williamsburg and was in the thick of it. I was in a band that was just starting out and the fact that there were all these awesome bands in town and amazing shows happening at every bar every single night, does make me highly prone to romanticize it. It does seem like the rest of the world thought New York was pretty cool too… I mean nobody else is making a documentary about LA in 2003 [laughs].
Do you think any of the music you're making today is influenced at all by that early New York scene? Or are you shifting to a more modern approach?

Keith: I mean, I think from 2001-2005 I was hugely influenced by all those bands that had kind of blown up right before we became a viable band. The Rapture, Liars, the Yeah Yeah Yeahs, were kind of like my favorite bands of all time. I think they really warped my mind for that chunk of time. I think I will always be influenced by that element, sort of the same way there will always be some Weezer in everything I do, a little Cindy Lauper or Duran Duran will always be a little bit in there just because I went through periods where those were my favorite artists. We had a song on the last album called "Cut My Own Hair," and that sort of specifically came about because I was talking to somebody about how I used to write songs in that vein all the time. Now that's not something I think about at all". 
Looking past their origins, Murray makes it clear that what we should expect in their newest work is an innovative, more electronic sound, shadowing his dual modes of thinking. If HUFFY is their fun day time record, LOBES is the nighttime record, chronicling what follows after the party has ended and the adventure continues. "At best it is kind of like a night club album that goes to the parts of the night after the club has closed and you are still looking for a good time," says Murray. "I think 'Operator Error' has that sort of dark, but still upbeat and danceable vibe". You can stream "Operator Error" now and pre-order LOBES, out everywhere January 20, 2023. 
We Are Scientists Online: Website | Facebook | Twitter | Instagram | Youtube | Spotify | Apple Music