The Bay Strikes Back Tour cruised through Ventura, CA at The Majestic Ventura Theater on October 12th and gave metal fans a healthy dose of Bay Area thrash metal for the entire night. Theses 3 bands on the bill are on top of the thrash metal world and each could have done their own headlining tour, but instead they got together and made this one of the best tours in 2022. Death Angel, from Daily City, Exodus, from Richmond, and Testament, from Berkeley, brought the Bay Area thrash and showed that metal/thrash metal is alive and well.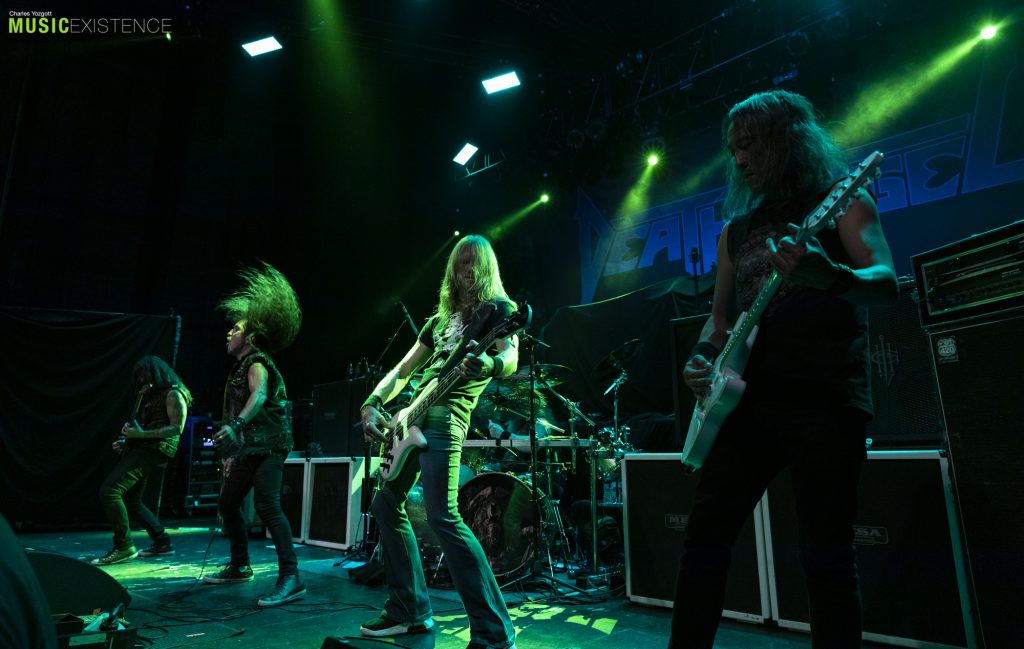 Death Angel was up first and they definitely got the crowd warmed up for the rest of the night. These guys put their foot on the gas and didn't look back. Opening their set with a tease of "The Ultra-Violence" that went into "Mistress of Pain", each off their debut album The Ultra-Violence, was a perfect start that had all the early birds moshing and head banging along with the music. Lead guitarist Rob Cavestany, one of two original members, effortlessly shreds on his signature Jackson guitar and it sounds just as clean as the studio album. Rhythm guitarist Ted Aguilar always brings the crunch with his guitar and nasty riffs that the metal heads feed off of and bassist Damien Sisson has more fun than anyone while playing on stage and it shows. Drummer Will Carroll is a maniac and plays as fast as anyone in the metal community. His facial expressions and pure enjoyment while playing shows and he sounds amazing. The other original member, singer Mark Osegueda, brings the intensity and energy every night they play and on this night there was no exception. "Voracious Souls" was played next followed by the first track off of Act III "Seemingly Endless Time". "The Dream Calls For Blood", which is the title track off of their 7th studio album, was next followed by "Caster of Shame" and the entire floor of the theater was moshing. The last three songs of the night were "The Moth", "Humanicide", and "Thrown to the Wolves" and Death Angel delivered. The passion and energy that these guys plays with is match with no one, they love what they do and it shines through the set they play. On the last song Mark climbed onto speakers on both sides of the stage and made sure to let everyone know that they'll be back soon. Death Angel are thrash metal legends and they keep producing albums that stand the test of time.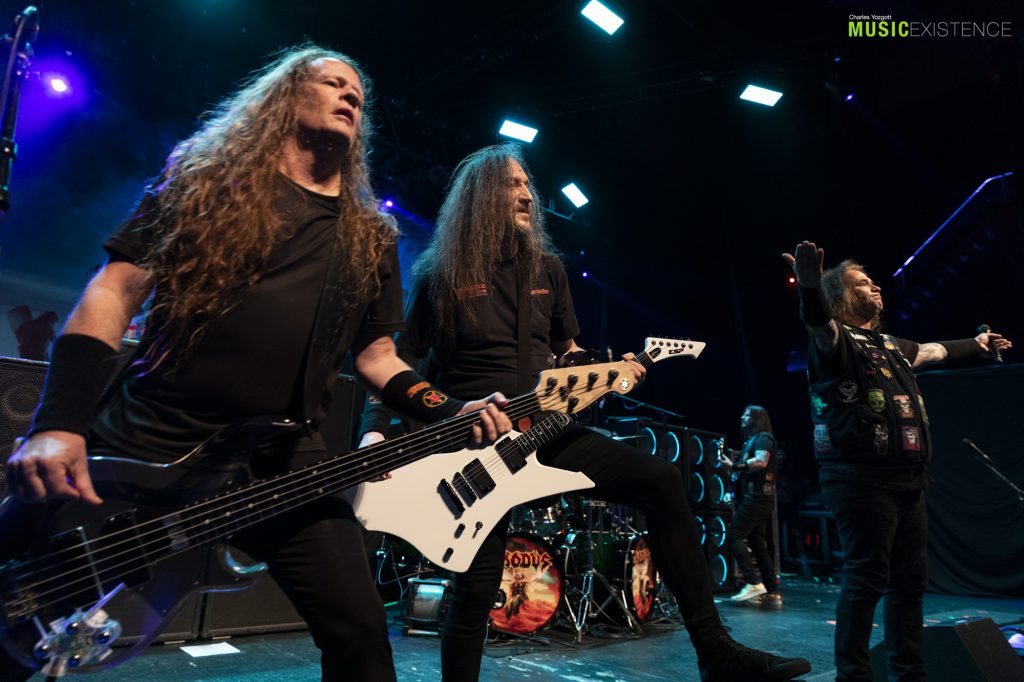 Exodus was next up and the Majestic Ventura Theater seemed to be filled to capacity. During Death Angel's set there was a lot of people but there was more and more people showing up for the next bands. These guys just released a new album titled Persona Non Grata and boy does it hit! These thrash metal giants keep getting better and better throughout the years, if that's a possibility, and keep bringing the energy when they play live. The distinctive voice of Steve "Zetro" Souza rips over the instruments and gives life to the tracks that the fans are going crazy over. The mosh pit was intense and every song after the next the magnitude of the moshing went higher and higher. Drummer Tom Hunting uses his expressions on his face to deliver bond crushing hits on his drum set and he never slows down, it's amazing seeing him at work. Bassist Jack Gibson keeps pace on his clear transparent instrument while guitarist Lee Altus shreds both rhythm and lead solos throughout the night. Lead guitarist Gary Holt shreds with his 'Kill the Kardashians' shirt and teases some Slayer at the beginning of "The Toxic Waltz" which really got the crowd pumped.
Starting the night with "The Beatings Will Continue (Until Morale Improves)" off of their latest album, the crowd went full blast raging and didn't slow down the entire set. Exodus also played "The Years of Death and Dying" and "Prescribing Horror" were also played off their new album throughout the night and it sounded amazing. They also played fan favorites like "A Lesson in Violence", "Blood In, Blood Out", and "Strike of the Beast" and sounded tight as ever. These guys have been shredding for a while together now and are an amazing band to witness live. These thrash metal giants aren't going anywhere soon.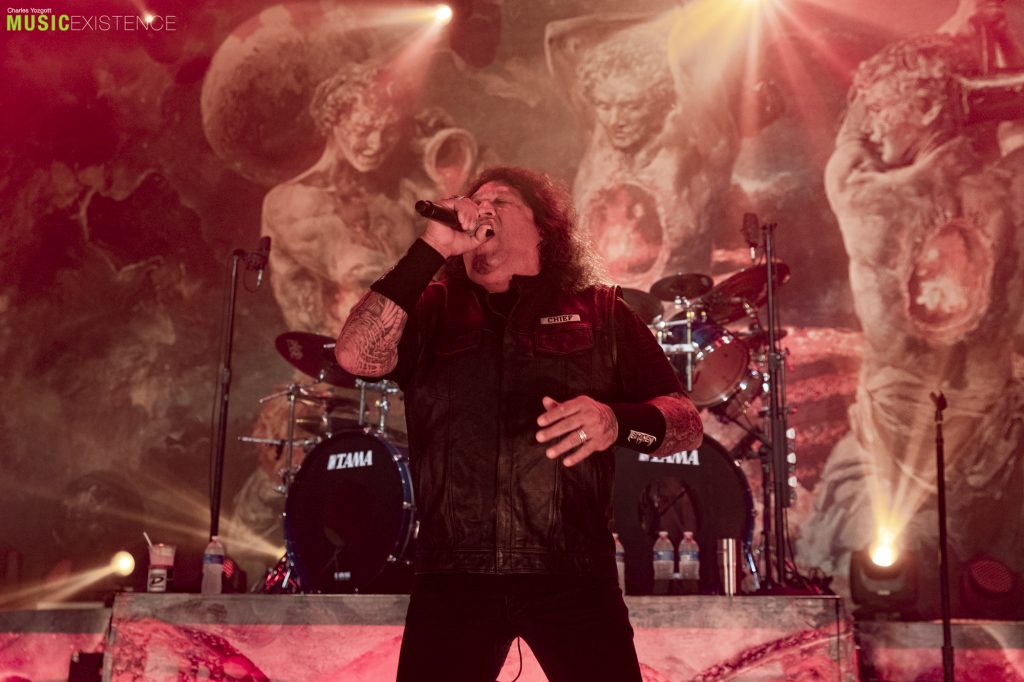 Bay Area thrash metal titans Testament were the headliners and they did not disappoint. An epic stage set up with the art of their latest album Titans of Creation all around gave the impression that this was going to be a huge and epic performance. Starting off the set with "Rise Up", the opening track off their 2012 album Dark Roots of Earth, Testament got the packed venue moving and moshing like the night had just started and there was no slowing down. Newest member of the band, drummer Dave Lombardo, who's played with the likes of Slayer, Mr. Bungle, and Suicidal Tendencies just to name a few, fits perfectly with the band and didn't miss a beat the entire set. Eric Peterson, original guitarist, moves across the stage playing his axe smoothly and shows that he is still one of the top thrash metal guitarist around. Steve Di Giorgio treads the stage with his bass and makes as many fun faces as possible while performing. Lead guitarist Alex Skolnick shows off his skill while playing solos and does so with a passion that is unmatched. Singer Chuck Billy heads this group of menaces and his powerful voice soars throughout the venue. Fans singing along to the lyrics and moshing is always a sight to see and Billy gives the crowd love while watching them do their thing. Billy also shared a close to the heart moment that one of his long time friends had just past away the night before and that the song "Practice What You Preach" was dedicated to him. That was a highlight of the night since they poured their heart and soul into that performance. Not to say that they other tracks weren't killer, but the feel and energy of the song that was dedicated to Billy's friend just hit different.
"WWIII" off of their latest album was next and more moshing commenced. Other tracks/fan favorites played through the night were "Native Blood", "First Strike Is Deadly", and "Into the Pit" which Testament usually always play live. This night was a celebration of thrash metal from the Bay Area and boy was it a night to remember. This was the second leg of The Bay Strikes Back Tour and hopefully not the last. These three bands touring together brought out all the metal fans in each city and filled up theaters across North America. Thrash metal and metal in general is not dead but alive and kicking! If you missed this tour don't fret, these bands will be back and better than ever so make sure that you catch them next time they're in your town/city.
Death Angel
Setlist:
The Ultra Violence/Mistress of Pain
Voracious Souls
Seemingly Endless Time
The Dream Calls For Blood
Caster of Shame
The Moth
Humanicide
Thrown to the Wolves
Exodus
Setlist:
The Beatings Will Continue (Until Morale Improves)
A Lesson in Violence
Blood In, Blood Out
The Years of Death and Dying
Deathamphetamine
Blacklist
Piranha
Prescribing Horror
Bonded by Blood
The Toxic Waltz (w/ "Raining Blood" snippet)
Strike of the Beast
Testament
Setlist:
Rise Up
The New Order
The Pale King
Children of the Next Level
Practice What You Preach
WWIII
D.N.R. (Do Not Resuscitate)
Native Blood
Electric Crown
The Formation of Damnation
First Strike is Deadly
Over the Wall
Into the Pit