Clutch are back with a new album and their second tour in the U.S. this year. The 13th studio album, Sunrise on Slaughter Beach, was released on September 16th and is another masterpiece by the four gents from Maryland. On this particular day Clutch came to The Regent in Los Angeles, CA with Helmet and Quicksand (who are rotating slots each night) and JD Pinkus. This date sold out before any other show on the tour and L.A. was ready to rock with the best.
Up first was JD Pinkus, who's played with the Butthole Surfers and The Melvins, and boy was this something different. JD was on a solo mission this tour with his banjo and gave us a show for the ages. Wearing a white cowboy hat with a feather on top, a white sleeveless shirt, jeans and no shoes or socks, JD jammed through his performance looping his banjo and creating some psychedelic bluegrass tunes that the crowd hadn't heard before. Everyone was mesmerized by what JD was accomplishing with just his banjo and pedals and they were getting lost in the visuals that accompanied the music. An interesting opener for this tour that features some hard rock giants, but JD did his thing and gave the people a show.
Helmet was next and it seemed that the entire sold out crowd was in the house and ready to rock. These guys got the crowd moshing to their hard hitting songs such as "It's Easy To Get Bored" off of Aftertaste, "Iron Head" off of Meantime, and "Rollo" off of Betty. This was an all ages show and there was a few kids in the crowd who were having a blast, one kid on top of his pop's shoulders was head banging with his metal horns in the air and it was awesome to see. Vocalist and lead guitarist Page Hamilton is a presence on stage and sounded amazing. Drummer Kyle Stevenson does not miss a beat and plays his heart out while bassist Dave Case and rhythm guitarist Dan Beeman have fun providing that rock 'n' roll energy. This quartet played their biggest hit "Unsung" and as you would expect the crowd went crazy and a huge mosh broke out again. Their setlist from previous shows doesn't show "In The Meantime", and the one online for this show doesn't list it either, but they ended their set with that song and the audience went nuts. Not a single body was standing still and everyone was rockin' out. Helmet definitely saved the best song for last.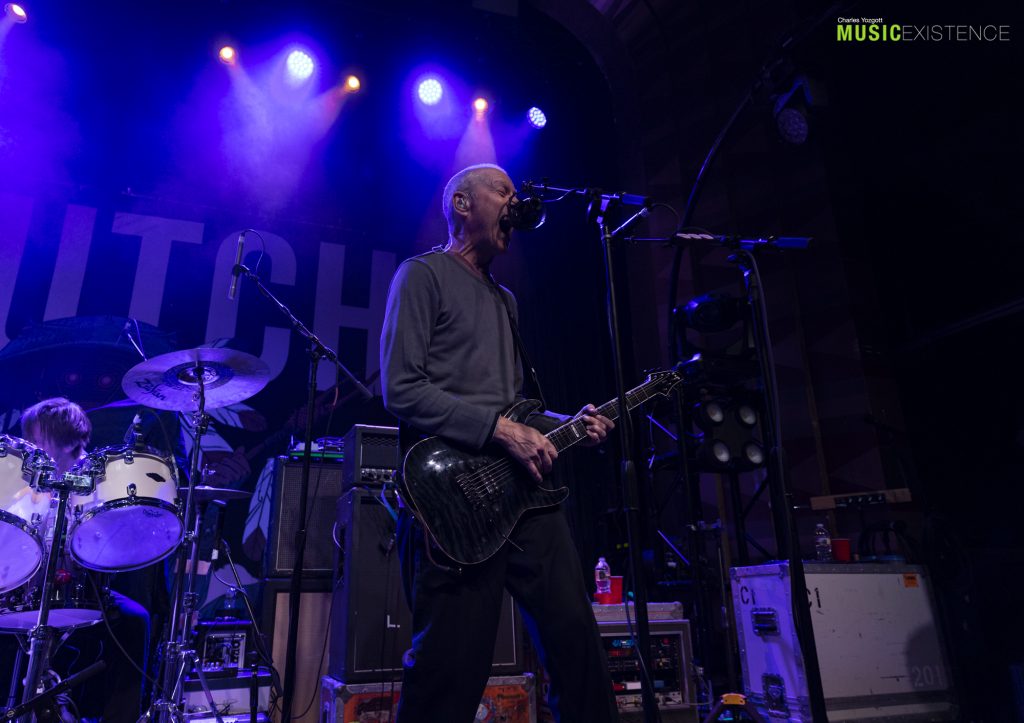 The post-hardcore New York band Quicksand was next and got the crowd jumping up and down and singing along to their songs. Nothing but positive energy out of their set and they were having just as much fun as the crowd. They played songs from all four of their studio albums, including last years Distant Populations, including "Inversion", Fazer", and "Thorn In My Side". Having a 20+ year gap between albums, these guys haven't lost their passion and you can see that they love playing with each other again. Joining singer/guitarist Walter Schreifels, bassist Sergio Vega, and drummer Alan Cage on tour is guitarist Stephen Brodsky, who plays with Cave In and Converge, and it looks like he's a part of the organic nature of this band and fits right in without missing a beat. What a fun set to watch and experience.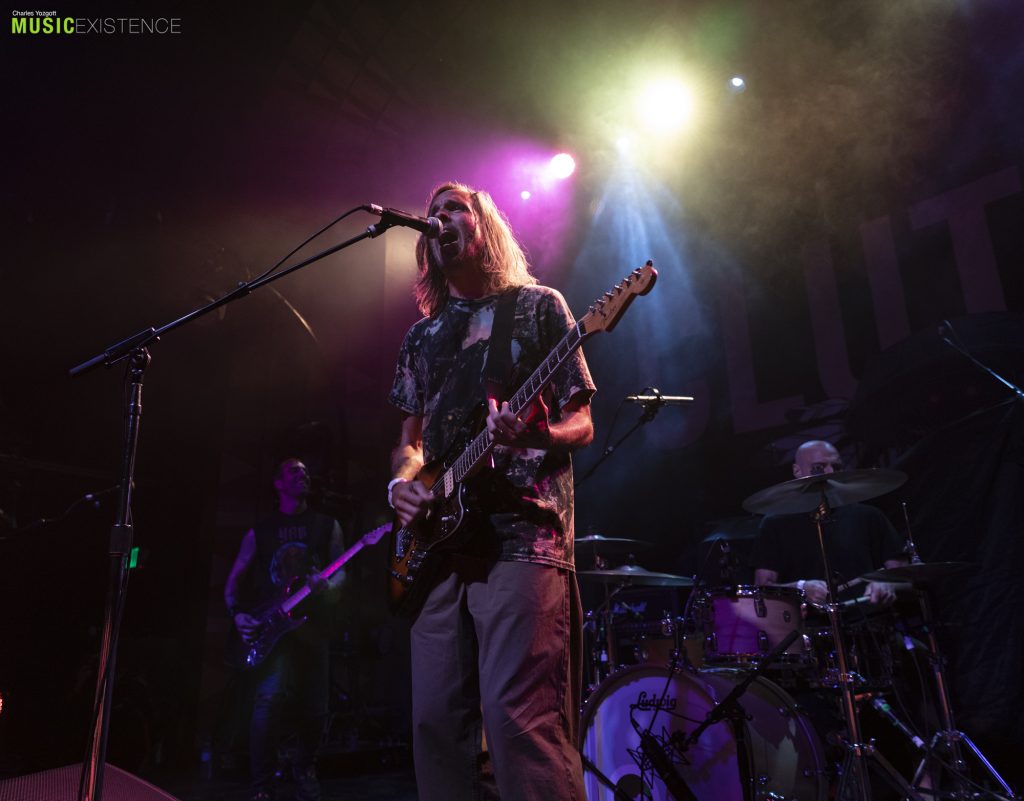 The time had come for why this sold out crowd came to The Regent on a Wednesday night, the mighty Clutch. With their new studio album, Sunrise on Slaughter Beach, just being released last month, these guys were eager to play their new material and boy did they deliver. Neil Fallon knows that fans always want to hear the older songs, but playing the new ones is just as important. "We'll get through this together" Neil mentions and assures that a good mixture of both will be played. Clutch always produces a setlist that is enjoyable for new and old fans alike, it's never the same and always has gems which excite their devotees.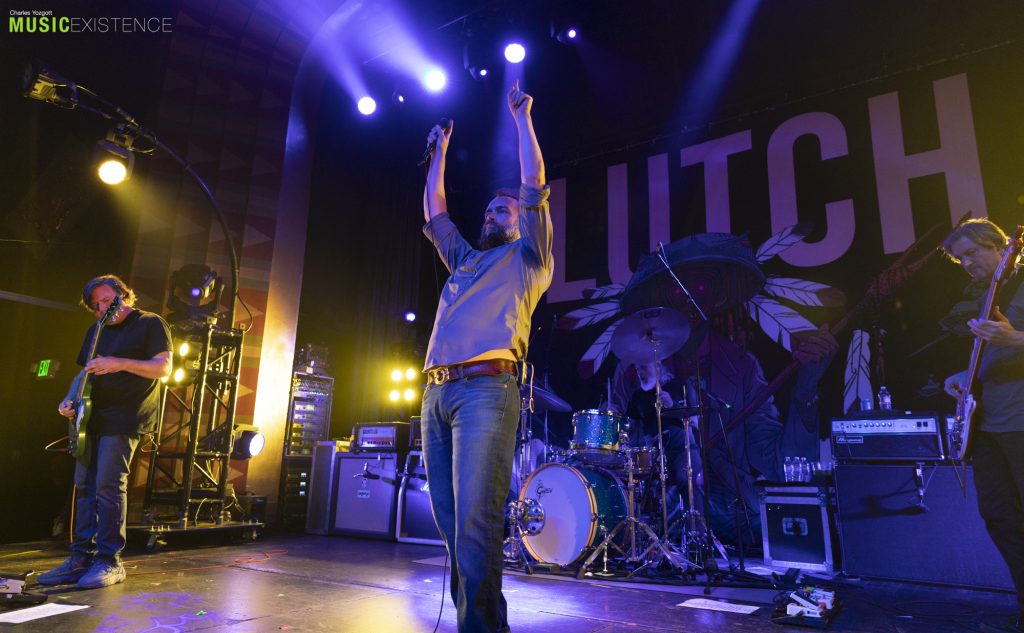 Opening the set with "Passive Restraints" Clutch deliver a hard rock classic that gets the crowd moving and singing along with the jam. "The House That Peterbilt" and "X-Ray Visions" followed and the energy in the venue was tremendous. The first song they played off their new album was "Slaughter Beach" and it sounded just like the studio version. These guys have been playing music together for 30 years and it  shows how professional and tight they sound on stage. They played five songs from the new album including "Nosferatu Madre", "Red Alert (Boss Metal Zone)", "Three Golden Horns", and the experimental track "Skeleton On Mars" where Neil uses a theremin on stage.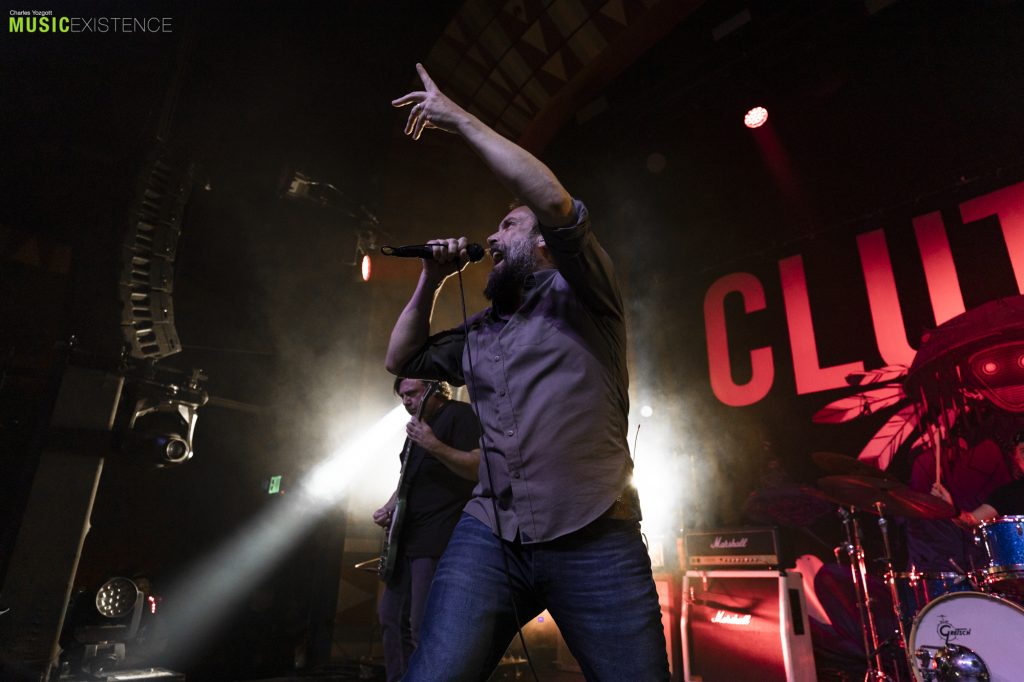 Guitarist Tim Sult, bassist Dan Maines, and drummer Jean-Paul Gaster make it look easy when they're playing their songs live but we know that it takes skill and dedication to achieve the near perfection that they deliver. Neil's voice and lyrics blend impeccably well with the music and it creates something different than anything else in the music world. Other favorites that they played throughout the night was "Crucial Velocity" off of Earth Rocker, "Cypress Grove" & "The Mob Goes Wild" off of Blast Tyrant, and the classic "Spacegrass" off their self titled second album. "Spacegrass" was re-imagined on their 2020 album The Weathermaker Vault Series, Vol. 1 and sounded just as prodigious live as on that album, such an epic performance. The last two songs played got the crowd moving and moshing again. There was no break between songs "Noble Savage" & "The Face" and the night ended in epic fashion with this titanic performance.
Clutch's North American tour is wrapping up before they head over to Europe, but don't worry because we all know they'll be back soon and  hopefully with some new music, fingers crossed. Make sure you check out their latest album and go see them when they come to a city near you, it's one of the best shows on earth.
Helmet
Setlist:
It's Easy to Get Bored
Ironhead
Rollo
Street Crab
Wilma's Rainbow
Milquetoast
Enemies
Unsung
Just Another Victim
In The Meantime
Quicksand
Setlist:
Inversion
Lightning Field
Colossus
Missile Command
Fazer
Thorn in My Side
Lie and Wait
Head To Wall
Omission
Unfulfilled
Dine Alone
Illuminant
Delusional
Backward
Giving The Past Away
Warm and Low
Clutch
Setlist:
Passive Restraints
The House That Peterbilt
X-Ray Visions
Firebirds!
Slaughter Beach
Crucial Velocity
The Soapmakers
Red Alert (Boss Metal Zone)
Nosferatu Madre
Walking in the Great Shining Path of Monster Trucks
(Notes from the Trial Of) La Curandera
Cypress Grove
A Shogun Named Marcus
Three Golden Horns
Skeletons on Mars
Escape From the Prison Planet
Spacegrass
The Mob Goes Wild
Noble Savage
The Face