Christina Morgan-Diaz "You Are" (pop)

The tumultuous state of the world has caused darkness to overwhelm many, and in such times, it's vital to find a shimmer of hope in all the hurt. Christina Morgan-Diaz is that shimmer and a dazzling light, too. Her talent, heart, honesty, and faith in the Lord get her through the ups and downs, knowing she is never alone. Her creations' divine and humane essence attract many and provide listeners with a sense of hope. Her accomplishments prove this not only as an award-winning contemporary Christian singer/songwriter, with the chart-topping single and radio hit "I Need More," but also as a mental health advocate and licensed therapist for her community. Representation and authenticity are key to Diaz, as she incorporates the various cultures she was surrounded by growing up in the diverse borough of Queens, NYC. For future endeavors, she plans to draw from her Colombian roots, with Latin beats and Spanish lyrics, and delve further into worship music. Overall, Diaz reveals that she has turned to music in her times of hardship and wishes for others to do the same, beginning with her newest, heartfelt single, "You Are."
The guiding light Diaz emits results from her ability to bear her emotions. In her lyrics, she confesses, "I don't wanna hear no other, God my heart is crying out, no more assassinatin' brothers, Sisters, don't you know there's power in the tongue." She conveys the significant impact of people's words, including her own, both kind and unkind. Understanding this responsibility, she makes sure the words of "You Are" help people recognize that they're not alone in their efforts to get through each day, "focus on the sun," and put "one foot in front of the other."
The bird's eye view of the beautiful neighborhood represents the number of earth's inhabitants that cope with daily struggles and mental illness, no matter where they reside. As the video begins, it is apparent that life is an uphill battle, as Diaz begrudgingly carries out her morning routine. What would seem like an "average day in the life" can feel incredibly challenging to endure, and the "You Are" music video successfully demonstrates that.
Shot in her own home and directed by her husband, Diaz was not afraid to include a personal touch. Her heart and experiences are clearly reflected on screen. She describes the vision for the video as "biographical," showcasing her own hardships, including physical injuries that hindered her ability to work and pursue her passions. Although there are many personal influences, everyone can relate to these scenes.
Diaz explains, "I want to show people that even though we may feel alone going through these difficult life situations. At the end of the day, we can turn to God and turn to our support system." She shows listeners that they have friends, family, and support to rely on, with the joyous dance scene at the end signifying the need for human connection.
Follow Christina Morgan-Diaz:
What was the start of your musical journey like? When did you know you wanted to pursue music professionally?
The start of my musical journey was challenging, however an exciting one as I started to see miracles unfolding and amazing opportunities presented before me, throughout my career. I knew from a young age, during my elementary school years, that I wanted to become a professional singer. I'll never forget my first gig singing on Primetime national television; it was surreal and happened to occur on my birthday oddly enough.
Can you discuss the process of creating the concept for "You Are"? What was your inspiration for its lyrics and how do you hope it impacts listeners? I found myself emotionally burned out and distraught over an unexpected family crisis during the pandemic and through the tears, just began expressing my worries, my concerns and my anger on paper about the situation. Little did I know that within a matter of minutes, I had processed my emotions and had a new song in my hands. My prayer is that others who might be facing real day-to-day challenges right now, will be able to relate to the lyrics and story within the song and feel strengthened and motivated by it. There is a time to grieve, but eventually we must take action if we want to see true life change.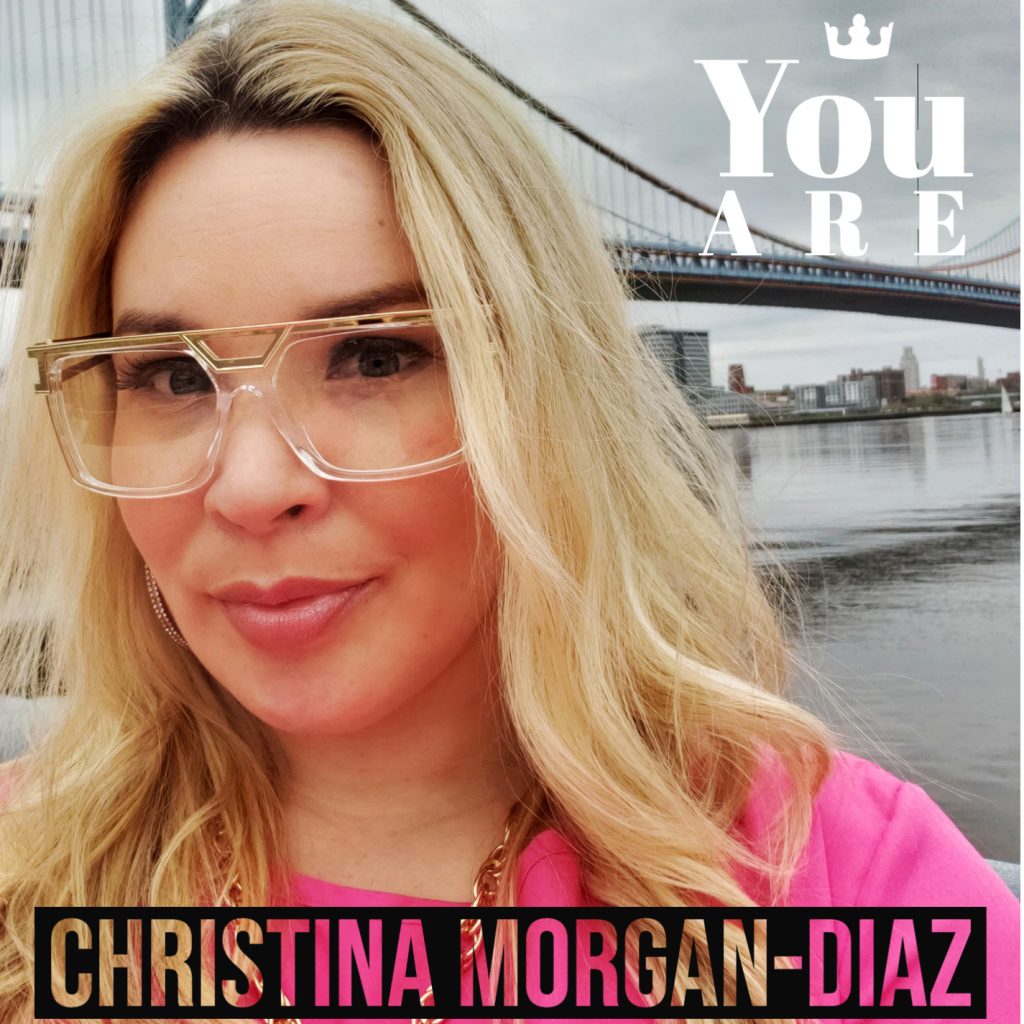 The depiction of daily struggles within the video are extremely relatable. What was the music video shoot experience like? Are there any special details within the video that you'd like to mention? The music video shoot took an unexpected turn at first, as I found out that there was a flight delay and my original videographer I had hired, could not make it to the video shoot as planned. I am so grateful, because in the end this forced me to put the message of my song to the test and actually re-live what I was singing about in the song. Those were definitely some real tears I shed in the video! Lol…talk about persevering!  It turned out to be a blessing in disguise though, because I then had to turn to another videographer (my husband) who was very clear on my vision for the video and was able to help me bring that vision to life.
Can you discuss the significance of the beginning overhead/ bird's eye shot of the town? Why do you believe the video accurately showcases the message behind "You Are"?
Many times, people create division early on and make assumptions about others based on where/how they live, thinking that their life is perfect, and they must not have any "real" problems.  Growing up in a low-income household as a child and living in a small apartment at the time, I used to admire people who were homeowners, had a car, and material things. So, I chose to show the overhead shot of the suburbs because as beautiful and peaceful as it seems on the outside, on the inside of those big houses may very likely be people and families that are also really struggling in various ways. We all have more in common than we think. This you can see more clearly in the video as the character in the home begins to progressively break down. She realizes at the end that we need to seek help by turning to our faith and our support network, family and or friends who have been there with open arms waiting all along. We are not alone!
Why do you feel music is healing? How has music helped you and/or people around you? What has the response been like from your audience in terms of helping them heal?
Dr. Shahram Heshmat, Ph.D., talks about in his article in Psychology Today that psychological studies have shown that listening to music can have a positive reaction in the brain. He states, "Music has the ability to evoke powerful emotional responses such as chills and thrills in listeners." Heshmat, S. (2019, August 25). Music, Emotion, and Well-Being: How does music affect the way we think, feel, and behave? Psychology Today: https://www.psychologytoday.com/us/blog/science-choice/201908/music-emotion-and-well-being.
Life can throw us some curve balls, but I'm grateful for music because whenever I would find myself singing along to a song, no matter at what age and what the location, it would always pull me out of that dark place and bring so much comfort in the moment. Some listeners have told me that they were going through a breaking point in their life when they entered the arena I was singing at and found themselves "in tears," which helped them to come to terms with whatever they were facing and make a definitive decision to turn their situations around. I'm so thankful to those who have shared their stories with me and continue to share, because if it weren't for their testimonies, I may have given up and stopped singing a long time ago.
How has your experience as a licensed therapist as well as a worship leader impacted your music career and creations?
One of the reasons I decided to become a mental health counselor was so I could be a better singer and truly relate to my audience and what they are going through. Being a worship leader has also helped me to grow and experience real emotional and physical healing. I'll never forget the time I threw out my back and was diagnosed with herniated disks and my pastor then asked me if I could lead worship at church one Sunday morning. So, I showed up with my broken back and all, walking funny across the altar (stage). As I began to sing and lead the congregation in song, I suddenly began experiencing this indescribable feeling of God reaching down and healing my back throughout it all. By the time the music ended I was 100% better and could walk normally again. Considering I had been disabled for several weeks prior, this whole experience was truly amazing.
Are there any upcoming projects or dreams for the future that you would like to share with your audience?
I have had a desire for a long time to visit my mom's home country of Cali, Colombia. My next project will be paying homage to my Colombian roots and will incorporate some Latin beats along with lyrics in Spanish. I am truly looking forward to it and maybe will even collab with some amazing Latin artists. Thank you so much for listening and never stop working towards your dreams!