More than 10,000 metal heads showed up and witnessed the Freaks on Parade Tour with hard rock/heavy metal icon Rob Zombie, the comeback we've all been waiting for with Mudvayne, and special guest Static-X and Powerman 5000. Five Point Amphitheater in Irvine, CA was where it all went down and it felt like this tour took you back in time when these four bands were on top of the world. Each band put on an amazing show and gave the crowd an awesome metal concert for the books.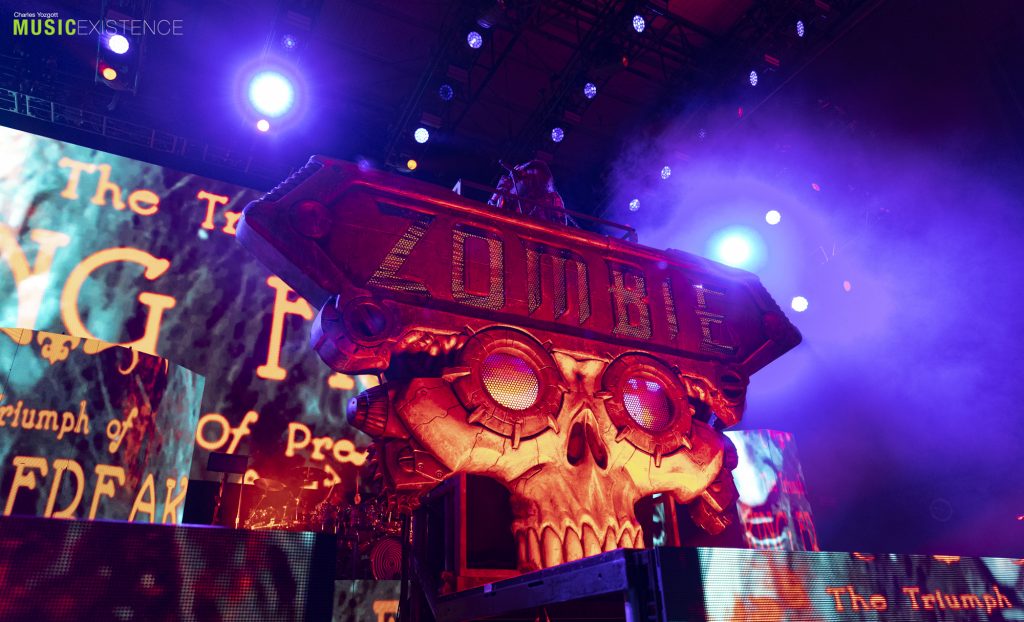 Powerman 5000 was up first and their colorful backdrop got you excited for the show. Lead singer, Spider One, came out with high energy and got the audience moving. Opening the set with "Footsteps and Voices", off of their album New Wave, all the band members were rocking out and enjoying every second of it. Jumping in sync and moving across the stage, these guys were giving it their all. DJ Rattan on his drums was making it look easy with his green hair swaying back and forth, bassist Murv3 with his black and red hair gave us all the expressions of pure joy while slappin' his 4 string. Rhythm guitarist Taylor Haycraft stood his ground while making those riffs crunch like old times, and lead guitarist Dan Schiz put on a show like he's been with the band for years. Taylor and Dan recently joined Powerman 500 and showed that they belong. They played a few songs from the 1999 album Tonight The Stars Revolt, which is their most successful release that went platinum, including "Nobody's Real" and "When Worlds Collide". A fun part of the set was when they covered The White Stripes song "Seven Nation Army", everyone was stoked and sang along, it definitely was a sight to see.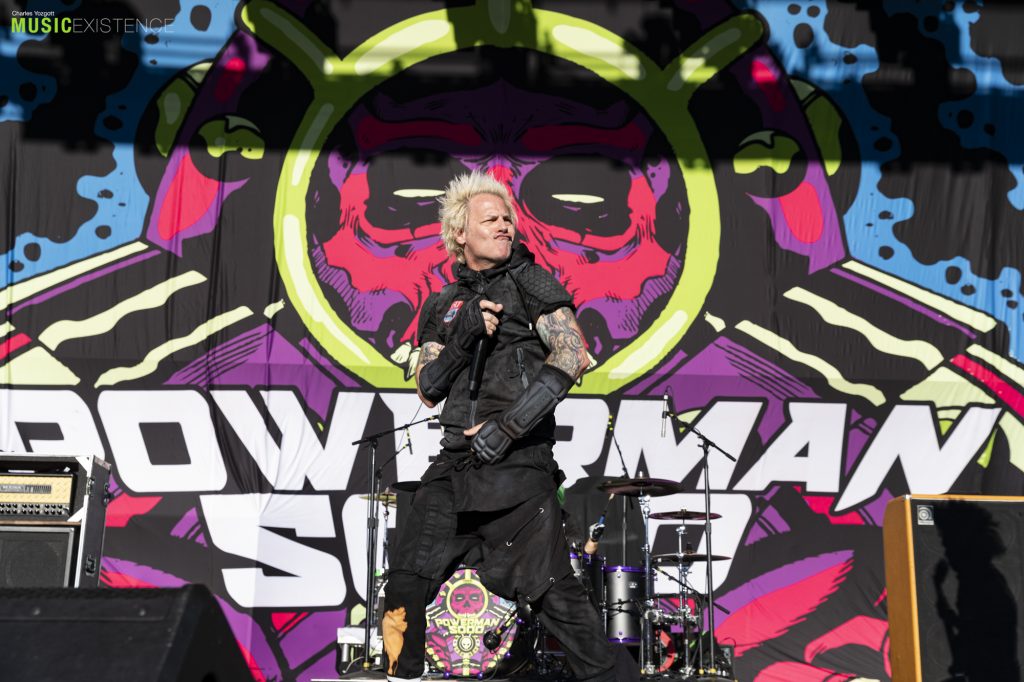 Static-X was up next and there was no slowing down. Their latest single "Regeneration" was played on a tape just before they came out. They opened with "Bled for Days" off of their epic debut album Wisconsin Death Trip and the fans went nuts. Singer Xer0 sounds and looks amazing with his mask and spiked up hair resembling founding member Wayne Static. These four guys are continuing the legacy that Wayne left behind and they're doing it in the best way possible, playing his music and keeping it alive. The rest of the band consist of original members: guitarist Koichi Fukuda, bassist Tony Campos, and drummer Ken Jay. Their setlist consist of 7 songs, 6 of which were off of their debut album including "Love Dump" and "Push It". "Cold" off of their sophomore release Machine was the lone song played not on Wisconsin Death Trip. Each song hit loud and in your face with the entire crowd singing along. All of these guys were smiling and having a blast, and the music they played sounded just as good, Tony jumping all over the place, Koichi putting his metal signs in the air, and Ken laughing away at Xer0 while banging on is drums. It was an amazing set to see and it absolutely got the crowd ready for the next band.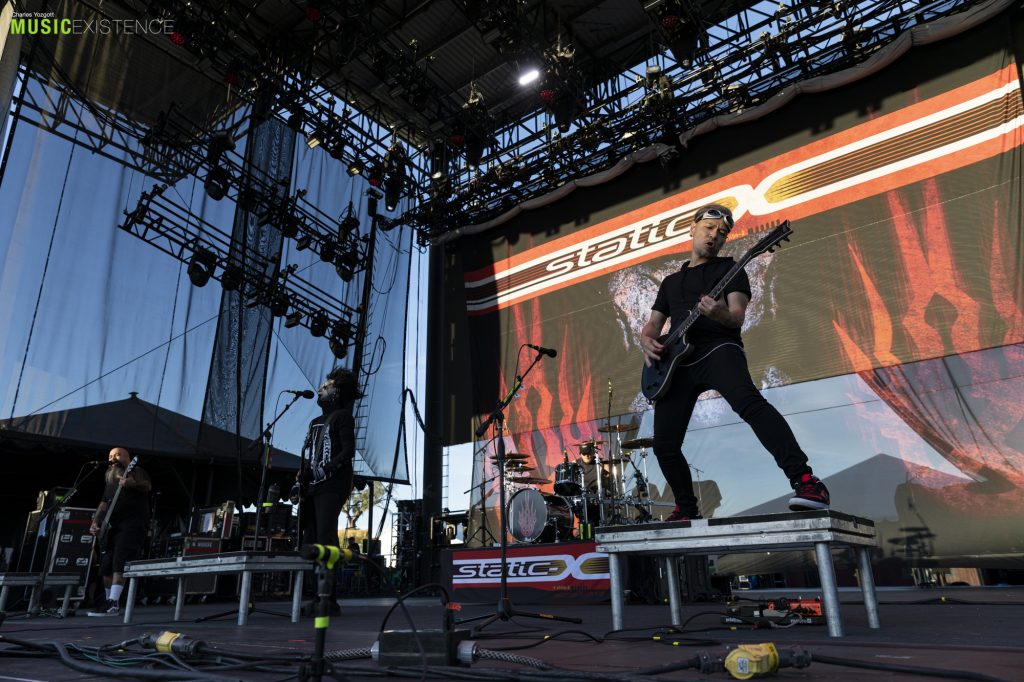 Mudvayne was next and the anticipation in the crowd was felt and heard. A huge black banner with a white 'M' in the middle was covering the stage and it made the fans that more anxious and excited to see them. Mudvayne took a hiatus in 2010 and in April of 2021 they announced that they were back and they were going to play select dates at festivals. Now, they're in full swing back on the road and people couldn't be happier. Thousands of fans have come from all over to see these guys that haven't been playing together in 10 plus years, and man did they deliver. They opened the set with "Dig" off their explosive debut album L.D. 50 and the entire amphitheater went crazy. The banner came down as soon as singer Chad Gray let off that huge scream in the beginning of the song and the band went wild.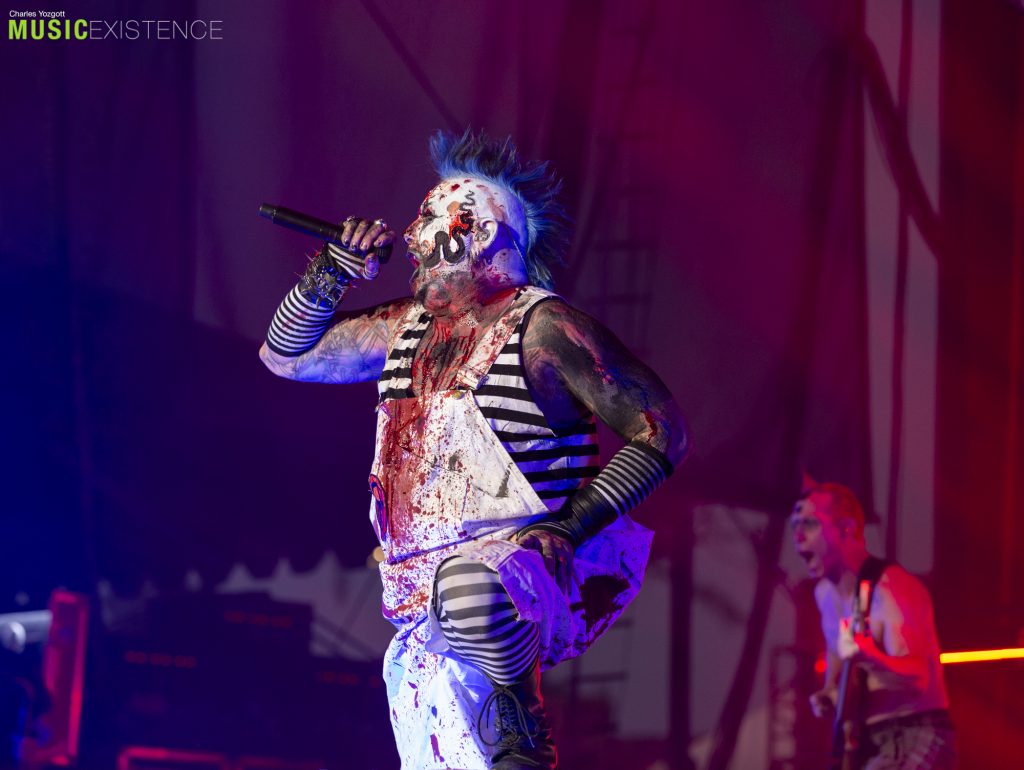 The twelve song setlist that they played gave their fans a good dose of the first album, the first six songs in the set to be exact, including "-1", "Severed", and "Death Blooms". During the end of "Death Blooms" the fans recite the lyrics with Chad and it was an amazing sight to witness. Ryan Martinie is fun to watch as he struts all over the stage with his bass and making it look easy to play the technical notes that he does. Guitarist Greg Tribbett stares out into the crowd while playing and looks at all the diehard fans that came to see his band and he can't help but smile and have a blast. His black top hat and goggles are no match for the red paint on his face which can be seen from the very back of the venue. Drummer Matthew McDonough in the back was beating the drums like no other and sounded incredible. Chad Gray looked amazing in his make-up which looks like someone shot him in the head and blood is going all over his white painted face with a crazy smile that would give the Joker a run for his money. These guys know how to put on a show and the wait was worth it. A moment that was applauded by all was when Chad gave a speech on how metal and music has united everyone at the amphitheater and that it was a special night to celebrate hard rock and fans of all backgrounds that attended this huge metal tour.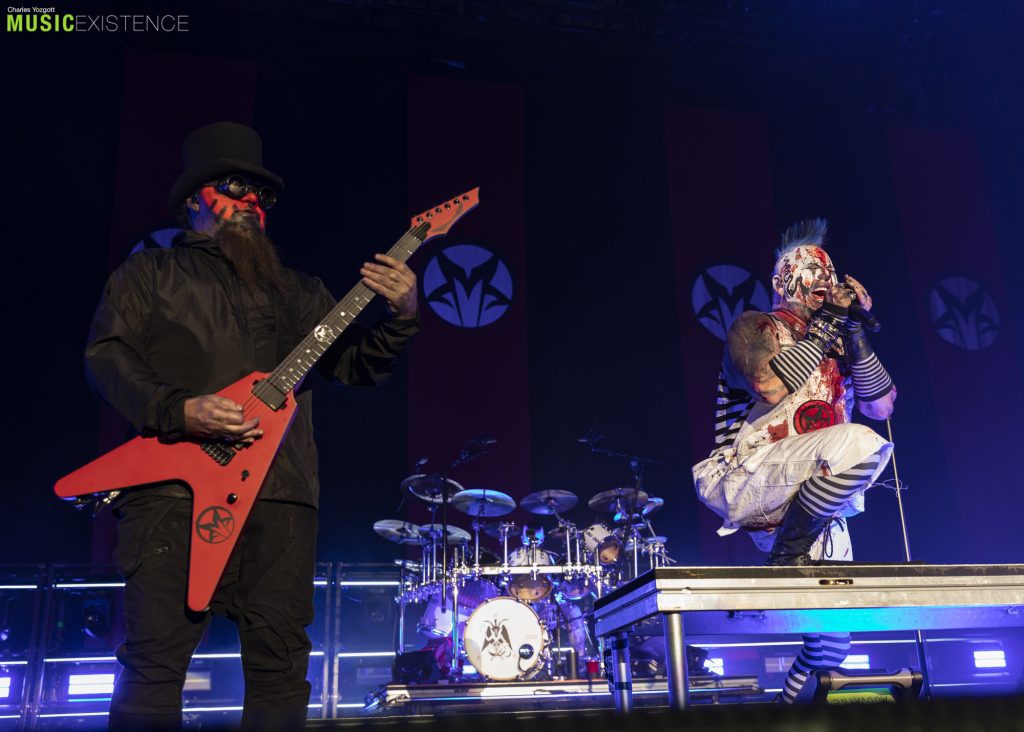 The time had come for the main act, Rob Zombie and his band. These guys know how to show everyone a good time and rocked out like no tomorrow. Opening the set with "The Triumph of King Freak (A Crypt of Preservation and Superstition)", from his latest album The Lunar Injection Kool Aid Eclipse Conspiracy, Rob Zombie and his bandmates came out to a roaring applause and more than 10,000 freaks and metal heads going crazy. Rob Zombie looked creepy as ever with his long hair going everywhere and his face paint making him look deceased. He has his own horror movie/heavy metal style battle jacket with patches of Frankenstein to a pin of Captain Spaulding. He is a true legend that stands alone and has his own freaky/horror/metal look. "Superbeast", off of his solo debut Hellbilly Delux, was played next and a giant devil standing over 15 feet came out to entertain all, Rob Zombie's shows never holds back and pulls out all the stops. "Meet The Creeper" was next, off the same album, and it was only the beginning.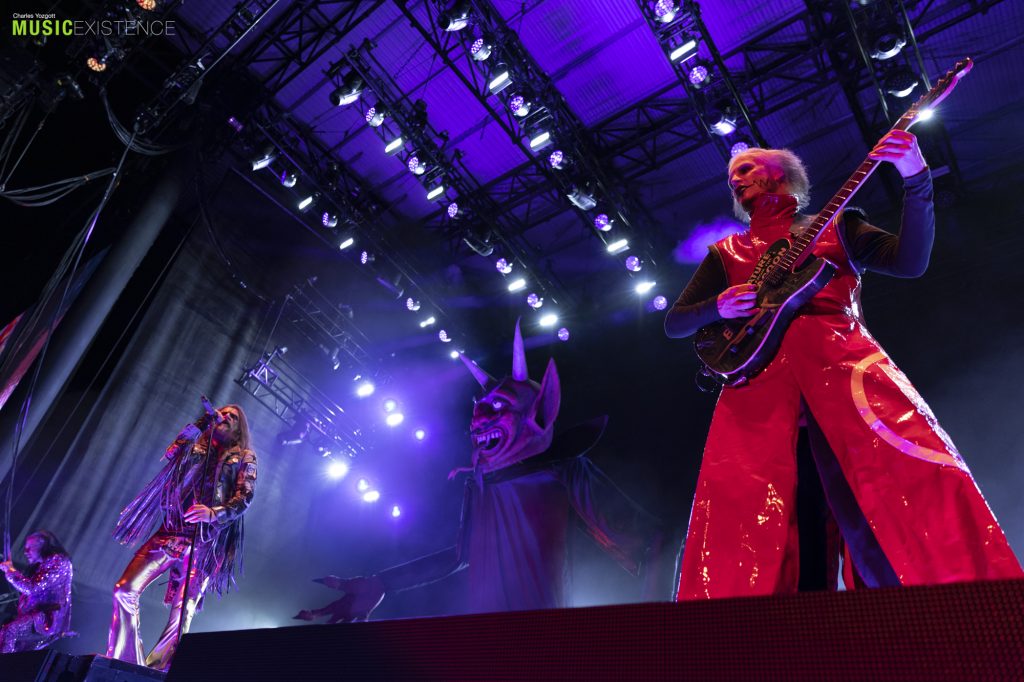 Piggy D. on bass came out wearing a gold skull mask and his jacket was sparkling more that all the stars in the sky. This man knows how to dress and play the bass like a bat from hell. Guitarist John 5 showed off his skills and played his heart out in his red trench coat that has a huge 5 on the side so you know it's him. Drummer Ginger Fish does his part and plays the drums to perfection with that upside down cross painted on his face. These guys not only know how to put on a show, they dress the part and knock it out of the park. Playing another song off his latest release, "Shake Your Ass-Smoke Your Grass", the band started to get into their groove. "Living Dead Girl" was next which is a fan favorite, followed by a cover of White Zombie's "More Human Than Human" that had the crowd singing louder than Zombie himself. "Scum of the Earth" off of The Sinister Urge was next followed by "Dead City Radio and the New Gods of Supertown" off of Venomous Rat Regeneration Vender which came out in 2013. These songs were performed flawlessly and sounded just like the album. Each band member played their part to perfection and it was unbelievable.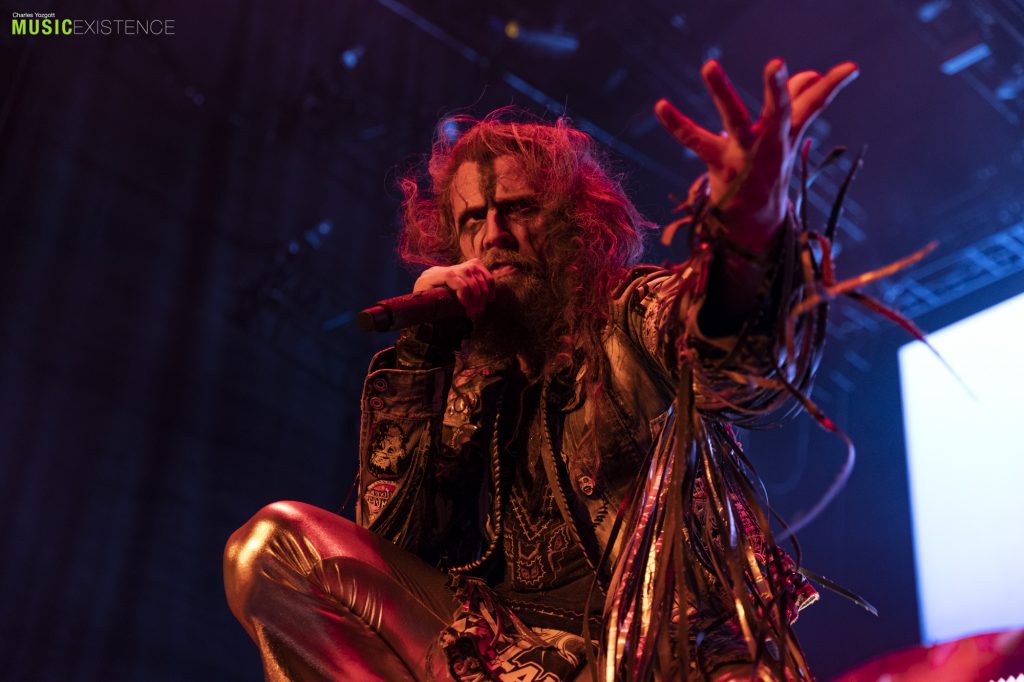 The next handful of songs was a mixture of White Zombie, Rob Zombie's studio albums, and the soundtrack to Zombie's first film House of 1,000 Corpses and a couple of covers that are just as good as the originals. The title track to House of 1,000 Corpses was a favorite of the crowd because the film has such a huge cult following, this was definitely the highlight of the night. A couple of Rob's favorites bands were featured in the setlist including "Blitzkrieg Bop" by the Ramones and "We're an American Band" by Grand Funk Railroad, which was a tour debut. What an amazing time watching Rob Zombie and his bandmates come to Irvine and give a show of a lifetime. If you missed this tour than you missed out on history. Only a couple of dates left so hopefully you'll have time to catch the show before it's done for good. Who knows, maybe Rob Zombie will keep this Freaks on Parade Tour going year after year with a lineup that anyone would want to see. Dates for this tour are below, hopefully you'll be there to witness history in the making!
Freaks on Parade Tour 2022 dates:
07/20 Maryland Heights, MO @ Hollywood Casino Amphitheatre – St. Louis, MO
07/21 Noblesville, IN @ Ruoff Music Centre
07/23 Bristow, VA @ Jiffy Lube Live
07/24 Charlotte, NC @ PNC Music Pavilion
07/26 Tampa, FL @ MIDFLORIDA Credit Union Amphitheatre
07/27 Atlanta, GA @ Ameris Bank Amphitheatre
07/29 Camden, NJ @ Waterfront Music Pavilion
07/30 Mansfield, MA @ Xfinity Center
07/31 Holmdel, NJ @ PNC Bank Arts
08/02 Burgettstown, PA @ The Pavilion at Star Lake
08/03 Cuyahoga Falls, OH @ Blossom Music Center
08/05 Tinley Park, IL @ Hollywood Casino Amphitheatre
08/06 Council Bluffs, IA @ Westfair Amphitheater
08/10 Salt Lake City, UT @ USANA Amphitheatre
08/12 Irvine, CA @ FivePoint Amphitheatre
08/13 Las Vegas, NV @ Michelob ULTRA Arena
08/14 Chula Vista, CA @ North Island Credit Union Amphitheatre
08/16 Albuquerque, NM @ Isleta Amphitheater
08/18 Del Valle, TX @ Germania Insurance Amphitheater
08/20 Fort Worth, TX @ Dickies Arena
08/21 The Woodlands, TX @ Cynthia Woods Mitchell Pavilion
Powerman 5000
Setlist:
Footsteps and Voices
Nobody's Real
Invade, Destroy, Repeat
Horror Show
Seven Nation Army
Bombshell
Supernova Goes Pop
When Worlds Collide
Static-X
Setlist:
Bled for Days
Wisconsin Death Trip
Sweat of the Bud
Love Dump
Cold
I'm With Stupid
Push It
Mudvayne
Setlist:
Dig
Under My Skin
-1
Severed
Death Blooms
Internal Primates Forever
Determined
Not Falling
Nothing to Gein
Dull Boy
World So Cold
Happy?
Rob Zombie
Setlist:
The Triumph of King Freak (A Crypt of Preservation and Superstition)
Superbeast
Meet the Creeper
Shake Your Ass – Smoke Your Grass
Living Dead Girl
More Human Than Human
Scum of the Earth
Dead City Radio and the New Gods of Supertown
Never Gonna Stop (The Red, Red Kroovy)
Well, Everybody's Fucking in a U.F.O.
House of 1000 Corpses
Thunder Kiss '65
Blitzkrieg Bop
We're an American Band
Shadow of the Cemetery Man
Dragula