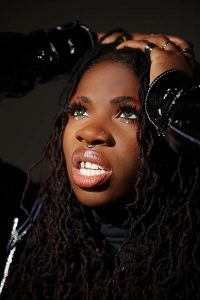 In 2019 Haviah Mighty, Canada's most recent buzz-worthy hip hop export, won the prestigious Polaris Music Prize for her debut album 13th Floor. Apart from the hefty $50,000 prize money, the award also came with national media attention, touring slots and more priceless opportunities that most up and coming artists could only ever imagine. But less than a year after her win, Mighty's fast-paced rise to international success came to an abrupt stop when the the pandemic canceled just about every opportunity her Polaris win promised her. 
Instead of wallowing in self-pity, Mighty got to work on the follow up to 13th Floor. She spent the year writing and recording what would become her sophomore studio album, Stock Exchange, and slowly released new music monthly until the album dropped in November 2021. While most artists used their new found free time to write and record music, most of those artists can't say their pandemic project fostered an award winning studio album. Stock Exchange won Best Hip Hop Album at the 2022 Canadian Juno Awards and made Mighty the first female recipient of the award. Music Existence recently caught up with Haviah Mighty to discuss her first Juno win, the pressures of being a "first" and the changing dynamics in the Canadian music industry.
Music Existence: Congratulations on the Juno win. As incredible as it is to be the first woman to win this award, does it ever feel like maybe this should have happened sooner? 
Haviah Mighty: Oh 100%. I think it's shocking. When they said it on stage I didn't really process it, I didn't really hear. I was excited at first, you know we're breaking some boundaries, we're shifting some conversations but then I was asked about it more and more in interviews and it was a weird concept… I appreciate that what I'm doing is innovative but I can't be the first one that's innovative in this way. So to be the first one being acknowledged, about being innovative in this way, obviously it means we're late to the game. 
ME: Do you think the Canadian music industry has been getting better with this kind of thing?
HM: I hope so! I mean particularly for the Junos it felt like a better representation of the music here in the city. It just felt like this is different. There are peers of mine who I know are extremely talented who are also being acknowledged, so I'm hoping that it can move in that direction. We've seen some progress that has reverted before in other ways so I'm hoping that doesn't happen. 
ME: The Junos specifically were criticized for being really late to the game when it comes to hip hop. Do you think they've gotten better as an organization? 
HM: Well I think for me to be acknowledged speaks volumes. I definitely didn't expect that. I do feel like this year and also last year there was acknowledgment of people in the scene … seeing people like TOBi and Savannah Ré and Snotty Nose (Rez Kids) and that acknowledgement was like okay this is good because these people are awesome and they're doing great things and occupying space. These big entities are sometimes just not seeing it, so to be seen further makes me feel that way. I guess over the next two, three, four years we're really going to see if we're going to maintain it. I think that's really where we're at, is trying to maintain it and continue to open up the portal to other artists who don't get a shot. That equal shot to do their thing. 
ME: You recently opened for the Arkells at their massive stadium show in Hamilton. What's it like being the first performer for a crowd that size?
Haviah Mighty: I know I'm the first one, I know I have to set the tone and luckily I've been put in that position a lot of times where I have to set the tone, but also setting the tone for a crowd that might not be there for what I do or even the genre of music that I make. I've been put in that position a lot… Like I don't care if there's 100 people or 5,000 people, I'm still going to try and give a lot of energy. I don't care if they don't like hip hop, you will like this set! That kind of the mindset that I try to have because having that confidence is infectious.
ME: You'll be playing Rolling Loud in Toronto soon. Being a hometown artist does it make you feel like you need to show off a bit or play host? 
Haviah Mighty: I don't know, I feel like my mindset is going to be the same as it is today. I'm going to win over the crowd, the people that showed up to see the set are going to have the best time, and they're gonna Spotify me when they go home! The cool thing about Rolling Loud is that it's a hip hop festival and most festivals that I play are not hip hop festivals… I feel like Rolling Loud, because of what it is, I might do a little bit more of a show because it's home and because we have more time to plan. Bring out some dancers, come with the outfits, you know. But performance wise we're just going to occupy and have a good time! Hopefully by Rolling Loud I'll be doing some new music by that time.
Haviah Mighty Online: Website | Twitter | Instagram | TikTok | Spotify | Apple Music