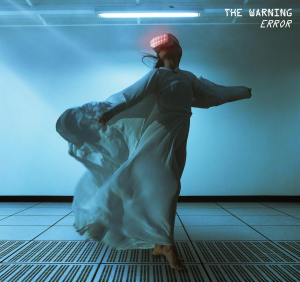 If you consider yourself a fan of rock n' roll then chances are you've already heard about the three sisters from Mexico turning heads in the hard rock community. Hailing from Monterrey, Mexico, Daniela (guitar & lead vocals), Paulina (drums & vocals) and Alejandra (bass & backing vocals) Villarreal have recently caught the attention of just about every major rock band (and fan) on the planet. They call themselves The Warning and have opened for most of rock's elder statesmen including; Aerosmith, Alice Cooper, The Killers, and most recently, The Foo Fighters during their last stadium show in Mexico back in March. 
They've been playing together for almost ten years but only signed their first major label deal in 2020 with Jason Flom from Lava/Republic Records. If Flom's name sounds familiar, it's because he's the man behind major artists like Jessie J and Greta Van Fleet, and since he's already struck gold with one set of rock n' roll siblings, who's to say he can't do it again with The Warning? 
But playing stadium shows on home turf is a lot different than cracking into international markets, which has historically been difficult for rock bands from outside of the U.S. This weekend proved to be a big test for the band (who's ages range from 17-22) as they continued to make room in the hard rock space for more all-female rock bands.
They first played Burlington's Sound of Music Festival before headlining their own shows in Toronto and Montreal over the weekend. In typical Canadian fashion, the band was given a warm welcome at Toronto's Velvet Underground, where fans averaging around 40 years old, filled out the 400-cap room. The audience was mixed with hardcore super fans crowding the front along with more curious minds who wanted to see if the hype the real.
Matching the venue's dark and industrial complex, The Warning kicked things off with "Z" from their 2021 EP MAYDAY and continued to play almost every song from the EP which brought them mainstream success late last year. Between the right record label and high profile playlisting spots at Spotify and Apple Music, millions of fans have discovered The Warning over the past year and it'll be interesting to see how else they capture our attention in the coming year.
Notably, the band also played their version of Metallica's "Enter Sandman." But don't worry – it wasn't just another Metallica cover from starry eyed wannabes – it was their version of the song that gained them notoriety almost 7 years ago. Flashback to 2014 when the girl's father uploaded a video of the band covering the famed metal classic, which quickly gained over 20 million views online. From there, the cover led to worldwide media attention from the rock community along with an appearance on The Ellen DeGeneres Show and a response from Metallica's Kirk Hammett. Flash forward to 2021, The Warning was selected as one of the bands to participate in Metallica's massive 30th anniversary celebration of The Black Album where their version of "Enter Sandman" featuring Alessia Cara joined covers from Sam Fender, Miley Cyrus, Cage The Elephant, Phoebe Bridgers and more. 
The Warning has come along way since that Metallica video in 2014 and currently show no signs of slowing down anytime soon. The rest of the year will be spent on the road with bands like Halestorm, The Pretty Reckless and Three Days Grace, and they will continue to headline their own shows when time allows. They also have a new album arriving June 24th and will continue fighting the good fight when it comes to making space for more women in rock music. If you haven't checked out The Warning yet, now's the time to do so.
Pre-save The Warning's new album ERROR  here and see the band's tour schedule here.
The Warning Online: Instagram | TikTok | Facebook | Spotify | Apple Music