Massachusetts-bred alt rock trio, Valleyheart, have returned with a new full-length LP, Heal My Head, following up 2018's Everyone I've Ever Loved and their 2021 Scenery EP, both in which were hidden gems amongst alternative rock fans. On their new effort, the band is one member shorter than when we last heard them, yet sonically they've made great strides in creating a lush, atmospheric sound. Adapting in style and sound, they are moving ever so slightly away from their post-hardcore roots, and further into the melodic, indie rock scene. Comprised of Kevin Klein [vocals, guitar, producer], Chris Babbitt [bass], and Zakk Nix [drums], Valleyheart have reached a place of repose, where their momentum has ascended them into their own musical proprietary and produced a body of work that is entirely authentic and thought provoking. 
Hailing from Salem, MA, the group carry their hometown on their sleeve, as influences from the Witch City seep into each track. Flowing in and out of alternative, emo, indie rock, and hardcore elements, there remains an ever-present sense of haunting. Entangled in the concept of time, Klein ruminates over the course of one's life on the album's opening track "Birth," which greets listeners in a quiet and composed manner. The track's gentleness is laced with violin, piano and soft vocals, and instigates a sense of both calm and yearning for more. As the track fades to a ticking sound, indicative of time running out (audibly referencing the artwork's visual of a clock), the second track "The Numbers" kicks into drive with heavy distortion and tight percussion, as if waking us up from the trance we were previously cast in. Valleyheart continuously has a way of lulling you into a dreamlike haze, then startling you awake as if enacting a metaphor of life. 
"Miracle" contains a bright beat, aided by punchy drums, and references a trope that many midwestern-emo and pop-punk bands have made famous- escaping your hometown- yet Valleyheart does it with a curt honesty and whisper of zealousness. Noting being back in Massachusetts, Klein sings, "Now I'm standing at the edge of the ocean/heart heavy in the town I grew up in/ and my fears are drowned in the fading blue/I'm out on the shore reaching out to you". The album's title track, "Heal my Head", purrs in a gentle voice as if talking to oneself in a vulnerable state. Reading like pages from a journal entry, listeners are greeted with earnest musings and melodic vocals with garage-rock-fused yearnings while electronics underline a time signature-hopping and head-nodding beat and bass line. The track's bridge slows in a moment of pause, before kicking up in a catchy rumble that will surely translate well live. This duality within Valleyheart is controlled rather well, allowing gentle moments to simmer, and emotional highpoints to burn with tension before erupting in a cathartic whirl of sound. 
In terms of construct, the album is a holistic body of songs examining the relationship between the passing of time, identity, faith, trauma, suicide, aging and how all these tribulations can lead to hope. "At an individual and communal level, we deal with trauma and unsettling questions of our identity and existence," frontman Kevin Klein shared about the deeply personal nature of the album. "From a lyrical perspective, I wrote this album to talk about and unwrap those things in my own life and relationships. When you open this door, there's a lot of pain to sift through, so I'm trying to create a language for listeners to have those conversations. I hope it's a platform for people, so they don't feel alone as they go through life." This personal connection is something that has become Valleyheart's signature and entices audiences to analyze each lyric and performance. The band took home the coveted "Rock Artist of the Year" trophy at the 2019 Boston Music Awards, furthering their impact in the New England music scene and establishing a tighter bond with their community. Their accessibility permeates the sonic and lyrical territory of their music. 
Inspired by films, authors, books, and podcasts, their lyrics examine elements of the human experience, backed by the band's tight instrumentation and exploration into assorted sounds. Tracks like "Vampire Smile" and "Your Favorite Jacket" lull you into a soft-rock trance, while "Back & Forth" is a candid, melodic number about state of consciousness and mental health. Transcending guitar melodies fill the track alongside soft and introspective lyrics about uncertainties and self doubts- concepts which anyone can relate to. ("Why do I keep these weird desires/ Pulling my conscience back and forth/ Will I spend my whole life in the indecision/ My mind always stuck on a better time/ Pacing my steps now I'm going nowhere/ The hourglass shaking inside my mind/ It's going back and forth"). These moments where Valleyheart air their thoughts out in the open, while sonically crafting a lush, almost jovial melody, contain all the subtleties of favored acts like Death Cab for Cutie and the lyricism of Manchester Orchestra. On "Warning Signs" they continue to mask anxieties in the form of stoicism and a great pop-centric rhythm that draws the album to its final moments with a sense of urgency. "The Days" stands out with its soft cadence, in a shoegaze blur reminiscent of a late 2010s Cigarettes After Sex song. The album's closing track, "6:26", a stamp of time that ironically clocks in at only 1:22, is a delicate instrumental, similar to the album's opener, but is constructed with a bit more care and simplicity.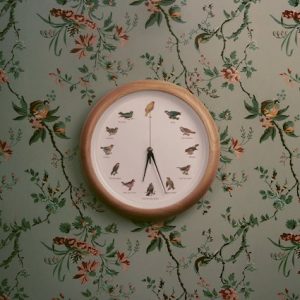 Heal My Head is a triumphant, thematic release that reinforces the idea that it's okay to be uncomfortable in our own skin. While philosophical, it is also raw and ambitious in setting out to unpack the more complex aspects of life. Created throughout the pandemic in 2020 and 2021, the band stayed local and recorded at The Halo Studio in Portland, ME with longtime collaborator and co-producer Kevin Billingslea and at The Record Company in Boston, MA. Kevin Billingslea and Kevin Klein co-engineered, co-produced, and co-mixed the album, with a portion of the record being self-produced by Klein at his home studio, creating an intimacy that can be palpably felt. Valleyheart's sophomore LP forges an instant and direct connection with its listeners that feels, and plays, bitterly sweet. 
Heal My Head is available now via Tooth & Nail Records.
Valleyheart online: Website | Facebook | Twitter | Instagram | Spotify | Apple Music