Toronto's own renforshort finally made her hometown show debut last week at the city's legendary Danforth Music Hall. Opening for indie-pop hitmaker and TikTok sensation Tai Verdes, renforshort warmed up a sizeable crowd who made sure to arrive early in support of the local favourite.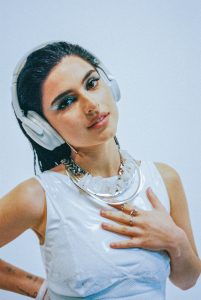 While she hasn't performed at home in over two years, ren kept busy over the pandemic releasing two EP's, collaborating with 347aidan, touring with YUNGBLUD and booking summer gigs in Australia, New Zealand, Canada and the U.S. With capacity restrictions and covid-protocols lifting all over the world, these tours are a perfect time for ren to prove she's not just a streaming success but a wonder to watch live as well.
Last week's shows in Toronto and Montréal put the pressure on ren as fans arrived early to catch her 45-minute set. Featuring fan favourites like "virtual reality" and "moshpit," the night was filled with ren's electrifying stage presence and dominating front woman persona. She talked about her nerves on stage but her performance showed anything but. It's not everyday an opening act can coordinate a crowd to jump up and down, sing along to her choruses or engage in a way that's typically reserved for a headliner.
She sprinkled in lesser known tracks like "lust to love" to show off her vocal capabilities and made sure to include viral hits like "fuck, i love my friends," with many of her real-life friends filling the room. She ended her set with the heart-pounding and anthemic, "i drive me mad" – a song so good Mike Shinoda from Linkin Park DM'd her back in 2020 asking to do his own remix.
And the praise from early-2000's punk rockers doesn't stop there. Enter Travis Barker – the industry's most notable collaborator and "featured artist" hit maker who's turned everyone from WILLOW to MGK into certified pop-punk chart-toppers. Barker and renforshort have collaborated on their new track, "we'll make this okay" and just dropped a video that gives off all the ~ futuristic~ Andy Warhol vibes.
Overall, renforshort's recent homecoming showcased not only her talent and impressive performance skills but highlighted Canada's bright future for Gen-Z songwriters. She's making a name for herself across the industry and proving night after night she's more than just a streaming success story. Catch renforshort on tour now with Tai Verdes and with The Band Camino this summer.
renforshort's debut album dear amelia, arrives July 8th.
renforshort online: Website | Instagram | TikTok | Spotify | Apple Music