Philadelphia's psychedelic folk-rockers Mt. Joy have released new details of their forthcoming third studio album Orange Blood. Set to be released June 17th via Island Records, the new album will be the band's major label debut after making the jump from Dualtone Records to the Universal Music Group entity earlier this year. Releasing the tracklist over the weekend, the new album will feature ten songs along with previously released singles, "Lemon Tree" and "Orange Blood."
News also came last week that Mt. Joy has been added to the The Rally lineup on June 25th. After two years of postponements, the Arkell's Rally is set to be one of the biggest concerts in Canada this year. Taking place at Tim Hortons field in Hamilton, Ontario, Mt. Joy will join K.Flay, Haviah Mighty and of course the Arkells for an epic night in The Hammer. Tickets are available here.
Check out the video for "Orange Blood" below along with the album's tracklist. You can pre-order Orange Blood  here.
Orange Blood Tracklist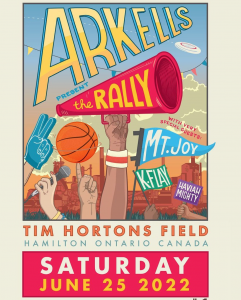 Orange Blood
Evergreen
Roly Poly
Johnson Song
Don't It Feel Good
Lemon Tree
Bang
Phenomenon
Ruins
Bathroom Light
Mt. Joy Online: Website | Facebook | Instagram | Twitter | TikTok | Spotify | Apple Music