Boston Calling, making its highly anticipated return this Memorial Day Weekend, announces its extensive food & drink lineup. Festival attendees will enjoy a taste of Boston and New England's culinary diversity, and find something to satisfy all kinds of cravings.  Look for some of the best of the region's food and drink scene as this year's selections range from recently opened ventures to longtime fan-favorites, including returning Boston Calling vendors Tasty Burger, Roxy's Grilled Cheese, and Chicken and Rice Guys, as well 10 new additions like award-winning Greek restaurant GreCo, acclaimed Jewish delicatessen, Mamaleh's, and Suasday Sandwich Co., an exciting new Cambodian sandwich concept from the team behind Love Art Sushi. Along with the festival's diverse mix of new and returning restaurants, the lineup also includes a wide assortment of drink options to choose from, including craft beers and wines.
Boston Calling 3-Day and Single Day General Admission tickets, VIP tickets, and Platinum tickets are now on sale at www.bostoncalling.com. New this year for fans are 2-day GA tickets which are also available in 2-Packs. Also available are 2-packs of 3-Day GA tickets.  Platinum ticket holders receive access to all-inclusive, chef-curated tasting menus throughout the day. All other food options, for General Admission, VIP, and Platinum ticket holders, are available for purchase. Availability of tickets is limited.
General Admission Culinary Offerings
Boston Calling's General Admission food lineup welcomes a tasty array of new restaurants for 2022. In addition to newcomers GreCo, Mamaleh's and Suasday Sandwich Co., are Portland Maine's wildly popular mobile sushi bar, Mr. Tuna; Top Shelf Cookie, the local bakers giving new meaning to "homemade cookies"; The Farmacy Café, a fresh, wholesome concept from Boston's much-talked-about High Street Place food hall serving rice and salad bowls, as well as signature "Naughty" Waffles; Walloons, Boston's popular food truck with buttermilk fried chicken sandwiches; A La Esh, bringing Israeli southern inspired BBQ; Lobster Proper, which will feature a variety of different lobster rolls; and Buenas, serving their delicious empanadas.
Boston Calling also welcomes back several restaurants to General Admission, such as El Pelón Taqueria, which offers a range of authentic Mexican dishes like quesadillas, tacos and freshly made guacamole; and The Smoke Shop BBQ with its Instagram-worthy Ultimate BBQ Cone filled with burnt ends, pimento mac and cheese, pit beans, cole slaw, and pickled jalapenos. Among other returnees are Jaju Pierogi, Rice Burg, Ruth's Chris Steak House, The Sausage Guy, and Trolley Dogs, alongside vegetarian and vegan options from The Chubby Chickpea and Fomu ice cream.
Platinum Culinary Offerings
Boston Calling Platinum ticketholders will be treated to specialty menus created and prepared by some of the city's most talented and acclaimed culinary talent. Friday features two talented chefs from Boston's innovative restaurant and hospitality group, COJE Management, including Chef Cory Seeker of Lolita Cocina & Tequila Bar and Chef Miguel Deras of Mariel, Boston's upscale destination restaurant for Cuban specialties.  Saturday features power chef duo Chris Coombs and Adrienne Wright of fine-dining mecca Deuxave, American bistro dbar and acclaimed modern steakhouse Boston Chops, named among Robb Report's "25 Best Steakhouses in America." Sunday welcomes veteran chef Colin Lynch of Boston's Bar Mezzana, Shore Leave, Black Lamb and No Relation. Since opening Bar Mezzana, Lynch has received rave reviews for his exceptional crudo offerings, handmade pasta and warm hospitality – as well as his new sushi menu at his tropical neighborhood bar, Shore Leave. Platinum guests will be treated to non-stop food throughout the weekend with chefs rotating from day to night, allowing guests the option to satisfy their cravings at any point in time during the festival.
Beverage Offerings
Boston Calling has also curated a vast assortment of beers and wines in General Admission, VIP and Platinum. General Admission returnees include hometown brewing favorite Samuel Adams, the iconic Miller Lite and Miller High Life, as well as a specialty craft beer garden, which offers a wide selection of signature craft brews on tap. Ever-popular Truly Seltzers will also be featured at this year's festival. 90+ Cellars will offer several wine options, including its Lot 42 Pinot Grigio and Lot 33 Rosé, as well as an expanded wine list within VIP and Platinum. Numerous free water stations will be ever present onsite at Boston Calling for attendees who bring a factory-sealed water bottle or empty beverage container.
Over in Platinum, during select serving hours, guests will have access to exclusive bars featuring an assortment of fantastic beverages with a base of either Jack Daniel's or Thomas Tew Rum. Soft drinks and bottled water from the Coca-Cola family, as well as Red Bull, will be readily available throughout the weekend.
The full Boston Calling 2022 food and drink lineup is below. All vendors are subject to change. A * denotes new for 2022. A folder containing images of dishes for this year as well as Platinum chef headshots can be accessed here.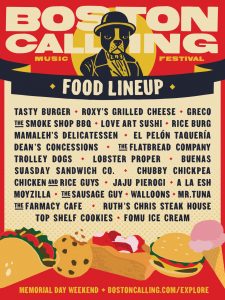 BOSTON CALLING 2022
GENERAL ADMISSION FOOD & DRINK VENDOR LINEUP
(* denotes new for 2022)
*A La Esh
*Buenas
Chicken and Rice Guys
Chubby Chickpea
Dean's Concessions
El Pelón Taqueria
Fomu Ice Cream
*GreCo
Jaju Pierogi
*Lobster Proper
Love Art Sushi
*Mamaleh's Delicatessen
Moyzilla
*Mr. Tuna
Rice Burg
Roxy's Grilled Cheese
Ruth's Chris Steak House
*Suasday Sandwich Co.
Tasty Burger
*The Farmacy Café
The Flatbread Company
The Sausage Guy
The Smoke Shop BBQ
*Top Shelf Cookies
Trolley Dogs
*Walloons
BOSTON CALLING 2022
PLATINUM CHEF LINEUP
Friday, May 27
Chef Cory Seeker
Lolita Cocina & Tequila Bar
Chef Miguel Deras
Mariel
Saturday, May 28
Chefs Chris Coombs & Adrienne Wright
Deuxave, dbar, Boston Chops
Sunday, May 29
Chef Colin Lynch
Bar Mezzana, Shore Leave, Black Lamb, No Relation
BOSTON CALLING 2022
BEER & WINE MENU
BEER:
Miller Lite
Miller High Life
Peroni
Sam Adams Wicked Hazy New England IPA
Sam Adams Summer Ale
Truly Wild Berry
Twisted Tea
WINE:
90+ Cellars
Lot 42 Pinot Grigio
Lot 33 Rosé
Lot 50 Prosecco
Lot 75 Reserve Pinot Noir, Russian River Valley (VIP & Platinum)
Featured Liquor Sponsors:
Jack Daniel's
Thomas Tew Rum
Superbird Paloma
Slane Irish Whiskey
2022 Boston Calling Lineup
The current day-by-day lineup for Boston Calling 2022 is as follows. Performance times are forthcoming. *Artists are subject to change.
Friday, May 27, 2022
Nine Inch Nails
Rüfüs Du Sol
HAIM
Avril Lavigne
Cheap Trick
Oliver Tree
The Struts
Paris Jackson
The Backseat Lovers
Grandson
Paris Texas
Mob Rich
Pom Pom Squad
Born Without Bones
Avenue
Miranda Rae
The Chelsea Curve
Saturday, May 28, 2022
The Strokes
Run The Jewels
King Gizzard & The Lizard Wizard
Black Pumas
EARTHGANG
Orville Peck
KennyHoopla
Sudan Archives
Celisse
Hinds
Frances Forever
Charlotte Sands
Julie Rhodes
Van Buren Records
Ali McGuirk
Coral Moons
Dutch Tulips
Sunday, May 29, 2022
Metallica
Weezer
Glass Animals
Modest Mouse
Goose
Ripe
Japanese Breakfast
Cults
Peach Tree Rascals
Horsegirl
Djo
Cam Meekins
Oompa
Cliff Notez
Crooked Coast
Aaron and the Lord
Paper Tigers
Boston Calling once again promises an exceptional experience, from its iconic mix of musical performances to its commitment to showcasing new forms of entertainment and extensive food and drink offerings. More details on the festival's food and drink components will be announced in the coming weeks.