After being hit with another round of Covid, which forced several dates to be rescheduled, John Mayer and bandmates returned to the road with a first stop at the MGM Grand Garden Arena in Las Vegas, Nevada and left no doubt about the Sob Rock Tour being 1000% back on track. The night was full of amazing musicianship, wonderful tones, and of course Mayer's signature solos left everyone in awe all night long.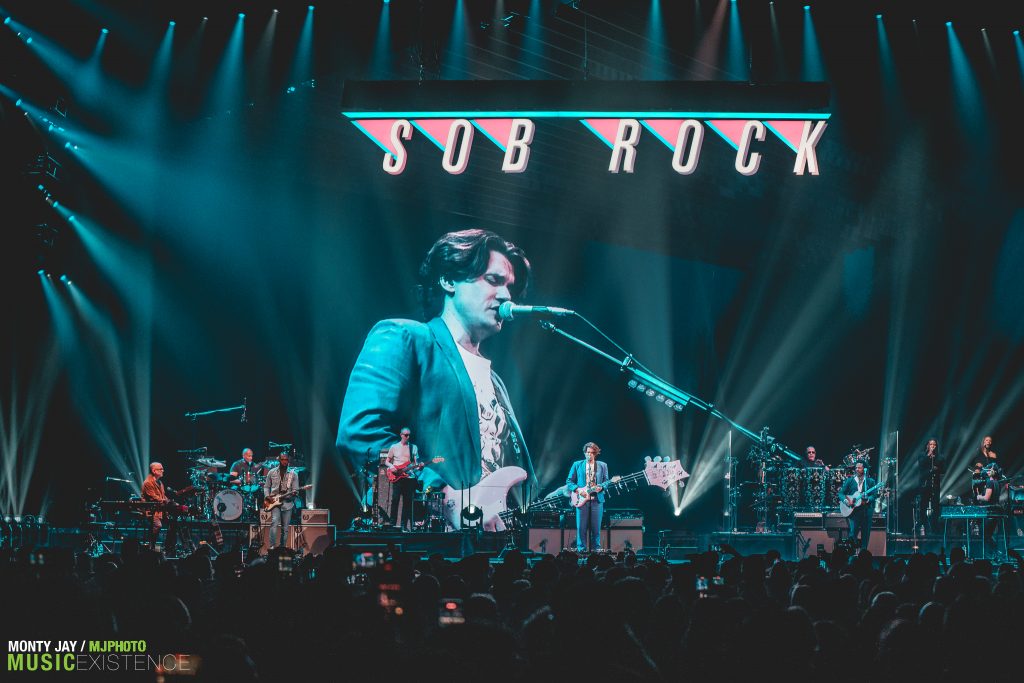 First, I must say that I also was able to see John Mayer perform live about a month ago during SiriusXM's live concert event at the Hollywood Palladium. That was a pure joy to experience and quite frankly, I was excited but also curious to see how the full blown tour show would compare. Well, those questions and any potential doubts were crushed incredibly quickly.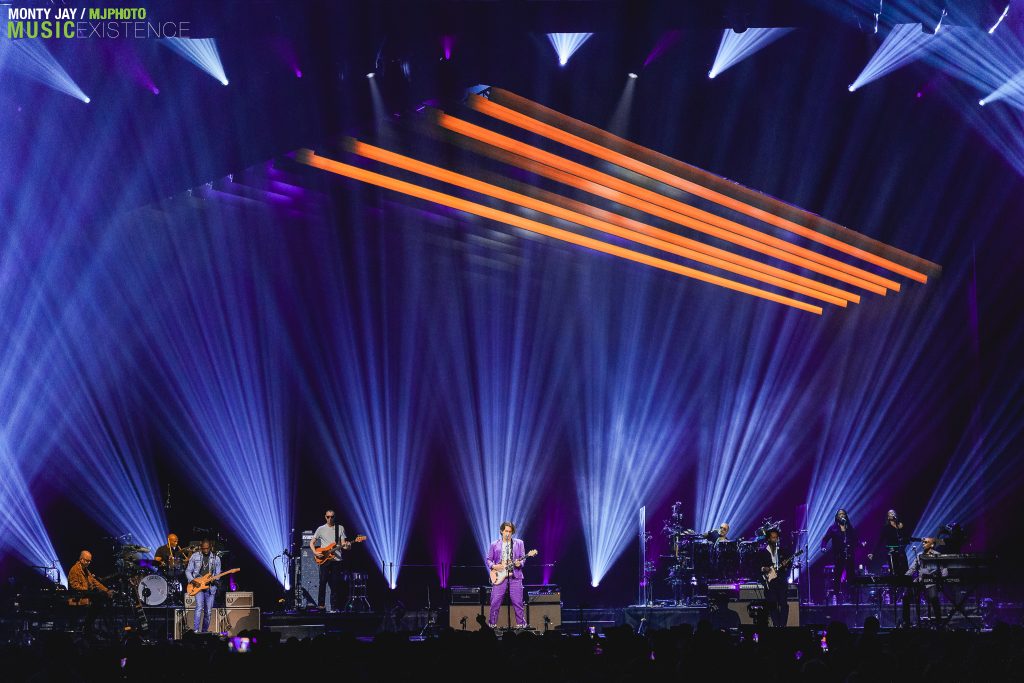 Joining John Mayer on tour are Jamie Muhoberac, Steve Ferrone, Isaiah Sharkey, Pino Palladino, Lenny Castro, David Ryan Harris, Carlos Ricketts, Tiffany Palmer, and Greg Phillinganes. Make no doubt about it, this is an all star lineup and they sound amazing. Amidst a backdrop of pink, purple, and blue tones, silhouetted shapes begin pounding out the opening chords of Last Train Home, the lead track off John Mayer's latest full length album, Sob Rock. Armed with his Roxy Pink PRS Silver Sky, Mayer's opening lines are met with enormous cheer from the Vegas crowd. Not much sobbing yet…but the Rock was full steam ahead!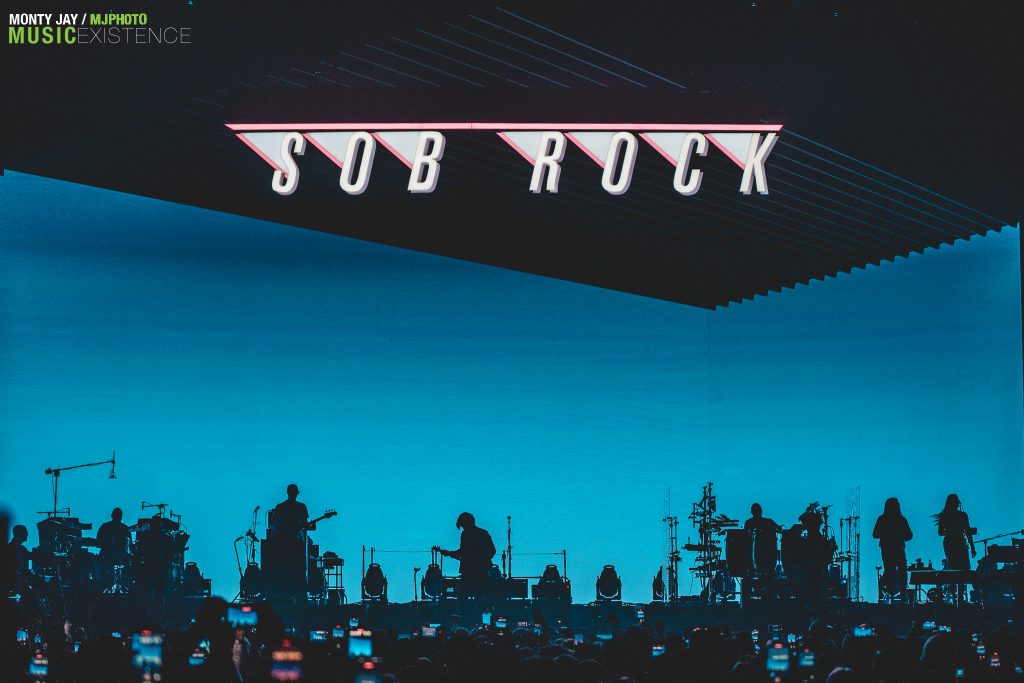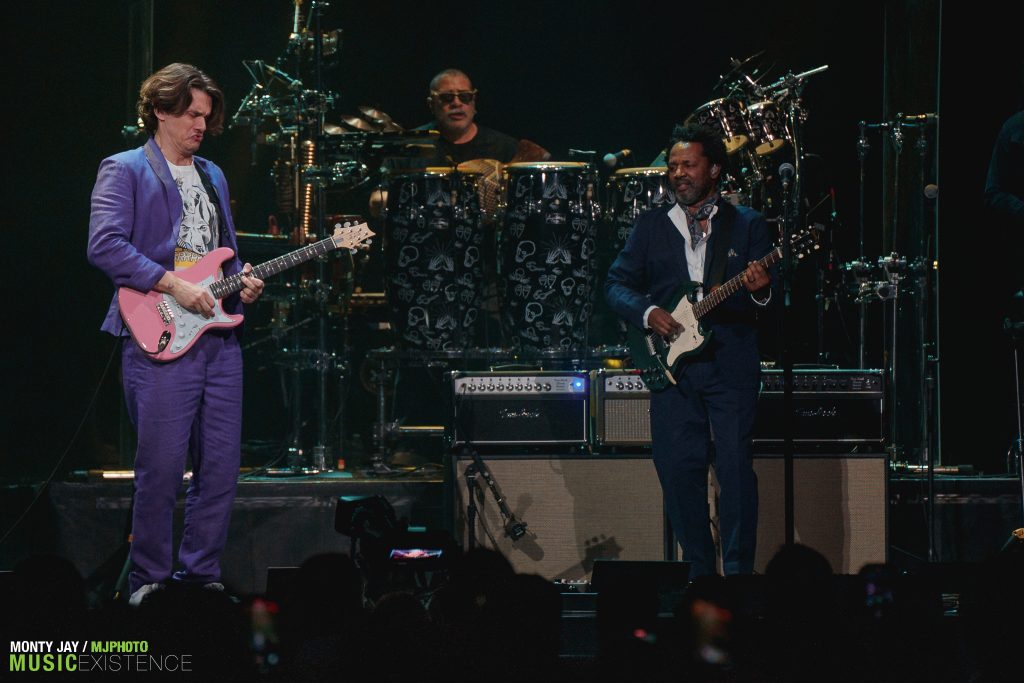 While the set was somewhat Sob Rock heavy (it IS the Sob Rock Tour afterall), John Mayer has a wealth of songs to pull from over his 20+ year career and those were out in full force. With Sob Rock, John Mayer brought a nostalgic element into our present day which feels like a brand new memory you can swear you've had your entire lifetime. What I find interesting and love is how well the new Sob Rock material is embraced so lovingly almost as much as the older material.
There certainly were may different types of John Mayer fans in attendance. While we all have our own reasons for initially being drawn into an artists' work, sometimes we can wear multiple hats and appreciate the growth and change over that artists' career. There were plenty of 80s styled fashion choices filling the arena. Lots of starry eyes soaking up their favorite acoustic choices like Free Fallin and Neon. Continuum fans were given Belief, Slow Dancing In a Burning Room, and Gravity. One of the hats I wear is guitar gear nerd and let me tell you I enjoyed every single minute of the night! To be able to watch all of these amazing performers bring this show is simply inspiring and I hope you all can experience it for yourselves.
While this IS The Sob Rock Tour….when you attend a concert you are truly experiencing a night uniquely your own and not your average by the books rock tour. Each and every night will keep you guessing and you never know what will happen. If you have any thoughts on catching a show, please do so and have an incredible night as I did! Until then, checkout the setlist and full gallery from Las Vegas:
SETLIST:
Last Train Home
Shot In The Dark
Belief
Love On The Weekend
Wild Blue
Changing
Helpless
In Your Atmosphere
Free Fallin
Neon
I Guess I Just Feel Like
Who Says
Edge Of Desire
Rosie
Carry Me Away
The Beautiful Ones (snippet performed by DRH)
Slow Dancing In A Burning Room
Til The Right One Comes
Gravity
John Mayer will continue his Sob Rock Tour through all of April and early May where several rescheduled shows will be taking place. For a full list of upcoming tour dates, please check John Mayer's official site.
For more on John Mayer:
Official Site | PRS Guitars SE Silver Sky | Facebook | Instagram | Twitter | Apple Music | Spotify | Pandora | Youtube |