Clutch is on tour right now throughout North American until May 22nd so be sure to check out their show when they come to a city near you! This tour has two different set of openers; Eyehategod with Tigercub through April 10th and The Sword with Nate Bergman until May 22nd. This night at The Observatory in Santa Ana was Clutch's only stop in California and it was something special.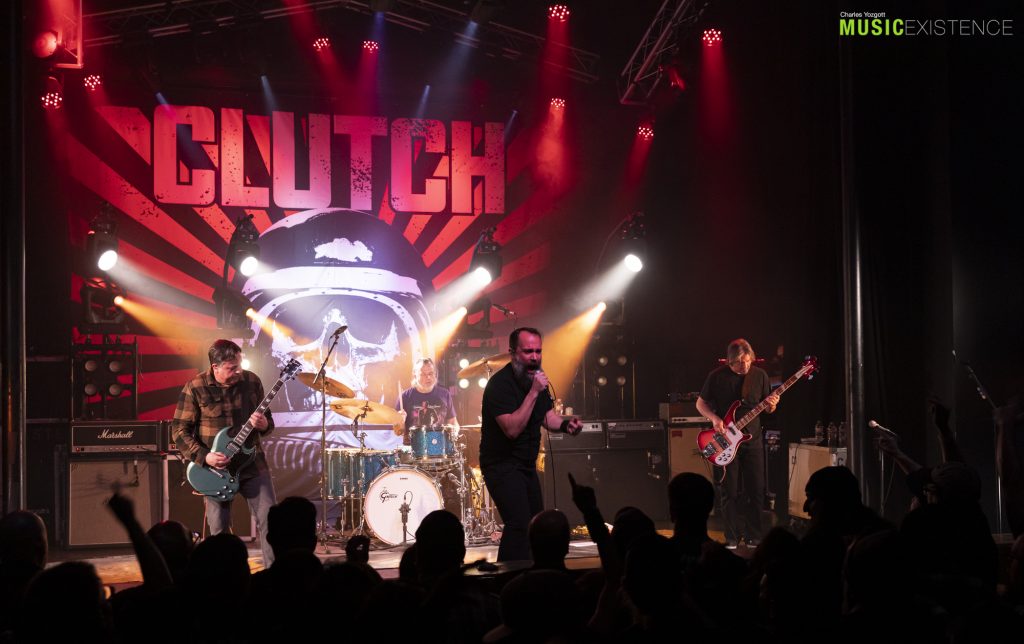 Tigercub, from Brighton UK, opened the night with some hard hitting riffs as their grunge/hard rock style filled the room. The audience started grooving and became fans of these gents as they progressed through their set with passion and force. Hall, the guitarist and singer, told everyone how stoked they were to be on tour with two amazing artist and that they're are having the time of their life. Drummer James Allix and bassist Jimi Wheelwright kept the beat going as Jimi told us just how English they really are. Supporting their latest album, As Blue as Indigo, they have been putting their heart and soul into their live performance and it shows. Be sure to check them out as soon as possible so you're not missing out.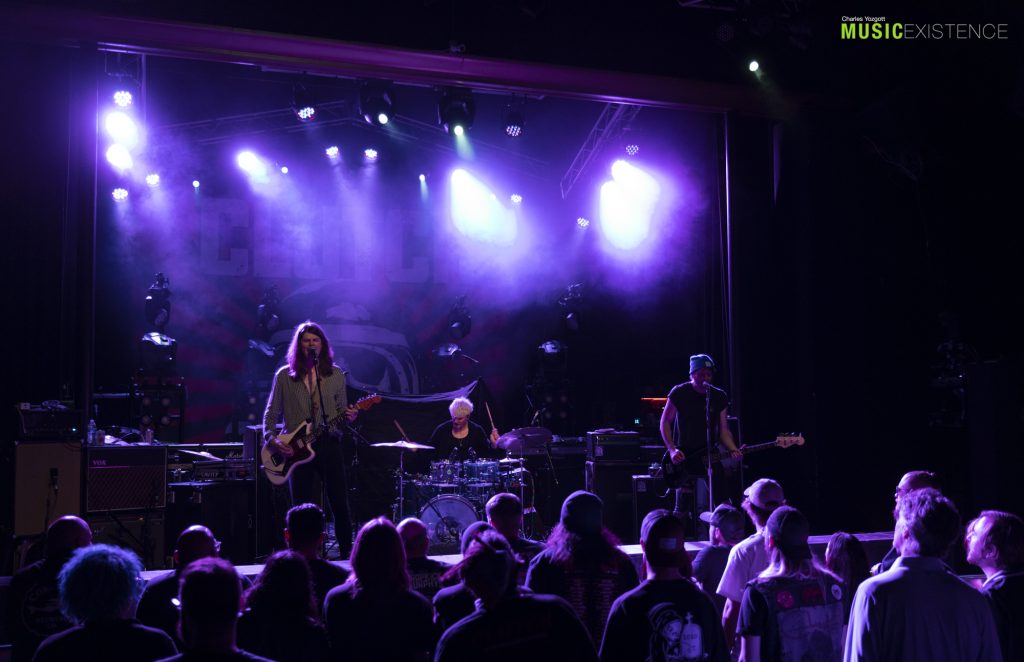 Eyehategod, from New Orleans, Louisiana, brought the sludge/doom metal to California and the crowd went nuts. Each song played was an opportunity for the mosh pit veterans to showcase what an Eyehategod set is all about. Consisting of drummer Aaron Hill, bassist Gary Mader, guitarist Jimmy Bower, and vocalist Mike Williams, these four popped everyone's eardrums with their heavy piercing riffs and sheer will to play loud and heavy. Supporting their latest album, A History of Nomadic Behavior, which was released in March of 2021 and 7 years after their self titled album in 2014, they still have the energy to put on an amazing show and show that they aren't going anywhere. With some lineup changes throughout their time, this four piece right now is at the top of their game and haven't sounded better. This band has been through a lot but are still going strong, make sure you check them out when they're in a city near you, you do not want to miss this set.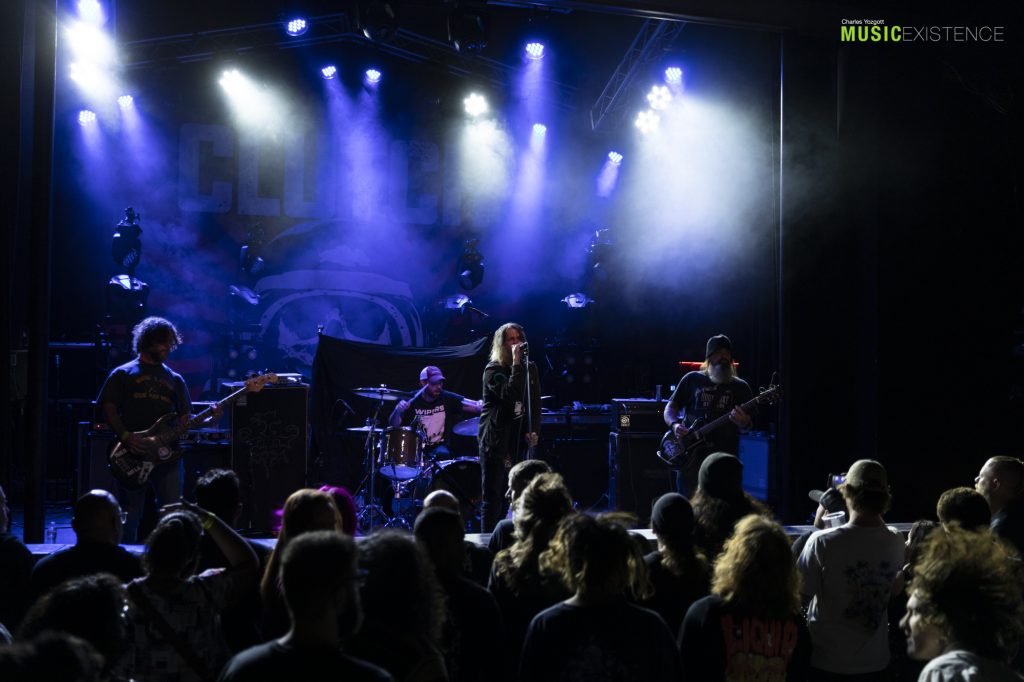 Now that the audience was warmed up by Tigercub and Eyehategod, Clutch was about to come out and tear the roof off. Their huge banner at the back of the stage has a skull in an astronaut's helmet, a perfect fit for the numerous designs these guys have had throughout the years. There was a lot of people wearing Clutch's latest tour merch that they just bought so you could tell that Clutch's fans were die hard and stoked that they were back. Clutch have been busy even with the world shutting down for a couple of years. They had 4 Doom Saloon shows that they live streamed and each with a vastly different setlist with fan involvement. There is no down time for these guys and they keep showing us why they've been around for the past 30 years.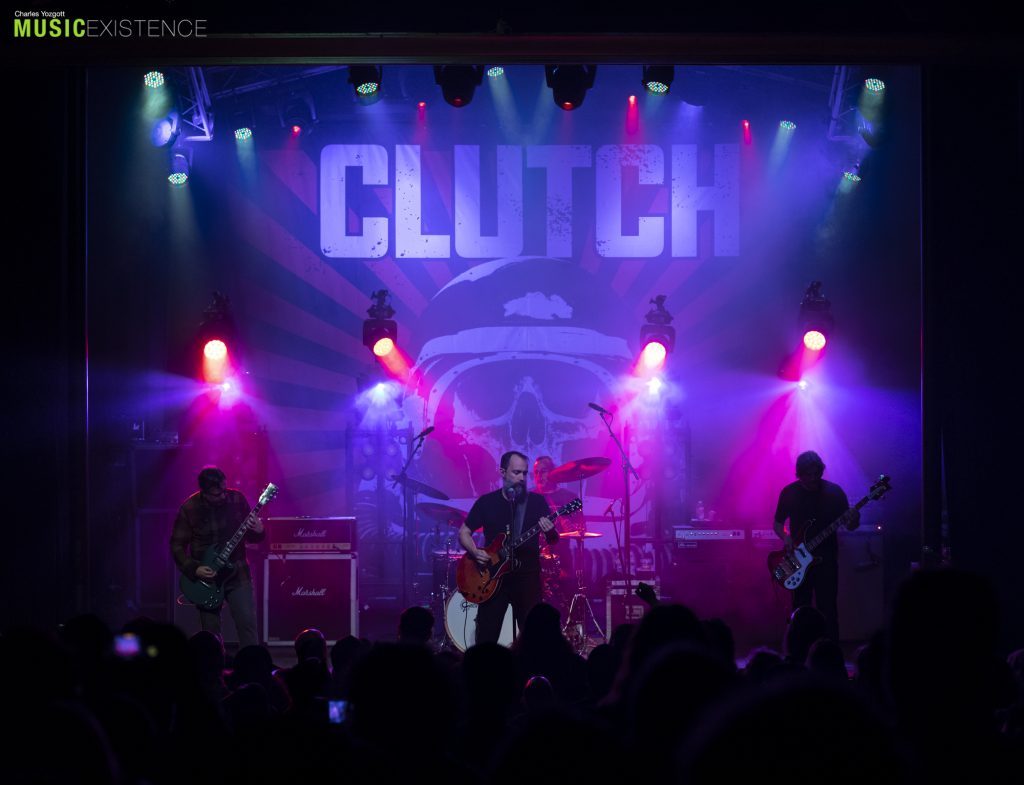 This 38 date run is Clutch's first full outing since 2019 and they show us what they've been missing for the last couple of years. Clutch's catalog goes very deep and they're able to play songs from their 12 studio albums every night without playing the same set twice. It's always fun to be surprised with what songs you'll be hearing at a rock show instead of the same set night after night, which Clutch could do but choose to switch it up and keep it interesting. On this night they played a powerful 20 song set and the only thing that would have been better is if they played longer.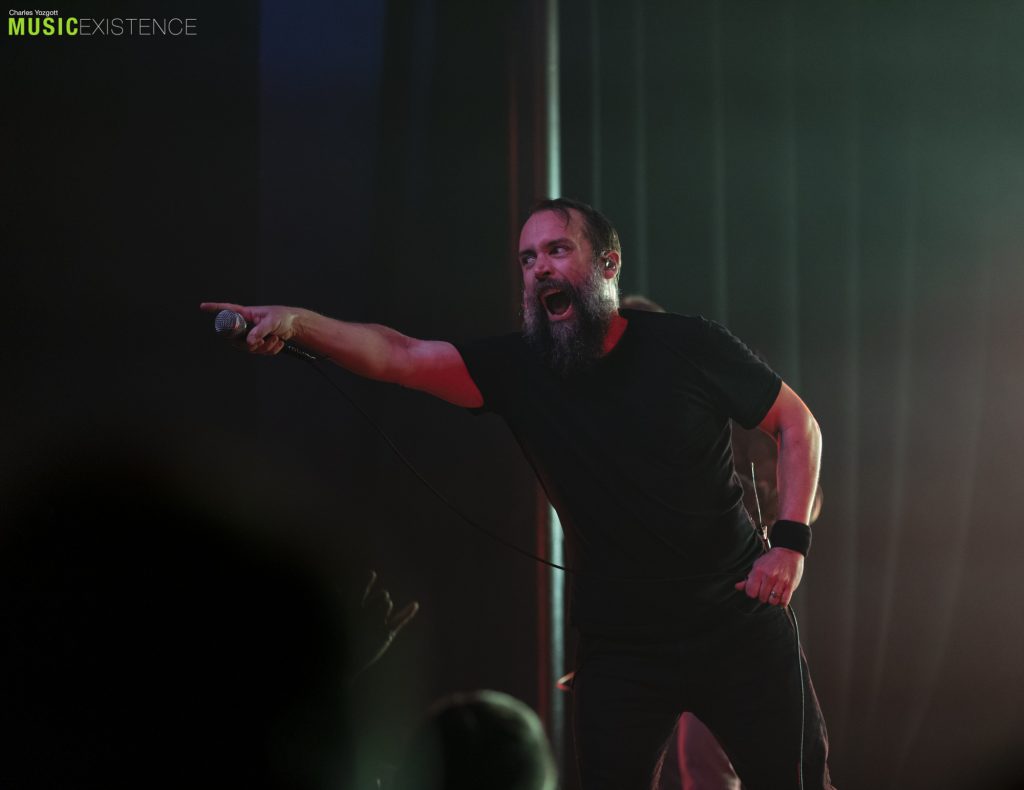 The pure talent that these four dudes have is second to none and the passion they play with shows through their amazing performances. Animated as always, singer Neil Fallon doesn't disappoint with his unique expressions and powerful presence. His lyrics flow perfectly with the sound of their bluesy funky hard rock style that is their own.
Opening the night with "Prison Planet" and going into "Impetus" was a perfect start for this set, two classics that still hit today as hard as they did in the early 90s. Tim Sult on the guitar makes it look so easy but you know that it takes a lot of skill to play and remember all these songs by heart. Rocking back and forth while strumming his guitar with perfection, Tim always delivers that studio sound at the live shows and never misses a beat. Dan Maines on bass pushing that low end like no other and smiling having a blast while also making it look easy. Jean-Paul Gaster on drums is a sight to see as he is calculating the beats and time signatures in his head. It sometimes looks like he's talking to his drums as he plays but he's just making sure that he plays with perfection and grace. These guys love what they do and it shows.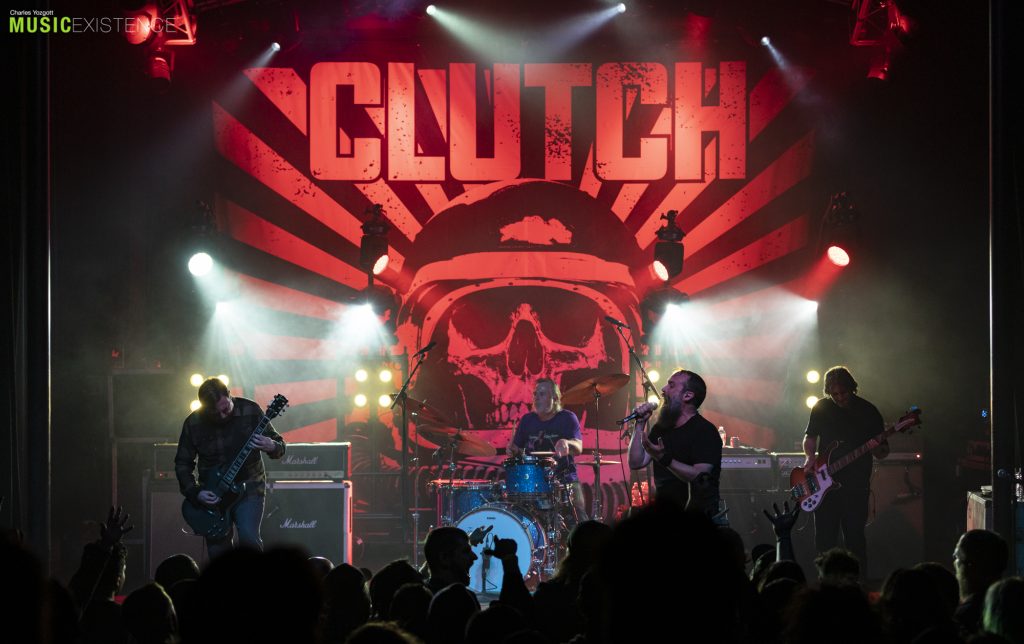 Playing hits from albums Blast Tyrant, Robot Hive/Exodus, Psychic Warfare, and Pure Rock Fury, these guys jammed through their songs and the packed venue went wild. People singing every word of every song while grooving to the music is what it's all about and every single person in the venue was having a blast. As Neil was telling the audience about a new album that they made this past year, and which will be out by years end, he announced that they would play a brand new one for us entitled "Boss Metal Zone". As true to their sounds, this song was an instant hit with the crowd and everyone could tell that Clutch hasn't stopped making great music. They performed a number of tracks from their fist couple albums including "Rats", "7 Jam", and "A Shogun Named Marcus", these were definitely highlights of the night. Ending the night with a 3 song encore they played "Pure Rock Fury" with the crowd moshing it up and taking it all in.
This was the only California stop that Clutch played and if you missed out then you'll just have to wait until their next tour, which hopefully will be when their new album comes out later this year. Clutch have a few festival dates they're playing so go check them out if they're in a city near you. Clutch always puts on an amazing show and Santa Ana was lucky enough to witness these rock n' roll legends in such a small venue that was packed to max.
Remaining tour dates w/ Eyehategod & Tigercub:
March 29 – Vancouver, B.C. @ Vogue Theatre
March 31 – Edmonton, Alberta @ Midway
April 1 – Calgary, Alberta @ Palace Theatre
April 2 – Missoula, Mont. @ Wilma Theatre
April 3 – Spokane, Wash. @ Knitting Factory
April 5 – Billings, Mont. @ Pub Station
April 7 – Minneapolis, Minn. @ First Ave.
April 8 – Lincoln, Neb. @ Bourbon Theatre
April 9 – Green Bay, Wis. @ Epic Events Ctr
April 10 – Joliet, Ill. @ The Forge
w/ The Sword & Nate Bergman:
April 27 – Burlington, Vt. @ Higher Ground
April 29 – Hampton Beach, N.H. @ H. Beach Casino
April 30 – Providence, R.I. @ The Strand
May 1 – Stroudsburg, Pa. @ Sherman Theatre
May 3 – Rochester, N.Y. @ Anthology
May 4 – London, Ontario @ Music Hall
May 6 – Indianapolis, Ind. @ Egyptian Room
May 7 – Grand Rapids, Mich. @ 20 Monore
May 8 – Columbus, Ohio @ Kemba Live
May 10 – Moline, Ill. @ The Rust Belt
May 12 – Tulsa, Okla. @ Cains Ballroom
May 13 – Wichita, Kan. @ The Cotillion
May 14 – Sauget, Ill. @ Pop's
May 15 – Little Rock, Ark. @ The Hall
May 17 – Knoxville, Tenn. @ Mill & Mine
May 18 – Charlotte, N.C. @ The Fillmore
May 19 – Daytona Beach, Fla. @ Welcome to Rockville
May 21 – Myrtle Beach, S.C. @ Bike Week
May 22 – Richmond, Va. @ The National
Tigercub
Eyehategod
Clutch
Setlist:
Escape From the Prison Planet
Impetus
Earth Rocker
The Mob Goes Wild
Profits of Doom
Mice & Gods
Green Buckets
Cypress Grove
X-Ray Visions
Firebirds
Willie Nelson
American Sleep
A Quick Death in Texas
Walking in the Great Shining Path of Monster Trucks
Boss Metal Zone
Rats
A Shogun Named Marcus
You Can't Stop Progress
7 Jam
Pure Rock Fury